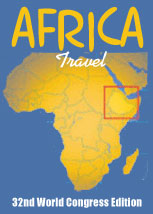 Africa Travel Magazine's next issue features ATA 32nd World Congress in Addis Ababa, Ethiopia, May 6-11, 2007
Our biggest magazine since the 1st Ethiopia Millennium edition in 2000. Topics include ATA 32nd Annual Marketing Conference, African Airlines Forum, Convocation of African Tourism Ministers, Historical Profile of Ethiopian Airlines, Addis Ababa- 1st in Great Cities of Africa Series, Ethiopia's Millennium Activities, Queen of Sheba's Holy Route, USA - Ethiopia Trade Missions, New Airport Development, New Hotels, Business and Investment, Lucy Legacy: Hidden Treasures of Ethiopia, Ethiopia Cultural Photo Gallery by Robert Eilets, Royal Splendor, Blue Nile River Adventures, Ethiopia Arts & Fashion - and more. To advertise: EMail africa@dowco.com, fax 604 681 6595
Let us tell you About Ethiopia plus Pre and Post Congress Tours.
ATA Delegates: Ethiopian Airlines offers 50% Discount on Economy Fares and 30% Discount on Business Class Fares
(Round trip fare from any destination served by the airline (including taxes)
Attention Ethiopians overseas: Become listed in our Ethiopian Diaspora Worldwide Database
.

NEWS RELEASES AND BACKGROUND ON ETHIOPIA
Addis Ababa 1st in "Great Cities of Africa" Editions
Issued bimonthly with separate closing dates for each city in series. 10 issues are underway and we expect the first to debut at the World Congress in May. Magazines published in the series will be updated annually as each will be a keeper issue. Our aim is to produce an edition for each of the 33 African host cities since 1975. Interviews with African mayors from the UN World Urban Forum and others. Candidates for the World Mayor Awards Available as inserts in our Yearbook editions. Continued
In The Queen of Sheba's Footsteps
Given Aladdin's 3 wishes I would: (1) Restore Emperor Haile Sellasie's original 'Lion of Juda Continued
New "Keeper" Editions Boost Africa Travel Magazine's Global Reach
This Spring's Yearbook features the ATA 32nd World Congress in Addis Ababa, Ethiopia, with a Convocation of African Tourism Ministers, an African Airlines Forum and the First African Travel Trade Expo, May 6 to 11.. Continued
Addis Ababa, Ethiopia: Host city for the AT 32nd World Congress in May 2007, with a focus on Ethiopia's Millennium activities, attractions and tours. Did you know that our website is already in the top 3 on Google for Addis Ababa, Ethiopia Travel and Tourism - from 133,000 entries? Just wait until they see this next magazine issue!
On Air Interviews: Take a few minutes to hear the following radio interviews which aired recently on the Mr. Africa Show from Atlanta: Audio 1: Executive Director, Africa Travel Association . Audio 2: Editor of Africa Travel Magazine.
More Information to Come .....