In The Queen of Sheba's Footsteps
by Jerry W. Bird

x Lalibela's Bet Giyorgis, most famous of the eleven rock-hewn churches in this mountainous area, is believed to have been built in the late 12th or early 13th century by King Lalibela. These incredible edifices, which were carved inside and outside from solid rock, are ranked among the wonders of the world. Our team of North American journalists came to Ethiopia with few preconceived notions, yet each had some special areas of concern. For every member of the group, it was a first time journey to this ancient, mysterious, storybook land. What a spiritual awakening it proved to be. The tour of Ethiopia's Historic Route began in Addis Ababa, the capital and geographical center. For starters, Ethiopian Airlines, flew us north to Lalibela, the holy city; to Gondar- Africa's Camelot, and to Bahir Dar on Lake Tana, source of the Blue Nile. Dire Dawa and the walled city of Harar in the eastern sector completed the agenda.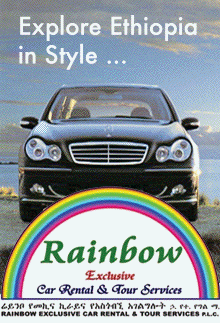 Nothing I had read about the Holy City of Lalibela, its mysteries, legends, saints and monarchs, could have prepared me for what we were about to encounter on this trip. The brief morning flight from Addis Ababa's Airport north was a delight, winging through the cloudless skies, as an ever-changing panorama of awesome gorges, deep canyons and broad plateaus unfolded below.
Everything that I had read about Ethiopia in Wilbur Smith's novels, the River God and Secret Scroll, was as he described. As we learned later from Hon. Yusuf Abdullahi Sukkar, Ethiopia's Tourism Commissioner, airport construction enjoys a high priority, and on the high plain south of Lalibela, a new terminal building is in the final stages of completion. Our temporary waiting area was a baggage shack, where we basked in the morning sun, awaiting the commuter bus.
A Storybook Land: I've never been to Tibet, but the spiritual presence and views we saw during our corkscrew journey up the hillside would easily fit that image. Small wonder this storybook land has such a spiritual presence, a proud tradition and a way of life that has survived three millennia, despite an outside world of hate, conquest, treachery, trial and turmoil. The thatched villages, shepherd boys, terraced farming methods, simple forms of irrigation and donkey power, attest to the fact that time has stood still &emdash; as well it should. Coming from North America it's hard for us to realize that this is the way it has been in this part of the world since time immemorial.
Rocks of Ages: During my recent African excursions, I have been awed by mankind's glorious creations, offset by a Jekyll and Hyde capacity for evil. While we were shocked by the slave castles of West Africa's Gold Coast and Zanzibar's dungeons, we saw the result of godly forces at work in the 12th century rock -hewn churches that have made the Holy City of Lalibela a magnet for Christian pilgrims and historians.
Many come for the famous church festivals in Ethiopia, such as Timket (Epiphany) and other times of celebration and devotion. Souvenirs of King Lalibela are everywhere, as a continuing tribute to his glory and greatness in creating these wonders of the world. Our official photographer, Robert Eilets couldn't get over the abundance of photo opportunities in Lalibela's streets, at the famous stone churches and around every bend in the road leading to this remote highland community. Next time, we vowed to allow an extra day for photography alone.
Footnote: Back in Addis Ababa, it was our turn to be interviewed -- this time by Ethiopian press, radio and television. To a person, each journalist agreed it was a positive experience with no feelings of concern or anxiety about personal health and safety. The climate in mid February was perfect, and the hospitality of the people was second to none. What a beautiful prelude to the ATA congress, Africa's 1st major tourism event of the new millennium. More to come, including map and photos.
Continued: (Holy Route North) Gondar- Ethiopia's Camelot
---

Jerry W. Bird is President of ATA Canada Chapter, Editor and Publisher of Africa Travel Magazine, and Webmaster for the ATA site www.africa-ata.org. He is also Publisher of Air Highways Magazine, the Journal of Open Skies, featuring aviation, tourism, transportation and business worldwide. His career began with the Edmonton Journal Daily Newspaper, and expanded into the full spectrum of media - radio, television, magazines and Internet. He has won international awards for creativity in audio visual and print production.