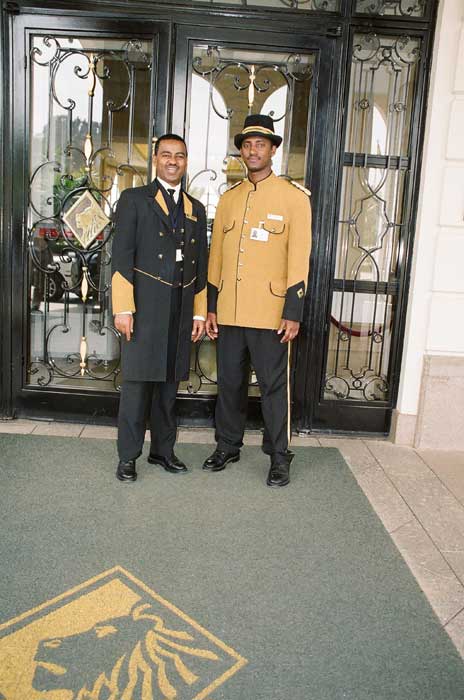 Days of Wine and Roses
by Jerry W. Bird
My inner child loves surprises, and to discover a freshly cut sweetheart rose nestled on one's pillow is a touch that transcends time and space. This was the first surprise the Sheraton Addis reserved for our group, and much more awaited us as we checked the nooks and crannies of this elegant hotel and its spacious, luxuriant, terraced grounds. Later, we discovered ornate vases of roses literally everywhere; in the restaurants, around the lobby and corridors, at the pool-side -- and at a festive wedding we attended. When asked about our extensive stay in Addis Ababa, Ethiopia's Capital, during February and again during the ATA Jubilee Congress in May of 2000, I state emphatically that the whole period was like one extended celebration. Very few times in my life and career in the media world have I felt so much at home, so laid back and yet so very special. The hospitality began with the staff at the pleasant hotels we stayed at, and extended to so many of the people we met, from local tour operators to embassy staff, merchants, tour guides, doormen, you name it.
Freshly cut roses perfumed the air at other locations throughout the city. After asking around, we discovered that these fragrant blooms were all home grown &emdash; a budding new industry that's capturing hearts and markets in Europe and the USA. Since Addis Ababa means "new flower " in Amharic it is significant that this 8-year old cut flower business is flourishing nearby. Water for continuous irrigation of the flower beds is pumped and gravity-fed from Lake Zama. Already exporting over 100,000 roses weekly and employing over 200 workers, Meskel Flowers, is expected to more than double in the next few years.
The other side of the equation came that same night on the Sheraton's broad balcony, as we watched the "dancing waters" pulsate to a classic symphony. It was the discovery that Ethiopia has become a wine producing center. Prior to dinner we were treated to a domestic dry red wine produced by the Gouder company. Our host was quick with a local quip -- "Champagne is good, but Gouder is gooder." Ethiopian vintners also make a palate pleasing dry white wine.
Sheraton Addis
Taitu Street, P.O. Box 6002 Addis Ababa Ethiopia
Phone (251)(11) 5171717 Fax (251)(11) 5172727
Sheraton Addis, the first hotel in Africa to join The Luxury Collection.

Set in mountainous countryside, 7,800 feet above sea level, the Sheraton Addis in Ethiopia is the first African hotel to join The Luxury Collection. Our hotel stands opposite the National Palace and only seven kilometers from Bole International Airport of Ethiopia. Our ideal location provides easy access to the city's commercial districts, the UNECA Headquarters, the United Nations Conference Center, the AU Headquarters, as well as to most business establishments and Non-Governmental Organizations. We are also only a short distance from many of Ethiopia's most renowned attractions.
Our hotel provides one of the largest and most prestigious banquet and conference facilities in Ethiopia, providing over 1,500 square meters of meeting space.
More about Addis Ababa- African and World Convention Site
More about Addis Ababa - A Royal Legacy
---
Photo Credits: ATA Archives / Muguette Goufrani