Editor's Comments: During the Africa Travel Association's 32nd Annual Congress we not only renewed many close friendships from ATA's Congress 2000, also hosted by Ethiopia, but had the opportunity of developing some important long term connections. Ethiopia is an idea place to do business since the OAU (African Union) and United UNDP (Nations Development Program) have cast its capital Addis Ababa in the role as 'Capital of Africa." How opportune our table selection at the gala dinner proved where we sat next to the leading lights from the Ethiopia Millennium Celebration Committee. We visited their office a few days later. This was timely since our Ethopia Millennium Souvenir Gold Edition is currently in produc tion - and will be introduced to the North American market through our "Roads to Success" program. The series begins with THETRADESHOW by ASTA in Las Vegas,NV September 9-11, 2007.

The Ethiopian Millennium Celebration, Roads to Success, Superstar Fam Trips and Homecoming Tours from the Diaspora and beyond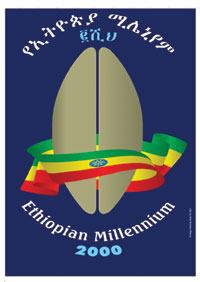 "There were times when Ethiopia's prominence reached its climax on several occasions; times when Ethiopia inspired the world as one of the pioneers of early civilization, not to mention its reputation as the cradle of mankind. And there were times when its eminence hit rock bottom; times when Ethiopia unwillingly developed certain notoriety for being a land of despondency. Good days have come and so have bad ones, because good days, bad days, they come and they go.
Yet Ethiopia has gone the distance from the early days of its ancient civilization to the present, to make it to another millennium of its own and with all its pride intact.
The concluding millennium has seen Ethiopia prosper and decline both politically and economically. It has been fortunate and unfortunate.
The new millennium, on the other hand, gives Ethiopia a chance to reflect on the past and an incentive to move forward and energize. So it is time to celebrate believing that things will change for the better as of the new millennium. "
The above introduction is from the Ethiopian Millennium Web Site.
Ethiopia
Calendar of Events & Public Holidays:
September 11 - Ethiopian New Year
September 27- The finding of the True Cross (Meskal)
*December 6 - Id Al Fater
January 7 - Ethiopian Christmas
January 19 - Ethiopian Epiphany
*February 11 - Id Al Adaha
March 2 - Victory of Adwa
April 25 - Ethiopian Good Friday
April 27 - Ethiopian Easter
May 1 - International Labour Day
May 5 - Ethiopian patriots' victory day
May 13 - Moulid (Birthday of the Prophet Mohamed)
May 28 - Downfall of the Dergue Regime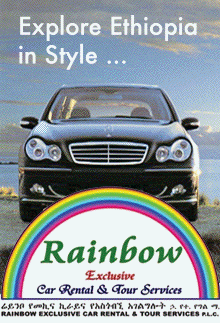 For information e-mail: info@tourismethiopia.org, or tour-com@telecom.net.et . Web site:http://www.tourismethiopia.org/pages/ethiopia.asp