Bringing sustainable tourism into the heart of Africa
Considered the 'Cradle of Humanity', Ethiopia offers a truly cultural and historical experience of Africa. The Ministry of Culture and Tourism is aiming to increase drastically the number of tourists now that the infrastructure is ready to welcome visitors to the land of nine UNESCO World Heritage sites
Ethiopia's sustained economic growth saw it recording year-on-year economic growth of 10% between 2003 and 2008. It is now forecasted to be the world's third fastest growing economy after China and India up to 2016. Its tourism sector has not achieved growth like this and its potential as a highly frequented destination is still very much yet to be met.
Tadelech Dalacho, State Minister of Culture and Tourism of the Federal Democratic Republic of Ethiopia (FDRE), is keen to make sure that tourism's share of Ethiopia's GDP sees growth in the coming years and that Ethiopia creates for itself a brand as a destination for tourists looking to explore even further into the heart of Africa.
The State Minister's targets are ambitious and keenly connected to the promotion of Ethiopia's unique heritage. She hopes to draw a tourist volume of 1 million to 1.85 million by the end of 2012. This compares with 515,000 in 2011 and 500,00 in 2010.
"We aim to be one of the top five tourist-receiving countries in Africa by the year 2020," states Ms Dalacho, her target involving the development of all tourism enabling sectors in the country, namely transportation and visitor services. She notes "the backlog in infrastructure has been the main reason why Ethiopia has not been recognised as a tourist-receiving country."
The development of this infrastructure is being matched by the efforts of Ms Dalacho's ministry to project a message worldwide of what Ethiopia has to offer. "Ethiopia has huge tourism resources. It offers a combination of different touristic products, be they natural, historical, archaeological, scientific...making it unique within the continent," she says.
Considered by some as the 'Cradle of Humanity', it is the site of the discovery of some of the very oldest human remains. Ms Dalacho comments: "Ethiopia attracts a wide range of people, from researchers to archaeologists, to regular people interested in knowing more about mankind's beginnings."
She also underlines the global importance of Ethiopia's attractions and the country's keenness to open them up to visitors: "UNESCO has registered nine World Heritage sites in Ethiopia. Because the significance of these sites goes beyond the borders of Ethiopia, we have collaborative programmes with a number of regional tourism bureaus, local governments, and communities."
This differentiation of Ethiopia as a cultural attraction will form the basis of much of the future marketing campaigns. "We have identified tourist-generating countries, most of which are European and American destinations, and emerging market tourist-generating countries such as China, Russia and India," says the Minister. These markets will be targeted by participation in annual global tourism trade fairs, which are held in the nine main source markets, these being Germany, Italy, France, Spain, Russia, Japan, China, the US and the UK.
"We work with tour operators, hoteliers, and Ethiopian Airlines," she says. "Through the support of our embassies abroad, we invite travel writers, journalists, industry professionals to travel here as a group... Finally, there is a plan to establish a Tourism Board, an independent body focused on marketing and promotions."
The Ministry of Culture and Tourism is keen to develop a tourism industry that is sustainable and ensures the preservation of the UNESCO World Heritage sites while simultaneously enabling their access to growing numbers of visitors. Ms Dalacho underlines sustainability as the cornerstone of tourism policy, affirming that her ministry is "working with the communities at the grassroots level...the goal being to make them understand the value of the attractions they have."
The Ethiopian Tourist Development Policy was developed in 2010. This was necessary in order to ensure funding from the World Bank. The policy will focus on developing three destinations: Addis Ababa, Lalibela and Aksum. These areas are planned to set the standard for Ethiopian tourism.
The State Minister is keen to spread the message that "Ethiopia is ripe for tourism investment. Hoteliers, tour companies, training institutes, and the like are welcome to participate in these projects. We have sound investment policies and attractive incentive packages".
For anyone considering a visit, she leaves them with this message: "Ethiopia is a place to love. All it takes is a visit. Its friendly people and scenic landscapes are sure to make your stay both memorable and enjoyable."

Editor's Comments: En route to Ethiopia last May our luggage was weighed down with over 800 copies of Africa Travel Magazine for delegates to Africa Travel Association's 32nd Annual Congress. Would you believe the same suitcases were just as full coming back? The reason? They were stuffed with books, photos, DVDs and journals on every aspect of life in Ethiopia - culture, fashions, transportation, food, travel, tourism, investment and business opportunities. In 12 years, our magazine and web Current searches of Google, Yahoo, MSN and others prove this point. But we brought back much more than information for our magazine's archives - we renewed friendships from two previous trips and had the opportunity to get to know several of the leading lights on the Ethiopian scene, including the outstanding Minister of Culture and Tourism.

Message from H.E. Ambassador Dirir
"The Ethiopian Government has given unprecedented support and priority to the Tourism Industry in its current economic and development policy. International and national investors are tapping Ethiopia's tourism potentials. Already, four and five star hotels are currently under construction in Addis Ababa. Since Ecotourism is high on our agenda, ecolodges and camping sites have been set up in locations that have stunning sights of natural beauty, landscape, rare and endemic birds and animals etc.
The Historic route in the North as well as the marvelous parks of the Rift Valley Lakes and wild game of the South and the Southwest continue to attract tourists. Some of the most important Holy Shrines of Islam in the eastern, southern and northern parts of Ethiopia are drawing in a large number of tourists. The Walled City of Harar, which is celebrating its First Millennium, has been recognized as a world heritage site by UNESCO.
"Dinkinesth," also known as LUCY, continues a journey that began some 3.2 million years ago when she started to walk upright. She will be touring America soon. We have also taken note of the increasing number of Ethiopian Diaspora who visit not only their home and family members and friends, but also all the tourist sports of the country.
As part of the mission to promote Ethiopia's image abroad. Ethiopian and other stakeholders in the industry have always been supportive of the endeavors, as they have in making ATA's 32nd Congress possible. I wish to take this opportunity to thank all these institutions and individuals personally. The convening of the 32nd Congress of the African Travel Association (ATA) in Ethiopia at this particular time is something that is highly valued because we recognize ATA's rich experience and knowledge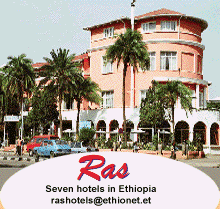 With a population of 67 million growing at a rate of 3% per year, Ethiopia is the second most populous country in Sub-Saharan Africa. Located in the northeastern part of Africa, bordering Eritrea to the north, Djibouti to the north east, Somalia to the south east, Kenya to the South and Sudan to the West, Ethiopia is the gateway to one of Africa's most rapidly growing markets. Host of the African Unity and the United Nations Economic Commission for Africa (UNECA), Ethiopia has become Africa's premiere hub for diplomacy and dynamic center for commerce, investment and tourism. As one of the oldest nations in the world, Ethiopia and its people have an ancient culture and deep-rooted values. Ethiopia has one of the lowest crime rates in Africa.
Ethiopian cuisine is unique by way of ceremony, flavor, color and presentation.
Wot, the national dish, comes in many varieties - meat, fish, poultry or vegetable - of hot pepper and spice stews which are almost always accompanied by a fermented form of unleavened bread called injera. Layers of the bread are geometrically positioned in baskets tables and spoonfuls of the different types of wot are then attractively portioned out on top of them. Then it's finger time, tearing off a piece of injera and wrapping it around a chosen piece of meat with savory sauce.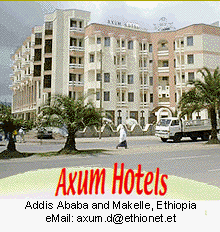 Traditional Ethiopian meals are normally washed down with tej, a type of wine made from honey, or tella which is a light, home-brewed beer manufactured from barley. Ethiopia also produces a range of very palatable yet inexpensive red and white wines.
The Ethiopians love ornament, design and art and this is reflected not only in the dress of the people but also in their personal adornment.
What about architectural and engineering works? Axum chairs, the konso people for their interiors designs, their terracing works, the dry stonewalls, the totems and the shield from the skins of wild animals. The konso are on the verge of being registered by UNESCO as world heritage. We should not forget the historical encircling Harar wall and their chairs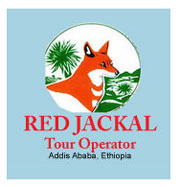 The Sidama, the Dorze and the Guraghe people are well known for their beautiful bamboo woven houses. The Dorze people are famous for their weaving skills to the extend that the Dorze name has become synonymous with the best woven cotton cloths in Ethiopia.
Coffee to Ethiopians is like tea to the British, the Japanese or Moroccan who have an elaborate tradition known as the tea ceremony. The main utensils used for preparing coffee are mostly traditional or handmade like the clay kettle (the jebena) the coffee pounding apparatus (or the mukecha) It is unimaginable to boil coffee in an aluminum kettle."
For information e-mail: info@tourismethiopia.org, or tour-com@telecom.net.et . Web site:http://www.tourismethiopia.org/pages/ethiopia.asp
USA Embassy , Canadian Embassy . Ethiopia Photo Index • Advertiser List • Ras Hotels • Axum Hotels • Sheraton Addis Hotel . Personality Profile • Omo Tour • Tribes .
---
Editor's Comments Continued: There were many bright spots at the ATA 33rd Annual Congress, where tourism industry experts from over 20 African countries, North America, Europe, and Asia convened in Addis Ababa, Ethiopia. One was the presentation by Ethiopian Airlines CEO, Mr. Girma Wake (below left). We have many friends at Ethiopian Airlines and visited them often during our month long stay. Mr. Wake's comments and video clips will be presented on this web site Stay tuned.

Ethiopian Airlines is one of Africa's largest, with frequent flights from Washington's Dulles International Airport The airline offers both morning and evening departures, with the morning departure allowing seamless connections to 28 African destinations. Ethiopian Airlines provides seamless connections to 45 world destinations including 28 in Africa via its Addis Ababa hub. Included are Abidjan, Accra, Addis Ababa, Amsterdam, Bamako, Bangkok, Beijing, Beirut, Brazzaville, Brussels, Bujumbura, Cairo, Dakar, Dar Es-Salaam, Delhi, Djibouti, Douala, Dubai, Entebbe, Frankfurt, Guangzhou, Harare, Hargiesa, Hong Kong, Jeddah, Johannesburg, Khartoum, Kigali, Kilimanjaro, Kinshasa, Lagos, Libreville, Lilongwe, Lome, London, Luanda, Lusaka, Mumbai, Nairobi, N'djamena, Paris, Rome, Stockholm, Tel-Aviv, and Washington, D.C. Visit www.ethiopianairlines.com