---
IHG Expands in Africa with First Hotel in Ethiopia
Crowne Plaza Addis Ababa to open in Ethiopian Capital in 2016
Addis Ababa, Ethiopia, 29 September 2014: InterContinental Hotels Group (IHG), one of the world's leading hotel companies, has signed a management agreement with Tsemex Hotels and Business Plc to develop Crowne Plaza Addis Ababa. The 210-key hotel represents the entry of IHG into Ethiopia and adds to the company's growing presence in Africa.
Crowne Plaza Addis Ababa is situated near significant landmarks including the African Union headquarters, African Union Convention Centre, the headquarters of the United Nations Economic Commission for Africa and the United Nations Convention Centre. It is also located close to one of the largest international communities in the city. The new hotel will feature an all-day dining restaurant, a speciality restaurant and a bar. Guests can enjoy facilities such as the health club and spa, or kick back with a drink at the bar by the swimming pool.
Catering to the business traveller, Crowne Plaza Addis Ababa will also offer a range of meeting facilities including a boardroom, seven large meeting rooms as well as ballroom for larger events. A business centre is also available for guests who require access to business facilities on the go.
Pascal Gauvin, Chief Operating Officer, India, Middle East and Africa, IHG, said: "Addis Ababa is evolving at pace, with infrastructure such as the Bole International Airport now serving almost 20 million passengers a year. We're always on the lookout for the right partner to grow our brands in the right location. Now we're bringing Crowne Plaza to a new country with Tsemex Hotels and Business Plc. Crowne Plaza Addis Ababa is a strong addition to the brand and with this being our first hotel in Ethiopia we will now have a presence in 13 countries across Africa."
Mr. Rezene Ayalew, Managing Director, Tsemex Hotels and Business Plc, said: "We own a number of real estate developments but with this being our first venture into hospitality, we couldn't have asked for a better partner to embark on this project with. Addis Ababa has great potential for tourism but is currently under-supplied in catering to business travellers and meetings and events. The Crowne Plaza brand comes highly recommended with a unique positioning for the business market and we believe this is the right brand to bring into our vibrant city."
IHG currently has 29 hotels open on the continent of Africa across five brands: InterContinental, Crowne Plaza, Holiday Inn, Holiday Inn Express and Staybridge Suites. The new development marks the sixth Crowne Plaza hotel in Africa. Across Asia, Middle East and Africa there are 68 Crowne Plaza hotels and resorts totalling more than 19,000 rooms, with an additional 16 due to open in the next three to five years.
-------------------------------------------------------------------------------------------------------
30 September 2014
Accor, leading player in Africa, carries on its development on the continent.

The Group, already present in 17 countries, with 93 hotels and almost 16 000 rooms, is opening new frontiers in Ethiopia, Kenya and the Democratic Republic of Congo.
During the Africa Hotel Investment Forum, held in Addis Ababa, Accor reaffirmed its commitment to development in Africa. Accor is already present on all segments, from luxury to budget, with its Sofitel, Pullman, MGallery, Novotel, Mercure, ibis, ibis Styles and ibis budget brands.
In 2014, Accor has signed 11 new contracts in Africa:

1 Sofitel : in Tamuda Bay/Morocco

3 Pullman : 1 in Addis Ababa/Ethiopia, 1 in Kinshasa/Democratic Republic of Congo, 1 in Nairobi/Kenya

1 Novotel : 1 in Mohammedia/Morocco

3 Mercure : 2 in Morocco (Nador and Al Hoceima), 1 in Algiers/Algeria

2 ibis : 1 in Mohammedia/Morocco, 1 in N'Djamena/Chad

1 hotel without brand : in Al Hoceima/Morocco
These 11 new contracts represent some 1700 new rooms. 3 hotels, signed in 2014, are already opened in Al Hoceima & Nador. "With already 4 openings in 2014, including ibis Casablanca Nearshore, Accor will continue its expansion in the coming months and years", declares Antoine Guego, Chief Operating Officer Africa & Indian Ocean. "Indeed everyone agrees that the African continent is living an economical revolution. With our strong experience -we are in Africa since 1975- we will look closely on how to expand quicker and stronger"

Accor, is the world's leading hotel operator, with 470,000 rooms in 3,600 hotels across 14 trusted brands in 92 countries. The company is organized around two distinct divisions, HotelServices, which operates and franchises the hotels and HotelInvest, which is a hotel owner and investor. The Accor hotels sit in three segments from budget to luxury which are constantly reinventing their concept to satisfy the needs of business and leisure customers around the globe. Accor brands include in luxury-upscale; Sofitel, Pullman, MGallery and Grand Mercure, The Sebel, midscale; Novotel, Suite Novotel, Mercure and Adagio and economy; ibis, ibis Styles, ibis budget, adagio access and hotelF1. The Group boasts a powerful digital ecosystem, notably its booking portal
accorhotels.com
, its brand websites and its loyalty program Le Club Accorhotels.
The Group's 170,000 employees benefit from working for a company that believes in progression and has an industry leading training program, the Accor Académie. Since its creation 45 years ago, Accor is making innovation and sustainable hospitality the focus of its strategic vision as well as of its customer-centric approach development and innovation process.
Press Contacts

Manoël Parrent
manoel.parrent@accor.com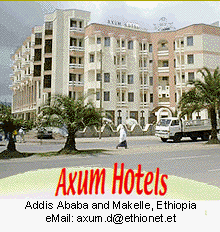 Visit our photo page featuring the Axum Hotels in Addis Ababa and Mekelle.
Special features of the Axum Hotels of Ethiopia will appear on this page soon ...

www.axumhotels.com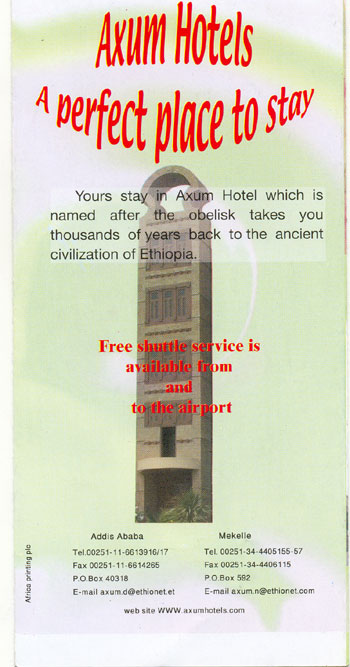 For full information on the Axum Hotels of Ethioipia
please visit the Axum Hotels Web Site