---
Mr. Girma Wake, CEO ETHIOPIAN AIRLINES
Interviewed by Mr. Africa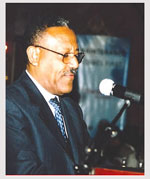 From the media reports

Ethiopia Voted One of Top 12 Travel Destinations for 2007. Frommer's Travel Guides, one of the world's leaders in travel planning guides and resources, and Frommers.com, an essential online destination for those planning the perfect travel excursions, have announced that Ethiopia is one of the top ten travel destinations for 2007. This year, the editors at Frommer's Travel Guides and Frommers.com scoured the globe and polled their stable of authors and experts to identify twelve surprising, thriving, or emerging travel destinations.
About Mr. Girma Wake
What Google Says
Radio Interview
After careful thought and consideration, the editors from Frommer's proclaimed that Ethiopia is one of their top picks of the places not to be missed in 2007. It's important to remember that Frommers.com is the preemminent source that allows thousands of travelers to easily find candid, timely articles written by Frommers.com experts about destinations around the world.
The selection of Ethiopia as one of their top travel destinations is not a surprising choice to us, but it may be to others, but Frommers.com states that Ethiopia is finally emerging out of the shadows caused by years of political strife and economic hardship. Improved infrastructure has made traveling there increasingly popular, especially among independent-minded travelers and those seeking adventure. Ethiopia is revered for its rich history as one of the earliest Christian kingdoms (the town of Axum is said to be the home of the ancient Ark of the Covenant). Visit the monolithic churches of Lalibela -- in particular the Church of St. George, named after Ethiopia's patron saint, which is carved into the shape of a cross from a rock mountain and is perhaps the most exquisite of the monolithic structures. Visitors seeking additional information can refer to ethiopianairlines.com or refer back to frommers.com for their online-only guide to Ethiopia appearing in 2007.
Ethiopian Airlines Offers Exciting NEW Tour Packages
This outstanding recognition by Frommer's continues to help promote that Ethiopia has tremendous cultural and religious appeal for US travelers. Mekonnen Abebe, Director of North America for Ethiopian Airlines said, "Ethiopia is indeed an amazing country with so many wonders and a rich history. I take great pride in seeing that a prestigious travel guide like Frommer's understands so much of what my country offers, and felt that it deserved this tremendous recognition." And with the growing awareness due to stories such as these, more sophisticated travelers will discover Ethiopia, as a country that has intrigued visitors literally since the beginning of time. To help visitors discover the wonders and magic of Ethiopia, Ethiopian Airlines has developed exciting new packages designed with international appeal. The programs and tours feature carefully designed itineraries that make even the most jaded traveler stand up and take notice. The new Ethiopian Airlines packages and tours include 1) The History and Magic of Ethiopia; 2) Ethiopia &endash; The Total Tour: From North to South; 3) Historic Ethiopia & Kenya Safari Tour and 4) Historic North Ethiopia and the Tanzania Expedition. For more information, contact your favorite travel agent or visit Ethiopian Airlines online at www.ethiopianairlines.com
About Ethiopian Airlines
Ethiopian Airlines is one of the largest airlines in Africa and features four weekly flights from Washington, D.C.'s Dulles International Airport The airline offers both morning and evening departures, with the morning departure allowing seamless connections to 28 African destinations. The airline's website, www.ethiopianairlines.com provides excellent information on additional flights, services and special web fares. Ethiopian Airlines provides seamless connections to 45 destinations around the globe including 28 in Africa via its Addis Ababa hub. Major destinations served include: Abidjan, Accra, Addis Ababa, Amsterdam, Bamako, Bangkok, Beijing, Beirut, Brazzaville, Brussels, Bujumbura, Cairo, Dakar, Dar Es-Salaam, Delhi, Djibouti, Douala, Dubai, Entebbe, Frankfurt, Guangzhou, Harare, Hargiesa, Hong Kong, Jeddah, Johannesburg, Khartoum, Kigali, Kilimanjaro, Kinshasa, Lagos, Libreville, Lilongwe, Lome, London, Luanda, Lusaka, Mumbai, Nairobi, N'djamena, Paris, Rome, Stockholm, Tel-Aviv, and Washington, D.C. Learn more about Ethiopian Airlines at www.ethiopianairlines.com