10 DAYS PANAFEST / EMANCIPATION TOUR (JULY 25-AUG 3)
Mailtto:royalderbytours@yahoo.com
DAY 1 (WEDNESDAY JULY 25)
-Arrival in at KIA in Accra
-Transfer to Erata Hotel
-Lunch at Country Kitchen
-Orientaion by Dr.Kojo Gavua (University of Ghana)
-Welcoming Ceremony with cultural performances/Dinner at Afrikiko
DAY 2 (THURSDAY JULY 26)
-Breakfast at Erata
-Travel to Kumasi
-Visit Bonwire Kente Village
-Visit Ntonso clothing centre
-Visit Ahwia carving centre
-Lunch at Jofel Restauant
-Visit Cultural Centre
-Dinner/Accomodation at Royal Basin Resort
DAY 3 (FRIDAY JULY 27)
-Breakfast at Royal Basin
-Visit Manhyia Palace(Residence of Ashanti King)
-Visit Kumasi Market
-Travel to Cape Coast
-Snacks on board
-Visit Cape Coast Castle
-Evening Attend Film Festival
-Dinner/Accomodation at Coconut Groove Resort or similar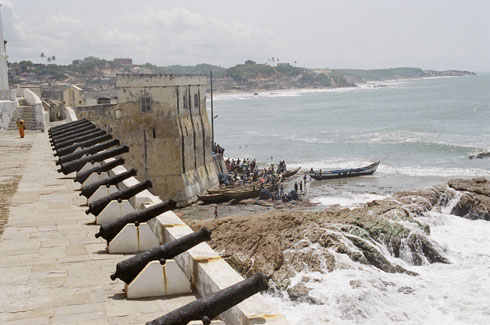 DAY 4 (SATURDAY JULY 28)
-Breakfast at hotel
-Attend Official Opening by the President of the Republic of Ghana
-Lunch at Elmina Beach Resort
-Attend the Durbar of Chiefs
-Attend Musical show or Film Festival
-Dinner/Accomodation at hotel
DAY 5 (SUNDAY JULY 29)
-Breakfast at hotel
-Attend Church Service at a local church
-Attend Pan African Conference
-Lunch at Mabels Table
-Afternoon at Leisure or relax at the beach
-Dinner/Accomodation at the hotel
DAY 6 (MONDAY JULY 30)
-Breakfast at hotel
-Visit Kakum National Park
-Attend Anomabu Wreath Laying Ceremony
-Lunch at the Castle Restaurant
-Travel to Assin Manso for the River Crossing Ceremony
-Dinner/Accomodation at Hotel
DAY 7(TUESDAY JULY 31)
-Breakfast at hotel
-Whole day at leisure for individual discoveries
-Evening take part in the reverential night at Cape Coast Castle
-Dinner/Accomodation at hotel
DAY 8(WEDNESDAY AUG 1)
-Breakfast at hotel
-Witness the boat display at Elmina Fishing Bay
-Travel to Assin Manso
-Snacks on board
-Witness the Emancipation Day Celebration
-Visit Slaves River
-Dinner/Accomodation at hotel
DAY 9 (THURSDAY AUG 2)
-Breakfast at hotel
-Whole day at leisure for individual discoveries
-Witness the Awards night
-Witness the Ancient Josephs Declaration
-Dinner/Accomodation
DAY 10(FRIDAY AUG 3)
-Breakfast at Hotel
-Transfer to Accra
-Visit the Pusuban Shrine at Mankessim
-Accra City Tour
-Lunch at Country Kitchen
-Last Minute Shopping at the Crafts Market
-Farewell dinner at Afrikiko Restaurant
Price $1150 /person/double occupancy
$1450 /person/single occupancy
***NOTE*** There could be a 3 days entension to enable you withness the 24 hours Healing Musical Concert in Accra,with visits to Akosombo for a cruise on the MV Dodi Princess and Ada Volta Estuary.Price $288/person/double occupancy and $388/person/single occupancy.
Royal Derby Tours of Ghana/West Africa
P.O.BOX KA16192
Airport-Accra., Ghana.
Tel:(233) 244 949 225
*Operates in Ghana,Togo,Benin, Burkina Faso,Niger,Mali & Cote D'Ivoire.
Mailtto:royalderbytours@yahoo.com
Photos on this page by Muguette Goufrani.