__News from 'Uganda &endash; Gifted by Nature', the Eastern African and Indian Ocean region
By Prof. Dr. Wolfgang H. Thome
First edition May 2010
Uganda News
AVGAS GOES MISSING &endash; AGAIN
Air operators using conventional single or twin piston engined aircraft are once again up in arms over the fresh shortage of AVGAS, the 'juice which makes our aircraft fly' as one of the contacted domestic airline executives said to this column. Only recently did a severe shortage come to an end which curtailed flying and halted flying lessons, as airlines rationed the precious liquid to serve their regular commercial clientele.
However, no sooner had supplies been restored did Shell once more let the market run dry, again remaining largely indifferent to the plight of the domestic airlines and owners of private planes.
Shell recently announced that they would sell of their Eastern African distribution operations and it is now alleged, that, although Shell has behaved 'badly' in the past the bottom is now dropping out of their service and care of their erstwhile business, probably showing their true faces as they prepare to exit Uganda and the rest of East Africa.
One irate air operator has threatened to sue Shell for breach of contract, and predictably no comments were received from Shell over the repeat problems inflicted on local airlines. Shell had dragged their feet in related matters too, such as the installation of a fuel storage facility at the Kajjansi airfield which has been going on for years and now seems destined for 'neverland', considering that Shell is hardly ready or likely to pay for the completion of the depot now that they have declared their intention to leave the market place. Said another operator from Kajjansi to this correspondent: 'Shell is becoming completely hopeless. Our relationship is marked by broken promises and non delivery of AVGAS. The sooner they go the better as we hope a new and dedicated distributor of oil, lubricants and aviation fuels will do better and have some respect for their clients. Shameful behaviour!'
BRIDGES INTO DISASTER AREA WASHED AWAY
A few weeks after the tragic landslide in Bududa / Mt. Elgon, which cost the lives of several hundred people, have fresh torrential rains now added more misery when swollen rivers washed away bridges leading to the area. Emergency personnel have reportedly been sent to the scenes to assess the damages and as and where possible begin emergency repairs, but a full restoration of road links may take well until after the rainy season is over, when the construction sides are safe and further rains do not wash away whatever repairs may now be done. The flow of supplies, but also access to schools, health centres and other social services now remains severely impeded in the Bududa area. Additional new landslides in the immediate vicinity of where the original disaster occurred were also reported in the media a few days ago, underscoring the need to continue moving people out of the park area and into safer zones further down the mountain or other parts of the region.
The same part of the country was already in 2007 subjected to flooding and destruction and as a result of the El Nino induced current heavy rainy season across Eastern Africa many parts of the region are suffering of similar problems as repeatedly reported here.
GORILLA TWIN PASSES AWAY
Sad news have reached a few days ago that 'Katungi', one of the twin pair born in late 2008, has apparently died. The little adolescent mountain gorilla was a member of the Nkuringo group, visited last year by this correspondent. It is a very rare occurrence that a female mountain gorilla gives birth to twins, and when discovered it was cause for both celebrations as well as scientific interest amongst researchers working in Bwindi Impenetrable Forest National Park.
It is understood that vets working with the Uganda Wildlife Authority are trying to establish the cause of the gorilla youngster's death to learn more about health issues surrounding the gorillas and be able to more effectively provide medical assistance when and where required.
Visit www.friendagorilla.org for regular updates by UWA on what is going on amongst their 'gorilla community', or better befriend one of them for the nominal fee of just 1 US Dollar.
CHOGM 'THIEVES' TO FACE IGG PROSECUTION
The Inspector General of Government of Uganda, in short the IGG, has now confirmed that they will begin to prepare indictments towards some individuals suspected to have diverted funds or 'stolen' funds in the run up to the Commonwealth Summit in November 2007, following constant revelations from the parliamentary public accounts committee and interrogations of suspects by the CID officers attached to parliament. Many civil servants, business people and government officials were implicated by the public accounts committee and accused of complicity in the misuse of funds, while the public at large was outraged that road repairs and other infrastructural measures soon after the summit began to fall apart and deteriorate with no sign of maintenance or the initial contractors being asked to fix up their shoddy work.
In fact, sources from parliament are talking of their intention to press for prosecution of very senior officials, including the country's Vice President, senior ministers including the state minister for tourism and a range of other officials who had come to the attention of the investigators and failed to absolve themselves while answering allegations and questions from MP's. Notably the Vice President evaded the parliamentary committee &endash; some sources suggest he defied summons &endash; while others staged 'walk outs', took several summons to appear or failed to cooperate in the eyes of committee members.
The IGG will according to reports from parliament share the 'burden' of prosecution with the office of the Directorate of Public Prosecutions and court cases, according to another source close to the investigation, would likely be filed already soon.
The parliamentary public accounts committee also visited the president last week at State House in Entebbe to discuss issues surrounding their investigation and shed light on to attempts by some of those questioned before the committee trying to hide behind obscure 'presidential directives' without however presenting any documentary evidence to that effect. It was made clear by the President in the meeting, that while he was not in any way involved in procurement of goods and services for the summit, he had on several occasions guided and counselled those concerned to observe existing rules of procurement and ensure that the requirements of the Commonwealth Secretariat for holding such a summit, as laid down in the 'Blue Book' were catered for. He also challenged anybody trying to hide behind any of these obscure 'directives' to produce evidence to that effect. The President also expressed satisfaction, that inspite of the ongoing queries and investigations the summit overall was a success as it showcased Uganda around the Commonwealth family of nations and the world at large and subsequently increased tourism arrivals substantially. The President also commented favourably on the increase in bed capacity of the Ugandan hospitality industry, which he said was another reason why the country was now able to attract more conferences and global meetings, something not possible without having held the Commonwealth summit.
2010 being a pre-election year in Uganda, with general and presidential elections now less than a year away, this saga will obviously continue to attract public attention and it is not ruled out that consensus for some prosecutions will be granted sooner rather than later to present a strong anti corruption stand as repeatedly stated by the President to the Ugandan public at large and reiterated when meeting the parliamentary public accounts committee last week.
Read more about this issue in some rather candid articles from the local print media like the New Vision, Uganda's leading daily via www.newvision.co.ug/D/8/13/717758, www.newvision.co.ug/D/8/12/717996, www.newvision.co.ug/D/8/13/718058 and www.newvision.co.ug/D/8/12/718066 or from the Daily Monitor via www.monitor.co.ug/News/National/-/688334/909310/-/wy25tq/-/index.html
And in breaking news just in, the Vice President reportedly reacted with anger, according to Ugandan media reports, when finally meeting with the parliamentary public accounts committee yesterday, directing 'words' against the chairman of the committee and the auditor general.
Read all about these latest twists in this saga via www.newvision.co.ug/D/8/12/718368 by the New Vision and www.monitor.co.ug/News/National/-/688334/911640/-/wyi7lp/-/index.html in the Daily Monitor, which used particularly strong words and language when reporting about the latest developments.
CLIMATE CHANGE FALLOUT BLOCKS ROUTE TO RWENZORI PEAKS
Glaciers on the top of the Mountains of the Moon, aka Rwenzori Mountains, have shrunk considerably since the peaks were first climbed over a hundred years ago, and since satellite surveillance and mapping has started to provide detailed records, part of the progressive disappearance of the equatorial icecaps also seen on Mt. Kilimanjaro and Mt. Kenya. This has worried climate researchers, conservationists and economists alike, as the fallout for the local ecosystems and the subsequent economic fallout, when runoff water quantities from the mountains begin to dwindle, will be having a major impact on millions of people living around these mountains.
Meanwhile though have reports filtered back from climbers &endash; the Rwenzori Mountains are a national park under the auspices of the Uganda Wildlife Authority &endash; that the glacier leading up to the Margherita peak has developed a deep crack which has widened to several meters, effectively blocking the ascend for climbers. This particular glacier has shrunk to less than 20 percent, according to available records, since the 1960's and the deep crack may be a harbinger of things still to come, should global warming continue unchecked.
There is now a risk, that should the crack widen further, that part of the glacier may progressively 'slide' away further. According to UWA sources other but smaller cracks have also been observed on other glaciers in the mountains although it could not immediately be ascertained what impact this would have on mountain climbing tourism, the major source of income for this particular national park. Many alpinists come to Uganda to climb the challenging Rwenzoris', the only 'proper' equatorial mountain range besides the free standing Mt. Kenya and Mt. Kilimanjaro
The equatorial icecaps were immortalised in Ernest Hemingway's book 'Snow on Kilimanjaro' and have been attracting tourists from all over the world to East Africa.
In recent reports, and as witnessed directly by this correspondent, was mention made about the Mt. Kenya glaciers shrinking to a minute portion of their former glorious self, while the Kilimanjaro icecaps too are now only covering the top of the peak instead of reaching far down the mountain. Watch this space for more reporting throughout the year as the focus is now on the Mexico Summit where hopefully a globally binding agreement on the curtailing and reduction of greenhouse gas emissions can be reached, as otherwise the equatorial icecaps may well be gone within the next 15 to 20 years. Stark prospects ...
MADHVANI FOUNDATION SEEKS APPLICATIONS FOR SCHOLARSHIPS
The annual award process of scholarships worth 500 million Uganda Shillings is now going underway again as every year and applications must be received by the Foundation by 31st May. Most notably, scholarships are again available in the field of hotel management and environmental studies, both fields important for Uganda and of course the tourism and wildlife sectors. More details are available for Ugandan students via www.madhvanifoundation.com. Successful applicants will have their tuition fees paid directly to the institution of higher learning of their choice while all other study and living expenses are to be met by the students selected.
The Madhvani Group operates currently 2 of the best known safari lodges in Uganda, is about to open their third safari lodge in the upper part of Murchisons Falls National Park and recently acquired their first safari camp property in the Masai Mara in Kenya, a reason why the foundation in recent years added hotel management and environmental studies to their portfolio. Well done and bouquets for the foundation over their philanthropical engagement in the country for many decades and the enormous amounts of money spent on their charitable work here in Uganda.
NEW BANK NOTES LAUNCHED
The Bank of Uganda earlier in the week launched new and redesigned banknotes which will now be gradually introduced into the local economy. The present 1.000 and 5.000 Uganda Shilling notes have been given a 'make over', incorporating not only the latest security features and arguably given the notes a longer life span through new production processes, but in addition a new note with the value of 2.000 Uganda Shillings was also launched, which is equivalent to approximately 1 US Dollar. It is understood that the present one- and five thousand shilling notes will be progressively withdrawn from the market, as in any case their general appearance has suffered and in particular tourists were often seen shy of accepting old and tattered notes as change when purchasing items from local curio traders and shops. This did not give a good impression to tourists in particular and urgent action was needed to remedy the situation.
Hence, the new notes will undoubtedly also raise the 'general fresh appearance' Uganda gives to her visitors from abroad, a development which deserves a 'bouquet' for the Bank of Uganda.
Meanwhile, in a related economic development, has government released the latest inflation statistics, and proudly reported a fall from double digit inflation during the height of the global financial and economic crisis to now 'only' 5.9 percent, largely driven by consistently rising fuel prices. The same trend was reported from the entire region, where inflation rates have fallen on a broad basis and economic growth forecasts were upped across the board.
These latest data were released earlier in the week by the Uganda Bureau of Statistics in conjunction with the Bank of Uganda and the Ministry of Finance. Economic growth for the 2010/11 period is expected to be in the range of between 7 and 8 percent, giving overall good prospects for the local economy in the near term and excellent prospects in the medium and long term when oil production starts and a hung chunk of the national spending on the importation of fuels can then be dedicated to other crucial sectors like education, health and infrastructural developments.
Kenya News
WHERE ARE THE NEW FERRIES
Anger is spreading amongst commuters, the business community and the tourism trade over the unexplained delay of delivering the new ferries for the Likoni channel crossing, which presently connects the island of Mombasa with the southern mainland, a crucial link for tourists and the local community alike.
Initially the ferries were to be delivered already last year but constant delays were experienced and procurement payment issues in Kenya too were not helpful towards a timely delivery.
It is now understood that it may take several more weeks before the ferries may arrive in Mombasa, but no word was received to to the shipping route, which may add more dangers to the timely delivery should the route go through waters infested with Somali ocean terrorists, as it would more than likely need a navy escort all the way from the Red Sea to the port of Mombasa.
Interesting enough, no one has yet used the Icelandic ash cloud as a reason for explaining the fresh delays ...
KENYA BUZZ PRODUCES NEW GUIDE / MAP
Kenya's premier e-guide &endash; available via www.kenyabuzz.com &endash; has now launched a printed version of their accumulated 'wealth of knowledge' and is selling both, an up to date map of Nairobi as well as the quality guide book for 1.200 Kenya Shillings, or somewhere in the region of 15 US Dollars, a bargain considering the range of details contained in the new guide about eating out, shopping and all related information valuable to tourists and locals alike.
Subscription to the weekly edition mailings of the e-guide are free and can be requested when visiting Kenya Buzz's website, where a variety of news items can be found week in week out, including links to some of the lesser known but nevertheless very good safari and beach properties available across the country for locals and overseas visitors alike. A 'should really read' publication for any intending tourists and business travellers coming to Kenya.
KENYA AIRWAYS ADDS 'FRILLS' FOR BUSINESS CLASS TRAVELLERS
It is now three pieces of baggage, weighing 23 KG each, which KQ allows their business class travellers to take with them when checking in for flights from East Africa for onward flights into their European network, moving to the same standard already in place with some other carriers, some of which also added perks to their faithful flyers in order to retain their top revenue bracket. A number of airlines flying to Entebbe already grant larger allowances in terms of overall weight while again others restrict the weight per piece to their standard 23 kilograms and then rather add an extra checked suitcase.
The use of customer loyalty schemes &endash; Kenya Airways some months ago added a co-branded credit card for their faithful passengers which earns them extra 'points' &endash; is also increasingly playing an important role as the 'earn and burn' opportunities continue to grow and frequent fliers often manage to accumulate enough 'credits' within a few months to enjoy a free weekend at the Kenya coast for instance with their families.
Tanzania News
POACHERS SHOT WILDLIFE AND POLICE OFFICER
During a recent anti poaching operation it once again emerged that lives are indeed at risk when trying to enforce the law. Two officers were shot at and seriously injured by poachers in the Manyara region of Tanzania. The anti poaching operation comprising over half a dozen officers drove into what appears an ambush, during which the vehicle was sprayed with bullets, before those officers not injured then managed to arrest several culprits, which will soon appear in court charged with attempted murder and a variety of other crimes related to poaching and illegal logging.
Poaching has been a matter of concern in Tanzania amongst conservationists and government had been asked to do substantially more to combat the vice.
This correspondent expressed his sympathy and best wishes for a full and speedy recovery of the injured anti poaching personnel and commends them for their bravery.
WORLD ECONOMIC FORUM / AFRICA CHAPTER MEETS IN DAR
Hot on the heels of the third East African Community Investment Conference, held last week at the Munyonyo conference and resort complex outside Kampala, is the WEF / Africa chapter holding its economic review meeting in Dar es Salaam this week. Over 1.000 delegates from over 80 countries are expected to join governmental delegations and representatives of multilateral organizations.
The meeting is breaking new ground as it will be the first of its kind in the Eastern African region and the theme of the event is 'Rethinking Africa's Growth Strategy' &endash; a timely reminder of having just emerged from the worst global economic and financial crisis, which still reverberates in many of the economic sectors of the African nations. In particular Tanzania and her East African Community sister states will try to showcase the investment opportunities and potential to the visitors from abroad but it is a meeting for the whole of the African continent of course. Issues like food security and production, aggravated some years ago by a global demand for bio fuel crops which drove the price of food often beyond the means of ordinary people, will rank high on the agenda, as will infrastructure, which is in urgent need of major investments to bring Africa into the 21st century.
The tourism industry in Tanzania hopes for the proverbial shot in the arm during the present low season, hoping for good sales of pre and post congress tours to the Indian Ocean beaches and the country's much fabled national parks.
It is also understood that a parallel forum for 'young leaders' is due to take place also in Dar es Salaam at the same time, for which a few hundred extra visitors are expected in Tanzania's commercial capital, filling all the available hotel space to the delight of the hospitality trade and leaving ad hoc visitors and visitors with no prior bookings stranded to look for rooms in the city and then had to settle for hotels or resorts further out of the city centre.
Rwanda News
NEW CEO FOR RWANDAIR
The Chairman of the Board of Directors Mr. John Mirenge has stepped down from the twin position of CEO of the company earlier this week, when German national Rene Janata was introduced as the new Chief Executive of the Rwandan national airline.
Mr. Janata comes from German flag carrier Lufthansa, underscoring the already close cooperation between Lufthansa and RwandAir as expressed in the purchase of two CRJ200 aircraft last year, which also came with maintenance support.
The new appointment is intriguing as RwandAir already operates a codeshare with Belgian flag carrier Brussels Airlines on the Brussels to Kigali route, and Lufthansa is presently the largest shareholder in SN with the option next year to substantially expand ownership and eventually purchase SN in full. Lufthansa is already flying under codeshare with Brussels Airlines to 'neighbouring' Entebbe and it is according to information at hand only a matter of time now before the LH code will also be placed on the SN flights routing through Kigali.
Further options for cooperation are now abound, as WB has for long sought a sound partner to become a core investor in RwandAir, and with the 'German Connection' now all but obvious the coming months and weeks will make interesting observations and watching. Stay tuned to this space for the most up to date information about East African aviation.
RDB &endash; TOURISM AND CONSERVATION PUBLISHES 'KWITA IZINA 2010' PROGRAMME
The following programme has been published now for the forthcoming Kwita Izina celebrations this year, and intending visitors can now prepare where they want to go in Rwanda and what event they wish to see in person:
WORLD ENVIRONMENT DAY AND KWITA IZINA CEREMONY PROGRAM
Day 0: 28th/05/2010: Press Conference to announce the WED and Kwita Izina activities
Day I: 29th /05/2010 Community Work (Umuganda) an official launching of World Environmental Day and Kwita Izina week activities highlighting the role of conservation of mountain gorillas. This will be on usual date for "Umuganda Rusange" of May 2010
Day II: 30/05 to 1st /06/2010: WED and Kwita Izina National Cycling Tour
To sensitize our communities and Rwanda citizens in whole on Environmental Conservation through Kwita Izina Cycling Tour to promote a carbon free environment. This event will be organized in partnership with Rwanda Cycling Federation and the cycling tour will be combined with exhibition of environment friendly products and a public campaign for environment management.
Day III: 2 June 2010: WED and Kwita Izina Soccer
Link WED and Kwita Izina with the FIFA World Soccer Cup tournament in South Africa&emdash;from Kwita Izina to World Cup. This will be a joint soccer with FERWAFA.
Day IV- 3rd June 2010: Environment and Conservation Conference and this will focus on "Celebrating the international year of Biodiversity"
The Environment and Conservation Conference will bring together environmentalists and conservationists to share experiences and future plans in the conservation of the biodiversity, ecosystem management and green economy and protection of the mountain gorillas as well as other threatened species and their ecosystems. The conference will demonstrate Rwanda's willingness and ability to play a regional role in environmental management and gorilla conservation and will also be earmarked by the launch of biodiversity policy Wildlife Policy and the post conflict environmental assessment report.
Proposed topics that will be discussed by international guest speakers are;
? Conservation of national parks for green economy
? Payment of ecosystem services for sustainable development
? Reducing biodiversity loss for future generations
? Carbon offset and sequestration
Day V, 4th June 2010: Umuganda and Community Projects launching, general public exhibitions/expositions on environmental initiatives and Community party "Igitaramo"
On 4th June will be an opportunity for Rwanda to carry out the community work (Umuganda) with international dignitaries while planting trees in Kigali at Nyandungu wetland will be done as a symbolic way to promote a carbon free and green economy. The emphasis will be on wetland ecosystem for management and sustainable development.
On the same date Rwanda Development Board will launch new community projects realized surrounding Volcanoes National Park as part of the Kwita Izina week activities.
Since 2003 different community projects have been implemented through gorilla revenue sharing and support of Partners with the aim of alleviating poverty.
The traditional party called "Igitaramo" whereby different cultural dances are performed is a very exciting event organized by the Rwandan Community. This cultural extravaganza which involves different traditional dances such as superb "Intore dance "and "Ikinimba" will take place in celebration of the new born baby gorillas.
DAY VI, 5th June 2010: World Environment Day & 6th Annual Kwita Izina Ceremony
5th June marks the first time Rwanda is hosts the World Environmental at the global level and this will be celebrated in conjunction with the annual Kwita Izina Ceremony. On this day, we shall be celebrating the successes of gorilla conservation by giving names to the new baby gorillas. The focus will be on "Raising global awareness of biodiversity conservation as we give names to our baby gorillas" with honoured guests from International and regional Community Rwanda's leadership, private sector local community, Gorilla Range States, and renowned conservationists and supporters of Kwita Izina
For further details about World Environment Day and Kwita Izina Ceremony, please check our websites: www.rwandatourism.com or www.rema.gov.rw or www.kwitizina.org or www.unep.org/wed
Seychelles News
SEE US AT THE ARABIAN TRAVEL MARKET, AND AT INDABA OF COURSE
The Seychelles Tourist Board, together with representatives of hotels, resorts and destination management companies will be making an appearance in Dubai for the forthcoming Arabian Travel Market, before turning their attention immediately afterwards to INDABA in Durban / South Africa. Both markets are hugely important for the Seychelles and increased air capacity will help to sell holidays to the archipelago from both the Gulf States as well as from Southern Africa, where Air Seychelles has added Cape Town to their regular flights between Mahe and Johannesburg.
The delegation has indicated that they will be happy to welcome ad hoc visitors with no prior appointments at their stands and have all materials and information at hand for 'buyers' and also for casual non trade visitors, as both events are combined consumer and trade affairs.
KEY SPANISH OPERATORS VISIT SEYCHELLES
Following several activities in the Spanish holiday market last year and early this year has a group of leading travel and tour operators from Spain visited the Seychelles last week. The eight day trip was arranged by the Seychelles Tourist Board in conjunction with Air Seychelles and Iberia and Beachcomber Hotels.
The visitors had the opportunity to get acquainted with the main island of Mahe but also visited other islands on the archipelago like Praslin, Silhouette and St. Anne to gain a greater insight into the range of resort facilities available. An ocean cruise with 'Silhouette Cruises' was also on their programme, giving them ample experience of the activities available for visitors to the Creole islands and the quality of hotels and resorts.
It is understood from STB sources that invitationals for leading tour operators and travel agents from key existing and emerging markets will continue across the year, as will visits for press and media organizations to keep the destination firmly in the spotlight as one of the most desirable places in the world to visit.
GERMAN PUBLICATION VOTES LA DIGUE BEACH 'BEST IN THE WORLD'
The Seychelles have again been voted as number one in the 'top five' bracket of the 'best beaches' in a recently published survey by a German publication, as available on the web via www.strandbewertung.de for interested readers.
This correspondent has visited this particular beach on La Digue during a visit long ago, and having seen many other beaches around the globe only agrees that this is an extraordinary example of a beautiful beach and truly deserves to be included amongst the very top. Visit www.seychelles.com for more information about the archipelago and in particular about the chosen beach 'Anse Source d'Argent' on La Digue Island.
GREEN ISLAND FOUNDATION TO WORK ON TWO ENVIRONMENTAL PROJECTS
Although the population of the Seychelles is still &endash; in comparison with other countries &endash; relatively small, pressure on the environment and natural resources is growing across the archipelago too. The emphasis is now turning to 'sustainability' in each facet of life and the economy and the Green Island Foundation has now commenced work on two projects related to these goals. A so called 'integrated coastal zone management' plan is being implemented along two beaches on the islands of Praslin and La Digue, bringing together tourism stakeholders, the business sector, communities and the administration all of which will be involved in discussions over resource use and resource allocation. The two projects are funded by the European Union and will focus on such sensitive matters as beach erosion, overfishing, see weed and reef preservation but also look at general biodiversity and water quality issues.
SEYCHELLES TOURISM ACADEMY GETS NEW CHAIR
Mr. Philip Guitton was recently appointed as the new chairperson of the committee (board of directors) of the STA, and at the same time appointed vice chairperson of the Seychelles Tourist Board. Mr. Guitton is the regional general manager of the Constance Lemuria Resort in Praslin and the Constance Ephelia Resort on Mahe and has been working in the Seychelles since 2006. His work background before coming to the Seychelles, as well as his track record on Praslin and now Mahe have made him a prime choice for his new appointments and the hospitality industry has high hopes that the Seychelles Tourism Academy will benefit from his experience and connections. Well done, and all the best for the challenges ahead in coming months and years.
MAIA'S LOSS IS PARADISE SUN'S GAIN
Mr. Philippe Bethune has been moved 'across' from the main island of Mahe to the Paradise Sun Hotel on Praslin on promotion from his erstwhile position as Resident Manager of the MAIA Luxury Resort and Spa, following three 'wonderful' years at the MAIA. The Paradise Sun is also part of the South African Southern Sun Hotels empire and his appointment as General Manager is surely a vote of confidence in his performance at the MAIA.
This correspondent had the opportunity to meet Philippe a few months ago while staying at the MAIA and was able to sample their hospitality and the award winning cuisine of this top of the range resort. (Conde Nast proclaimed the MAIA's cuisine as the 'best in Africa') Using a breakfast meeting with Philippe to discuss hospitality industry issues and tourism to the Seychelles with him, he did say that working at the MAIA was 'wonderful'. My best wishes and congratulations on his new appointment to Philippe through this column.
SEYCHELLES HOSPITALITY AND TOURISM ASSOCIATION OPEN LETTER TO THEIR MEMBERS
This issue of our industry's e-News is the final one before the Annual General Meeting of our Association. I start by taking this opportunity to thank everyone for their support for our industry's Board during their year of office. Our united effort has paid dividends and today we are, not only the respected body representing the industry, but we are becoming the Government's partner in the continued consolidation of our industry.
It is that new found cooperation and understanding between the Government as the facilitator, and the private sector as the economy's motor, that will make the real difference for our industry and in so doing for Seychelles.
Together we must now rally our individual efforts for our common good. We have, as an industry, managed to hold our visitor arrival numbers, but we now need to be united in our drive to better our yield. Many ideas are being floated, but this will need to be a united drive. Our 'one island one hotel partners' serviced by Air Seychelles are complaining about the recent increases in the airline's charter rates to connect these islands to Mahe. These islands are an integral part of our country's tourism infrastructure and as your Association's representatives we have taken the matter up with the Minister of Finance. Air Seychelles and its Board of Directors are looking at themselves as a commercial entity and they decide their own path for the future, but Seychelles also needs to protect its main industry and enable that industry to develop and prosper. Today it has become evident that the survival of the national airline and the consolidation of different other commercial entities will need to be looked at together. If the time has arrived for opening the airspace for the connecting of our islands, then so be it and we need to be brave enough to do so. This will encourage local businesses to get together to open a second domestic airline, and as a result both the Seychellois and our tourism industry will benefit.
The drive for us to open new tourism markets was seen as necessary when the 'European ash crisis' closed all the European airports. La Reunion, India, China, South Korea, East & South Africa are all markets we have, as an industry, been working hard to open and to develop further, and this with the support of the Government. The week on week statistical figures have shown that our country's arrival numbers have held during the week's disruption caused by the 'Ash Crisis', because we had arrivals from other countries outside of Europe. Our strategy as an industry is working, and it is such a broad view of our industry that will make the real difference for our country. This is why we also need to open up to the world with more air access from or to areas that Air Seychelles is not flying.
The Seychelles Tourism Industry is disappointed that the SCAA have decided to block Emirates Airlines from introducing their 7th flight to Seychelles because that latest flight would clash with the arrival time of an Air Seychelles flight from Mauritius. Can our country really afford to miss the opportunity of being advertised with daily landings by Emirates at 7am, and this flying in from anywhere in the world. Yes Air Seychelles was using that slot before, but what is in the interest of the Country as a whole?, what is in the interest of the Tourism Industry as a whole? and what will bring in more benefits to the Seychellois as a whole?. Seychelles may now not have the daily Emirates Airline landing in Seychelles because we want them to land in the afternoon on that one day, and in so doing force our visitors (tourists coming to holiday in Seychelles) to sit in Dubai airport for some five hours whilst in transit. We appeal to Mr Gilbert Faure of the SCAA, and to Mr Maurice Loustau-Lalanne, the Chairman of both the SCAA and of the STB to look beyond the file on our desk and to look at the economy of the country. Let us urgently review that decision that will seriously hamper our country's new found tourism drive. The decision is yours and the effects will also be from your hands...because we will not be able to ask why other destinations are zooming ahead whilst we are stuck with our 150,000 arrival numbers!!!
I am ending this message by encouraging every tourism and hospitality industry member to make a special effort to be present at our AGM in May. Come and listen to where we are and what is still outstanding from our 'to do list'.
Much has been achieved over the past year, however there is still more to be done; our demand for the industry to be represented on key Board i.e. Planning Authority, Praslin & La Digue Development Boards, the Management Boards of our USPs - SIF for Vallee de Mai & Aldabra, Botanical Gardens, Marine National Parks is still outstanding. Our Country is too small to have such key bodies operate with no input from the industry that remains the pillar of the Seychelles Economy. It is our hope that we will succeed this year in convincing government such requests are for the good of Seychelles.
Thank you to President James Michel and to his Government for their trust in our Industry and in our Association, thank you to all our Industry's Members for their continued support and friendship, thank you to all the SHTA Board Members for your loyalty and support, thank you to the Tourism Industry at large for the spirit of togetherness that is so apparent and which is so encouraging.
Louis D'Offay, Chairman, Seychelles Hospitality and Tourism Association
Southern African News
LUFTHANSA TO USE THE A 380 TO JOHANNESBURG
Information was received from a regular contact in South Africa that apparently the local Lufthansa office 'leaked' the good news to the local travel and tourism trade, that they will commence flight operations with their soon to arrive fleet of A380's to Johannesburg on an initial three times a week basis, when the four expected giant aircraft due for delivery have been received by Germany's flag carrier. Operations are due to commence, as per the information at hand, by October this year when the traditional 'switch' to the fall and winter schedule takes place. Presently LH is using their proven B747-400 on the route, but a growing volume of cargo and passenger traffic to and from South Africa has probably prompted LH to choose JNB as their first &endash; and for the time being surely ONLY &endash; African A380 destination, after recently announcing the deployment of the new aircraft also to Tokyo and Beijing.
Johannesburg was also the first ever African scheduled destination for the A380 for flights by Air France, a signal of confidence in the destination and vote of confidence for JNB to handle the giant airlines satisfactorily. Bookings for the new service are already available on the system, it was also pointed out.
Gill Staden's The Livingstone Weekly, is now on another page
_______________________________________________________________
News from 'Uganda &endash; Gifted by Nature', the Eastern African and Indian Ocean region
By Prof. Dr. Wolfgang H. Thome
Fourth edition April 2010
Uganda News
GATELY ON NILE TURNS 10
(Merryde cut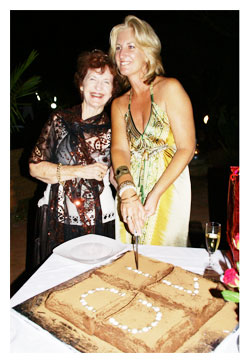 ting the anniversary cake at the Gately on Nile's 10th 'birthday party')
A decade ago this correspondent sat on the terrace of the just opened Gately on Nile with proprietor Merryde Loosemore, enjoying their 'signature dish' Quiche de Maison and preparing to write an article for what was then East Africa's leading leisure magazine, Travel News of Nairobi / Kenya. Merryde had a few months earlier taken out a long term lease on a dilapidated residential property overlooking the part of Lake Victoria where it begins to turn into the River Nile, just a few hundred metres away from the erstwhile 'Rippon Falls' where the river initially started its long journey to the Mediterranean Sea. Construction of the Owen Falls dam in the 1950's then submerged these spectacular falls (as seen on archived pictures) and moved 'the spot' further down to the current location of the 'source of the Nile'.
Intense renovations took place during those weeks, with Merryde by her own admission working around the clock, to meet her target opening date in April 2000 and to stay on top of the work to ensure the project was delivered on budget.
Jinja was beginning to emerge as 'the adventure capital of East Africa', courtesy of several rafting and adventure companies drawing in the crowds for rafting, kayaking, quad biking, bungee jumping and horseback riding and more quality accommodation was required to meet the growing demand. The nearby golf club and sailing club offer added attractions of course for visitors' intent to 'work out' a little more.
The Gately on Nile, named after Merryde's adventurous auntie she told me, became an instant 'hit', for guest staying in the homely atmosphere &endash; including being able to go downstairs to the restaurant at night and fetch drinks before telling the bar staff in the morning to put it on the bill &endash; but also for the restaurant which soon made it to the top of the list for eating out in Jinja.
Some years ago Merryde then managed to obtain a lease for the building and large plot next door and incorporated a second property into the Gately, now offering more rooms, more facilities but still the very same warm hospitality, good 'home cooked' food and most important, the owners attention to detail.
Last Saturday evening a large crowd assembled at the Gately in Jinja to help Merryde and her staff celebrate the achievement of turning '10' and a very hearty 'happy birthday' it was for them all. For more information visit www.gately-on-nile.com or write to gately@utlonline.co.ug
Another 'Gately' is also found now in Entebbe, enroute to the airport, convenient for those who could not get enough of their hospitality in Jinja.
NDEGE JUU GETS NEW BOARD CHAIRMAN
Patrick Bitature, a well known local business man and also presently service as chairman of the Uganda Investment Authority, was earlier in the week introduced as the new chairman of the board of directors of Ndege Juu, a domestic charter airline based at the Kajjansi airfield just outside Kampala, along the main road to Entebbe.
Ndege Juu commenced operations in 2008, as reported at the time by this correspondent, and has since then gradually established itself as a serious player in the otherwise hard fought over domestic aviation market. Their fleet is best known for operating the 'branded' MTN plane, which is used to enhance MTN's marketing activities across the country 'from the air'.
CHOGM 'HUNTERS' NOW LAY INTO CAA
Top Civil Aviation Authority management got a roasting last week when the public accounts committee of parliament laid heavily into them, demanding answers about changed (upwards of course) contract values, alleged overpricing, payments without retaining withholding taxes, and in the absence of formal payment vouchers, and shoddy work ahead of the 2007 Commonwealth Summit. The massive expenditures incurred by government, prior to and just ahead of the summit in November 2007, continue to excite the mostly opposition parliamentarians on the committee, as they are now less than a year ahead of a general election and while they seek to find culprits and those responsible for not getting value for money. Read all about the latest interrogations of those appearing before the parliamentary committee and subsequent additional questioning of them by CID officers attached to parliament, and the possible fallout for those concerned, via www.monitor.co.ug/News/National/-/688334/904060/-/wxxm0x/-/index.html
MARASA STAFF CHANGES
It was learned late last week that Marasa, the Madhvani Group company overseeing their tourism and hospitality investments in Uganda, has ahead of the opening of the newly restored Chobi Safari Lodge in the upper part of Murchisons Falls reshuffled their senior managers.
Long serving Richard Hodgson moves from Mweya Safari Lodge in Queen Elizabeth National Park to oversee the final pre-opening phase at Chobi, which will offer 36 rooms in the main building, 21 superior self contained tents on elevated platforms or vantage view points along the river, 4 suites and one VIP cottage. Located along a stretch of white-water of the river Nile the lodge was of old a much sought after place for river fishing but will in the future appeal to 'non-fishermen' too considering the added features like conference facilities. Mweya's loss will undoubtedly be Chobi's gain.
New in Mweya, and taking over from Richard there, will be a Mr. Renier Botes from South Africa who brings with him a wealth of experience from previous appointments.
Good friend Kenneth Mugira is also leaving the Paraa Safari Lodge, returning to Kenya to take over the first Marasa property there, as told in another article in this week's edition and will be replaced by another new face, Kenyan Crispus Nguraru Mwamidi who will be managing the 'jewel on the Nile' as the lodge has been dubbed in their promotional material.
Welcome to the new faces and good luck to all of them and Kwaheri Ya Kuonana to Kenneth, whose competence and friendly disposition will be much missed by this correspondent.
CONTROVERSY BREWS OVER CONCESSION AGREEMENTS
Information was leaked to the media last week indicating a possible change of government's policy to stick to and uphold contracts entered into with private sector investors, when news surfaced that apparently existing terms and conditions for lodges in national parks were set to be altered, according to public statements made by the Minister of Tourism.
In the early 1990's, when investors in Uganda's tourism industry were few and far between, the then Uganda National Parks, legal predecessor of UWA, offered concessions, lasting between 20 and 30 years to those 'early birds' who were willing to take the risk of investing.
One of the investments, due to a deteriorating security situation then in the Northern park of Murchisons', soon went 'belly up', was foreclosed, put into administration and then sold to the cash solvent Madhvani Group, which not long before had also acquired the main concession for the Queen Elizabeth National Park's Mweya Safari Lodge.
Cognizant of the fact, that investors would need a long financial breath to see results from their investments in the tourism sector, UNP had at the time offered exclusion zones of varying radiuses to the concessionaires, to avoid 'competition' building literally next door &endash; and it is understood that someone intends to build near the Paraa Safari Lodge &endash; so that a return on the massive investments could eventually be achieved. Most of these first investments faced long periods of sustained losses, justifying the demand for such exclusion zones to the fullest extent, as only the financially strong lodge owners eventually saw their bottom line improve.
Sites outside the parks are of course available on private land or government land, but often rejected by investors, unlike in Tanzania, where TANAPA strictly enforces in for instance the Serengeti a policy of 'no more lodges' inside the park, often reported about here.
New investors in the now gradually expanded tourism industry in Uganda have regularly questioned these exclusion zones embedded in existing contracts, but so far government has relied on opinions from for instance the Solicitor General's Office and the AG's Office, confirming that existing contracts are 'air tight' and government would either need to wait until the present concessions are due for renewal or else be prepared to pay mega money in compensation to existing operators with at times still well over 10 years 'on the clock'.
While the Ministry of Tourism did not comment on specific questions raised by the time of posting this report, there was also the inconsistency of a statement attributed to the Minister, who reportedly mentioned that the Uganda Investment Authority would soon advertise for investors, while by law it is in fact the Uganda Wildlife Authority to advertise for concessions. Again, this discrepancy was not addressed either and the legal validity as well as the political sense of the announcement is now coming under scrutiny.
All parties in fact remained rather guarded in the few responses received, but it is clear that, should the existing concessions be altered unilaterally, government would be in for a decisive court battle, and potential investors could count on court injunctions to be granted on application, to stop any negotiations, agreements or building activity until the principal suit would be determined, which can take many years of course, considering the appeal provisions, and in the end undoubtedly resulting in a massive multimillion US Dollars compensation for affected 'first round' investors. Watch this space as this saga continues.
UWA CONFIRMS SITATUNGA HUNTING
Recent reports about the Sitatunga gazelle now being officially on the hunting list were confirmed last week by the Uganda Wildlife Authority, causing the predictable outcry amongst dyed in the wool conservationists on one side while those in favour of hunting considered it a step to open up hunting in the entire country, and hoping for hunting blocks or areas to be established as concessions.
There is amongst the more mature conservationists however still the concern about game numbers, which prompted at least some of them in communications with this correspondent to voice their concern, if not outright demand that this MUST be ascertained first before hunting for any species should be granted, while there is also of course a group categorically opposed to the consumptive use of wildlife, inspite of this being embedded in the amended Wildlife Act under 'wildlife use rights'.
Where UWA could defuse some of the arguments would be by publicly availing the findings of the erstwhile 'pilot hunting project' outside the Lake Mburu National Park, an issue still raising the temperature amongst the hardline 'anti hunting' activists and in a public forum state their intent and discuss their way of going about the introduction of new hunting areas and granting of relevant concessions. Building consensus would clearly be the best option to bring diverse interests together towards an ultimately common objective, which is wildlife conservation.
It was also pointed out to this correspondent that UWA's heavy leaning towards the Southern African school of thought could also open the door to 'canned hunting' a much condemned activity 'down South' which has come under increased criticism before criticising the lack of governmental intervention to stop illegal poaching outside the protected areas, where a profitable trade in game meat appears to be going on and growing, according to some sources. Here, it was said, the police needs to be working hand in hand with UWA enforcement and intelligence personnel to bring this menace to a halt. Upon questioning the sources conceded that they do make a difference between subsistence hunting and commercial poaching, but were firm that the latter must be tackled by the country's law enforcement bodies immediately.
While hunters and anti hunters will arguably never really see eye to eye, it is only opportune to give the UWA CEO the opportunity to comment on the questions posed to him and allow his view to be published here too, a move which in the past has drawn criticism for this correspondent but is in his opinion only fair, as well as beneficial for all others to be able to read a clear position taken to the question:
eTN: 'I recently saw a German weblink claiming the Sitatunga gazelle is up for hunting in Uganda.'
Mr. Moses Mapesa:
'On Sitatunga, as you may know that this is the easiest antelope to hunt
traditionally. It is easy to trap along the swamps with traditional nets or
spear. In the last 2 decades lots of Sitatunga have been traditionally
hunted wherever they occur in swamps outside Protected Areas. This was after
their numbers had drastically gone up especially in Central Uganda because
of the War.
On the Sesse Islands, Sitatunga hunting tremendously increased with
increased logging and the palm oil project. There is no UWA presence on
these Islands.
It is against that background that we decided to lisence Sitatunga Sport
Hunting, rather than have them exterminated through traditional hunting.
With the Sport Hunting program the traditional hunters aid the sport hunters
and therefore do not loose out, they earn some money, they take the meat,
and only a few animals are taken out. They then participate in conservation
and protection of the animal as an economic resource.
Controlled hunting programs in Europe and South Africa have proven
conservatives wrong about the no hunting policy, especially where land is
owned privately as is the case for where (illegal) Sitatunga hunting has
been happening over the years. To win over the land owners, traditional
policing by a government agency is rarely successful but economic incentives
do work.
eTN: 'If you say that the poaching of the Sitatunga is reducing in areas where hunting is now permitted - how many areas by the way are those and located where - what is happening in areas which are not protected but where poaching is nevertheless illegal and a serious worry about the viability of the species' long term survival?'
Mr. Moses Mapesa:
'As you would appreciate, there are no quick fix solutions to conservation
challenges. We believe the intervention will ultimately check poaching or
"illegal" hunting of Sitatunga and other wild animals. To the communities
there is nothing illegal about their traditional hunting expeditions. We are
now seeking cooperation on how best to utilize the resources. We want to be
partners and not "enemies" in conservation with the local communities and
private landowners.
We have noticed interest from land owners where we have not started the interventions.
Infact our pilot was around a few ranches near L. Mburo but
the demand to participate in the collaborative management of wildlife has
been overwhelming. So now we cover Kafu Basin, Aswa Lolim area, Karamoja
and Kalangala. We want to take advantage of the positive attitude where
communities and local government leaders now appreciate wildlife as a viable
economic investment.
We are picking lessons from Southern Africa, we have had a team of farmers
visit Zimbabwe early this year.
But I must emphasize that the outcomes of this intervention can only be
measured over a few years and if we can sustain the cooperation that we have
cultivated. At the same time we must all be aware that with competing
economic land use practices unless wildlife can be seen to contribute to the
local and national economy including individual livelihoods (the reason
people poach) we would be fighting a losing battle with the no touch policy
or with the so-called ban on hunting as experience and studies in many
places has shown.
A key issue of course is control. But the controls must evolve through a
system of mutual trust and dialogue not just policing per se. Policing can
only complement.
Adds this correspondent in closing: the ball is now in the public court where undoubtedly the debate will go on for some time and it can only be hoped that a mutually acceptable and all round beneficial solution will ultimately be agreed upon.
REPORTS ON SECURITY PRESENCE IN MURCHISONS 'NOT CORRECT' SAYS UWA
A report in last week's edition (Oil companies come under scrutiny) has drawn a comment from UWA in regard of alleged comments made by some of their staff, and then reported in the local media and here, over the presence of security personnel inside protected areas, in particular in Murchisons Falls National Park. As was expected UWA welcomed the support the country's security services offer UWA to keep parks safe and categorically denied that there was any rift or disagreement between the two bodies. UWA's CEO Moses Mapesa also availed this response to a relevant question: ...'on Murchison, the statement was very wrong. We
work with the UPDF very well. We only said we shall require additional security now that we have oil and may have to locate more security camps inside the park but keep all workers camps outside. It is the worker's camps that are problematic.'
Duly noted and published!
EGYPT MAKES NEW WATER PACT OF RIPARIAN STATES A MATTER OF NATIONAL SECURITY
As it is becoming evident, that the 'producer countries' of the Nile waters are indeed intent to commence the signing of a new agreement by mid of May, Egypt has once more resorted to intimidation and thinly veiled threats, as information from sources close to the negotiating teams has now revealed.
Calling the intended pact now a 'matter of national security' has raised the stakes once again, although the Egyptian delegation has in the past been accused to use even more threatening words in private conversations to clearly bully the riparian states into giving in to the Egyptian demands based on the outdated and forced down the throat agreements of 1929 and 1959.
Alongside Egypt is also engaged in an economic aid and assistance roll out to 'buy' East Africa's sympathy through bilateral and multilateral projects, as one more outspoken source in Nairobi put it, while a source in Kigali confirmed that while Rwanda is interested in good relations with Egypt and encouraged investments from there, this would not be at the price of foregoing their say over their water resources. Follow this story in coming weeks as the new treaty between Uganda, Kenya, Tanzania, Rwanda, Burundi, Congo and Ethiopia is put up for signature from the 15th of May onwards.
NEW ROAD TO KISORO ALREADY BREAKING UP &endash; BEFORE IT IS READY?
The long awaited new tarmac road connecting the two South-Western Ugandan towns of Kabale and Kisoro is reportedly already developing cracks before it is even handed over by the contractors to government. The recent very heavy rains across the country may well be a reason for the cracks which have in recent weeks become visible at the road shoulders, causing enough concern for government to bring in consultants, engineers and consultants for a full assessment of the damage, before deciding on what to do next along the affected sections of the road.
The consultants' report will hopefully shed some light on the origin of the cracks and fissures, and establish if the rains alone were the cause of if poor materials were used in construction, or else earth tremors responsible for the problems.
Kisoro offers short access to Uganda's two gorilla national parks of Mgahinga and Bwindi and is also close to the border to Rwanda and Congo. The town is surrounded by steep volcanic mountains and extensive tropical rain forests not to forget the various lakes, making it one of the most scenic locations in the country.
EAC INVESTMENT CONFERENCE OPENS IN MUNYONYO
The third East African Community Investment Conference opened earlier in the week in 'Munyonyo', the sprawling lakeside resort and conference complex comprising the Speke Resort and the Commonwealth Resort. The organizers expect about 2.000 participants to come to the event during which the region will showcase the many opportunities which exist across East Africa, from Uganda to Kenya, Tanzania, Rwanda and Burundi. The latest field to be highlighted will be infrastructural developments like railways, bridges, toll roads but also investments in green energies like geothermal, solar and wind energies, which are both financially viable as well as environmentally friendly, two key elements to attract financing from bilateral and multilateral agencies and development banks.
Agriculture, agro processing, mining, manufacturing and the ICT sector will also feature high on the agenda of talks and in the efforts of the regional investment promotion bodies, all of which have prepared well for the event, trying to attract capital into the EAC.
Meanwhile though were some exhibitors expressing their disappointments and anger, if not worse, over the final run in of setting up their stands and getting their accreditation sorted out, a matter this correspondent too fell foul of, eventually giving up wandering from one part of the resort to the other in search of establishing press credentials, subsequently ending the reporting from the event with this one and only piece.
Kenya News
UNLICENSED MARA LODGES CLOSED
Further to recent reports here over allegations that a number of safari lodges and camps in the wider Masai Mara area were operating without licenses, it was learned last week that indeed government had made good of the promise to shut such facilities down upon establishing their status.
At least a dozen unlicensed camps and lodges were closed, with the ministry of tourism mulling over added action, like prosecution and fines, most of them found in the Siana Springs area adjoining the Masai Mara proper. More investigations are also underway into properties under construction to establish that they too have all relevant licenses, including clearance from NEMA and KWS and these findings are likely to produce more action against offenders in due course.
It was pointed out to this correspondent by a reliable source in Nairobi though, that a number of those alleged to operate without a license were 'invisible' at this time of the year, as they would only operate during the high season to cater for the increased demand and overflow from other lodges and camps while being overbooked. This, the source said, was :'a problem for the inspectors now, because these camps are now not there, but we will make sure that more inspections go there during high season to track down the culprits'.
The Masai Mara is one of Kenya's best known tourism attractions and forms the extension into Kenya of the Tanzanian Serengeti National Park, and the annual migration of the wildebeest and zebras moves between the two parks every year, when the big herds follow the rains to find fresh pastures.
In comparison, taking geographical size into account, the wider Masai Mara is thought to be rather overpopulated with lodges, permanent and non permanent safari camps while in contrast the Serengeti has far fewer accommodation facilities, a situation appreciated by conservationists but contested by the developers of new lodge projects in Tanzania, who at present must either choose a site immediately outside of the park or else forego their plans. Watch this space.
MARASA ACQUIRES FIRST KENYAN PROPERTY
The company last weekend finally broke their silence and confirmed a 'secret' that for those in the know and with links to Kenya's tourism industry was out of the bag way earlier. Marasa bought their first property in Kenya, expanding their operation from Uganda to East Africa's (numberwise) most important tourist market, reversing the trend of Kenyan companies coming to Uganda so far. The 'Mara Leisure Camp' was taken over earlier in April by Marasa from the previous owners in a low key ceremony and besides the new general manager Kenneth Mugira &endash; who is also doubling as country operations manager for Marasa in Kenya, all staff were retained and absorbed by the new owners.
Located along the Talek River, just outside the official park boundary, the Mara Leisure Camp is offering 29 accommodation units, comprising different sized tents and three cottages, suitable for families and a 'honeymoon' tent discreetly set aside from the other units, and of course a pool where visitors can take a refreshing dive in the mid day heat. Visit www.maraleisurecamp.co.ke for more information.
Meanwhile it was also learned from sources in Kenya that sections of the new draft management plan for the greater Masai Mara area projects an increase of 50 percent in fees for foreign non resident visitors to 60 US Dollars a person a day as well as putting a ceiling on balloon operations across the area to keep animal disturbance and off road driving (to retrieve the balloons after landing) to present levels. Both proposals have predictably already met with resistance from affected parties warning of overpricing as a result, but only time will tell how the consultations for the new plan will unfold and what the final results will be.
ACTING MINISTER DEFIES PARLIAMENT, APPOINTS NEW KAA CEO
In an act of outright defiance to a directive by the parliamentary committee on transport has the acting transport minister, within hours of receiving his letter confirming his acting capacity in the ministry, appointed a new CEO for the Kenya Airports Authority. The newly appointed Stephen Gichuki was reportedly the 'wish man' on former CEO George Muhoho's list and while parliament had directed the KAA board to start a fresh recruitment exercise, claiming the whole affair was tilted in Gichuki's favour, the minister has ignored, if not deliberately defied parliament with his action.
The acting minister may well need to prepare himself for another showdown with parliamentarians now in coming days. Parliament had already unanimously censured him two years ago over allegations of his involvement in the 'give away' of the Grand Regency Hotel in his then capacity as Finance Minister following which he was forced to resign at the time and he has now graced his political comeback promptly with more controversy it seems. Political patronage in this case was not ruled out by sources in Nairobi, in fact to the contrary rather suggested to this correspondent by usually well informed individuals 'in the know'.
Tanzania News
RAILWAY REPAIRS ON COURSE
The main railway line from Dar es Salaam into the heart of the country, under water some months ago following torrential rains and eventually severely damaged, will be up and running again by late May, it was learned from a source in Tanzania.
Many spots where the rails had been dislodged have already been fixed up and the area of major damage is now the focus of the work teams dispatched there by the railway management.
Engineering personnel of the Tanzanian armed forces reportedly assisted in the repair of crucial sections an the opening up of stations, an effort train users will surely appreciate and thank their 'men in green' when opportunity arises.
Services will however only resume when a full inspection of the line has taken place, and on opening the rail will initially carry cargo trains only before passenger services would then follow some time later, when all safety aspects had been reviewed.
In a related development it was also learned that China was interested to participate in the building and modernization of railway lines in Tanzania, connecting Rwanda and Burundi in the future from Isaka. China did build the TAZARA railway between Zambia and Tanzania's main port of Dar es Salaam and Chinese construction firms are expected to submit bids just as soon as the participating countries are ready to go ahead from the planning into the pre-construction phase.
Rwanda News
10 YEAR TOURISM MASTER PLAN LAUNCHED
Within days of the Rwandan cabinet approving the recently developed tourism master plan for Rwanda has the ground breaking document been launched to the tourism industry and society at large in Kigali last week. The document outlines on nearly 200 pages the various hubs of activity across the country, tailored along which the sector will further diversify to add new products alongside the all important gorilla tracking.
Kigali, where visitors to the country arrive by air, is the central 'hub' of the tourism industry, while upcountry the following areas have been mapped out for product innovation, the creation of new tourist attractions, the addition of cultural attractions, community based tourism activities and intensified marketing: Volcanoes area, Nyungwe area, Akagera area and the areas around Kibuye and Gisenyi in Western Rwanda.
The Rwanda Development Board &endash; Tourism and Conservation, has already over the past year sped up their effort to diversify their marketing efforts, and had targeted successfully bird watching and forest walking, in particular at the Nyungwe National Park, where also a high elevation 'tree top walk' is to be established, permitting visitors to spend time high up in the foliage of the tropical rain forest and observe birds and insects directly 'eye to eye'.
The new master plan also outlines plans for a greater involvement of the country in MICE traffic, by attracting meetings and conventions to Rwanda, now that new facilities have sprung up, are nearing completion or have broken ground in recent months. All the best to Rica and her team to implement all these plans in coming years and bring yet more success for the Rwandan tourism industry.
RWANDAIR FLEET DEVELOPMENT UPDATE
Following the announcement of signing for leases of two B737-500 from GECAS did questions arise over earlier statements made that the airline would in fact acquire the NG B737-800 types. It was confirmed that indeed two of these newer and larger aircraft are on order from Boeing and that delivery is due to commence by mid 2011. The leased B737-500's will in the meantime be used to operate on the airline's expanding route network, mainly to Johannesburg and Kinshasa, and will very likely be replaced by the newer and more fuel efficient -800's as and when they are delivered.
The airline, according to sources normally well informed, is also studying the acquisition on lease of a wide body aircraft which could permit RwandAir to fly to new destinations like the Gulf, or even to Europe, where they presently codeshare with Brussels Airlines on the route to Belgium.
Southern Sudan News
ELECTION RESULTS CONFIRM WIN FOR SPLM
The President of the semi autonomous region of Southern Sudan, Gen. Salva Kiir, has reportedly won an overwhelming mandate in the South of the country, as has the ruling SPLM overall in the just concluded recent election. Salva Kiir, according to well informed sources in Juba, garnered 93 percent of the votes cast compared to 7 percent by his only serious rival and SPLM break away candidate Lam Akol.
The SPLM is expected to form the new government in the South, although no confirmation was received from Khartoum at the time of going to press if a renewed coalition government on national level would be formed as was the case before under the provisions of the CPA.
The SPLM in the South however has already indicated that they would try to form an inclusive government again, which for the next 9 months would be in charge of running the southern territories until the independence referendum will take place in January 2011.
Considering the margin of winning by the SPLM it now seems a foregone conclusion that a resounding YES vote will be separating the South from the North and make Southern Sudan, blessed with many natural resources and a fiercely proud population, Africa's newest nation next year. Keep watching this space for news updates.
Seychelles News
TOURISM SECTOR PULLED TOGETHER OVER ASH CRISIS
The Director of Tourism Marketing at the Seychelles Tourist Board has commended the archipelago's tourism sector for some extraordinary efforts taken when tourist visitors, due to leave for home, got 'stuck' on the islands in the absence of European airspace being open.
Hotels, resorts, guesthouses and bed and breakfast establishments all pulled together in a variety of ways to ensure such clients had a bed to sleep in and some square meals to keep them going, while Air Seychelles was one of the early 'birds' to attempt flying into the Southern European airspace to at least get their passengers back into Europe, even if only as far as Italy or eventually Southern France, before resuming their full flight schedule by Tuesday last week and adding 'extra' flights from Mahe to Europe to clear the backlog on both sides swiftly. The availability of a spare B767 helped the airline to achieve this, while other traffic started to arrive and leave again via Kenya Airways (twice a week NBO &endash; SEZ), Emirates and Qatar Airways, the latter of which at last also saw connecting traffic again go underway via their hubs in Dubai and Doha. Flights to other Indian Ocean islands and South Africa had not been affected during the 'ash crisis' it was confirmed by a source in Mahe.
Mr. St. Ange was unable at the time of going to press to say exactly just how many visitors had been 'marooned' on the archipelago, or how many ultimately could not come for their planned holiday when flights from across Europe were halted, but the 'dent' made in arrival statistics will undoubtedly be made up over the course of the year, as the destination continues its aggressive and innovative marketing in the global market. The revenue loss for Air Seychelles and the archipelago's tourism industry is thought to have run into a combined multi million Euros, similar to the East African tourist destinations too which lost major money through the grounding of aircraft. It was also reported that clients with prepaid holidays to the archipelago, who could not arrive due to the grounded flights, can utilise their accommodation over the next couple of months after coordinating a new date of their holiday with the respective hotels and resorts.
Meanwhile has the Seychelles President James Michel congratulated Air Seychelles for their efforts, as copied to this correspondent in a statement from State House in Victoria / Mahe:
"This week has proved that the management and staff of Air Seychelles are really flying the Creole spirit. They endured stressful circumstances and delivered a service very few airlines were willing to provide in this aviation crisis. The reputation of the airline and the country have been commended by many, and I join in this applause," said President Michel.
President Michel said that the tourism industry needs to reinforce its capacity to act in a unified manner in times of airline-related crisis, and that destination management companies, hotels and airlines should worker in closer collaboration in the future, in order to lessen the impact of passenger stress and frustration.
"Air Seychelles has done a great job and in this instance has provided a model for others to follow; that in the tourism industry it is crucial to go 'an extra mile' to deliver a service that leaves the customer happy and with good memories of Seychelles."
This correspondent can only agree with these sentiments, in particular as according to reports from Mahe other 'big' international airlines, like Emirates, came under sustained criticism of how they dealt with passengers 'stuck' on the Seychelles, and while they (Emirates) may have done a sterling job in Dubai, no such thing was evident in Mahe. It is in fact understood that passengers were getting angry and aggravated when their return journey home via Dubai got delayed even further after the European airspace had re-opened, with some passengers in fact told, according to reliable sources, they had to wait until early MAY ... No wonder everyone was giving Air Seychelles rave reviews and comments as they repatriated their passengers within three days of the European airspace re-opening but putting on extra flights ...
AIR SEYCHELLES MOVES TO NEW OFFICES AT MAHE INTERNATIONAL
The Seychelles national airline will this weekend move into their purpose built new and owned offices at the international airport on Mahe, bringing almost all departments under one roof, although a ticket and reservation office will remain open in Victoria's city centre. Headoffice, Marketing, IT and the company secretariat will relocate together, but it is understood that for logistical reasons the airline's call centre, finance department and corporate sales division will join their colleagues at a later date.
The move will complete another strategic goal set by the management and board of the airline, which will now save substantial lease costs, while at the same time making it easier to be 'on site' with the operations department, maintenance and other services previously already located at the airport. Congrats on this event.
At the same time has a new website been commissioned which incorporates state of the art features and a booking and payment engine for travellers wishing to securely book and pay online. The French language version will follow before the end of the month while a German and Italian language version, key markets for Air Seychelles, will be launched in due course.
ARRIVAL NUMBERS 'ON COURSE'
The projections for the 2010 arrival numbers are still on course, inspite of the setback during the 'ash crisis' which also affected the Seychelles of course. In particular the markets outside Europe seem to be doing exceedingly well as figures availed to this correspondent from the Seychelles Tourist Board show: Chinese visitors numbers, compared to a year ago, are up by 35 percent, La Reunion &endash; a market courted by STB, is up by 40 percent, South Africa too responded to the added flights offered by Air Seychelles to Cape Town with a 35 percent arrival increase, East African arrivals rose by 26 percent, giving rise to hope for the third flight by Kenya Airways soon coming into play, but leader of the pack is the UAE, where Emirates has added more flights, leading to an increase of a staggering 136 percent in arrival numbers compared to a year ago.
In a related development it was also confirmed that Qatar Airways will change aircraft equipment from mid 2010 onwards, replacing their single aisle A 319 with A330 wide body equipment. This move is expected to add a further 300 seats on the route per week, supporting the growing appeal the Seychelles have across the Gulf countries but also across the Qatar Airways network, where many passengers now connect in Doha en route to Mahe. Cargo shipments will also benefit as the A330 can carry palletised cargo, unlike the smaller Airbus presently used on the route.
and today concludes the series of interviews taken with leading conservationists from the Seychelles islands, recorded while on a visit to the archipelago a few weeks ago, this one with the Acting CEO of the Island Conservation Society Mr. Riaz Aumeeruddy:
eTN Q1: What are the objectives, the briefs, the main activities of the Island Conservation Society, tell us a little about it.
Mr. Aumeeruddy: Our society is registered here as an NGO since 2001 and our main field of activity is conservation of course. One of our major projects is the management of Aride Island, which is about 9 kilometres off Praslin Island. The original owners had already given the island for conservation purposes to a UK based NGO, the Royal Society for Nature Protection, which later became the Royal Society for Wildlife Trust. In 2003, most likely because it was difficult for them to continue manage Aride from so far away, they accepted our offer to manage the island on their behalf, on a lease basis. Since then we have been managing Aride as a nature reserve and marine reserve. We do permit day visitors on the island, tourists mainly, who come in the morning and then leave again in the afternoon. There is no accommodation for tourists, although we have a team of rangers on the island who also live there.
These rangers also conduct the guided tours for visitors, how spend about 5 hours at most on Aride. The main attraction, besides the flora, are the sea birds on the island, of which there are very large numbers and a great variety. We also reintroduced rare birds, like the Seychelles Warbler and the Magpie Robin, which is only found on 5 of the 115 islands of the Seychelles.
Part of our work is monitoring of the habitat and it shows that for the past decades conservation was the main purpose on the island of course.
We do get researchers once in a while from abroad but our limitations are to accommodate them, as we only keep staff houses for our rangers, so that limits us to host more researchers and scientists from abroad. We do have plans to begin a major refurbishment soon, to improve the living conditions for our staff, that will also then offer better facilities for visiting scientists. Once completed this will solve the problem of shared accommodation for staff, giving each one their own privacy, which has been a challenge in regard of retaining staff on the island. In comparison, we receive a lot less visitors than for instance Cousin and Cousine, but offer a very personalised service during the tours across the island, which visitors really appreciate, this type of one on one contact with our guides and staff.
Besides managing Aride we also consult in regard of environmental issues on the islands, cooperate with the Island Development Company and give guidance and advice about eco tourism. We did sign an MoU with the IDC, which is a governmental body and oversees the outer islands. We act as conservation advisors and managers for IDC. Here we have capacity limits, we cannot work on all islands, on all possible projects, so we must always make a choice where we go and what we do there.
What is relatively new, is that when a developer comes to propose a project on one of these islands, they must commit an agreed amount towards conservation. This is done by forming a foundation for that island, which then manages the funds, and uses funds for conservation and restoration measures. In this foundation the developers are presented, IDC is represented, the Ministry of Environment is represented and we are represented to have a balance vis a vis interests, conservation must always be our top priority.
Our part is then to develop work plans, draw up project proposals, submit budgets for what has to be done or what should be done. We had a good start with this way of operating on the island of Alphonse, where we set up a conservation centre three years ago with permanent staff, just a few, and they look after turtles, plants and birds, coral, fish etc.
Tourism for Alphonse are mostly 'fly fishermen' who come normally for a week, and there in conjunction with the hotel our staff give talks to them, give them conservation overviews, do guided tours and explain the do's and don'ts to visitors. The hotel there pays a royalty per guest into the conservation foundation, which helps to meet the expenses of the conservation work.
A similar project is now underway since about May last year on Desroches Island where like for Alphonse we produced a management plan to make sure conservation is always the main focus. These plans cover about 5 years and annual work plans are drawn up accordingly.
eTN Q2: Does every island have a separate foundation, is one being set up whenever development is approved somewhere?
Mr. Aumeeruddy: Yes, every island gets its own foundation responsible for that location and funded by developers, which is part of looking after the environment.
eTN Q3: Are you cooperating with other NGO's
Mr. Aumeeruddy: Yes we do, we recently signed an agreement with the Nature Protection Trust of Seychelles, they are based on the island of Silhouette, and of course we exchange views and seek input from others where special advice is needed, special expertise required. This extends to Nature Seychelles, the Seychelles Island Foundation and others of course.
We did sign an MoU also with D'Arros Island in January to cooperate and share findings and pool resources for training for instance and maybe share logistical support. (eTN did report this at the time).
eTN Q4: Would you like to expand your scope, do more?
Mr. Aumeeruddy: Oh yes, of course we would like to do more, there is so much to be done, but we are limited by both budget and capacity of staff. For instance we would like to do more on habitat, vegetation restoration even on the islands we are active and have been active for a while, like bringing indigenous vegetation back where old coconut plantations presently exist, but this is a big challenge, financially and logistically. Manpower is a challenge, to find trained competent staff and retain them on these locations, but so is money of course, finding the funds.
One of our staff on Alphonse for instance left in December and I simply could not find a Seychellois with the required background, job competence and experience to replace him, so now we are looking internationally for such a person. This is a lengthy process though but almost inevitable right now.
eTN Q5: Where does the funding come from?
Mr. Aumeeruddy: Mainly from the foundations, but we also source funds from international bodies for specific projects for which we then write proposals towards that end. Right now we are doing some work for the Indian Ocean Commission like demarcations, so there is always some extra work and income.
eTN Q6: Does the piracy issue affect your work?
Mr. Aumeeruddy: We are not directly affected, had no direct encounters, but we are now much more careful in our operations to the outer islands, and we know that other projects, further out, are much more careful now in their movement, and of course supply shipments are now an issue, it is more dangerous. In fact some programmes were hindered, tuned down, deferred or delayed, halted, because of these issues and if it takes longer it will have an impact on some areas of research, demarcations, for sure it is not good that way but the scientists are of course careful now to come into areas where there is this type of danger.
eTN Q7: Talking of supplies, are you using diesel generators for your project work in Aride or solar panels
Mr. Aumeeruddy: We are using a generator on Aride to have electricity, we also got some solar installations but could in the future like to convert to solar exclusively as the operation would become more economical, we could use the funds for diesel and the transport for other activities. I am not too sure about this as the cost is also very high for the installation of solar equipment.
That is on Aride, which we manage but on other island were we work it is IDC supplying the logistics and infrastructure like water and electricity and we only 'hook up.
On the island of Desroches I remember there were plans to install a heat exchanger for air conditioning. Half of the electrical power is needed to run air condition units. A heat exchanger would pump very cold water from deep ocean levels up to the surface which can then be used, at about 5 degrees, to run the a/c units, but I am not sure how far they have gone there, but as you can see, there are plans to use sustainable and renewable sources of energy by conservation groups working on the islands.
eTN Q8: how does your organization relate to tourism, are you broadly in support of tourism activities, what is your policy there, are you advising developers, are you cooperating with them, is there controversy?
Mr. Aumeeruddy: many of the smaller islands have small resorts which do not have a lot of impact, and in some cases owners are working towards a greener profile when they renovate and modernize. I think we can help developers in many ways. You see in the past there were many of the smaller outlying islands dedicated to produce copra from coconuts, but that has reduced now, and now these islands have a bit of a problem, their original economic activity has gone and they need something else to do. It is there we advise government and developers about new technologies, best practise.
eTN Q9: Does government, do developers actually listen and implement your advice on the ground
Mr. Aumeeruddy: we most of the time see good results, because we also discuss it together, and when developers don't listen, there is not enough we can do really, but mostly they do comply. There is a mechanism when things are agreed and not done, to improve on what developers are doing.
eTN Q10: would you think of yourself as the 'green conscience' for the islands
Mr. Aumeeruddy: well, part of it, everyone of our colleagues is doing their bit, but it does take does take time to build consciousness, change mentality, change people's thinking, to create awareness of best practise, new technologies, better ways of doing things, we are confident though.
eTN Q12: do you work with international development partners, do you get funding support
Mr. Aumeeruddy: there are some GEF projects which are being implemented right now across the country, and all the national ones are implemented with and by UNEP. I am sitting on the steering committee of one project, working with our partners, and we can of course bid for project management and implementation.
The problem we all have is the availability of enough local capacity, technical expertise, to do all those project which could be done, so there are manpower limitations for us, for our colleagues across the board, which is a big problem.
But the same problem you have in the hotel sector too, in constructions, in other sectors of the economy, it is a national issue to have enough trained staff, enough competent, experienced and motivated staff from within the Seychelles.
eTN Q13: what is your main message for our readers
Mr. Aumeeruddy: I think what we aim for is to assist the country to move towards sustainability, so that in 20 or 30 years they still have a good intact environment. We need to combat invasive species where they are found. We are also working with schools on the islands to have children understand our work, environmental issues, and that is going well. The schools have in their curriculum some elements which we can complement, they have eco clubs, wildlife clubs, we would like to do more but simply lack the staff to expand on that.
But we do once a week have a column in the national newspaper, which also gives exposure, widens our reach amongst the population.
We have produced a DVD / CD for use by teachers in school and that is also helping them to propagate this, and the Indian Ocean Commission has in fact given us some funding to produce the material for use in schools and education institutions.
Thank you Mr. Aumeeruddy for your time and all the best in the future for your organization.
Also see www.islandconservationsociety.com for more details and in particular a complete photo gallery of the ICS's work on Aride Island.
News from 'Uganda - Gifted by Nature', the Eastern African and Indian Ocean region
By Prof. Dr. Wolfgang H. Thome
Fourth edition March 2010
Uganda News
EMIRATES TO GO DOUBLE DAILY WITH THE A380 TO LONDON
The usual source within the Emirates Kampala office has now tipped off this correspondent to the addition of a second daily A380 flight between Dubai and London, effective at the beginning of July this year, when additional aircraft will have been delivered to the airline. The A380 will be used, according to the source, on flight numbers EK 001 and EK 003 between DXB and LHR and the corresponding return flights EK 002 and EK 004. The aircraft will operated in the 'standard' Emirates configuration of 517 seats, which includes 14 First Class suites, 76 flat bed Business Class seats and 427 Economy Class seats.
Emirates have become increasingly popular with travellers from and to Eastern Africa, for its daily connections, the use of the B777 on the route between Entebbe and Dubai and the added choice of a double daily to London will only enhance the airline's reputation further.
The option of putting in some shopping in Dubai, the city itself or else at the famous duty free shops at the airport during the layover time, seems attractive enough a proposition for many travellers, leave alone the value for money packages for Dubai stay-overs which often start at a cost of less than 50 US Dollars for a hotel room. The airline is regularly offering special offers, in particular for premium class passengers, whereby 'companion' tickets go for as much as 50 percent less, making travel as a couple a very attractive proposition for both leisure as well as business travellers.
A warning though about these stay-overs: ensure that you have the relevant Visa to enter Dubai, as and where appropriate, should you wish to take advantage of the special packages both ways, since the usually granted 'single entry' Visa may not be enough for a second entry on the alternate journey, as some Ugandans had to find out at their cost! And tongue in cheek, make sure you do not kiss your partner in public or roll in the sand on one of the beaches, or else... recent media reports to this effect refer...
Additional destinations in Europe are also coming on line later in the year it was pointed out to this correspondent, as previously reported in this space Amsterdam from May, and in addition Prague / Czech Republic in July and Madrid / Spain from August. The latter destinations will be of importance for holiday visitors in particular to East Africa and the Seychelles, as these direct flights will open up the Iberian and Eastern European holiday markets which hitherto had to fly at times wide detours to reach our own shores.
Meanwhile, the upcoming strikes of BA, which may well affect the Entebbe route too, will undoubtedly make a lot of Ugandan travellers think in earnest about switching to other airlines for their travels, and Emirates seems well placed to take advantage of this situation.
UGANDA TRAVEL BUREAU HONOURED
The Uganda Association of Travel Agents, in short TUGATA, has last week recognized and honoured the Uganda Travel Bureau as the travel agency longest in existent in Kampala. UTB as it is known in town, one of the leading travel agencies in Uganda, is managed by the Seychelles Tourism Ambassador Ms. Pearl Hoareau in her capacity as Managing Director, herself a of course a veteran in the industry. Other rewards given out were for Emirates as 'the best and most preferred airline due to its excellent services'. The event was held at the Sheraton Kampala Hotel and is according to TUGATA sources set to become an annual feature aimed at promoting excellence in the travel sector and to recognize publicly outstanding performances.
UGANDA WILDLIFE AUTHORITY CONFIRMS ADDED HABITUATION
UWA has just confirmed that actually two added groups of gorillas are presently under habituation. The 'Kahungye' and 'Oruzogo' groups are undergoing a gradual process of getting used to nearby human presence, something which can take up to 18 months, following which the two groups will be available for tracking by tourist visitors. Once this is achieved, this correspondent was told, the available number of permits will reach 64 a day, i.e. 8 visitors maximum per day for each of the habituated groups (unless rested or otherwise 'taken off' the daily visiting schedule for operational or medical reasons). A further habituated group is strictly 'reserved' for research and monitoring and cannot under any circumstances be visited by 'ordinary' tourists.
For more information visit the UWA website at www.ugandawildlife.org or write with specific enquiries to info@ugandawildlife.org
Also remember that www.friendagorilla.org continues to operate where 'friends' via Facebook can be made with 'life' gorillas at a nominal fee of US Dollars 1 (ONE) only. Sign up to support wildlife conservation.
UNESCO WORLD HERITAGE SITE BURNS DOWN IN KAMPALA
The 'Kasubi Tombs', where several of the late Kings of Buganda are laid to rest and which was a focal point for tourists and the kingdom's subjects for visits, has burned down last Tuesday night.
The Kampala fire brigade, while on site soon after the alarm was raised, was helpless as the grass thatched huge domes over the graves and cultural sites burned to ashes, fuelled by days of intense heat which must have dried out the thatch and strong winds, which whipped the flames into a frenzy.
Kasubi Tombs, now nearly 130 years old, is recognised as a UNESCO World Heritage Site since 2001, and has always had a special place in the itineraries for tourists as it allowed an insight into the age old customs of the kingdom. Four kings are buried at Kasubi but cultural paraphernalia and mementos were also on display and are feared burned too, a big loss of irreplaceable items for Uganda as a whole and especially the Buganda Kingdom.
There are other similar tombs within the kingdom of Buganda, like the Wamala Tombs, but they are not as near to the city nor as well maintained as the 'showpiece' Kasubi site.
The fire reportedly broke out just before 9 p.m. on Tuesday evening, and there are further reports that the crowd of onlookers became riotous when the fire brigade could not save the huge huts and began pelting their vehicles with stones, prompting riot police to be deployed.
No immediate cause for the fire could be given by police and fire brigade sources when making the enquiry last night but fire investigators are expected on site this morning to commence their investigation. It could also not be established if, or to what value, the site was insured, although no monetary compensation could ever now bring back the many burned artefacts of the kingdom's history which were stored and on display at the Kasubi Tombs. A sad day for Uganda tourism, and a sad day for the Buganda Kingdom.
UGANDA TOURIST BOARD STATEMENT
Following the destruction by fire of the UNESCO World Heritage Site in Kampala, the Kasubi Tombs, the Uganda Tourist Board made the following official statement, which is being reproduced here in full for the benefit of our readers. Meanwhile government has also come out strongly, led by an irate President Museveni who dispelled nasty rumours, arguably spread by kingdom hardliners regularly on confrontation course with government and suspected of harbouring their own hidden agendas, that government had anything to do with the fire. In fact the president well nearly blamed the riotous crowds assembled at the site of the fire for the outcome of the fire, as they stoned and blocked fire brigade vehicles, which cost valuable time for the fire brigade to reach the main building of the Kasubi Tombs, as which time it was too late to douse the flames and rescue the building and its contents. A full forensic investigation is now underway to establish the source and cause of the fire, which burned the city's UNESCO World Heritage Site to ashes:
'quote'
KASUBI CARETAKERS SHOULD LEARN FROM THE TRAGEDY
The destruction of Kasubi tombs World Heritage site left many sharing the grief of our lost heritage, Baganda, Bakiga, Teso, Acholi. From the tourism industry, it was a similar story. Fresh from marketing (B)uganda at international tourism fairs, through press trips and promotions , tour operators who had packaged Kasubi on the Kampala City tour circuit grappling over how to repackage the city tour without Kasubi Tombs.
It is not the first time for such wanton destruction to befall mankind. The Second World War was the latest of wars that left many a city in Europe reduced to rubble. Castles in baroque and gothic architecture have since been restored from London, Naples, Berlin to Vienna but now attracting bus loads of coach tours from all over the world. Europe learnt their lesson and rose out of the rubble.
Similarly, the Baganda kings worked hard to set this legacy. It therefore remains the responsibility of the care takers to learn from this tragedy.
Not to glee or policitise the tragedy, the reality is that hitherto, just because of an accident of birth, all earnings from entrance fees, sale of souvenirs were simply stashed by afew caretakers without regard to maintenance of even the other Buganda Heritage sites. Wamala Tombs,Bagalayaze ,Budo Katereke , Sezibwa Falls remain derelict.
Heritage trails and Uganda Community Tourism Association that were instrumental in developing of Kabakas Trail to allow visits to Bugandas forgotten history, dance & culture had made an effort to restore these sites only to be sneered upon by the 'Nalinya' of Kasubi.
Remember after Princess Diana's death, Birkingham Palace had to make a lot of Public Relations concessions to the public.
Regardless, Kasubi Tombs World Heritage site MUST be rebuilt to its former glory, with the UNESCO experts restoring or remodeling replicas of what was destroyed. The night of 16th would just be another chapter in the history of Buganda.
Not forgetting that this time strict rules regarding safety and security should be applied and this time technical assistance must be embraced. Sprinkler systems, No flamabbles, fire proofing for the grass, surveillance and alarm systems.
Meanwhile, the tour operators should maintain Kasubi on the city tour this time round , with contributions going direct to restoration and naturally maintenance of the Nalinya and the Royal Household.
Tony Ofungi
Senior Tourist Information Officer
UGANDA TOURISM BOARD
PLOT 13 / 15
IMPALA HOUSE
KIMATHI AVENUE
KAMPALA, UGANDA
TEL. NO. +256 41 342196 / 7
Mobile: +256712663381
FAX NO. +256 41 342188
EMAIL: tonyofungi@tourismuganda.info
www.visituganda.com
'unquote'
BRUSSELS AIRLINES UPDATE
SN has recently confirmed to this correspondent, that following the airline's acquisition of another Airbus A330-300 the following added destinations in Africa would be coming on line from middle of 2010 onwards: Accra / Ghana, Cotonou / Benin, Ouagadougou / Burkina Faso and Lome / Togo. This development [about the likelihood of getting an added A330] was first reported here following a visit to Brussels in December, when the airline's top management all but confirmed these plans when asked directly at the time. The new destinations will also create extra jobs for over 100 staff, mostly deployed at the new destination offices, for ground handling, technical support and as crew on the new aircraft. This will bring the Brussels Airlines destinations in Africa to 18, further cementing their claim to be offering one of the most comprehensive networks from Europe to Africa, especially when adding the code shared flights between Lufthansa and Brussels Airlines.
To further support these extra long haul flights an added frequency between Paris and Brussels will be introduced, linking into these departures, as will incidentally extra flights from London to Brussels.
Hopes for more flights into Eastern Africa however have not been dashed completely as apparently, no sooner than the new Airbus had been signed up for, a fresh evaluation is already underway for the purchase or lease of yet another A330 to expand the airline's Africa network even further, this time in Eastern and Central Africa, as the world economy continues to recover from the worst recession in recent history and demand for seats to Africa is on the rise again. This 'added' extra aircraft, has a usually very reliable source under strict condition of anonymity pointed out, would then also provide back up for periods of heavy maintenance of one of the other long haul Airbuses or be available in cases of one of their rare technical problems, supporting on time departures. Watch this space for the most up to date news about aviation developments in Eastern Africa and the Indian Ocean region.
SHILLING CONTINUES TO FALL
Since last week the Uganda Shilling has continued its downward trend, breaking the psychologically important 2.100 mark versus one US Dollar, with the UK Pound and the Euro making similar gains. The immediate result is a sharp rise in the price of petrol, diesel and the cost of aviation fuel, i.e. AVGAS and JetA1, which has resulted promptly in transport fares going up and the cost of goods reaching Kampala rising too. Travellers intent to visit Uganda are well advised to check with their safari operators &endash; hopefully a duly licensed member of AUTO [Association of Uganda Tour Operators] &endash; about the impact of such price increases for fuel, although the quotations normally given are in hard currency and should not need to be changed. Local expenses for visitors, i.e. curios, art pieces, drinks, food and expenditure of a personal nature however are now coming cheaper again, as the value of the travellers' home currency appreciates.
Importers in contrast are already raising their prices, as their hard currency input is now much costlier than a few weeks ago, while exporters of flowers, fresh chilled fish fillets, fruits and vegetables are 'dancing' all the way to the bank as their earnings in Shillings keep rising.
ZAIN FOR SALE &endash; AGAIN
The Zain Africa telecommunications network, formerly known as Celtel, appears to be up for sale once again, fast becoming the 'most sold' network in Eastern Africa. India's Bharti Airtel seems to be the new suitor, and willing to pay up to 9 billion US Dollars for the Africa wide telecoms network and a deal may be on the table as soon as next week it was learned. Bharti previously failed twice already to buy into or take over Africa's mobile market leader MTN and was, since being turned down in South Africa, on the lookout for another opportunity to acquire a major network interest on the African continent.
One of Bharti's major shareholders is Singapore Telecom, which owns just under a third of Bharti's shares.
Having only rebranded not long ago into Zain, and then changing logos and 'public appearance' soon afterwards, Zain is a PR and marketing / advertising company's dream come true, as &endash; should the deal with Bharti go ahead &endash; another round of rebranding and logo changes will pour yet more money into the local advertising and media markets. It is also expected that competition will further intensify where Zain is currently present, and in particular in Uganda where another 6 mobile companies are vying for marketshare. Zain has propelled the telecom industry into a new era when offering an Africa wide tariff which allows subscribers to roam on sister networks for free and benefit from local tariffs when making calls while abroad.
Kenya News
PARLIAMENTARY COMMITTEE DIRECTS KAA RECRUITMENT TO BE 'REDONE'
The shenanigans of outgoing Kenya Airports Authority's CEO George Muhoho have now reached parliament in Nairobi. Following a series of negative press reports, about a range of issues but more recently about his alleged efforts to 'engineer' his succession, brought members of parliament into the fray, who demanded that these allegations be investigated. As a first fall out the recruitment process for a new CEO was halted, according to a directive given by the parliamentary committee, and has to be 'redone from scratch' to ensure proper transparency and sound results. Said one MP serving on the committee: [the process was] 'skewed and shrouded in mystery'
Muhoho's choice successor has scored mark levels to which in contrast the other applicants simply paled, giving rise to more allegations of the entire process having been tailored around one individual, who allegedly was handpicked and was to be shoed into the soon to be vacant position.
The Board of Directors is mandated to search for a new CEO and it is expected that a new advert, under the watchful eyes of the parliamentary committee, will soon appear and a fresh selection process begin unless, and there are indications that this might happen, the board would defy the parliamentary committee, putting parliament and the KAA on collision course similar to the bodged re-appointment of the former head of Kenya' anti corruption body, where parliament defied the presidential appointment and forced his man out of office. Watch this space for more upcoming reports on this seemingly never ending story.
AFRICA MEDIA SUMMIT ENDS IN NAIROBI
A major continental media meeting took place last week at the Kenyatta International Conference Centre in Nairobi, bringing together the leading media houses from the African continent and a large number of journalists from the print media and electronic publishing businesses like radio, TV and the 'new' web based media. The theme of the two day conference was 'Media and Africa's Promise' and over a thousand participants came to Nairobi to exchange views and critically analyse the political and economic situation of the continent. Participants were also treated to a range of presentations from eminent participants like media owners, scholars, members of civil society, conservationists, economists and governmental delegates to the meeting. Sadly a clash of other urgent pending work made it impossible for this correspondent to take advantage of an invitation to attend the conference, but it is acknowledged here that Fly 540 was ready to offer a free return ticket to Nairobi for the event.
Tanzania News
EQUAL PARK TARIFFS FOR ALL EAST AFRICANS
Citizens of the East African Community member states of Uganda, Kenya, Rwanda and Burundi will now be charged the same rates for entry tickets as Tanzanian citizens are being charged, information from Arusha now confirms.
The same reciprocal terms and conditions have progressively extended across the EAC by the national park managers in each country, with Uganda having taken this step years ago already and Tanzania now finally following suit.
Meanwhile, in a further effort to bring the region together, other information from Arusha's EAC secretariat confirmed that a trial run for a common tourist Visa may commence by midyear already, although preparations are still in progress. The findings of such a trail could then, following thorough analysis, serve as a foundation to make a common Visa available throughout the community. Watch this space to stay informed about upcoming developments.
MORE POWER CUTS FOR TANZANIA
No sooner had power been restored to Zanzibar very recently, after months of misery, has widespread load shedding resumed in mainland Tanzania last week once again. The power company, unable to blame it on lack of water in the dams this time round &endash; Tanzania as much of the region has suffered of torrential rains recently &endash; had to admit that their machinery has broken down in several plants at the same time, causing rationing of power for the entire country once more. Lack of maintenance has often been blamed in the past, claims at the time denied by the power company, only to sink the country back into darkness again. Allegations have promptly emerged over lack of competence and lack of routine maintenance work being carried out, not the first time of course this has happened. Hotels, industries and domestic consumers are now 'off power' again for at least 4 hours each day, likely more going by past experience, adding cost to their businesses for the use of their own in-house generators while leaving those without inverters or back up generators 'in the dark'. Oooops...
IVORY DECISION IMMINENT
The ongoing 15th CoP CITES meeting in Doha is reportedly nearing its decision, whether to grant, or to disallow, the applications of Zambia and Tanzania to sell their 'legal' ivory stocks, much of which is of course blood ivory confiscated from poachers. The two opposing sides are presently involved in last ditch lobbying and pressuring of 'friendly' nations towards reaching a vote in their favour, with the anti sale lobby offering their combined block vote in exchange to supporting the European nations seeking a ban on the fishing and trading of certain species of tuna fish.
Zambia and Tanzania are seeking the sale of over 100 tons of ivory, similar to previous exemptions for other Southern African countries, which was however promptly followed by a significant increase in poaching activities across Eastern Africa, from where 'blood' ivory was then alleged to have been smuggled to those countries permitted to trade. Some unconfirmed news from Doha in the meantime talks of the CITES Secretariat leaning towards recommending that Zambia's application be granted, while voicing reservations about the Tanzanian application, where in particular a range of shortfalls in management have been cited. This prompted howls of protest from Dar es Salaam, when the Acting Permanent Secretary in the Ministry of Natural Resources and Tourism now also accused the secretariat of bias and being misinformed, the same language previously only heard from the opponents of the sale. Undoubtedly any decision will meet with celebrations on one side and huge disappointment on the other, but the true 'victors' can only be the elephants on the African continent, where they are under huge and still growing pressure for farmland cutting into their traditional migration routes and ranges.
Watch this space for the final outcome of this 'battle of the ivory' and the expected fallout between proponents and opponents of the deal.
And in breaking news it was confirmed overnight from Doha that the biannual CITES meeting has indeed rejected the sale application for ivory from Tanzania and Zambia, a move undoubtedly welcomed by the conservation fraternity and 'all the elephants' roaming our forests and savannah.
More on this in next week's edition.
B 737 BLACK BOX SENT ABROAD FOR ANALYSIS
The 'black boxes' of the ill fated Air Tanzania B737-200, which ran off the runway upon landing in Mwanza on a scheduled flights coming from the commercial capital of Dar es Salaam, are to be sent abroad for the required analysis and to obtain transcripts of the voice recordings and evaluation of the data recorded during the critical time of landing, when apparently the nose gear gave way and caused the plane to skid along the runway before coming to an eventual halt in the grassed over area next to the tarmac.
Sources in Mwanza this correspondent spoke to after the accident and since then again, reaffirmed their earlier contention, that weather could not have played a significant role in the accident which in their opinions, being aviators after all, was all pointed towards a mechanical failure of the nose gear. They again praised the crew for their handling of the situation, which avoided major injuries and fatalities. They also rubbished suggestions that the state of the runway could have been responsible for the incident, denying that there were any major potholes or grossly uneven patches on the field.
A reliable source with insight into ATCL has also confirmed earlier in the week that the damaged plane was being written off and the insurance company was going to pay the lessors full compensation for the loss of the aircraft to the tune of about 2.5 million US Dollars, while arrangements were being put into place to secure a replacement aircraft within a few weeks time. The decision to write off the plane was also likely influenced by the lack of adequate equipment at Mwanza to 'patch' up the plane and get it to flight readiness status for a ferry flight to a maintenance facility where major repairs could be carried out.
VAT ON AIR CARGO SCRAPPED
In another fine example of the tax man's proposals running roughshod over business, the Tanzania Revenue Authority had gotten away with imposing an 18 percent VAT on the cost of air cargo shipments out of Tanzania, not only neglecting common procedure elsewhere in the world but then stubbornly refusing to accept they were wrong and would severely hurt exports of flowers and other commodities like fresh fish from the country. Well, last week saw good news emerge for exporters, when government accepted the case presented to the Ministry of Finance about the impact of the greedy proposals, scrapped them and directed the TRA to immediately halt any attempts to collect the ill fated tax. Formal gazetting of the exemption was underway as this article was written but the entire situation left airlines and exporters embittered with TRA, one of the regular sources from Kilimanjaro International Airport outside Arusha writing to this correspondent: 'you cannot believe the arrogance and hostility by the tax people for the last few weeks. From the start we contended that it violated international convention on air transport our country had signed, but TRA would not hear about it. Fellow airlines and exporters reported harassment and threats by tax people, being shut down, taken to court and things like that. At least government now saw the error of those attempts by TRA and rectified it, but a lot of damage was done already. I hear from Nairobi that there the airline industry has problems over fuel deliveries because of their tax people, they are often just too incompetent to understand how aviation works, and in fact they make no effort to learn, claiming only they and their opinions matter and count'. Oooops...
Rwanda News
RWANDAIR SIGNS UP FOR INTERMEDIATE B737 DRY LEASE
Ahead of the delivery, expected by the middle of the year, of their own B737-800, has RwandAir now signed a temporary dry lease agreement with a South African aviation firm, to use the aircraft for the period of the FIFA World Cup, when traffic is expected to peak between Kigali and Johannesburg. The national airline of Rwanda has already launched affordable packages to travel to South Africa, available from across their Eastern African network, and the use of a larger aircraft &endash; the airline presently operates two CRJ200 jets &endash; will be assisting them to uplift the projected passenger numbers during the run up to and the duration of the world's biggest sporting event besides the Olympics.
Alongside the delivery of the B737-800 will then also a wide bodied aircraft join their fleet, likely to be a B767 which will be deployed on flight to new medium and long haul destinations, adding further scope to the operation of RwandAir and making the airline a more attractive proposition for the planned privatisation.
RWANDA LAUNCHES CULTURAL VILLAGE
A new craft and cultural village was launched last weekend next to Kigali's Amahoro national stadium by the country's Prime Minister Bernard Makuza. 'Rwanda Village' will also go on display during the FIFA World Cup in a few weeks time in South Africa, where it will showcase Ugandan products, art, culture and promote tourism to the 'land of the thousand hills'. Traditional dancers will also be on site to perform and induce spectators to visit Rwanda in person to see more of the same.
Rwanda has been making a concerted effort, from the highest offices of government to grass root levels, to promote the country abroad and showcase it at every possible opportunity, and was successful in raising the country's profile abroad and bringing in record numbers of visitors.
Meanwhile news have emerged in neighbouring Uganda, that participation in these promotional events has been shelved due to the cost involved, floated in the local media at about 750.000 US Dollars, making one wonder how Rwanda is affording it while Uganda allegedly can't. Oooops...
KWAHERI YA KUONANA FROM ROSETTE RUGAMBA
The outgoing Director General of ORTPN and Deputy CEO of the Rwanda Development Board &endash; Tourism & Conservation, has made the following statement available to this correspondent to thank her friends in the tourism industry across the world for their support in promoting Rwanda over the past 7 years she was at the helm of the organisation.
'It Was a Privilege to Serve
Seven years ago I joined the Government of Rwanda as Director General of ORTPN with the challenge to transform the tourism sector into one of the economic drivers for the country. I leave the government to continue playing a role in the development of Tourism in the private sector, proud of many achievements and in awesome gratitude to His Excellency President Paul Kagame and the Government of Rwanda for their resolute support every single day during my tenure.
Over the years, I had the honour to lead a team of dedicated and enthusiastic staff who never tired playing host to the increasing number of visitors who came to see the thousand hills and marvel at the thousand initiatives our country was driving in every sector every day. Every day from dusk to dawn, through thundering rain and scorching sunshine our guide's have made Rwanda a respected and sought after destination. Because of their commitment our walls and shelves are adorned with awards from around the world. The Team at ORPTN and lately at RDB made my role enjoyable, doable and rewarding. I thank each and every one of them past and present, you will always be valued and remembered.
Central to the success Rwanda Tourism enjoyed was the confidence of the indigenous Private Sector who took the leap of faith and invested in infrastructure and in the service sector. Their commitment ensured we had a united team when we represented our country at international events and ensured that the 692,000 visitors coming to Rwanda found world class hotels, restaurants, cafes and travel agents eager to make the visit a memorable one. With their support we grew our hotel capacity from 650 in 2001 to over 4,800 today. To them I say thank you no words can express my gratitude to you all.
I would like to express my gratitude to The Right Honourable Prime Minister, Cabinet Ministers, Hon Members of The Senate, The Parliament and my colleagues in government, the Rwanda Defence Force and the Rwanda National Police who were partners who strengthened and complimented our sector. Together we marketed Rwanda by offering our Capital City and major towns as conference destinations for millions of visitors who came for conferences and discovered a country of so much wonder. Together we ensured their safe passage in Rwanda and we made our country one of the safest destination. The spirit of this support anchored our success and protected us from any challenges that presented themselves.
It is difficult to say thank you to our President whose wise counsel, availability and determined support was forthright, when we asked His Excellency to launch domestic tourism he did not hesitate as he never did making many journey's to name and officiate in Kingi at Kwita Izina. He never tired receiving the numerous international visitors who sought his presence or when we needed the highest endorsement to secure investment in our sector. Thank you sir for hosting us when we returned in triumph from Berlin and thank you for raising the bar and challenging us to be the best we could be.
It was an honour, humbling experience and privilege to serve my country.'
End quote
Madagascar News
AFRICAN UNION AND UN IMPOSE SANCTIONS
Following weeks of unsuccessful talks with the present regime in Tananarive has the patience of international observers and the African Union finally run out. Regime leader Rajoelina had duped his political rivals, the African Union negotiating team, invited observers and in particular the former President of Mozambique Joaquim Chissano into believing him that he was honest and sincere in talks to establish a transitional government, only to renege on issues no sooner than the papers had been signed, time and again.
The present sanction regime includes a travel ban through denial of Visas for Rajoelina and his key goons, over 100 of them, added diplomatic isolation of the country in international organizations and platforms and freezing of external assets. It is also understood from African Union sources in Addis Ababa that economic sanctions are not just being considered now but a draft is already being prepared towards that effect for the relevant body to discuss and decide upon very soon.
Madagascar has been excluded from AU ordinary business, as a result of the coup by Rajoelina, but was for a considerable period of time being engaged in political talks aimed to end the country's crisis.
Tourism, as a result, has been suffering as anti travel advisories are kept in place and can now be expected to be strengthened, hurting the economy and ordinary citizens normally making a living from tourist visitors. The country has a chequered history in terms of political upheavals and if not brought under control could end up in a pariah situation where even airlines may then be compelled by their home governments to observe sanctions and stop flying to the island. Watch this space.
Seychelles News
EMIRATES PROMOTE SEYCHELLES IN THE UNITED STATES
A 'couples' offer has been launched in the US by Emirates for travellers to the Seychelles, starting from an incredible US Dollars 3.135 per couple in economy class, US Dollars 15.370 in business class and US Dollars 28.120 in first class, originating from all of EK's US destinations, namely New York, Houston, Los Angeles and San Francisco. The offer is INCLUSIVE of all taxes and fees but both travellers must fly on the same flights booked, both outbound as well as on the return journey. Reportedly no stopovers enroute are permitted. All tickets must also be booked and paid for between 16th March and 30th April this year and only a limited number of these 'deals' is available, so the early bird catches the 'worm', i.e. the tickets.
All flights are 'one stoppers', i.e. nonstop from the US to Dubai, from where a conveniently timed onward flight connection then leaves to the Seychelles International Airport on Mahe. NO Visa are required for US citizens, in fact all visitors are granted visitor Visa on arrival, as long as they carry a return ticket, have proof of a hotel reservation and sufficient cash, travellers cheques or credit / charge cards at hand to meet their local expenses.
The Seychelles are a dream destination of equal appeal to the travelling public as are some of the better known South Pacific islands, and the resorts and hotels are of equal standards at the very least and offering a wide choice of locations on beaches, and even the traditional B&B's, details of which can be found on the Seychelles Tourist Board site via www.seychelles.com
This phantastic offer has been launched by Emirates not long after an STB delegation was promoting the archipelago at the New York Times travel show while another Seychellois delegation went to Miami to promote cruise tourism to the islands. This correspondent's advice to prospective visitors and honeymooners: travel now or forever hold on to your regrets.
STB AT MOSCOW INTERNATIONAL TOURISM TRADE FAIR
A delegation from the Seychelles Tourist Board moved last week from the ITB in Berlin / Germany to Russia to attend the MITT fair in Moscow. Presentations to and interaction with over 150 Russian tourism operators and travel agents was organized by the Seychelles Tourism Ambassador in Moscow on behalf of STB, and according to the STB Director of Tourism Marketing Alain St. Ange this made their mission a success story, having been able to count on the support and assistance of a Seychellois 'on site' ahead of their arrival.
The interest from Russian operators was according to a press release sent to this correspondent 'simply phenomenal' and with flights by Air Seychelles (nonstop once a week) and Emirates (soon to be daily) from Moscow via Dubai to the Seychelles, connectivity for sun seekers is assured and sufficient seats are available to cater for the fast growing traffic.
Russia is an emerging market of high potential and value for the Seychelles and visitors from Russia, like all other nationalities arriving in Mahe, do not need a Visa as long as they meet the conditions for their stay, i.e. return air ticket, a confirmed hotel reservation and sufficient funds. This makes holidays there attractive compared to other island or beach destinations where Visa have to be applied for in advance and at often substantial cost, leave alone the hassle one often has to go through to get Visa processed through embassy staff often acting as if they do the applicants a favour.
STB also held a raffle during the main presentation last week and the lucky winner will now fly to the Seychelles, courtesy of Air Seychelles and participating hotels and ground handling agents.
CONSTANCE EPHELIA RESORT BEATS LOCAL STAFF REQUIREMENTS
The recently opened Constance Ephelia Resort, which was given a 55 / 45 staff ratio for the employment of Seychellois citizens, has apparently beaten this requirement by giving job opportunities to 62 percent, i.e. 7 percent above the licensing requirements for opening day. 38 percent are expatriates but a number of the positions held now by foreign hotel workers will in time to come also be filled by national 'understudies' already employed by the new hotel and being trained up for a specific task.
The resort has been working with the Seychelles Tourism Academy towards training staff ahead of the opening day, including showing direct involvement with the academy, so as to ensure that the locally recruited staff are indeed up to scratch and will be able to deliver the hospitality quality guests come to expect when staying at one of the group's properties.
A visit by the Seychellois Minister for Employment and Human Resources last week expressed satisfaction with the working conditions and the on the job training which the resort avails to all their staff as an ongoing exercise, in order to further hone their skills.
It is understood from a source in Mahe that the resort already employs 735 staff, a number expected to grow as more rooms become available. The Constance Ephelia Resort, located on the main island of Mahe near Port Launay, is set to become the largest resort complex in the Seychelles, when all villas, residences, suites and rooms are completed. Set on a peninsula the resort is according to other sources offering the most acreage per room of any of the major resorts. A sister resort, the Lemuria Resort, is already up and running on the island of Praslin. Visit www.constancehotels.com for more information.
STB NOMINATED FOR 'BEST TOURIST BOARD' AT GOOD SAFARI GUIDE
It was learned that the Seychelles Tourist Board was recently nominated for the position as 'best tourist board in Africa' for the upcoming annual 'The Good Safari Guide' awards, which are due to be held on 07th of May in Durban / South Africa, just ahead of the INDABA tourism trade show. It seems the outstanding work of the STB since its major re-organization a year ago has born fruits and got STB recognized by not only its peers but also a number of travel writers, journalists, travel agents and tour operators who reportedly sent in their nominations in recent weeks. Last year Kenya carried the day and came home with the trophy and there will again be stiff competition for the coveted award. Watch this space when the winners are announced and in the meantime visit www.goodsafariguide.com for more information.
STA TAKES IN NEW BATCH OF HOTEL MANAGEMENT STUDENTS
The current intake into courses offered by the Seychelles Tourism Academy has also seen the admission of 16 carefully selected students for a hotel management course, which STA offers in conjunction with the Shannon College of Hotel Management in Ireland. This academic cooperation has been going on for some time now and already second and third year students are training towards their final goal to attain diplomas in hotel management before deploying into the work place.
Notably, the Seychelles private sector was a key participant in the selection of the new students for the course, as key hoteliers drawn from the archipelago's resorts and hotels participated not only in the main selection but gave the final 'thumbs up' for those students selected for the course. One source from the hospitality industry in Mahe wrote back to this correspondent upon making an enquiry: 'attitude was a key criterion for the selection. Where candidates came out even on the academic appraisals, we were then looking at their attitudes towards service, and this helped to find the right breed of students for these courses. After all, they are our hope in the future to gradually take over middle management positions, and after further training they can then become managers and senior managers'.
In total some 300 new students were admitted for this academic year, several of whom will now also participate in a four year apprenticeship scheme which offers training both in the class room as well as in the work place for such diverse subjects as food production, food and beverage service, housekeeping and front office operations.
The institution presently has over a thousand students on campus and on in service training deployment and further capacity boosts are expected in coming years in line with the affirmative action programme by government to train up more Seychellois citizens and give them the skills to work in hotels, resorts and guest houses across the islands, allowing for the gradual replacement of foreign workers in a large number of jobs presently held by them.
News from 'Uganda &endash; Gifted by Nature', the Eastern African and Indian Ocean region
By Prof. Dr. Wolfgang H. Thome
Third edition March 2010
Uganda News
RAINS NOW CUT MAIN ROAD TO RWANDA
Destruction from the current torrential rains sweeping the region have now added another 'victim' to its growing count, when reports reached from Kabale that the main road to the Katuna border post with Rwanda was cut off, following the opening of a major gap and washout.
Thankfully no one came to harm as traffic was stopped early when the first signs of damage to the road were spotted and the police then halted all heavy traffic on the affected sections to avoid accidents while monitoring carefully those sections were saloon cars were still permitted to pass.
Road building equipment was moved on to the site swiftly from Kabale, and heavy goods traffic is expected to resume within days, unless further rains bring the work to a halt or cause added damage.
The road is the key traffic axis between Rwanda and Uganda, also used for cargo traffic then moving on to Burundi or Eastern Congo, and of vital importance.
Presently such traffic is being diverted in Ntungamo via another border post at Mirima Hills to at least permit urgent transit cargo to reach its destination, but as that road is not nearly as good as the main tarmac highway, delays are expected for travellers to and from Rwanda as busses are also using this detour.
Since the event last week the road has been made passable once again however although added work is expected to be carried out on culverts and road side drains to avoid a repeat of the washout.
CAA WANTS SHOPPING MALL FOR THE AIRPORT
Bids were invited by the Ugandan CAA, which also manages the Entebbe International Airport, to submit expressions of interest for the development of a major shopping mall within the airport perimeter, offering the successful bidder up to 2.4 hectares of land for the development of such a facility, on a lease lasting up to 40 years. The mall however needs to be constructed on a BOT basis, which means 'build, operate, transfer', i.e. it will become property of the UCAA upon expiry of the lease.
At the same time the CAA has also advertised for the construction of car shades in the main parking areas, which can also be used for advertising. Added canopy roofs are also now planned for the entrance area to the airport where cars draw their parking tickets on entry, a move welcomed by motorists who during heavy rain regularly suffer being rained on. Anyone interested may write to procurement@caa.co.ug
In a related development it was also learned that MONUC, the UN's peace keeping force in Eastern Congo, will be paying for the rehabilitation of taxiway 'H' at the Entebbe International Airport, which they are using as their main East and Central African airbase for several years now. They have advertised for expressions of interest to carry out that work, before pre-qualification and finally selection of contractors will be decided upon. For those details interested parties can write to monuc-procurement@un.org
UWA CATCHES AND RELOCATES MANEATER CROC
A crocodile, weighing over 600 kilograms, was recently captured by the Uganda Wildlife Authority in Mayuge, following reports that the beast had attacked many people in past months and allegedly killed at least 8 villagers since the beginning of the year.
Residents had threatened to find and kill the monster croc, and all other crocodiles nearby if UWA would not act immediately, which then happened soon afterwards. The crocodile was reportedly relocated into the Nile in Murchisons Falls National Park. According to UWA sources the croc is estimated to be around 60 years old. UWA has a dedicated unit dealing with problem animals which is dispatched from Kampala to deal with rogue animals, capture them as and where possible and then relocate them into the safety of a national park.
Meanwhile Uganda Wildlife Authority also released statistics of entries into the parks by Ugandan citizens for recreational purposes, which have last year risen to nearly 30.000, an increase of nearly 30 percent compared to the figures available for 2007. UWA is regularly promoting park visits by for instance slashing park entrance fees for citizens over holiday periods, or as done last year on the occasion of the International Bird Watching Day, offering free entrance, an effort which has clearly brought the desired results. Well done!
PRESIDENT OPENS AFRICA WATER CONFERENCE
Over a thousand delegates from across Africa and observers from the rest of the world heard President Museveni demand for the preservation of wetlands and forests earlier in the week, when he formally opened the 15th Africa Water and Sanitation Congress at the Commonwealth Resort in Munyonyo. He singled out the Sudd, located in the Southern Sudan and the great rainforest of Congo, both of which he acknowledged had a bearing on the climate even in Uganda, besides maintaining local forests and wetlands in the neighbourhood of communities. The president further recognised the efforts of Kenyan Nobel Prize winner Prof. Wangari Mathaai who made it her lifetime struggle to fight for forests and to maintain and preserve the environment. Said the president: 'protecting wetlands in Uganda, Southern Sudan, Rwanda, Burundi, Tanzania and Kenya are crucial for this part of Africa.' He also took a swipe at the colonial treaties over the Nile waters imposed on the Eastern African countries on independence, which he said favoured Egypt and the Sudan and leaving East Africa with 'literally nothing'.
It is also expected that African participants will separately brainstorm for the next Climate Change meeting later this year in Mexico City, which will be a follow up of the largely ineffective Copenhagen Meeting of last year, which failed to produce tangible results of how best to combat climate change. The African continent is now thought by experts to suffer the most fallout of climate change and drought and flood cycles have in recent decades accelerated and added to the woes of fast growing populations now left with insufficient food supplies.
SHILLING CONTINUES ROLLER COASTER RIDE
Following a low of almost 1.800 versus the US Dollars a few months ago, during a period of inexplicable strengthening of the local currency in the face of economic indicators normally representative of where a currency should stand, the Uganda Shilling has since gone on a steady downwards spiral, recently breaking through the psychologically important 2.000 threshold and late last week trading in the 2.070 range. It is these unpredictable variations and fluctuations which have been harshly critizised by the business community, as it influences the cost of imports or the earnings from exports transactions very substantially. The Bank of Uganda has recently promised to be more active in interventions to smoothen out 'spikes' in the foreign exchange market. Meanwhile though the cost of petrol on the local market has broken into the 2.600 Shillings per litre bracket while the cost of diesel too has from a low point of between 1.500 and 1.600 Shillings risen to between 2.400 and 2.500 Shillings, making local input for transportation substantially more expensive while at the same time making the destination more affordable for foreign visitors using their own home currencies for payment of extras, curios and other purchases in country.
HOW ABOUT DOING INSTEAD OF MOANING
Predictably, ahead of the final touches to the national budget preparation and coinciding with ITB, the global leader for tourism trade fairs, were moans being floated to the local media, as seems to have been the case for the past few years too. Tourism stakeholders talking to one of the local newspapers decried the lack of government support for the sector, lack of support to the tourist board and lack of publicity abroad, all of which is by the way and sadly so true, yet few of them are even in the slightest bothered to use new web based media to gain exposure in the global market place.
Unlike the tourist boards of Rwanda, Kenya or in particular of the Seychelles, all of which are properly tuned into such media like eTurboNews, the Uganda Tourist Board rarely offers information about events or new products apart from an occasional newsletter, while only a few from the private sector, like Marasa, Mihingo, Nile River Explorers, Nalubale Rafting, Nile Horseback Safaris, Sheraton, Speke Hotels, Wildplaces Africa or Geo Lodges Uganda could be cited as being keen in sending out material which can then be used to tell the world about what is happening in Uganda. If gathering information turns out like the proverbial 'pulling teeth' the sector needs to wake up first and take advantage of opportunities which are there FOR FREE instead of chasing phantoms. Exposure in the global market place through eTN, Twitter, Facebook and other social media are largely free of charge and yet rarely used by those same people seeking millions to run CNN commercials. Hence it is bouquets for the tourist boards of the Seychelles, Kenya and Rwanda while others clearly need wake up calls to move with the times. Oooops... \
BA STRIKE DATES OUT - AGENTS ADVISE CLIENTS TO CHANGE CARRIERS
Now that the strike dates have been announced in London, travel agents have reacted swiftly and started making bookings on other airlines for their customers over the period March 20th &endash; 22nd and March 27th to 31st. Thankfully the Easter period will be strike free, allowing for uninterrupted holiday plans, but it is understood that after Easter added strikes will take place, should no agreement be reached between the Unite Union and the British Airways management. No dates for those potentially added strikes are available though at this time. Like prior to Christmas, when many travellers 'absconded' from British Airways and rushed to cover their 'bases' with alternate bookings, this time round again it is expected that BA will lose out in a big way, in favour of such other airlines coming to Uganda as Brussels Airlines, KLM, Kenya Airways, Emirates or Ethiopian, to name just a few.
Said one travel agent to this correspondent, a sentiment also echoed by others: 'even if this strike is averted, like the last one was, the damage is already done to BA. They have taken those dates off bookings through our CRS. For the second time in six months I have to tell my clients booked over the expected strike period to rebook. You cannot keep doing that without losing confidence in that airline. And I am not blaming the unions, the BA management is using very bad language in public and I think they are losing the PR battle. Maybe it is time now for their CEO to go, he only hung on by the skin of his teeth over the Terminal 5 disaster but enough is enough. Proposing to use freshmen cabin crews with one training course and no other experience is also very bad PR for a senior airline like British Airways, how safe will that cabin be, these passengers, in case of an emergency? For us here we had enough of BA, we will work on our passengers only connecting via London to use other airlines, that should be easy, and those flying to London to also rather connect in Dubai or Amsterdam or Brussels.'
SHERATON INTRODUCES SRI LANKAN BAND
Only recently did the www.starwood.com/afio website catch this correspondent's eye, standing for the Starwood operational areas of Africa and the Indian Ocean, where the global hotel group operates a number of their brands in various locations. The Kampala Sheraton Hotel, operated as a franchise, is one of Starwood's brands and made good of this regional alignment by bringing in a band from Sri Lanka called 'Chill Out'. The Sheraton, located in the heart of the city with a large surrounding garden, had always been a favourite hangout place for the 'in crowd' in Kampala, many of whom have sampled 'new arrivals' on the hotel scene only to return to their 'old faithful' for a quick snack, a cup of coffee or tea or something stronger once the bars have opened. Sadly this correspondent had to miss their opening act due to some upcountry work assignment but reliably heard from one of the hotel's regulars &endash; also a regular source for this correspondent &endash; that the trio certainly had the crowd going on the Monday night when they first appeared on stage. Opportunity permitting I might do a trip to the city one of these evenings and sample the hotel's new menu at the same time.
Kenya News
TOURISM MINISTER BARRED FROM FOREIGN TRAVEL, FAILS TO REACH ITB
A ban affected on a number of Kenyan ministers also saw tourism minister Balala fall victim to the presidential 'stay home' directive which was issued early this week. The minister was due to leave for the world's most important tourism trade fair, ITB annually held in March each year in Berlin / Germany and it is understood that the delegation was subsequently led by the Kenya Tourist Board. The minister was to meet some of his counterparts and continue spearheading Kenya's marketing offensive to bring tourist numbers back to the pre global economic crisis levels.
The 'travel ban' as local media in Kenya put it, was a result of a presidential directive to facilitate discussions on cabinet level over a new draft constitution and was communicated to the minister, and others of his colleagues holding separate portfolios, in writing just ahead of his departure to Germany.
However, tourism sources in Nairobi in regular contact with this correspondent had different opinions. Said one: 'yes, we need the new draft constitution to be finished, but to keep our minister here when he was expected and announced in Berlin to promote the country is ridiculous' while another added to these sentiments by saying: 'Does our president even understand what damage such shoot from the hip actions bring about. Balala had appointments, a full schedule for the ITB and we as Kenyans are made look stupid with these last minute sort of decisions to keep him at home. Has the president's office never heard of mobile phones, email, SKYPE which allows someone to communicate from abroad?' Yet another comment sent in pondered: 'and one wonders why we are still 'developing' after nearly 50 years of independence. Surely there must be better ways; so many ministers are missing meetings in which Kenya's presence was very important. Of course the constitution draft should be finished, but that has taken so many years that a few more days would not have made a difference. Maybe there was another agenda also at work, here in Kenyan politics one can never rule this out'.
A completely different opinion however was voiced by one other regular source who claimed: 'the minister's presence in Berlin is not really needed. What we require is a strong private sector delegation which is well prepared and our tourist board staff to be sharp in their efforts. Remember, tourism is private sector driven, and our government does little enough to support us. Let government give us the percentage back from tourism revenues to promote Kenya better, but they ever only talk about it. We want 5 percent for promotion of the money we earn them, let them deliver this first, then we can see who heads delegations next time'. It was subsequently learned that the Acting Permanent Secretary in the tourism ministry stood in last moment for her minister to lead the delegation on behalf of government.
Be it as it may, the absence of the tourism minister in Berlin was a blow of sorts to Kenya's public and private sector's efforts to promote side by side with a well recognised figure head leading the delegation but may also have spurred added individual efforts to make up for the minister's absence.
SWISS TO USE NEW AIRBUS ON NAIROBI / DAR ROUTE
Information received from Nairobi indicates that SWISS, now of course a member of the Lufthansa Group, has switched to new A330-300 models on their route between Zurich and Nairobi, offering a three class configuration for passengers. Their previously used Airbus A330-200 only offered business and economy class cabins, while the newer model also provides a First Class cabin with 8 seats.
Presently the airline is flying 5 times a week between Zurich and Nairobi / Dar es Salaam but reportedly said in a press statement released in Nairobi that plans are underway to go 'daily' from either late this year or early next year. Further information given also spoke of plans to extend at least one of these planned added flights to Mombasa, which would be a bonus for the coastal hotels and resorts, always keen to see extra seats provided and in particular tourist source markets tapped into through scheduled flights, as most other flights to Mombasa are long haul inclusive tour charters. All of Swiss's current 5 flights per week presently continue from Nairobi to Dar es Salaam. Watch this space for regular updates on aviation news from the Eastern African region.
FUEL AT WILSON GOES AWOL AGAIN
Information received from Nairobi's main 'safari' airport once again speaks of lack of fuel, and once again, what else, the air operators are blaming it on the red tape the Kenya Revenue Authority has created and is getting more and more entangled in.
The situation was then compounded for Kenyan aviation, when a light aircraft, flying to the main international airport for refuelling, got stuck on the runway with a burst tyre, compelling incoming flights to be either held or diverted and outgoing flights to be delayed before the plane could be towed off the busy single runway of Jomo Kenyatta International Airport.
Said one of the usually more outspoken aviators from Wilson Airport: 'no one says we do not need a revenue authority, but what we do not need is a revenue authority which continues to mess us up due to ignorance and a total lack of ability to learn what makes aviation work' while another added 'how many times were we grounded, in Wilson, in Malindi over the holiday season or have had huge problems to get fuel to some upcountry fields into which we operate because of KRA, they have absolutely no respect for us, no respect for anyone, they think they are infallible'. Fuel suppliers were understandably more than just a little shtumm over the issue, likely to avoid incurring the wrath of the tax body, who in the past have often been described as vindictive and vengeful when individuals or companies openly decried their failures and shortcomings in the public media. Oooops...
Just before 'going to press' it was learned though that the Kenyan government has in a classic U-turn suspended the disputed fuel inspection levy and testing fee, which is thought to be behind this latest round of arguments between fuel companies and the KRA and responsible for the shortages and price rises of recent days.
NEW INSURANCE COVER FOR KENYA TOURISM OPERATORS
Hotels, lodges, safari camps and safari / tour operators can now up their insurance covers to internationally acceptable levels, as a new cover is available through Kenyan insurers backed up through re-insurance arrangements with Lloyds in London. The so called 'risk mitigation policy' was launched last week in Kenya as the second country in Africa after South Africa, and will be adding another component to successfully promoting tourism to Kenya as added insurance security can now be offered to visitors.
In case of an accident in Kenya safari / tour companies are often targeted with legal cases, as are hotels, resorts and safari lodges / camps, and not always is such action brought in a Kenyan court but rather abroad, in the home country of the affected victim, a situation the new policy also addresses.
When making further enquiries this correspondent was told that a range of activities will now be covered like game drives, game walks, the use of boats on rivers or for fishing including white water rafting, water sports activities as offered by coastal resorts, horse riding but also the risks in restaurants and hotels over food poisoning.
The new insurance policies are reportedly also covering legal fees, claims for wrongful death and injuries and illness and will complement existing insurances for the airlift and medical treatment of tourists, should this be required.
The leading stakeholders this correspondent subsequently was in touch with generally welcomed the new insurance options, although a few had issues over the cost, which in this correspondent's opinion however would give Kenya a competitive edge over their regional competitors. In other countries across Eastern Africa insurance covers are often laughably low, and in particular in regard of the liability of hotelkeepers restricted to 'peanuts' in line with age old legislation and regulations. This then often leads to such cases being brought in overseas courts, where settlements and awards are predictably massive and could in a worst case scenario bankrupt a lodge, resort, hotel or safari operators.
It could not be ascertained however if the cover would or could be extended to other countries within the East African Community, should operators ask for it through their own insurance companies.
GOING GREENER STILL
Anyone flying from the Masai Mara into Wilson Airport these days will of course see the wind power plants erected on the famous Ngong Hills, on the foot of which Baroness Blixen, made immortal through the film 'Out of Africa' had her farm and where the Karen Blixen museum is now located. A new wind power initiative is now in the approval stage by the government of Kenya, to build a whole 'wind farm' in Marsabit district it was learned, where a group of Kenyan's living abroad want to put up a 300 MW facility, to give Kenya more electricity, and most important, more 'green' electricity generated from renewable sources.
Presently the country depends heavily on the use of thermal plants, propelled by diesel or heavy fuel oil, as the hydro capacity has been limited by the past drought, when reservoirs have shrunk &endash; and are still way below average inspite of the heavy rains right now.
A similar wind power plant, it is understood from a source in Nairobi, is also planned in the Turkana area of Kenya, equally proposing to generate 300 MW, and the combined added capacity, when coming on line, will relieve Kenya of the need to employ any thermal power plants, each of which adds between 50 &endash; 100 MW into the national grid right now.
East Africa is undergoing a renewed drive to create added infrastructure, in power generation, for roads and railways and there is hope that in another 10 &endash; 15 years the region will be presenting itself in a very different light compared to the past and present day with electricity then available also to the rural populations, presently depending almost entirely on firewood and charcoal for their energy requirements, but also to ensure a regular supply of power to the cities, urban centres, coastal resorts and the industries in the region.
In a related development it was also confirmed that the Kenyan Geothermal Development Company was set to expand the use of geothermal power sources by a further 280 MW in coming years, and that drilling was already underway in preparation of the installation of added plants. The overall estimated geothermal capacity of Kenya is said to be in the region of about 7.000 MW, while presently only about 170 MW are in fact being generated at this time.
Adds this correspondent that there is lots of room to go greener and greener and more than satisfy the national electricity requirements.
DOMESTIC TOURISM EXHIBITION ON IN NAIROBI
The 'Holiday 2010' exhibition, aimed at the Kenyan domestic but also the regional tourism market, is on this week again between 17th and 21st of March, held as usual at Nairobi's Sarit Centre. Hotels, lodges, safari camps and beach resorts will all showcase their low season special offers for Kenyans, Kenyan residents and East Africans, many of which will see reductions of over 70 percent compared to published 'rack rates', making a holiday 'at home', i.e. a visit to the Kenyan beaches or game parks, more affordable for ordinary people and expatriated living in the region.
Traditionally the annual low season commences in early April, or the week after Easter, and then runs up to the end of June, at times even until middle or end of July.
Domestic tourism was the backbone of survival during the global economic downturn for many of Kenya's accommodation establishments and has been targeted by the Kenya Tourist Board as a key component in marketing the country and making the tourism industry less dependable, and less vulnerable to events elsewhere around the world.
KENYA AIRPORT AUTHORITY FALLOUT REACHES HOTEL PROJECT
Now that it is clear that the CEO of the Kenya Airports Authority is indeed retiring, a newly assertive board of directors under the leadership of a new chairman, is looking reportedly in a range of issues beyond the succession, which itself has come under scrutiny and led to the board cancelling the outgoing CEO's advert only to place their own within days afterwards.
That done, and notice being served to the outgoing CEO that he had overstepped his bounds, the board has now according to sources in Nairobi turned their attention to other 'deals' done and signed during the soon former CEO's reign, which will come to a final end on or about 03rd of April.
The latest victim to this board investigation is the planned ground breaking for a new hotel and convention centre which was due to be built on land given by the Kenya Airports Authority, and which at the time had raised many questions in public over the apparent give away of 90 acres of public land, and prime value land for that matter adjoining to the international airport on an 80 year lease. The ground breaking ceremony, which according to some reports from Nairobi, was set for the 24th March, has been 'postponed' to allow the board delve into the contractual details and obligations of the investment group, which according to the outgoing CEO George Muhoho at the time was to take 'three years' from signing to finishing, something which now appears impossible to achieve.
The entire deal smacked of a quid pro quo, as during a state visit to Qatar only a month prior to the hurried signing of this 'deal' major loan agreements were signed between Kenya and Qatar for the financing of a new seaport in Lamu &endash; itself a much critizised project which has attracted massive opposition &endash; and other bilateral aid packages. Watch this space.
Tanzania and Zanzibar News
SAUTI ZA BUSARA AGAIN AN OVERWHELMING SUCCESS
East Africa's premier cultural, music and art festival, Sauti Za Busara, has only ended a month ago and already talk is going on about plans to make it bigger and better in 2011. One of the major changes is likely to be an extension by one day for the music presentations, to allow for more visitors, more performers and longer performances, as demanded by visitors to previous festivals.
For those who missed this year's edition, mark your calendar for next year with the dates just released by the festival organizers: February 09 &endash; 13, 2011 when the annual music and art extravaganza is once again expected to draw in large crowds, which seem to grow year after year.More information, as always, is available via www.busaramusic.org or else write with specific questions and enquiries to busara@zanlink.com
ONLY PART OF PROPOSED IVORY SALES PROCEEDS TO GO TO CONSERVATION
Opponents of the proposed sale of ivory by Zambia and Tanzania took fresh hope, and made snipe remarks over comments attributed to the Tanzanian minister for Natural Resources and Tourism, when she let it slip that only 'part' of the proceeds were to go to conservation, leaving the question open where the balance, and in fact what balance &endash; major or minor &endash; was to go. Opponents of the application to CITES, which is due to meet in Doha for their regular convention, have in the past alleged, that the two CITES members, Zambia and Tanzania, were not paying enough attention to the regular trend of increased poaching just as soon as the ban on trade in ivory was partially lifted, as seen most recently when Southern African countries won such concessions and poaching of elephant increased fourfold over the space of two years in Kenya, inspite of increased anti poaching patrols. The same opponents also accused governments that the proceeds would in any case not benefit conservation bodies and activities to 100 percent of the sales proceeds, an allegation now apparently confirmed by the ill thought out comments of the Tanzanian minister. The opponents will undoubtedly use this lapse to make more noises ahead of the Doha conference while others may yet seek clarification from the minister exactly what proportion of the proposed sales proceeds was to go to conservation, and where the balance of such funds would be diverted to, and why not all such funds would go to conservation. And as one regular commenter to this correspondent asked: 'just where are we with poaching numbers in Tanzania? And when poached tusks are confiscated, is this also then becoming legal ivory stocks by the definition of our government'?
On a positive note however have 11.615 signatures been procured on a petition against the sale by leading East African and international conservationists, which was authored by the David Sheldrick Wildlife Trust and which will be formally presented to the CITES meeting in Doha in two weeks time. Needless to mention that this correspondent too did sign, as did reportedly a number of regular eTN readers in the region according to information sent to in over recent days. Well done indeed to all for this effort.
Meanwhile it was learned that in view of the critical importance of the Doha meeting the Kenyan minister responsible for wildlife has been exempted from a travel ban imposed on the Kenyan cabinet by President Kibaki, to permit him attend the meeting and lead the opposition formulated by 23 African nations against the lifting in any form of the ban on the trade in ivory, which has been termed as a showdown between Kenya and Tanzania, but which in fact is part of a much wider struggle and different schools of thought, when it comes to conservation and in particular the protection of elephant. Anti sale pressure groups are already in full action to lobby support from major global players, with several of them just concluding a tour of the United States and Europe, while the pro sale groups can largely count on the support from &endash; who else &endash; China and Japan, both countries of which are themselves under harsh criticism over the whaling policy (Japan) and their greed and boundless hunger for ever more ivory (China). As the CITES conference is underway and progresses it will be interesting to see how the debates rage on and if the CITES secretariat will be able to be fair and just, contrary to allegations made in the past that they were biased towards selling ivory stocks.
Watch this space as progress reports become available from the CITES meeting in Doha.
POWER IS BACK, NOW CABLES ARE MISSING
The perennial power cuts the island of Zanzibar suffered from since December last year have last week come to an end, when services were restored following the repairs on the underwater cable from the mainland, which is used to supply 40 MW to the island. It was also reported from Dar es Salaam that a new, larger capacity cable was to be installed able to carry up to 100 MW, which would be sufficient to cater for growth of electricity consumption on the island.
Hotel and resort owners are now counting their financial losses, having had to use their own generators for the last couple of months, which increased their operating cost very substantially.
Meanwhile though, the joy of getting power back was short lived for some, when it became apparent that some parts of the island had their cables stolen during the past months, a situation apparently wider spread than officially admitted.
In the absence of regular power supply water delivery too had to be done mostly by trucks and trailers, again at added cost to the Zanzibari hotel and resort industry, which forms the backbone of the island's economy, next to agriculture.
One source in regular contact with this correspondent from Zanzibar also mentioned that the sector would make strong representation to the island's government to install back up large generators to cater for a regular supply of electricity, and also boost the capacity of the waterworks to provide enough fresh water to the hotels, beach resorts and restaurants in the future. 'We are the biggest economic force for the island but government pays too little attention to our woes. No mains electricity, no water from the pipes means very high added cost for us. Tourism is only beginning to recover. We lost market share last year, so we could not raise rates to cover our higher cost for diesel generators or buying fresh water. Government must wake up now and listen to the private sector if tourism is to recover fully in 2010.
Rwanda News
RWANDA TOURISM'S ROSETTE CHANTAL RUGAMBA MOVES ON
Information was just received from Kigali, in fact by none other than the Deputy CEO of the Rwanda Development Board for Tourism & Conservation, and prior to that Director General of ORTPN, the then Office for Tourism and National Parks, that after 7 years at the helm of the organisation and the public figure head for the revival and renewal of tourism to the 'Land of the Thousand Hills', Rosette is stepping down from her position. She is leaving behind a cabinet full of trophies and prizes awarded to Rwanda Tourism during her reign at the helm and the latest global recognition came only a few days ago when the ITB management awarded for the fourth time running the 'best African exhibitor' award to Rwanda again.
Rosette, well known to this correspondent from her years in Kampala before she moved back to Rwanda, will be joining the private sector in April this year after a short break, undoubtedly much deserved to recharge her batteries, having 'run' nonstop in her previous capacities.
Rosette was confident in her message to this correspondent that passing on the baton to a soon to be announced new 'public face' of Rwanda's tourism sector will be easy, having achieved in recent years a re-orientation of the tourism sector, created a new tourism policy, a new tourism law and formulated a 10 year strategic master plan for future developments and product diversification of the sector.
Rosette will be missed by the many many people around the world she interacted with over the past 7 years but as she will remain in the tourism sector she will undoubtedly come across many of those sooner rather than later again, albeit in a different capacity. Thank you Rosette for your proactive engagement with this correspondent over the years and for the forthright interaction on many issues of mutual interest and concern. All the best in your new ventures!
RWANDA BAGS ITB AWARD FOR THE 4TH TIME
'The land of a thousand hills' as Rwanda is fondly known amongst her friends in the world, has done it again. For the fourth time running they have bagged the 'best African Exhibitor' award at the world's biggest tourism trade show in Berlin last week, beating such competitors as South Africa, Egypt &endash; both powerhouses in tourism &endash; but also her East African neighbours Uganda, Kenya and Tanzania to the finishing line. The achievement it remarkable but it also speaks for the constant commitment to promoting tourism, not just at ITB, WTM and other tourism trade shows, but right across the year through an interactive and proactive approach to the media, the tourism trade and when welcoming visitors to the country.
Rwanda has been diversifying the available tourism products, adding new attractions and opening up new areas like the Nyungwe national park in the recent past, and most important does not require paid for Visa from a large number of nationalities arriving in the country. The combination of 'switched on' staff at the Rwanda Development Board &endash; Tourism & Conservation with a keen private sector has hence made once again the difference, and the country was well recognized and rewarded once more, well deserved and congratulations from the heart!
(members of the Rwanda delegation to this year's ITB, proudly displaying the award &endash; again)
CHANGES AT THE HELM OF RWANDAIR
Major changes are continuing at the top of RwandAir's management, with the latest departure being the company's COO (chief operations officer) Capt. Jack Eck, who reportedly was 'sacked' last week.
Eck was for a brief period even Acting CEO, when former CEO and Chairman of the Board Ambassador Gerald Zirimwabagabo 'left' the airline at the end of last year in another surprise move.
At that time the government then appointed Mr. John Milenge as Chairman of the Board of Directors, who soon afterwards also stepped in as CEO, with Capt. Eck then returning to his full time COO job. None of the regular contacts would be drawn into discussing the reasons for all these changes, but indications are that, although the airline now flies profitably with a fleet of newly acquired CRJ's, other financial issues beset their former managers, including a bodged subcontracted charter arrangements with a South African airline to fly Rwandan troops and supplies to Darfur, which led to a loss of nearly half a million US Dollars after the South Africans 'disappeared' with only a handful of flights operated. Efforts are underway to recover the payments made through courts and arbitration platforms.
The airline was also due to acquire a B737-800 by middle of 2010 while the acquisition of a B767 was also on the drawing board, but these expansion plans may now remain on hold for some time until the 'internals' of the company have been sorted out first. Network expansion, with the present fleet, is however ongoing this correspondent was assured by a source in Kigali, although other surrounding issues may now need to be re-assessed once again before previously made decisions and commitments are either reconfirmed or changed. Watch this space for the most up to date information about aviation developments in the region.
WE NEED MORE QUALIFIED GUIDES
Sentiments were voiced in Rwanda last week over the lack of more substantial qualifications for their tourism guides presently used by safari operators and deployed in the field. Causes for this situation are mentioned as lack of language skills and opportunities to learn added foreign languages, but also the absence of a formal system of education, training and examinations for Rwandan tour guides. The new law presently before cabinet for consideration would require certain levels of qualifications from tour guides, and stipulates formal licensing before they can work, but the law has not yet been passed by parliament.
In comparison for instance in Kenya, the Kenya Professional Safari Guide Association currently has 709 members, as of the end of 2009, all of whom have passed examinations, a key criteria for membership. Of those 9 are presently rated in the coveted 'Gold Member' bracket, i.e. are on the very top of their profession and holding their own against any 'competition' in the world, while a further 191 hold the 'Silver Member' qualification. The rest of the membership in the Kenyan safari guide association have at the very last passed the 'Bronze Member' examinations, already pegged at fairly high standards to ensure that those deployed really know their flora and fauna, history and culture about which they will be talking to their clients, without making elementary mistakes or find their clients know more than they do.
The move towards a professional safari guide association in Kenya was triggered upon the recognition, that guides are in most contact with clients on a safari holiday and if they are not up to their marks this would reflect badly on the destination itself, in comparison with other main 'competitors' like South Africa, Botswana, Zambia or Namibia. New applications to the KPSGA are constantly being received and reviewed but all such applicant members must within a certain period of time sit for their examinations.
The Kenyan system presently is by far the best in the entire Eastern African region and other countries are making their own individual efforts to lift their own national guiding standards, at which stage special recognition for the single handed struggle of one Herbert Byaruhanga is in order, who started the Uganda Safari Guide Association, in the face of much opposition of many safari and tour operators, who initially opposed the empowering and training of Ugandan tour guides and in particular the formation of their own association. Yet, in the face of such initial obstacles Byaruhanga overcame the odds, managed to get support from development partners for workshops and training sessions and has more recently signed on to the formation of the East African Safari Guide Association, which brings together national associations and aims to improve standards in the industry across the East African Community. Well done Herbert, and well done Kenya of course for their remarkable achievements.
Angola News
FLY 540 SET TO START FLIGHTS BY 22ND MARCH
It is understood from usually well informed sources that Fly540, which first spread their wings across the Eastern African region with operations in Kenya, Uganda and Tanzania, is now all set to go 'continental' in the wider sense, when they commence flight operations later this month. One of the company's joint CEO's Mr. Neil Steffen was spotted by a source this correspondent cultivated within Angola's aviation industry in Luanda, and this was then also confirmed by a source within the Fly540 establishment in East Africa, giving the clearest indication yet that commencement of flights is now imminent and a launch and inaugural flight is planned very soon.
The airline, the first in Eastern Africa to successfully promote the 'low cost, low fares' concept, is set to further widen their reach in 2010 and beyond, as they are also preparing to 'take off' from Zimbabwe and other countries in Africa.
Meanwhile in Uganda, the airline is seeking to widen their market penetration &endash; they presently offer two flights a day between Entebbe and Nairobi on their CRJ200 aircraft &endash; and are said to be eyeing new destinations from Entebbe too, a move much anticipated by the travelling public as it would undoubtedly widen choices and keep the fares down. Happy Landings!
Seychelles News
AIR SEYCHELLES TO ADD THIRD LONDON FLIGHT
The airline has last week, coinciding with the annual ITB tourism trade fair in Berlin / Germany, announced their intention to add a third flight to the UK, yet not to their regular destination Heathrow but to Gatwick, via Rome. The once weekly connection, commencing on 19th April this year, is aimed to further support the recovery of tourism arrivals to the archipelago and will complement the two weekly flights to London Heathrow. The added flight will leave Mahe on Monday night and return on Tuesday evening, making a stopover in Rome FCO in each direction.
At the same time it was also revealed that the Cape Town flights, reported about last week, will initially run up to the 18th of July and may be continued subject to reaching satisfactory load factors for passengers. Watch this space for the most up to date information about aviation issues in the Eastern African and Indian Ocean region.
SEYCHELLES OCEAN REGATTA ON FOR MAY
The Seychelles Tourist Board has confirmed to this correspondent that their planned ocean yacht regatta will go ahead between the 22nd and 30th of May this year and that several top rated skippers will participate in this annual event. The regatta course will be mapped out within the 'inner islands' and can be watched by spectators using either vantage points like beaches or some of the mountains on the various islands, chartering their own boats or using one of the helicopter services available from Mahe.
Meanwhile, the ongoing, and often biased and wrong reporting about pirate activities in the Indian Ocean does not seem to have deterred the Seychelles from going out and promoting cruise tourism. A small albeit powerful delegation will attend the Seatrade Cruiseship Convention in Miami between the 16th and 18th March, which is taking place in the wake of ITB where the Seychelles Tourist Board and the destination management companies, aka tour operators, will undoubtedly already have prepared the way when talking to the cruise lines also present in Berlin. The partly negative publicity over piracy has impacted undoubtedly on cruise tourism in the Indian Ocean region, and Mombasa for instance, as recently reported, has seen its share from cruise tourism arrivals halved over the past one and a half years, as has Dar es Salaam and Zanzibar.
However, the Seychelles are not giving up on this lucrative market just yet and with ever increasing naval patrols along the major shipping lines and an apparently shifting mood towards a more robust forward engagement of the pirates when leaving Somali waters, there is hope that the whole of the region can benefit once more from increased port calls by ocean liners presently deployed elsewhere over such fears.
The Seychelles delegation shown below will be joined by their colleagues from La Reunion, with whom they maintain close contacts and share common objectives in regard of cruise tourism and twin centre holidays. This move was inspired by the CEO of the Seychelles Port Authority who prevailed upon his colleagues of the Association of Indian Ocean Ports, some of whom had already signalled they would not go to Miami, only &endash; like La Reunion &endash; to change their minds when told that this attendance was needed to 'show the flag' and tell the world that not all routes in the Indian Ocean are unsafe as portrayed in some of the global media.
FIRST PIRACY TRIAL COMMENCES IN VICTORIA
The first case against 'alleged' Somali pirates is now in court in the Seychelles capital of Victoria, when 11 of them were charged under the country's laws against piracy and terrorism. This correspondent has regularly termed the 'pirates' as ocean terrorists and maintains, in the face of now dwindling opposition to the use of this phrase, that elements linked to Somalia's militant Islamic fundamentalists are in fact, or already have, infiltrated the pirates' ranks with their own agenda at the forefront, posing added dangers to shipping through the Gulf of Aden, around the Horn of Africa and along the Eastern seaboard of Africa.
If found guilty on all charges laid against them the 11 could face terms up to life imprisonment, but at the very least 7 years. Friendly countries have boosted the Seychelles coast guard capacity for surveillance and to defend their territorial waters, have stationed fixed wing aircraft and UAV's on the island, which greatly assists in monitoring movements of suspected 'motherships' from where attacks on cargo vessels are normally launched. In addition the Seychelles were given grants to expand their prison and jail holding facilities, and with changes to the respective laws underway through the parliament in Victoria it is expected that more suspects will be brought to court there and successfully prosecuted.
Of late a trend has been observed that the naval coalition is pursuing a harder line against the menace, as several reports reached in recent days and weeks that suspected motherships were stopped, searched and sunk with little ado, throwing the gauntlet to the pirates by basically telling them: 'you leave your territorial waters, you look like pirates, you act like pirates, you very likely are, so expect to be engaged forthwith'. Suspects caught in such raids are then delivered into the legal systems of the Seychelles and Kenya, where only a week ago eight pirates were convicted in a Mombasa court and sentenced to 20 years in prison, after which they will be deported back to Somalia. The convicts could in fact have faced life imprisonment under the law and were 'lucky' to get away with 20 years only. These latest convicts join a number of others also convicted in recent months, and while members of the naval coalition are assisting Kenya and the Seychelles with grants and other assistance, this will still be cheaper, and likely more effective, than processing piracy suspects through the legal systems of those countries which navy had arrested them.
Robust approaches of this nature, both at sea and through the courts, will act as a further deterrent and if the African Union's calls for an air and sea embargo against Somalia are successful there may at last be a glimmer of hope to bring the menace, also known as the 'problem from hell' under better control.
The Minister in the Seychelles government in charge of anti piracy affairs and coordination, the Hon. Joel Morgan, has also in an interview recently outlined added measures the government there has taken and intends to take further to prevent pirates from entering the country's vast economic exclusion zone, which exceeds the size of Western Europe, considering the distances between the archipelago's various island groups and stressed his government's continued commitment to work hand in hand with friendly countries of the naval coalition to assist in patrolling and making secure the waters around the archipelago.
For the Seychelles this development is a vindication of sorts, following nasty press reports in the past about the 'pirate paradise', which were however found to be both baseless in fact as well as inspired by hidden agenda's of those media houses willingly publishing such rubbish. Suggested one regular reader to this correspondent following some mention of the case in an earlier article: '...you know what I think, the guys writing such stuff were probably trying it on to get a first class, all paid for trip to the Seychelles, red carpet and all, and when that failed they simply took it out on them by writing what they did'. Now no responsible journalist would do such a thing, or would they?!? I can only say my usual 'Oooops' should such be found true?!?
SEYCHELLES APPOINTS MORE TOURISM AMBASSADORS
The Seychelles Tourist Board used the opportunity in Berlin, while attending the world's most important tourism trade fair last week, to announce the appointment of yet more tourism ambassadors, all based in potential tourism source markets for the archipelago.
All 'ambassadors' need to be Seychellois and, it is understood, should have some connection to the tourism sector in the country where they are based. The chosen individuals are expected to support the promoting of travel to the archipelago and will assist tourist board activities in the area of their residence or assigned responsibility. A full list of these ambassadors has now been availed to this column and is reproduced below for the benefit of our readers:
Australia
Ms Christine St.Ange from Brisbane
Mrs. Anne Kautsky (née Ahlock) from Perth
Mrs. Marie Luce George (née Savy) from Sydney
Ms Debra Michaud Payet from Victoria
Austria
Mrs. Archangel Kopar (née Léon) from Salzburg
Canada
Mr. Robert Underwood from British Columbia
China
Ms June Camille from Shenzhen and Hong Kong
Croatia
Mrs. Chantal Karlic (née Robert) from Dubrovnik
Czech Republic
Mrs. Barbora Ponovská in Czechoslovakia
Mr. Gwilym Sicobo from Zlin
France
Mr. Bernard Delafontaine from Bordeaux
Mr. Nicolas Van Beveren from Montevrain
Mrs. May-Cecile Frezou (née Lajoie) from Montpellier
Ms Brigitte Hermitte from Nantes
Ms Pauline Ferrari from Paris
Mrs. Rita Richez (née Romain) from Paris
Mrs. Mary-Lyn Camus (née Faure) from Saumur
Germany
Mrs. Annette Wagner Esparon from Freudenstadt
Mrs. Lindy Scheele (née Samy) from Munich
India
Mr. Hermant Jivan from Bangalore
Italy
Ms Sylvianne Toussaint from Venezia
Jamaica
Mr. Melton Ernesta from Kingston
Kenya
Mrs. Popsy D'souza-Getonga (née Mothée) from Nairobi
Mauritius
Mr. Bertrand Rassool from Mauritius
Mozambique
Mr. Gerard Moustache from Maputo
Réunion
Mrs. Jaqueline Soopramanian from St Denis
Dr Tony Wong from St Denis
Russia
Mrs. Kristina Autefault (née Adrienne) from Moscow
Serbia
Mrs. Sinha Levkovic (née Chetty) from Belgrade
Singapore
Dr Claude Renaud from Singapore
Mrs. Susanne Lundeby (née Rose) from Singapore
South Africa
Mrs. Mary Marsac (née Faure) from Cape Town
Sweden
Mrs. Beryl Laporte from Malmö
Switzerland
Mrs. Dona Wallin (née Appoo) from Geneva
Mrs. Audrey Bonvin (née Beaudoin) from Montreux
Tanzania
Mrs. Maryvonne Pool from Dar es Salaam
Uganda
Mrs. Pearl Hoareau from Kampala
United Arab Emirates
Ms Daniella Narty from Dubai
Mr. Emmanuel Marie from Dubai
United Kingdom
Mrs. Betty Michel from Birmingham
Mrs. Rita Hinder (née Mondon) from Eastbourn and Brighton
Mr. Gafoor Yakub from Greater Manchester
Dr. Jose Souyave from London
Ms Brigitte Mougougy from London
Mr. Derick Ally from London
Mr. Roch Evenor from London
Mrs. Georgia Dunlop (née Fernandes) from Oxford
Mr. Robert Delpeche from Wales
Mr. Nick Baldwin from Winchester
United States of America
Mrs. Rosemary Wood (née Rault) from California
Mrs. Karen Johnson (née Pilling) from Colorado
Mrs. Doreen Brown from Florida
Mr. Joss de Lestange from Florida
Mr. Jules Rault from Florida
Mrs. Rosemarie Pothin from Kenosha
Mrs. Leonie Naylor from Michigan
Mrs. Jaqueline Elias (née Young) from New York
Mrs. Patricia Fifer (née Sinon) Rhode Island
Ms Helene Frichot from Seattle
Mr. Mike Valentin from Texas
eTN's Executive Talk spoke with Dr. Frauke Fleischer-Dogley, CEO of the Seychelles Island Foundation about the work they are doing across the archipelago, including the famous Aldabra atoll as it was learned during the interview:
eTN Q1: What does the Seychelles Island Foundation do in terms of conservation, where across the archipelago are you active.
Dr. Frauke: Let me give you an overview of the SIF's activities. We are looking after the two UNESCO World Heritage sites in the Seychelles and we are fully involved in regard of environmental conservation, maintaining and promoting our biodiversity. These two sites are the Vallee de Mai on Praslin island and the Aldabra atoll.
The Aldabra atoll is over 1.000 kilometres distant from Mahe, so we have many challenges to reach the site, supply it and manage it. The atoll has a very interesting history as once upon a time it was meant to become a military base, but fortunately those plans never materialised following sustained protests abroad, mainly in the UK. The result of the u-turn however was that the Seychelles were asked to 'do something' with the islands and subsequently a research station was established on Aldabra. The origin of that goes back into 1969, before the Seychelles became independent, and research has now been going on for over 40 years. In 1982 UNESCO declared the atoll as a World Heritage site and the Seychelles Island Foundation is now responsible for the site since 31 years. SIF was in fact founded with the initial sole purpose to look after and manage the research going on across the atoll. As a result we have intense contacts and interaction with many renowned universities and research organizations across the world. Our research programmes and one off projects of course centre on marine life, the reefs etc, but of late we are also monitoring and recording climatic changes, changes in water temperature, water levels; this type of research is one of the longest running of its kind in the Indian Ocean, if not the longest running.
All of this is bearing fruits, showing results and shortly we will be publishing research data in regard of ocean turtles and tortoises, and the changes we have recorded over the past 30 years. One might think that little has moved over that period but to the contrary, our research results do show very significant changes. The population of the protected ocean turtles for instance, as a result of protective measures, grew 8 fold over these 30 years, which is quite astonishing.
What Aldabra however is best known for are the giant tortoises, which made the Galapagos Islands so famous. Our population of these giant tortoises is in fact TEN times the number of those found on the Galapagos islands.
eTN add on question: and nobody knows this?!?
Dr. Frauke: yes, we are not as active as the Galapagos Islands in promoting this knowledge; we don't blow our own trumpet as much as they do; but we have the numbers to prove it that in terms of population, we are the number ONE!
eTN Q2: I sought feedback about the ocean turtles and giant tortoises recently and the answers were a little 'thin'. Considering what you are now telling me you have a huge tourism potential of visitors wanting to see those giant tortoises, but then again, considering the fall out on the Galapagos by almost unsustainable tourist numbers, a permanent population which grew rapidly in recent decades, the developments on those islands, are you better off with less visitors when it comes to protecting a very fragile environment and protect the species?
Dr. Frauke: this is an ongoing debate and discussions are going back and forth, commercial interests versus conservation and research interests; I think that perhaps at times things are portrayed in an exaggerated way as a tool to uplift funding ... there are different opinions being expressed amongst the conservation fraternity, our colleagues and we are always discussing this of course ...
eTN Q3: then how many tourists did visit the atoll last year?
Dr. Frauke: First let me tell you that the atoll is so big that the entire island of Mahe would fit into the middle of the lagoon, and considering that size, we only had about 1.500 visitors coming to Aldabra. This in fact is the biggest number we ever had in a single year. And because we do not have a landing strip directly on the island [there is one about 50 kilometres away on another island however], all of these visitors had to come by ship or their own yachts. It is the only way to visit, we have no facilities for visitors to stay there, although of course we have accommodation for the researchers, but tourist visitors have to return every evening to their ships and stay there overnight. No visitors come incidentally by sea plane, simply because there are no suitable sea planes available in the Seychelles to cover that distance. Even our own staff, the supplies and everything, goes and comes by ship. We would in any case be very careful about landing such planes near or in the atoll because of environmental concerns, the noise, the impact of landing and takeoff etc. We have besides the sea turtles and giant tortoises also one of the largest colonies of Fregate birds and while they are not disturbed by approaching ships or yachts, an aircraft landing or taking off would create disturbances for those flocks. And tourism visits are in any case restricted to one specific area of the atoll, leaving the entire rest of it for research and to protect the fragile underwater ecosystems. But the area open for tourism is habitat to all our species, so visitors are able to see what they come for, it is not that they would be disappointed, to the contrary. We even have relocated some species of birds there, so someone coming to visit the atoll's 'open areas' will actually see a 'miniature' version of the entire atoll.
eTN Q4: are there any plans to build or concession a lodging facility for overnight visitors to the atoll, who would prefer to stay on the island instead on their ships?
Dr. Frauke: in fact there were plans towards that end already under discussion, but the main reason why it never materialised was the cost; imagine the atoll is over 1.000 kilometres from Mahe, and even a large distance to other nearby options from where to reach Aldabra, say Madagascar or the African mainland, so bringing the building materials is a real challenge. Then, when such a lodge is open, it needs to get regular supplies to keep it running, food, drinks, other items, and again the distance is simply too great to be easily affordable or economical. And all the refuse, rubbish, everything then has to be taken off the island again and returned into a proper disposal chain, for composting, recycling etc.
Our board of trustees had even sanctioned a lodge for the 'tourist' part of the atoll, but as negotiations with interested developers went on, the credit crunch came into play and we then also considered the whole plan again, having been able to 'function' for so long, with visitors coming by ship and staying on their ships, besides their trips on shore.
Meanwhile a foundation, a trust was formed for the Aldabra atoll, and a promotion of sorts took place in Europe to raise funds, create awareness.
We had a very big exhibition in Paris last year but it is maybe too early to assess the impact the trust, the foundation will have in regard of securing funding for our work. But we have hope of course to secure more funds to keep our work going, it is expensive, in general and specifically because of the great distances.
But let me come to the second UNESCO World Heritage site we are entrusted with, the Vallee de Mai.
This is the number one tourist site on Praslin and in fact many visitors come even for the day from Mahe or other islands to see that park. Visitors to the Seychelles come for the beaches, but many of them also come to see our intact nature, and the Vallee de Mai is a globally known site to see our nature nearly untouched. We reckon that nearly half of all visitors to the Seychelles are also paying a visit to the Vallee de Mai, to see the unique palm forest and of course the 'coco de mer', that uniquely shaped coconut only found there.
It is here that we most closely work with the tourist board in promoting this attraction and only a couple of months ago we opened a new visitor centre at the entrance of the park. (eTN reported about this at the time) Our President opened the centre in December, which gave us a lot of media exposure and also signalled that our work had the blessing from the head of state and government overall. The President is also our Patron, of the Seychelles Island Foundation, again showing how highly valued our work is.
And now let me explain the link between the two sites. We generate a lot of income at the Vallee de Mai, and of course support the tourist board by granting free access to journalists, to groups of travel agents brought in by STB, but the income from visitors is used to not just support the work there but a lot of it goes towards the research activities and work done in Aldabra, where the income from the comparably small number of visitors is not enough pay for our activities there. Therefore visitors coming to the Vallee de Mai, who pay a high fee to visit that park and see the palm forest and the 'coco de mer' need to know what is being done with their money. It is not just for that visit, but it supports our work and conservation measures over 1.000 kilometres away on Aldabra, and your readers should know about it, the reasons behind the 20 Euro per person entrance fees on Praslin. We are also mentioning it at the visitor centre and the displays of course, but some more information about it will not harm.
Until three years ago we charged 15 Euros, we were looking at raising the fees to 25 Euros but the global economic crisis and temporary downturn in tourism business then convinced us to charge first an intermediate fee of 20 Euros. That was discussed with our destination management companies, the ground handlers but also representatives of overseas agents and operators and eventually agreed upon. Now we have a new visitor centre at the main gate, better facilities, so they can also see that we invest back into the 'product' in the interest of giving better services to tourists. The next step will be offering the option for coffee, tea or other refreshments to visitors, but not for accommodation. There are nearby hotels and resorts, those will be enough for guests staying on Praslin overnight.
eTN Q5: I read some time ago about increased incidents of 'poaching' of the 'coco de mer' i.e. they are stolen from the palm trees, including from the most photographed tree near the entrance? What is the situation here really like?
Dr. Frauke: Sadly this is true. There are a number of reasons for it, not just a single one. We are reacting to these incidents by making them public, telling the people living around the park what damage this does and how it impacts on the long term future of the park, and all the visitors coming there to see the 'coco de mer' and the rare birds in that habitat. These visitors support the local economy, and therefore the communities living around the Vallee de Mai need to know that 'poaching' or theft of the 'coco de mer' is doing a lot of damage and may endanger their own incomes and jobs. There are only a couple of thousand people living on Praslin, so we are not talking very big communities and the villages and settlements around the park are home to small number of people, those are our targets for this information campaign. But we have also strengthened surveillance and monitoring to more actively prevent similar incidents in the future.
eTN Q6: the tourist board is committed to bring the entire population of the Seychelles behind their concept that 'tourism is the number one industry and employer' and everyone should support all measures needed to keep this going. How can STB, government assist you there?
Dr. Frauke: They just have to tell everyone about these issues, tell them of the impact, the consequences for tourism and if everyone supports this we should see results. A clear and strong message, that Seychelles cannot afford to lose such an attraction, will help us in our work. And it has to be understood, that if we earn less through the Vallee de Mai we cannot continue our level of work on Aldabra either, this is very clear.
The Chairman of STB is also our Chairman of the Board of Trustees, so there are direct institutional links between SIF and STB. The President is our Patron. We are not shy to using these links in a proactive manner and after all it is beneficial for the tourism industry what we do, beneficial to the entire country. Believe me, we are not tiptoeing where action is needed and we have access to our government institutions and make use of them in the interest of conservation.
And it is through these links that we discuss our fee structures, our plans for future rises in fees, and we agree with them of course, this is never done in isolation by us alone but we consult with our other stakeholders.
eTN Q7: in East Africa our park managers, UWA, KWS, TANAPA, ORTPN now discuss with the private sector years in advance the next planned increases, at times two years in advance, are you doing the same here?
Dr. Frauke: we know that, we are aware of the tour operators in Europe planning a year, a year and a half ahead with their pricing, we know it because we work hand in hand with STB and other bodies who give us their input and advice. It is also a process of confidence building, way back in the past we acted differently from what we are doing today, so our partners, the stakeholders in tourism, need to know that we are predictable and not simply try to get one over them. We are well on the way to achieve this however.
eTN Q8: what other projects are you presently working on , what are your plans in the future? You presently look after two UNESCO World Heritage sites, what next?
Dr. Frauke: the Seychelles presently has 43 percent of its territory under protection, which includes terrestrial national parks, marine parks and forests. The country has institutions which are responsible for the management of these areas and a range of NGO's are assisting in these tasks. I believe we can improve further the work we are doing presently in the two UNESCO World Heritage sites in Aldabra and on Praslin, add on our research programmes. Some of our data are now 30 years old, so it is time to add new information, establish new data in those areas so research is always ongoing and seeking to add fresh knowledge. But we are looking at a new challenge in the Vallee de Mai, which as mentioned before was until now a 'visitors' park with less attention to research. Often in the past people from abroad with a research background visited the park and then shared information with us, now we are proactively working in that park and last year for instance we discovered a new species of frog, which was obviously resident in the park but literally 'undiscovered'. Some of the research is part of master's theses, and we are building on this by adding new scope all the time. As an example, some of the new research is focusing on the nesting and breeding habits of birds, to identify how many eggs they lay, how many of those hatch, but we also added research opportunities for the 'coco de mer' itself, we simply do not know enough about it yet and must know more to effectively protect its habitat and the species. In other words, our research will be progressively expanded. And then we have another project underway, I had mentioned earlier that we had a big exhibition in Paris last year about Aldabra, and we are presently negotiating with government to bring the exhibits, the documentation from that exhibition to the Seychelles, and to display it permanently in an 'Aldabra House' on Mahe where visitors can learn about the atoll, the work we do there, the challenges of conservation, even those who do not have the opportunity to actually visiting Aldabra. Such a building, we hope, will be featuring the latest green technologies, in construction, in terms of operation, as after all sustainability and conservation are the hallmarks of the Seychelles Island Foundation. In this connection it is worth mentioning that we are presently developing a masterplan to introduce renewable energy sources to our project in Aldabra, for the research station and the entire 'camp', to reduce on the very costly supply of diesel, the cost of transporting it a thousand kilometres to the site and reduce our carbon footprint for our presence on the atoll. We have now fully established our requirements and the next step is now the implementation to shift from diesel generators to solar power. To give you a figure, 60 percent of our budget are set aside for diesel and the transportation of diesel to the Aldabra atoll, and when we have converted to solar power these funds can be used in a more effective, a better way. We have recently started genetic research on the species we have on the Aldabra atoll, but this is expensive work and when we can begin saving on diesel we can shift funds into those research areas for instance.
eTN Q9: how are your relations with universities from abroad, from Germany, from elsewhere?
Dr. Frauke: the project to convert from diesel to solar power was initially started by a German master's student who carried out some research towards that end, she was from the University in Halle, and she is now back to implement the project as part of her next work. Other cooperation we have with the University in Erfurt in Germany which is leading in the field of energy conservation, energy savings. We also have excellent working relations with the Eidgenoessische University in Zurich, with several of their faculties in fact, for instance gene research on the 'coco de mer'; for instance we have research fields since 1982, and we are analysing changes in those fields with foreign universities, we work with Cambridge, very closely in fact, Cambridge has been a driving force in research projects on Aldabra. With them we are working on remote sensing, comparing satellite images over a period of time, recording changes, doing mapping, of the lagoon and other areas, including generating vegetation maps. This permits us to identify changes seen over the past 30 years since we established a firm research presence on Aldabra. This work of course extends to climatic changes, rises in water levels, the impact of rising average temperatures on aquatic life forms. With the East Anglia university of the UK we also operate joint programmes and projects, like here in particular the 'black parrot' and certain species of geckos. But we also have regular contacts with American researchers, like from the Natural Museum of Chicago and we had in the past cooperation with the National Geographic Society of course for whom our work was of great interest. Last year they brought a sizeable expedition to Aldabra, so their interest remains high. Another similar group organized by Conservation International was due to visit us in January, but the piracy issues made it impossible for them to come this year.
Add on eTN question: Pirates, that near to Aldabra, is that real?
Dr. Frauke: yes, sadly so, we had some of those boats come relatively near, and in fact one diving expedition removed itself rapidly when approached, they went to an island some 50 kilometres away where there is an airstrip, and then evacuated their clients from there, so this is real. That diving boat, which was used as a platform for the divers, was eventually hijacked in March last year. Our board of trustees in fact did discuss this issue as piracy around our waters in Aldabra has an influence on visitor numbers; there are insurance issues for the operators of expedition ships coming to Aldabra and of course issues on security in general.
Add on eTN question: so if I get this right, there is an airfield on an island some 50 KM away from Aldabra, would that not encourage visitors to fly into that island and then use boats from there?
Dr. Frauke: in theory yes, but we have very strong currents and high waves, depending on the season, so this would at best be very difficult to achieve and generally our visitor come with their own expedition ships and then anchor off Aldabra for the duration of their visit, normally about for 4 nights.
One could try during the November to March / early April season, but for the rest of the year the seas are just generally too rough.
On Aldabra we charge a visitor fee, of 100 Euro per person per day of presence, that fee also by the way applies to the crew on board irrespective of whether they come on shore or not, so it is not cheap to come and visit Aldabra, it is a very exclusive 'club' of visitors who really have keen interest. In fact, all boats, ships or yachts anchoring off Aldabra must according to our regulations have our own staff with them at all times, while they are on anchorage, to ensure compliance with our regulation and to avoid any element of pollution to our waters. That applies for the shore visits and even for their diving expeditions.
eTN Q10: The Seychelles celebrate an annual underwater festival 'Subios' &endash; was Aldabra ever the focus of this festival?
Dr. Frauke: yes it was, a few years ago the main winner of the festival filmed 'from Mahe to Aldabra' and it got us a lot of attention of course. Several other entries of underwater films taken around the Aldabra atoll also won main prizes in the past.
eTN Q11: what is of the most concern to you, what do you think is the message you want to send to our readers?
Dr. Frauke: what is very important to us at SIF is that we not only 'have' two UNESCO World Heritage sites, but that we maintain them, keep them intact, protect them and preserve them for future generations, of Seychellois and for the rest of the world. This is NOT just our work at the Seychelles Island Foundation, but it is the work of our country, government, people. We know for instance that visitors to the Seychelles generally have travelled to many other places before and when such visitors share their impressions of our sites with the people living near by, or the guides, the drivers they come in contact with, then everyone knows just how important these two sites, especially the one in Praslin are for us on the Seychelles, for tourism purposes. Conservation work on the islands has deep roots, our people here appreciate intact nature, often because they live from it, look at the employment tourism brings, at fishing, without an intact ecosystem, without clean water, intact forests, this would all not be possible. When a hotelier hears from the guests that they come here because of the untouched and unspoiled nature, the beaches, the underwater marine parks, than he or she understand that their own future is completely linked to our efforts of conservation and they support our work and stand behind our efforts.
eTN Q12: is government seriously committed to your work, to supporting you?
Dr. Frauke: our President is our patron, and no, he is not generally as the case in other countries the patron of all and sundry, he is our patron by choice and supports our work fully. He is briefed, kept informed about our work, our challenges and for instance when we opened the visitor centre for the Vallee de Mai, he came without hesitation to officiate during the opening ceremony.
[at that stage Dr. Frauke showed the visitor book which the President signed on that occasion, then followed by the Vice President who is also the Minister for Tourism, and surprisingly the President did not use up a full page for himself but used, as all other guests subsequently, ONE line, a very humble gesture: James Michel at www.statehouse.gov.sc]
eTN Q13: in recent months I often read about new investments on new islands, previously uninhabited, private residences, private resorts, and issues were raised about the environmental issues, protection of water and land flora and fauna.
Dr. Frauke: there are concerns, for instance when developments on new islands take place about the introduction of invasive species of any sort and form; such can invade and almost take over the flora on an island if not recognized at an early stage and remedied. No country today can afford not to make use of its resources, all of its resources, but it is important that investors, developers know from the onset what terms and conditions apply that they understand the terms of an environmental impact assessment and report, and the mitigative measures which need to be taken, must be taken to mitigate the development impact.
So if an investor comes here, their main reason is to be part of our nature, and if that gets spoiled their investment too is in danger, so it is, or should be in their interest to support this, especially when they know at a very early stage what cost will be involved for them in addition to the building of the resort etc, in terms of environmental protection and mitigative measures in the long term.
As long as new investors go along with this, we can live with it, but if a developer simply comes to bulldoze everything out of the way, then we have a big problem with such attitudes, with such a mindset. Environmental protection is the key for the future of the Seychelles tourism industry, so it must be at the forefront of all future developments.
At no time should we say, ok, come and invest and then we shall see, no, we need to have all the details on the table from the beginning, including career prospects for Seychellois staff of course to give them opportunities through such new developments. That is the social, the cultural component which is just as important as the environmental and conservation components.
This comes also from my background, by education my main field would be conservation, but I also worked for some years in the ministry responsible for the environment where I was also confronted with tourism development issues. So that is not new for me and is giving me a wider perspective. In fact I recall that during my years at that ministry we had several students doing their master's theses, working on sustainability issues, developing what we would today call templates, and much of that even today is still very relevant. We developed criteria which are still being applied and although much has developed and advanced since then, the basics are still valid. So investors need to embrace this, work within such frameworks, then new developments can be sanctioned.
eTN Q14: is the SIF in any way involved in the discussions over the licensing of new projects, are you consulted as a matter of cause, on a formal basis? I understand from other discussions that existing resorts and hotels are being encouraged to subject themselves to ISO audits and new projects are given a whole catalogue of added requirements now before the can proceed?
Dr. Frauke: we are part of consultative groups tasked with looking at such issues, of course government makes use of our expertise, seeks our input, and we participate in such bodies as the environmental management committed but about 10 other similar working groups, where we offer our knowledge and experience on a technical level. The Seychelles have an environmental management plan [present edition 2000 to 2010] to which we contributed and where we are helping with the next edition, we collaborate on national panels about climate change, sustainable tourism; there are some projects we work on under the GEF heading, on the panel of experts or even in the implementation phases,
eTN Q15: in closing a personal question, how long have you been in the Seychelles and what brought you here
Dr. Frauke: I am now living here for the last 20 years, I am married here, I met my husband at the university where we studied together and he did not wish to remain in Germany, he wanted to come home to the Seychelles, so I then decided to move here too, but I am very satisfied with my decision I made then, no regrets at all, it has become my home now. I spent my entire productive work live in the Seychelles after my studies, after coming here and I always enjoyed working here, especially now as CEO of the SIF.
Thank you Dr. Frauke for your time to answer our question.
For more information about the work of the Seychelles Island Foundation please visit www.sif.sc or write to them via sif@seychelles.net or sif@seychelles.sc.
Gifted by Nature', the Eastern African and Indian Ocean region
By Prof. Dr. Wolfgang H. Thome
Second edition March 2010
In Memoriam
My former partner in our joint airline business, Capt. Michel Steenackers of Brussels / Belgium, has sadly passed away a short while ago after a long illness, according to his widow Brigitte very bravely borne until the very end. His advice and knowledge about aviation in Africa in particular will be greatly missed, by me and the many other friends he left behind. Rest in peace my friend, and fly high &endash; with the sky not the limit on this journey! Until we meet again.
Uganda News
LANDSLIDE AT MT. ELGON KILLS SCORES OF VILLAGERS

Following weeks of rain and days of torrential downpour in this part of Eastern Uganda did a major landslide on the slopes of Mt. Elgon occur last Monday night, claiming the lives of over 100 people confirmed dead at the time of going to press, while hundreds more are feared to have perished too as they remain missing from the count of survivors.
Three villages in total were wiped out in the location, known as 'Bukalasi subcounty'. The missing reportedly also include about 100 school children, who had taken shelter in one of the villages from the torrential downpour, and who were swept away too by the avalanche of water, mud and rocks coming down the mountainside.
A health centre, located between the villages, was also swept away, including patients and nursing staff, making first aid for injured survivors next to impossible in the immediate aftermath of the disaster.
When news reached further down the mountain the Ugandan security services, police and army, immediately dispatched contingents supported by the Mbale branch of the Red Cross Society and other similar charitable organisations, who arrived at the scene of the disaster with supplies and tents, to provide shelter to the survivors and serve them with hot meals.
After assessing the area and the damage an evacuation was ordered for other villages too as cracks on the mountain side, and more heavy rains, increased the chance of added landslides. Government ministers and area administrators were tasked to provide unbureaucratic help and assistance, and President Museveni has already indicated he would travel to the area too to attend a memorial service after personally inspecting the relief efforts on site.
Reports of further landslides were also received overnight from other parts of Mt. Elgon, which has been inundated by rain over weeks now, prompting calls by aid organisations to evacuate all the villages on the higher mountain slopes to safer grounds, until the rains ceased and the danger of imminent added landslides would subside as the ground dried up again.
Sources from the Uganda Wildlife Authority, insisting on absolute anonymity, also pointed out to this correspondent that the affected area was technically inside the national park but had been encroached, with villagers felling trees and cultivating on steep slopes, which may have been a contributing factor for the immense scale of the tragedy. The source did say that, once the aftermath of the disaster has been dealt with, that they will redouble their efforts to resettle encroachers and find them safer grounds away from areas prone to such natural disasters. This correspondent expresses his deep regret and sympathy to all the victims' families and friends and offers prayers for the departed.
LANDSLIDES ON MT. ELGON 'AVOIDABLE'
As intimated in earlier reports, a large landslide on the lower slopes of Mt. Elgon caused a major tragedy in Eastern Uganda, when three villages were buried in a mud slide several metres high. Further investigations however also revealed, that these settlements were inside the demarcated national park boundaries in areas where the Uganda Wildlife Authority had tried many times to stop encroachment, evict illegal squatters and restore the forest cover to hold the soil together. Evictions have failed in the past for various reasons, but mostly attributed to irresponsible local politicians or political aspirants, who encouraged the villagers to remain inside the park, or go into the park and 'claim' land in the first place.
Alongside the illegal entry and settlements went the reckless cutting of trees to clear land for small patches of farmland, often on steep slopes like in the now affected area, for agricultural use. However, unlike in other parts of the country no terracing of proper dimensions took place, leaving the farmed parts of the slopes exposed to the pitfalls of heavy rains and potential mudslides.
Weeks of very heavy rain and days of torrential rain prior to the tragedy have now driven home the bitter and unpalatable truth that these settlements were all along in danger of such natural disasters and the village residents should have been evicted when the Uganda Wildlife Authority wanted to do so, to protect the park, to protect the forest cover, to protect the water catchment area and most importantly to protect the people who entered a danger zone and had been misled to stay there.
UWA has now warned that there are other parts of the park, which too had been encroached, and face likewise situations, as no trees are left to hold the soil together and are now at immediate risk of similar landslides. The Wildlife Authority has donated generously to the victims of the Bududa tragedy but also firmly pointed out that evictions of other encroached areas inside the national park must now go ahead, to avoid further disasters, provide safer habitat to the people presently illegally squatting there and to rapidly restore forest cover through a major replanting exercise. UWA's expert advice should be heeded. It did not come as an afterthought and it was not given to apportion blame, but out of concern for our environment, the protection of a vital water tower, to maintain the fragile biodiversity and ecosystems along the slopes of Mt. Elgon and most important, to protect people for their own good from the fallout of natural disasters of such a scale being repeated again. Local administration and central government should now swiftly evacuate and permanently resettle those living illegally inside the Mt. Elgon National Park, and extend the exercise to other forests, parks and game reserves where illegal settlements have sprung up in the past and were maintained through political godfathers and their ill considered interventions.
HELICOPTER MISHAPS MAKE THE NEWS
Two incidents with government owned helicopters, in Uganda and Kenya, made the headlines earlier in the week. Ugandan Prime Minister Prof. Nsibambi escaped with injuries, which extent by the time of going to 'press' could not be established, while the helicopter pilot and other staff on board too were injured. The Uganda police helicopter had taken Prof. Nsibambi to the border area on Mt. Elgon, where he was to receive 150 tons of emergency aid donated by the Kenyan government and was enroute back to Kampala when the accident occurred. Judging from first pictures the occupants of the helicopter were judged lucky to have escaped with only injuries, but it remains to be seen just how serious those may be.
Meanwhile, Kenyan Vice President Kalonzo Musyoka too was in a similar situation as he had to return to Nairobi when his helicopter also developed problems and had to make an emergency landing at the airstrip of former President Daniel arap Moi's Kabarak rural home, before a relief aircraft then brought him and his entourage back to Nairobi, abandoning the 'formal' handover of the donation. Reportedly the Kenyan High Commissioner to Uganda then stood in for his Vice President and officiated on behalf of the Kenyan government.
Governmental and army helicopters do have a somewhat discouraging reputation in Uganda, including the fatal crash of the presidential helicopter in 2005 with the late President of the Southern Sudan, Dr. John Garang on board.
NEW PUSH FOR COMMON VISA
Members of the East African Legislative Assembly have pushed once again to introduce a common tourist Visa for the East African region, raising fresh hopes that this might materialise, subject of course to overcoming resistance by individual member states.
This correspondent, when recently in Kenya, engaged Immigration staff at Jomo Kenyatta International Airport in a discussion over the merits of such a move, only to be told boldly that this was a bad move, as was in the opinion of those Immigration staff the reduction of Visa fees for Kenya from 50 to 25 US Dollars, and that in the opinion of an outspoken individual 'the politicians should stop giving our money away'.
Tourism stakeholders subsequently asked about such malfeasant comments were clearly upset and continued to maintain their long taken stand that a common Visa would boost tourism into the entire region and leaving no doubt that the Immigration staff were patently wrong in their opinions and needed 'retooling', quoting one senior tourism stakeholder from Uganda.
It is understood that a private member's draft bill has been submitted in this respect to the EALA and it now remains to be seen if the bill can in fact overcome the bureaucratic hurdles or will be buried in the committee stages and lapse when the current session of the EALA ends.
SIGN NILE TREATY OR BE LEFT OUT
The East African 'water producers' of Uganda, Kenya, Tanzania, Rwanda, Burundi, Ethiopia and Congo DR have now let it be known to Egypt and the Khartoum regime, that they either sign on to the new draft agreement on the table over the share of the Nile waters from the White Nile and the Blue Nile, or else be left out to ponder their fallacies.
For years now have the 'producer countries' tried to reach an agreement with the 'consumers countries' over a replacement of the obsolete and dictatorial water treaties of 1929 and 1959, which were shoved down the proverbial throats of the newly independent Eastern African nations by the British colonial administration, compelling East African countries to seek approval for any developments in their own countries involving the use of water from tributary rivers, Lakes Victoria, Albert including the Ethiopian lakes and the two Nile arms which converge in Khartoum.
Tanzania has for long now simply ignored these outdated treaties but willingly sat on the table to negotiate a new deal, which was within reach until Egypt once again pulled the plug at a meeting in Congo as the Sudanese delegation absented itself from the venue. Subsequent meetings also failed to reach agreements when in particular the Egyptian delegation was blamed for throwing all sorts of spanners into the discussion, aimed at delaying and frustrating the East Africans.
The next meeting is due in April in Egypt, but the 'consumer' states fear that with the upcoming independence vote by the Southern Sudan, itself also a 'producer' area, their position will become ever more precarious should the South vote for independence and close ranks with their East African sister states, in also demanding their own fair share of the White Nile waters. Hard pressed they now may have a last opportunity to settle their dispute or else face a growing number of 'producer' countries calls to sign the new treaty anyway and leave it open for Egypt and the Khartoum regime to join, as and when they have come to accept the new realities of political independence and assertion upstream.
THE FALLOUT OF CLIMATE CHANGE - RAINS CONTINUE TO POUND EASTERN AFRICA
Only two months after a long and devastating drought broke, which had parts of East Africa in an iron grip for several years, are torrential rains once again causing yet more problems for rural populations in the region. Thousands of hectares of crop land have reportedly been inundated with water and there seems no end to the growing menace of floodings, which have destroyed roads, submerged bridges and caused loss of lives through landslides and weather related accidents. For a while even the new road between Kabale and Kisoro, an area important to tourism especially for gorilla tracking in Uganda, was impassable due to rock and mudslides, before being cleared by the contractors.
(Source: New Vision, Uganda's leading daily newspaper)
From Rwanda, over Uganda and Kenya to Tanzania, everywhere reports are emerging of the damages done to farmers, making an upcoming shortage of the staple crops like maize ever more likely, as fields are under water and seeds have been washed away. Reportedly dozens of people have died across the region in flood and rain related incidents and flooded areas have displaced thousands of people from their homes.
Only recently were parts of Kampala flooded after near biblical rains, and the weather forecasts are gloomy as the meteorologists predict yet more el Nino induced rains. These floods extended to cover the crucial road from Kampala to the international airport in Entebbe, just outside the city boundaries on the dual carriage section of the road, and businesses and residences, like last year, were again flooded to the rooftops because of lack of drainage or blocked drainage. Travellers arriving from Entebbe into the city and passengers for departing flights were said to have been forced to wait for hours before the floods receded to a point that at least that section of the road was passable once again.
Intending visitors to the region are well advised to seek information from their safari operators about the status of roads, or else switch to 'air safaris' which can drop off tourists within an hour's flight from say Entebbe, Nairobi or Arusha to even the remotest parks, reserves and conservancies. However, no information has reached this correspondent as yet that safaris had to be abandoned as a result of rains, but better sure than sorry. In any case, leading tour and safari operators in Eastern Africa generally know how to deal with rains and the aftermath and can generally be relied upon to do the right things in the best interest of their clients.
Meanwhile, as this report is being filed, the wrath of the rain gods has again descended upon Kampala with rains coming down in such force that the nearest neighbours residence can hardly be seen through the torrents unleashed upon us. Watch the weather forecasts via www.weatherchannel.com
EMIRATES ANNOUNCES NEXT A380 DESTINATION
A regular source within Emirates' in Uganda has drawn this correspondent's attention to the fact that with the delivery of more A380 aircraft the airline will be adding Beijing from the beginning of August, when daily flights will then be operated with the giant passenger aircraft. The source pointed out that the 517 seater aircraft will feature economy, business and first class cabins and connections from Uganda, where daily flights are operated via Addis Ababa on a B777, will be within easy reach, considering that the departure for the Beijing flight is just after 4 a.m. in the early hours of the morning. This gives passengers from Uganda, and the rest of Eastern Africa, ample time for some extended duty free shopping or else permit them to sample the lounges available for premium class passengers.
The source could however not be drawn into speculation if Emirates would use their A380 on flights to South Africa for the FIFA World Cup, for which there is a lot of anticipation, considering that Emirates is the global FIFA World Cup partner airline and expected to deliver thousands of passengers from around the world to South Africa. Seats to South Africa are already sold at the highest premiums, if at all available, and for instance from Uganda to South Africa airfares are set to double or triple, compared to present fare levels during the World Cup period, dampening demand from African fans wanting to see the games 'live'.
SHERATON KAMPALA HOTELS EARNS ANOTHER AWARD
The Federation of Uganda Employers has once again selected the Sheraton Kampala Hotel for one of their annual 'best' awards, when bestowing the 'best occupational health, safety and security award' upon them. FUE selects their outstanding corporate members once a year for such recognition, to encourage best industrial practises but also to recognise excellence in the workplace.
The Sheraton has on many occasions been so rewarded in the past, always having been at the cutting edge of the hospitality industry in Uganda since taking over the old Apollo Hotel in the late 1980's.
Overall 'best employer for 2009' was Zain, one of Uganda's leading telecom companies, formerly known as Celtel.
SKAL KAMPALA AGM FOR 31ST MARCH
The Skal Club of Kampala, Chapter 611, will hold the annual general meeting on Wednesday 31st of March, the last possible date under Skal International's constitution. As the club's elected President has left the country half way into his term, Skalleague Rahul Sood went to Dar es Salaam to take up his new position as General Manager of the Holiday Inn there, former President James Rattos stood in for the rest of the year to chair meetings. Election results will be announced the week following the AGM, so do not fail to watch this space.
EARTH HOUR FINDS MORE FOLLOWERS
Having been away Mr. Mani Khan, Director of Tourism Operations for Marasa, the owing and managing company for Mweya Safari Lodge in Queen Elizabeth National Park, the Paraa Lodge in Murchisons' Falls National Park and the upcoming Chobe Safari Lodge on the Nile above the falls, promptly contacted this correspondent upon his return about their participation in the event. On Saturday, the 27th of March, between 20.00 hrs and 21.00 hrs a number of hotels and lodges will switch off all but the essential security lights, participating in an WWF inspired event which will see a global fraternity of 'climate savers' dim the lights in their businesses to minimum levels as a reminder that savings in electricity translate into savings in carbon output. Marasa are now planning candlelit dinners for that night, weather permitting, on the lawns or outside terraces and will inform their guests why they too are partaking in 'Earth Hour'.
Already they encourage guests to switch off all lights, and where available their airconditioners when leaving the rooms to save electricity, and it is understood that they are now also switching off their main generators between midnight and the first wake up calls booked by guests, to reduce their carbon output. Well done Mani for making this extra effort and showing some environmental awareness.
THE EYE TURNS 10 - HAPPY BIRTHDAY
There is a saying that time flies, but this truth was driven home afresh with the recognition that Uganda's premier web and print guide for travellers and visitors, The Eye &endash; www.theeye.co.ug &endash; has just completed their first decade in existence and is now entering into the next, brighter, bigger, more colourful and more interesting than ever before. When the first edition appeared in 2000, it was only 44 pages strong, printed in black and white and a modest 2.000 copies were printed and distributed then.
Today, the current edition is 122 pages strong, printed in four colours of course and has just reached a record distribution of 14.000 for the anniversary print. It was also learned that after Uganda and Rwanda The Eye was going to spread its wings to Malawi next, visible on the net through www.theeye.co.mw and more countries were on the list for expansion.
The Eye, free for readers through dedicated distribution points, finances itself entirely through advertising sales and has obviously weathered the global economic and financial crisis better than many other publications. Visit the bi-monthly magazine through the website shown above or see the quarterly Rwanda edition via www.theeye.co.rw. It is a must see and read material for any intending visitors to Uganda and Rwanda! And of course, in closing, CONGRATS to the entire The Eye team and Shaz in particular!
TELECOMS FIRMS GIVE EARLY EASTER PRESENTS
Most of Uganda's telecom companies are engaged in massive promotional campaigns ahead of the Easter season, traditionally a time to roll out marketing campaigns and lure customers away from the competition or else gain new subscribers. While some companies allow free calls on their own networks for loading as little as 1.000 Uganda Shillings in prepaid airtime, equivalent to about 50 US Cents, others like Uganda Telecom double the loaded airtime for their prepaid customers. These offers are great value for money even for tourists coming to Uganda, as they can purchase a Sim card for as little as US Dollars 2, depending on network, and then take advantage of calling home at cheaper rates than their roaming charges would be. Most international operators now do have roaming partners in Uganda, but of course at rates which do not match the special offers available to 'locals', but the purchase of a Sim card from one of the now 7 mobile operators in Uganda, often already available at the Entebbe International Airport on arrival, makes all the difference. UTL's 'KIKI' promotion even offers a connected mobile phone, including 10.000 Uganda Shillings prepaid airtime, for an inclusive price of 35.000 Shillings, or US Dollars 17.50 only, with the phones reportedly flying off the shelves by the thousands a day, adding to the company's customer base.
Internet connectivity can be arranged this way too, as the USB 'sticks' with network Sim cards are readily available with little formalities, extending 'e' services across the entire country now and keeping visitors up to date with their email accounts or chat pals. Welcome to the Pearl of Africa, where magic holidays are made without losing touch with back home.
Kenya News
SAMBURU PARK FLOODED, TOURISTS SAFE
The torrential rains presently sweeping the East African region have now found another 'outlet' to cause disaster, when the Ewaso Nyiro river, which traverses the Samburu, Buffalo Springs and Shaba parks burst its banks and rose to what has been described as 'unprecedented levels' in a tsunami like wave of water, in the process submerging safari lodges and safari camps like Samburu Serena Lodge, Samburu Lodge, Intrepids Camp and Larson's Camp. The elephant research centre and an affiliated smaller camp too were 'under water' but at the onset of the fast rise of the river staff in all locations alerted guests, evacuated them to higher grounds and rescued whatever could be carried away of the equipment, files and valuables in the affected properties. However, with tents and rooms submerged, as were the public areas, restaurants and shops, enormous damage has been caused to the owners and management companies, estimated to run into the millions of US Dollars in cost for replacements and rebuilding. Several of the tourists, it was learned, were subsequently airlifted back to Nairobi to continue with their holiday in other parts of Kenya.
Kenya's tourism crisis centre immediately swung into action, coordinating the evacuation of tourists from the affected parks with the local and national authorities, as government also deployed rescue personnel immediately the extent of the disaster became known.
It is understood from a source in Nairobi, although not from the affected area directly, that the bridges across the river were badly damaged as debris including huge trees were swept up to the bridges pillars and it remains to be seen if safe crossing can be assured once the waters have completely subsided or if first repairs need to be carried out.
This correspondent recalls similar circumstances in the second half of the 1980's, when the Samburu Serena Lodge was under water and the relatively new Larson's Camp [named after the late Eric Larson, Director of the United Tourism Company / Block Hotels] was completely swept away. Then as now the deforestation in and around the Aberdare Mountains was blamed for the flash floods, following torrential rains in the main water catchment areas, where the soil was unable to absorb the massive quantities of rain, leading eventually to the type of flash flooding now seen again. However, during the dry spells the Ewaso Nyiro river now often almost dries up, showing clearly the affect deforestation and encroachment of forests has, in Kenya and of course the entire region and that governments must act now to stem this trend.
This correspondent expresses his relief that no one came to harm and naturally regrets the loss of property and damage to these safari lodge and camps, which will take time to repair. Watch this space to find updates on the progress of repairs and the anticipated re-opening dates of the respective camps and lodges in Samburu.
KENYA AIRWAYS RECORDS EFFICIENCY GAINS IN B767 FLEET
Information was received from sources close to Kenya Airways that their fleet's on-time performance has in recent weeks and months improved steadily, compared to data available from mid / late 2008. The on time performance factors improved since then from a figure of 95.5 percent to now 98.3 percent, only 0.2 percent below global averages which stand at 98.5 percent but still improving on a month by month basis.
Kenya Airways, by their own admission, have over the past one to one and a half years focused heavily on staff training and improving their on-time departure records, and it seems the measures taken so far, also of course related to improvements in maintenance of their aircraft, have now clearly paid off. Well done, Pride of Africa.
MINISTER VOWS TO CRACK DOWN ON UNLICENSED LODGING FACILITIES
The Kenyan minister for tourism has committed himself that a crackdown on unlicensed hotels, resorts and safari lodges would commence on 15th March, and that this exercise would start in the Masai Mara, where reportedly only about a third of all lodging facilities are duly licensed or have their licenses up to date. The minister threatened to close down the offenders and have defaulters prosecuted.
While in Mombasa the minister reportedly also instructed ministry staff based at the coast to start a similar crackdown on unlicensed houses and villas allegedly let out to tourists and operating without due licenses, following complaints by the stakeholders from the hospitality sector. The minister had used his presence at the Kenya coast to meet with tourism and resort operators to get a feedback on pressing issues and gauge opinions from the major stakeholders.
Tanzania News
CONFRONTATION EXPECTED FOR CITES MEETING IN QATAR
'It is our ivory, it is our decision, don't tell us what to do' is the tenor and sentiment coming from Tanzania, at least from official organs, over the escalating dispute in regard of Tanzania's application to the CITES secretariat to sell their stocks of ivory. This has the proponents and opponents of such schemes heading for a collision course at the Qatar meeting, where both sides will very likely make a strong case of pro's and con's over the proposed sale. The con' side is also lobbying for changes at the secretariat, where individuals are accused of being biased and having aided and abetted the present situation by 'smuggling' language into previous resolutions now permitting Zambia and Tanzania to exploit those loopholes. Predictably though, the Secretary General of CITES has refuted these allegation out of hand, without even trying to investigate the allegations made, leaving him too in the cross hairs of staunch conservationists and casting doubts over his future at CITES, should the opponents of the ivory sale carry the day.
However, besides the 'official' stand there are also growing voices of wildlife managers and conservationists arguing that Tanzania and Zambia should listen to the growing chorus of those opposed, and copy Kenya's example to burn the bulk of the ivory, leaving the balance of it to museums and research institutions. However, officially no one dares to differ with the opinions of their bosses, or opinions imposed on their bosses by their masters out of fear for repercussions.
Whatever decision is ultimately being taken, sentiments from 'winners' and 'losers' will linger on for a while to come, and those with cooler heads fear that this may stand in the way of forward looking cooperation on a range of other issues, which may be overshadowed by the outcome of 'the battle of the ivory' as the dispute is already being coined. Watch this space.
PRECISION AIR GETS NEW ATR 42
Tanzania's leading private airline, and partner of Kenya Airways, has early last week taken delivery of yet another ATR 42-500 aircraft, part of the purchase deal signed with the French manufacturer some years ago. This is the second such aircraft now delivered under the purchasing agreement, with five more aircraft, both ATR 42 and 72 models still to join the fleet.
ATR's form the back bone of the Precision Air fleet in Tanzania and are deployed on both domestic but also regional routes, as the aircraft offers the right numbers of seats needed to their scheduled destinations and has a superior flight economy compared to many of the commonly used jets in the East African region. While christening the aircraft 'Kigoma' the Precision Air management called upon government to give them designated carrier status for destinations in neighbouring Mozambique and the Congo DR, but also other countries in the wider region, to commence flight operations following a growth in demand for direct air travel. Happy landings to the new craft and her crews and passengers!
RAINS AFFECT BUKOBA AIRPORT REOPENING DATE
The ongoing work at the Bukoba aerodrome, which started in mid 2009, has been affected by the present wave of torrential rains sweeping Tanzania and much of the East African region. It was learned by mid last week that the planned re-opening is now going to be delayed by at least two weeks, to permit for the rainwater to drain away and allow the contractors to finish crucial works before air traffic can resume. The airstrip of the Bukoba aerodrome has been extended to accommodate larger turboprop aircraft land there, as previously only light single and twin engine aircraft were able to use the field.
Much of the Eastern African region was subject to excessive rains in recent days and weeks, causing landslides, submerging bridges roads and railways and destroying crops, bringing with it added fear of a looming food shortage as a result of a likely lack of a good harvest.
REGIONAL RAILWAY CONFERENCE TAKING PLACE IN DAR ES SALAAM
The East African Community has convened a region wide conference to discuss the future of the railway systems, much of which is dilapidated and needs major investments to bring it to modern standards. The meeting will review the national masterplans and seek to harmonize them, where necessary, with the EAC masterplan for the development of new rail lines, connecting the hinterland with the ports of Dar es Salaam and Mombasa. The meeting also seems set to discuss funding through Private Public Partnerships, the preferred option for the governments considering the enormous cost involved in the construction of new railways to Rwanda, Burundi, Eastern Congo and Southern Sudan, leave along the cost of bringing the narrow gauge rail lines to the internationally used 'standard' gauge. Another area of discussion will be the alignment of projects to avoid costly duplication, but rather interlink rehabilitated lines with newly constructed ones.
Partners in the meeting are the World Bank and the African Development Bank, which joined hands with the East African Community in bringing the respective Ministers responsible for transport, the national planners and policy makers together in Tanzania's commercial capital of Dar es Salaam.
AIR TANZANIA B737-200 CRASHES IN MWANZA
The beleaguered Tanzanian national airline suffered another setback last Monday when one of their remaining aircraft, an aged B737-200 crashed upon landing at the airport of the lakeside town of Mwanza.
It was confirmed by sources at Mwanza Airport that apparently some of the aircraft's tyres burst before the nose gear collapsed, sending the plane into a skid from which the crew was unable to recover it, before it eventually slid to a halt off the runway. The plane suffered damage to the undercarriage after the nose gear had collapsed which then also damaged the hull and at least one of the engines, but all passengers and crew escaped without serious injuries.
After closing the airport for a period of time to permit debris to be cleared from the runway, the airport was eventually re-opened for traffic again.
The weather at the time of the accident was reported to be overcast but otherwise fine and a previous spell of rain should not have been a factor in the accident. It could not be established if the state of the tyres were causing the accident although there is now growing speculation that the financial status of the airline may finally have come home to roost by impacting on their ability to properly maintain their fleet and change tyres early rather than waiting until the absolute minimum useable condition has been reached. One eyewitness insisted that there was a problem however with the nose gear, which he claimed collapsed on landing, causing the plane to get out of control and slide along and then off the runway. He did praise the pilots for avoiding a much worse scenario by preventing the plane to flip or overturn, which could have cause severe casualties.
ATC was subject to a regulatory withdrawal of their air operators certificate some time ago over unresolved issues on 'documentation' related to maintenance, and has not been able to recover from the loss of business and customer confidence since then. The Tanzanian government has been trying to find a strategic investor for years now but this too has failed and the present accident may do little to support the government's aim to 'offload' their national airline to a foreign airline, considering pending labour disputes in addition to the technical questions now once again on the table.
It could not be ascertained at this time if the Tanzanian CAA is again slapping a ban on the airline by suspending their AOC, which could by the likely final curtain call for Air Tanzania.
Rwanda News
RWANDAIR BACK TO FULL SCHEDULE
Following the resumption of their domestic flight schedule to Kamembe last week the Rwandan flag carrier has now overcome the fallout caused by a bird strike on one of their CRJ's. The aircraft, struck by a bird upon take off three weeks ago, was repaired in Nairobi and put back into service last week, at which stage the airline moved to restore their published schedule, having been compelled to alter departure times in order to make up for the absence of one of their jets. Visit www.rwandair.com for more information, schedule updates and other details related to their expansion on destinations planned for 2010.
Angola News
FLY 540 TO LAUNCH FLIGHT OPERATIONS SOON - WATCH THIS SPACE FOR BREAKING NEWS
Seychelles News
SEYCHELLES AT NEW YORK TIMES TRAVEL SHOW
The Seychelles Tourist Board's Director of Tourism Marketing, together with members of the private sector and notably their 'Tourism Ambassador' for New York, appointed only recently at the start of STB's annual tourism marketing conference, represented the archipelago in this important travel source market last week. With travel from New York to the Seychelles now only one 'stopover' away, at least when travelling with Emirates or Air France &endash; of course also with some other airlines, the visibility of the islands was substantially raised in the New York and East Coast market place. The delegation emphasised on the option for safari travellers to Eastern Africa to add an island holiday, connecting in Nairobi with Kenya Airways, or from Southern Africa with the nonstop flights offered twice a week from Johannesburg by Air Seychelles.
The participants expressed their satisfaction with the market reaction and are now looking forward to showcasing the archipelago at the forthcoming ITB in Berlin / Germany.
AIR SEYCHELLES ADDS CAPE TOWN AHEAD OF WORLD CUP
The Seychelles national airline has just announced that effective 21st March they will extend one of their two weekly flights via Johannesburg to Cape Town. This applies according to the airline to the Sunday flight, while the Friday flight will continue to terminate in JNB. Passengers from Mahe to South Africa, and in particular passengers from South Africa to the Seychelles, will now have a second gateway for their direct flights to the archipelago. The airlines has been flying to South Africa for the past 17 years and is the only airline using wide bodied equipment (B767-200) on the route, giving passengers the added comfort of the larger cabin.
Cape Town will be the 10th Air Seychelles destination, alongside Johannesburg, Rome, Milan, Frankfurt (until Easter 2010 only), Zurich, London, Paris, Singapore, Mauritius and Moscow.
The Seychelles Tourist Board has been promoting twin centre holidays, combining South Africa with the Seychelles, and will undoubtedly be pleased to see the extra connectivity now coming into play, especially ahead of the FIFA World Cup, during which South Africa is expected to be 'full to the brim' with foreign visitors, many of whom may then also take advantage of an easy connection to the 'Indian Ocean paradise'.
The developers of Mahe's 'Eden Island' are said to be 'on board' too through added marketing activities, promoting their project in South Africa and if readers wish to learn more about this exclusive residential development, visit www.edenisland.sc or www.edenislandmarina.sc
Visit www.airseychelles.com for more information about the airline and their schedule or frequent flyer programme and www.seychelles.com for information about the islands, accommodation and attractions.
ALL 'LADIES' CREW CELEBRATES THE INTERNATIONAL WOMEN'S DAY
On Monday, 08th March, an all female crew operated the Air Seychelles flight from Paris to Mahe, cockpit and cabin. This extraordinary staffing of a B767-300 also marked a celebration of 'equal opportunities', as the Seychelles national airline continues to absorb more women into their work places.
The flight also carried six French prize winners who participated in a quiz published by Le Parisien, the largest French newspaper. The winners were flown by Air Seychelles to Mahe and Le Meridien Hotels will provide the accommodation for them, all organized by the Seychelles Tourist Board as part of their efforts to cement their position in the crucial French holiday market.
The first such flight, according to airline sources, was operated in 2007 when Captain Nicole Chang Leng took command of her first flight as captain, and she was again in the captain's seat this time round, with First Officer Lishad Matharu as second in command. The same source also confirmed that out of the 800 staff employed by Air Seychelles over 400 are women. Cause for celebrations indeed.
Meanwhile is a large delegation of the Seychelles Tourist Board in Berlin attending the world's largest tourism trade show ITB, which takes place this week in Germany's capital city.
TREE PLANTING MAKES HEADLINES
The Seychelles, generally already well known for environmental protection &endash; about half of the territory is 'protected' on land and water across the islands, has made further efforts with a major tree planting campaign, which unfolded last week across the archipelago. A major function to launch the project was held under the theme: Plant a tree, conserve biodiversity and was to be a supporting effort to the UN's International Year of Biodiversity, celebrated in 2010.
LE MERIDIEN GIVES TO CHILDRENS CHARITY
It is not only during the Christmas season that hotels and resorts on the Seychelles are contributing to charities, as last week's donation by the Le Meridien Barbarons, situated on the west coast of Mahe, showed. The Children's Homes Foundation was the beneficiary of a donation of both cash and materials, which included washing machines, fridges, cookers and other kitchen utensils. At hand to receive the donation was the First Lady Mrs. Natalie Michel, who is also the foundation's patron / chairperson. The funds were raised through a variety of activities arranged by the hotel in recent months, all aimed to improve the lives of orphaned children.
While in the Seychelles recently this correspondent recorded a few interviews with key individuals working in the conservation field, which will now be released progressively.
eTN's EXECUTIVE TALK spoke with Mr. Rony Renaud, the Chief Executive Officer of the Seychelles National Park Authority, which was formed last year (2009) by merging the administrations of the terrestrial national parks with the Marine Park Authority and the Seychelles Centre for Marine Research and Technology, to create a single body dealing with conservation, protection and enforcement. Excerpts of the interview are published here below:
eTN Q1: Mr. Renaud, could you tell our readers about the brief of the Seychelles National Park Authority, what are your organization's objectives and functions
Mr. Renaud: Like you said in your introduction, the Seychelles National Park Authority succeeded the SCMR-MPA, which initially had the function to manage the marine national parks, of which we presently have 14. Seven of them are under our direct responsibility and the other seven are managed by different conservation organizations. The merger last year brought together the marine parks administration with the section responsible for the three terrestrial national parks previously under the department of environment, which includes the Morne national park on Mahe, which is also our island's water tower. Our organization's objectives are the sound management of these protected areas, ensuring the continuation of ecological processes, protection of biodiversity but also research. We are also tasked to ensure that these parks are open for visitors and have good infrastructure so that tourists and our own citizens can enjoy our natural attractions. Besides all of this we are the body in Seychelles to ensure that our international obligations under various treaties are fulfilled, like Ramsar and others.
What has become important to know is that government has stopped subsidising us since 2009, when the economic reforms came into place, and this means we now need to raise funding ourselves, through park entrance fees, concession income and other measures, fundraising, grants from development partners etc.
Some of our parks, like the Morne, are still free of fees for visitors, but as we progress our work on infrastructure, this will also change. However, Seychellois citizens pay no entrance fees to any of our protected areas, only foreign visitors do, which is a measure to show our own people what conservation is all about, the rich biodiversity without them needing to pay for entrance.
This brings with it challenges, funding is one of them, and we are presently using income from parks with high visitor numbers to support parks with few visitors. The diversity of our park portfolio, and the geographical distribution of the parks is another challenge, distances are often very far and this means that management, supplying, coordination of work is very very costly of course. It requires us to decentralise, keep staff in those areas and manage them from there because we cannot go there and come back every day. For a place for instance like the island of Curieuse, one of our biggest revenue earners, we have staff there all the time, need to constantly send fuel, water and other supplies, at times even send in extra staff from Mahe to assist those based there, and the distance is far from our main headquarters. Other challenges, because of distances and the large ocean territory, are monitoring and surveillance of extensive ecosystems, which is also very expensive of course but has to be done to the best of our ability to avoid encroaching, poaching, destroying coral reefs, illegal fishing inside the parks and other incidents, like flouting regulations, violating rules etc. Especially in coastal waters within the parks, there are sizeable fishing communities and they often, through ignorance of boundaries or deliberately, put their fishing traps and nets into the parks, we need to prevent this to maintain fish stocks, preserve breeding grounds.
In the Vallee de Mai park, where the 'coco de mer' is found, we have found poaching incidents, when the fruits are taken from trees, and it means more surveillance, more patrols, more infrastructure, which is also costing a lot. This often happens during festive season preparations, when some people look for an easy way to make some quick money.
And not to forget the challenges arising from climate change, which is a global issue but we here also have to deal with it in the frontline. Rising water levels, coastal erosion in particular during high tides, especially the spring tides, is already becoming a problem for us, we have observed shifts in sands and sand banks, and then of course there is coral bleaching for which partly rising water temperatures are responsible. Finally, we have to combat alien species invasions too, we have more shipping traffic now than before and there is always a risk of the introduction of foreign or alien species into our waters and ecosystems especially as one of our marine parks is very close to the sea lane into our main port.
eTN Q2: you mentioned 14 marine parks, of which you manage 7, who exactly is responsible for the management of the other parks and where do those revenues go?
Mr. Renaud: some of those parks are managed by private NGO's, like Nature Seychelles, the Island Conservation Society, the Seychelles Island Foundation, amongst others. The Seychelles Island Foundation for instance manage the Vallee de Mai 'World Heritage Site', which is part of the Praslin terrestrial national park on Praslin island, and yes, they keep those revenues and entrance fees, but they also then pay with that income for the management of the Aldabra atoll marine protected area, which they look after for research purposes. The Vallee de Mai in fact was leased by government to the Seychelles Island Foundation, and while we provide regulatory oversight as the Seychelles National Park Authority, the management of that part of the Praslin national park, as the Aldabra atoll, is vested in the SIF.
eTN Q3: in Eastern Africa we now see a growing trend that game reserves for instance, even very recently a national park in Rwanda, are 'concessioned out' to the private sector. I am coming back to the income from the 7 marine parks you do not manage, are you at least getting some lease fees as an income to help you raise your budget estimates?
Mr. Renaud: some of those seven are linked with privately owned islands, which were declaring themselves as protected areas, so government has only a limited jurisdiction over those, other than general laws and regulations, so there we have no claim to leases or income. Then there are areas which were designated as protected a long time ago already, like coral reefs, where people would come and pick shells illegally, but there are still grey areas about management of all of them and the cost of monitoring, surveillance and enforcement. We will be exploring the issue of concessions, but we are still in the process of formulating certain parts of regulations and legal frameworks to facilitate this. It is one of the options for raising funding but it needs to be on a sound legal basis before we proceed.
eTN Q4: are you tapping into such facilities as the Global Environmental Fund, UNEP or UNDP programmes or funding from the World Bank and the various national development agencies supporting conservation projects?
Mr. Renaud: we did this already in the past for certain projects across the islands. The EU now also has a special programme for marine protected areas. From there we got funding already for refurbishments of some specific infrastructure and other components. A mangrove replanting programme is also being financed through the same mechanisms where mangrove forests were depleted through siltation or climatic conditions. We are now looking for funding also to restore a causeway, which was partly collapsed during the last big tsunami, which visitors would use to walk almost across that bay, see the mangrove forest, then the reef, and for such major expense we seek financial support through grants from available sources. For some areas and projects we work with NGO's to achieve common objectives, where they source funding and we provide expertise to them as and where needed.
eTN Q5: are such cooperation's covered by MoU's and other legal means?
Mr. Renaud: yes, such joint efforts are covered by MoU's and other agreements, which govern our cooperation with NGO's in regard of for instance monitoring, management, and other options as part of long term collaboration in certain projects.
eTN Q6: one way to get more funds is to attract more visitors to the parks you control and manage outright. To achieve this you need adequate infrastructure, guides, visitor centres with promotional materials, including such for sale to visitors as souvenirs. Are you working hand in hand with the tourist board to achieve such objectives, achieve diversification, establish new 'products', add new attractions?
Mr. Renaud: this year we will be seeking a formalisation of our cooperation with the tourist board, presently we have more of an informal cooperation, but we work hand in hand with them. They are active, last year and this year, to bring journalists and agents to the islands, and we, on request from STB, provide free entrance into our protected areas to support them by waiving fees, to bring the cost of such promotions down to a lower level, STB in turn has shown to be very active to promote our parks, even without a formal MoU, they put our attractions into their promotional materials, their films and DVD's, and they promote us in overseas markets, not just the resorts and hotels, but very actively our natural attractions.
As you know, we were only formed last year as an organisation, so we are at present still developing a business plan, which will include a marketing strategy, but that will be harmonized with STB of course to pool resources and agree on targets and objectives without duplicating things. Where we need product enhancements, require upgrades of facilities, there too we will be seeking input from STB, because they get the feedback which helps us to improve services here and there.
Adds eTN: this will of course also bring about more opportunities for concessions and private investors?
Mr. Renaud: yes, this will open the door for such agreements but at the same time we want to explore the options for new products, i.e. sales of souvenirs, caps, t-shirts, books, DVD's curios etc, which will be both common as well as site specific. We see a good potential to generate added revenues here which was not tapped into in the past. This will all be in our business strategy which is being developed and then reviewed with other stakeholders soon. As an example, last year in 2009 we celebrated 30 years for some of the protected areas we are looking after, we were using this festivity to test the market in regard of souvenir sales for the first time, we sold t-shirts, caps; we found it both popular and profitable but are now looking into the proper structure to do that all the time, shops and outlets, supply chains, suppliers, etc. With the help of some funding sourced we are now able to reconfigure some of the buildings on Curieuse to turn part of a building into a small shop, from which we can then learn more and use the findings for other parks. Most likely, after these processes are complete, there will be openings for concessions through which we can early royalties, fees etc.
eTN Q7: by 2017 the tourism planners are intent to put a cap on overall arrivals, somewhere between 300.000 and 350.000 visitors overall, and then not to be exceeded. That means doubling, or almost doubling resort bed capacity. Will your parks, the present infrastructure available, be able to cope with a doubling of visitor numbers, or are you not already strained at some parks like Curieuse &endash; which would mean you have to develop other parks to cater for those added tourists?
Mr. Renaud: as we develop our business plan, our strategy, we were already focused on 2017 and the intention to double present arrival numbers to the Seychelles. It means for us to improve our park infrastructure to be able to cope with, and receive more visitors, and develop some parks to get ready to receive visitors and give them an equally good experience compared to the established marine parks.
But remember, one of our key objectives is also conservation and this has to be sustainable in regard of visitor numbers and facilities created, so as we go along we need to carefully study the carrying capacity of the sites under our jurisdiction, to establish scientifically how many visitors one site can get per year without the impact of too many visitors then leading to damages and destruction. We are doing this already and the process is ongoing until we know those data for sure. We have never done this before but it is very important to reconcile conservation and commerce under the aspect of long term sustainability. Only then can we set targets and agree with STB and others on 'caps' in certain areas by making rational decisions based on facts. This also means to develop products for the terrestrial national parks, make them attractive and then also begin to charge fees for visitors, after studying the impact of large numbers of people to go there for hiking, i.e. waste management, invasive species, need to put up walkways, bridges etc. It also means to begin marketing the terrestrial parks once these issues have been dealt with and put them into the island tours or create separate island tours just to visit such parks.
But generally 'it is a new ball game', terrestrial parks, the opportunities and challenges, is new to us and we are working hard to acquaint ourselves with these topics, see what products can be developed, what the market demands, how best to go about creating infrastructure, to maximise the sustainable use of such protected areas as we have done for many years with the marine parks. We do believe there is a lot of potential, even in La Digue which can be developed as a bird sanctuary, but we need a little more time, the merger was only effective a few months ago and we need to find our footing on areas new to us. We know we need fencing for some of the parks, we know we need good guides for those areas, but for La Digue we intend to already start a fee by mid this year which we can then use to improve the structures even more.
About guides, we are working with STA and other institutions to train guides, and we are even developing some interpretative materials for guides, and we need to draw in the people with many years of experience, there is capacity out there in the private sector by individuals who for many years have taken an interest in the terrestrial parks. Seychelles Tourism Academy would be one of the obvious options for us to take as they can develop a programme for guide training.
eTN Q8: when do you expect to become fully self sustained with funding?
Mr. Renaud: in regard of our financial situation we are presently autonomous, and the income through visitor fees is supplemented with grants from our partners. However, those grants only make about 8 percent of our total income, which means that over 90 percent is self financed through fee income and other activities. Grant income is also often dedicated to the specific project, to create infrastructure or rehabilitate existing facilities, so it is the other sources of income we can freely decide where it is needed and how to be spent.
Some international groups have MoU's with us and when their researchers and volunteers come here, for instance from Earth Watch, they actually pay us for the use of our facilities and camps, and that income too is helping us to meeting our recurrent expenditures. When we start the sale of souvenirs that will improve even more and we expect this to really start later in the year when our visitor centres are getting ready, where we can sell booklets, DVS's and other items in demands by tourists wanting to take mementos with them.
When it comes to capital expenditure, we cannot meet all our project costs and will need to seek alternative funding until growing visitor numbers bring in more income in the future.
For instance, we are planning to build a new head office where all departments are under one roof in one compound. That is to be constructed near one of the marine parks. To finance this we would be unable to do so from our cash flow or income. Towards that end we are discussing with government to give us a property, which we can then remodel or refurbish and modify to meet our requirements, so we would not need funds to purchase or do major new construction, which makes it more affordable. It is supposed to be on the island of 'Perseverance' not far from Mahe, about 2 kilometres, and part of it would also become a proper marine research centre with labs and added facilities, where all branches of the organisation spread across many places now would come together. A small 'window shop' only would remain in Mahe or in Victoria for marketing or bookings or as a contact point for visitors but everything else would move. The cost for this is presently about 1.2 million Euros or about 1.75 million US Dollars and we are seeking support locally from government as a one off but also from abroad in terms of grants or soft loans. The global financial situation made this more difficult but we will succeed to find funding, especially for the marine research centre. Here in particular government relies a lot on us for data and research results, for fisheries and other purposes of course, reviewing coastal and marine EIA's (environmental impact assessments and reports). We are as an organization looking at marine ecosystems, and while fishing per se is under a different government department, they look towards us for expert advice of course. We are also involved in oceanographic research, which is a regional project where some other island nations and mainland countries participate in, and this is financed by UNDP. So some of our functions and objectives which match with other regional or global initiatives, we get funded for externally and do not have to use our internally generated resources. Such participation also allows us to build Seychellois capacity in terms of administration and research.
eTN Q9: what about the reclamation of land from the sea, I have seen several such projects while touring the main island, what is the impact on this and does it not disturb fragile underwater ecosystems with the sediment and mud generated by the building activities. Do you have critical concerns about such developments?
Mr. Renaud: we had our concerns basically, with regard to coastal developments, in fact most of the east coast of Mahe, going right to the airport, is such reclaimed land, and they are basically facing the marine park. Naturally, during the process of reclaiming, when the rocks are filled in, there has been loss of habitat for marine species, and there have been other issues too, the reduction of the quality of the water in that area, siltation and all that, which impacted on coral reefs; we have gone through all these processes and have now found that there is an improvement in the water quality again after the projects were completed, circulation of water has improved, but after some time of course, we are talking in some places about 10 years. Now being in the development stages we are facing added challenges in terms of potential pollution, whether it is hotel or resort developments along the coastal zones, or other industrial facilities which can bring about spillages; the expanded port too is a source of concern as ships at times empty their ballast tanks enroute into port, which can bring pollution but also alien species from other parts of the world, so we have many challenges to deal with, to monitor. In some areas there were issues over sea grass beds, in particular a rare type which is very long and now only found near Praslin, that area off Mahe we have lost and this has caused concern of course. When we lose habitat, biodiversity it is always a concern and a challenge to deal with, to at least now retain the remaining areas where this type of sea grass grows and leave those areas completely alone. For instance we are now developing capacity to remove and relocate such plants, and even aquatic life forms to other suitable areas, but it is not an easy process to relocate something so fragile in an intact state.
Activities like reclamation always encroach into what we call the buffer zone between the shore and the marine park, which also results in the loss of fishing grounds for local fishermen, loss of fish in those areas affected; Also reduced is the available space for boats between the 'new' shore and the marine park, so often we see boat incursions into the park we now have to deal with. There is a general speed limit for boats in the marine park, but it is often, especially at weekends, not observed, and the waves and sediment thrown up then cause problems for marine life and underwater plants.
eTN Q10: how long were you with the Marine Parks Authority before the merger?
Mr. Renaud: I was with the Marine Parks for two years, but before that I was working for four years with the Seychelles Island Foundation, so I was well acquainted with all the issues I would be faced with in this position and I know the specific details about their work on the Aldabra atoll and the Vallee de Mai. When the bodies were merged I remained and am now for a year or so with the National Parks Authority. What is worth mentioning here is that our mandate has just been enlarged, as we are now also responsible for forests and government owned plantations on the islands. This is part of the ongoing restructuring of government, which is now moving out of management and concentrating on policy and business environment. So now we have to deal with the sustainable funding of that function too, after government transferred also the competent manpower into our institution, which means we now also pay their salaries.
eTN Q11: what is your most important subject, what is closest to your own heart?
Mr. Renaud: I would immediately say 'quality staff'; funding challenges, management challenges, conservation, monitoring, enforcement, all those can be dealt with only when you have competent and well trained staff; I have to deal with 'mobility' as there is competition over well trained research and other staff I have to cope with, and the next equally important issue would be our new head office and marine research centre; these two are in parallel my most important issues I have to deal with, besides many others of course. A good new headquarter and good, qualitative and competent staff, this will make all other challenges much easier to deal with in the future. Incidentally, all of our permanent staff are Seychellois now.
For additionally required expertise we work with the university in Zurich on the issues of terrestrial parks and about the marine parks we work closely with Earth Watch. They come out twice a year with volunteers for certain aspects of research and work and all their findings and data are shared with us and our own staff assigned to them work alongside them hand in hand of course. We are even involved in reviewing the draft reports before they are published, our cooperation goes that far. They always have real top researchers with them, associated with the University of Essex in the UK, and we learn from such activities of course and our staff improves their knowledge and competence after every field exercise.
eTN Q12: are you happy with the recent restructuring of government?
Mr. Renaud: it was necessary, it was overdue, some things could have been done differently, but the process of reform, realigning and streamlining of responsibilities, was really necessary. The merger of the Marine Parks with the terrestrial parks was for instance a logical progression, a natural process, part of the reforms; now if you would want to create a separate body for forestry for instance, that is a different issue, but I know that in other countries wildlife managers are often in conflict with forest managers, at loggerheads, so here at least we resolve issues 'in house' amongst ourselves without the conflicts seen elsewhere. The coming together of marine parks, terrestrial parks and forests / plantations has created synergy effects, and most forests and plantations are already bordering national parks, or marine parks, so we are combining the conservation efforts and streamlining them. It will also make it easier to discuss issues with other partners like the Seychelles Tourist Board, because we now have a comprehensive mandate. I expect to have an MoU coming up with them especially about marketing and product development. I mentioned this recently to government in a meeting, that our mandate is closely linked with tourism, as most people come to the Seychelles for the intact nature as much as for the beaches, so the marine and terrestrial parks, the forests are all part of their holiday and the quality of our parks makes all the difference for tourists.
Thank you Mr. Renaud for your time and for talking to us.
Visit www.scmrt-mpa.sc for more information.
AND, in closing, as a regular and I understand from reader's feedback much welcome feature, I have taken some very interesting items from Gill Staden's 'The Livingstone Weekly' &endash; see the similarities with Uganda and the rest of East Africa, as torrential rains and floodings seem to be the order of the week here as well as there ... and of course all the other 'stuff' coming from Zambia this week like the upcoming 50th anniversary of the commissioning of the Kariba Dam in May 1960 and the planned celebrations:
Floods again …
Andy was right the Okavango is on the rise again but Guido says; "The Kavango water levels at Rundu started rising again. No communications from upstream, but satellite rainfall monitoring indicates that there were only heavy rains a week ago in the headwaters (Menongue area)." However the Zambezi seems to be well on its way for a major flood this year...forewarned is fore-armed!
DAILY FLOOD REPORT 04 MARCH 2010
to come
The Zambezi River maintains its rise at Katima Mulilo. More rains in the catchment. Yesterday's ZRA river level readings indicated that the upstream flood in the Zambezi River started to rise again at Chavuma. The forecast remains that the Katima Mulilo waterlevels are heading for 7 m by mid-March 2010. For perspective, the flood would be:
· similar to 2007
· higher than 2008
· lower than 2009
But much will depend on the rains and the catchment response in the coming weeks.\
Floods Near Sinazongwe
From a Reader
Reading your article I thought be interested to know about the rainfall we have had in Sinazongwe the past week -somehow most of the rain seemed to fall on the Sinazongwe side.
It started on Friday the 19 and carried on till Friday the 26th. We had 726 mls ( 29") in that week with 240 mls falling between 11 pm on Monday night and 12 am on Tuesday morning. The floods have caused absolute devastation here with roads and bridges being washed away not to mention the maize crops etc.
One company has been without power since the 19th as 15 electricity poles were swept away when the Nangombe river burst its banks. We are still all stranded here and have no idea when we will be able to get out ... hopefully we will get a few days of sunshine so that try and repair some of the damages to the roads....
From Robin Pope Safaris, Luangwa
This week it is the river that has kept us on our toes again! With the excitement of it all, it is rather like kids waiting for Father Christmas, our first port of call every morning is to check to see how far the river has risen and then predict how long we have got until it comes over the top. Having said this for all of us this really is a magical time of the year and watching the debris floating down gives the impression of the river's immense power. The huge imposing thunderheads on the skyline set the tone of expectation &endash; water that will be in the river at some point! It is amazing how the river can change so radically from one day to the next. The fact that the Luangwa River has no dam on it means the rise and fall is completely natural and is somewhat of a rarity anywhere in the world these days.
NEW GOVERNMENT FEES
National Heritage Conservation Commission (NHCC) has introduced new fees for tour operators working within the World Heritage Site and for visitors to NHCC sites. The Statutory Instrument laying down the new fees was enacted on 29 January 2010. Tour operators were given three days notice of them coming into effect.
For non-Zambians
To visit the Victoria Falls:
Adult US$20 Child US$10 Vehicle US$5
Lunar Rainbow: (actually, they called it a Lunar Rainball?)
Adult US$25 Child US$10 Vehicle US$5
Railway Museum
Adult US$15 Child US$7
Sioma Falls
Adult US$10 Child US$5 Vehicle US$5
Tour operators fees:
Boat cruises US$20 per person plus US$15,000 per operator per year
Canoeing US$20 per person plus US$15,000 per operator per year
Rafting US$10 per person plus US$15,000 per operator per year
Bungi jumping US$10,000 per operator per year
Gorge swinging US$5,000 per operator per year
Abseiling US$5,000 per operator per year
Aircraft US$10,000 per operator per year
Commercial filming US$10,000 per operator per year
Fishing US$10 per person per day
Zambians will now be charges K7,000 to visit the Falls; K10,000 to see the lunar rainbow.
Note that these charges will be on top of the fees already charged by ZAWA.
Understandably the tour operators are rather upset about these new fees which, they say, are out of proportion to what business can afford.
Gill's Comment:
Zambia is the most expensive country in the region to visit. Government is continually being accused of killing the golden goose … one assumes that this is just another nail in tourism's coffin. And, if you look at Wolfgang's report you will see that our Minister of Tourism has just been given an award …
I went and took a photograph of the Victoria Falls and I have sent it all to you … Does that cost me US$10,000? The mind boggles …
50TH ANNIVERSARY &endash; OFFICIAL OPENING OF THE KARIBA DAM
On the 16th of May 1960, the Kariba Dam was officially opened by Her Majesty Queen Elizabeth the Queen Mother, with the switching on of the first electricity generators the official opening brought to life one of Africa's most ambitious projects.
The Kariba Dam was constructed between 1956 and 1960, creating at that time the largest manmade Lake in the world - Lake Kariba. At the time of its construction, the Kariba Dam was known as "one of the engineering wonders of the world", a double curvature concrete arch dam wall standing at a height of 128 metres above the river bed and spanning 617 metres across the Kariba gorge blocking the path of Africa's second largest river &endash; the mighty Zambezi. The building of the Dam wall created an "inland sea" stretching 280 kilometres in length, covering an area of over 5,500 square kilometres and holding back more than 180 billion tonnes of water. The Dam Wall is host to two of Southern Africa's most important electricity generating stations, Kariba North Bank Power Station on the Zambian side and Kariba South Bank Power Station on the Zimbabwe side, between them generating a total of 1,320 Mega Watts of electricity.
The Kariba Dam has undoubtedly contributed to the economic and social development of Zambia, Zimbabwe and the Southern African Region. Lake Kariba today is not only the home of one of Southern Africa's most important sources of energy, the formation of the Lake gave birth to the town of Siavonga, and created a vibrant commercial fishing industry and a continuously developing tourism industry offering some of Africa's most breathtaking scenery with a diversity of fauna and flora, hotel accommodation, sports fishing, water sports, house boating and a variety of other tourist activities.
The 50th Anniversary of the opening of the Kariba Dam should not go unmarked.
In Zambia, the town of Siavonga is the focal point of activities emanating from the creation of this magnificent structure &endash; electricity generation, the hotel and tourism industry, the kapenta fishing industry, natural stone mining and cutting, and a variety of other support and service industries and commercial businesses.
It has been decided to declare the month of May 2010 "the Anniversary Month" and a number of activities are being planned in Siavonga. All members of the community are invited to contribute to the anniversary celebrations and help to make this event a resounding success.
The hotel industry has proposed an itinerary for the "Anniversary Month" by planning a number of events for each week-end of May.
Weekend 1: 1st/2nd May: Labour Day holiday weekend &endash; various events at each hotel
Weekend 2: 8th/9th May: Cultural weekend
It is intended to invite a theatre group from Lusaka to perform a show about Nyami Nyami the Zambezi River God. This performance has been done in Lusaka before and has had favourable reviews. It is hoped that the show can be performed at a number of venues around the town during the course of the week-end. In addition it is intended to organise both local and national cultural dance groups to compliment the performance and also organise local craft stalls to display and sell traditional curios.
Weekend 3: 15th/16th May: Official Anniversary Celebrations weekend
This weekend is the actual 50th Anniversary and it is suggested that the District Administration invites prominent dignitaries including the British High Commissioner to participate in a formal celebration of the opening of the Dam Wall. This event would take place on the Dam Wall itself and be accompanied by marching bands and cultural dances &endash; the media would also be invited to cover the event. We intend to ask ZRA (Zambezi River Authority) if they could open the flood gates for a scheduled short time so members of the public could view this spectacular sight, it has also been proposed that a new information board be made. The occasion would be concluded with a Dinner/Dance at both Kariba Inns and Lake Safari Lodge and a night-time fireworks display over the Lake.
Weekend 4: 22nd/23rd May: Siavonga Canoe Challenge
On this weekend the Annual Siavonga Canoe Race will take place. This will be the 4th year that this event has been held and it has grown in popularity and attendance each year. It is intended to make this year's Canoe Challenge very special with an emphasis on the 50th Anniversary Celebrations.
The purpose of this letter is to inform you about the proposals made by the Hotel Industry of Siavonga for the 50th Anniversary celebrations and invite you to participate and contribute to making this important event and help make it a resounding success.
The event will of course need to be extensively advertised and the Hotel Industry will start the advertising campaign in March at the Zambia International Tourism Expo held at the Mulungushi Conference Centre in Lusaka. It is intended to have a "Siavonga" stand representing all the hotels, guesthouses and lodges - the main theme will be the 50th Anniversary of the Kariba Dam. All hotels, guesthouses, lodges and tourism related organisations are invited to contribute to this event. Not only will it enable you to advertise your own businesses but it will also help to promote Siavonga as a tourist destination.
All suggestions and contributions are welcome and you can contact any of the persons named below for further information.
Karen Fagyas (Eagles Rest) 0955 755291 Crystal Diamond (Lake Kariba Inns) 0978 902557
Beauty Mulonda (Manchinchi Bay) 0977 757582 Herman Striedl (Sandy Beach) 0955 824444
FOR EARLIER ARTICLES BY PROF. HOME- CLICK HERE