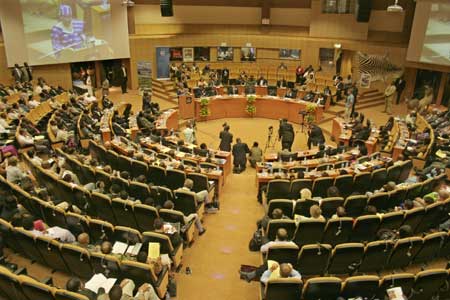 Arusha International Convention Centre. Photo by Dean Kasasa
Arusha's Big 4: • ATA 33rd Congress: • Leon H. Sullivan Summit
• Karibu Fair • Travelers' Philanthropy Conference.
I am Arusha ...
by Jerry W. Bird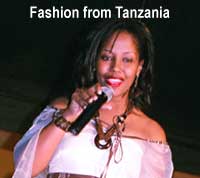 I am Arusha, Africa's Safari Capital. Located in northern Tanzania, near the Kenya border, I am the gateway to Mount Meru, Arusha National Park, the Serengeti, Ngorongoro Crater, Lake Manyara, Olduvai Gorge, Tarangire National Park, Mount Kilimanjaro and the Great Rift Valley. I earned the status of a city just recently and my growth has been fueled by Tanzania's expansion in tourism and hospitality, with many new hotels and visitor services. In 1994 the United Nations Security Council named me as host of the International Criminal Tribunal for Rwanda, a move that has made a major impact on my economy.
In addition to tourism, my chief industry is agricultural, with coffee, vegetables and flowers for the European market. I am well known as a center for jewelry made from Tanzanite. I am the most popular staging point for treks to the foothills and peaks of Mt. Kilimanjaro.
My airports include Kilimanjaro International Airport near Moshii and Arusha Airport for smaller domestic flights. Ground transportation includes bus service to Nairobi, Dodoma and Dar Es Salaam and other points.
In May 2008 I was honored as host city for the Africa Travel Association's 33rd Annual World Congress, followed in early June by the prestigious Leon Sullivan Summit. These two major international events brought the world to Arusha and Arusha to the world. My citizens are justly proud. Here are comments from media participants at the ATA Congress,
"The changes in Arusha and area since our last ATA Congress here in 1998 are astounding, with many new hotels and services, such as the East African All Suites Hotel, where our media team had the pleasure of staying. Near Kilimanjaro International Airport, Arusha is gateway to the world's greatest wildlife spectacle and known as Africa's Safari Capital." Muguette Goufrani, Africa Travel Magazine, Vancouver, BC, Canada.
"After just arriving, I can say that the first impressions of Tanzania include awe at the incredible wildlife seen from the air and once arriving I was really blown away at the presence of so many exotic birds." Sandy Dhuyvetter, TravelTalk Radio, San Diego, CA.
More to come...
Summit of a LIfetime!


The Eyes of Africa and Diaspora are on Arusha and the Leon H. Sullivan Summit. Ambassador Andrew Young, Jesse Jackson, Hope Masters, Former President Obasanjo of Nigeria and a Superstar Panel led off Opening Day Activities. Week's program includes Tourism Ministers from many African Countries. More

Travelers' Philanthropy Conference, Arusha, Tanzania. Dec. 3-5, 2008,. "Making Travelers' Philanthropy Work for Development, Business, and Conservation"

Please send our editor your comments.

PREVIEW AFRICA TRAVEL MAGAZINE'S NEXT ISSUE
Tanzania, Land of Kilimanjaro, Zanzibar and Serengeti. Go
I am Arusha , Tanzania Go
Arusha: Travelers Philanthropy Conference , Dec. 3-5,Go
Zanzibar's Chubb Island Coral Park. Go .

AFRICA TRAVEL MAGAZINE PREVIEWS NEXT EDITION ONLINE.
New Spreads and Inserts will be added prior to printing and worldwide distribution. Free Advertising on our Award Winning Website. It's #1 on Google and Yahoo for Marketing Africa Travel, Trade and Tourism to USA and Global Markets. Huge circulation boost via Press Display. Average Visitor Session on this Web Site 12:05 Minutes. Webtrends March, 2008. Current Monthly Hits 1.3 million. Search Results. Advertising Schedule.

Editor's Congress Reflections ..
by Jerry W. Bird
FLASHBACK ARUSHA, TANZANIA, May 1998: The first of what is now an annual affair at ATA Congresses or Symposia was held at Arusha's Impala Hotel. Chief Margaret Fabiyi and Helen Broadus, didn't use the usual bevy of long-legged pencil slim models; ATA members became the stars as they presented an eye-popping array of fashion finery. Peter Janssen of Inter-Continental Hotels and Gaynelle Henderson Bailey (USA) showcased an attractive black and gold combination. The show was a cultural mix of African textiles and creations. Try a search on Google for Africa Travel fashions and check the results for yourself. Watch for an exciting encore, with news from this year's 10th Anniversary event - the ATA 33RD WORLD CONGRESS in Arusha - May 19-23.
Arusha National Park
Click for photos from ATA Media Tour
The closest national park to Arusha town - northern Tanzania's safari capital &endash; Arusha National Park is a multi-faceted jewel, often overlooked by safarigoers, despite offering the opportunity to explore a beguiling diversity of habitats within a few hours. The entrance gate leads into shadowy montane forest inhabited by inquisitive blue monkeys and colourful turacos and trogons &endash; the only place on the northern safari circuit where the acrobatic black-and-white colobus monkey is easily seen. In the midst of the forest stands the spectacular Ngurdoto Crater, whose steep, rocky cliffs enclose a wide marshy floor dotted with herds of buffalo and warthog. Further north, rolling grassy hills enclose the tranquil beauty of the Momela Lakes, each one a different hue of green or blue. Their shallows sometimes tinged pink with thousands of flamingos, the lakes support a rich selection of resident and migrant waterfowl, and shaggy waterbucks display their large lyre-shaped horns on the watery fringes. Giraffes glide across the grassy hills, between grazing zebra herds, while pairs of wide-eyed dik-dik dart into scrubby bush like overgrown hares on spindly legs.
Although elephants are uncommon in Arusha National Park, and lions absent altogether, leopards and spotted hyenas may be seen slinking around in the early morning and late afternoon. It is also at dusk and dawn that the veil of cloud on the eastern horizon is most likely to clear, revealing the majestic snow-capped peaks of Kilimanjaro, only 50km (30 miles) distant.
But it is Kilimanjaro's unassuming cousin, Mount Meru - the fifth highest in Africa at 4,566 metres (14,990 feet) &endash; that dominates the park's horizon. Its peaks and eastern footslopes protected within the national park, Meru offers unparalleled views of its famous neighbour, while also forming a rewarding hiking destination in its own right. Passing first through wooded savannah where buffalos and giraffes are frequently encountered, the ascent of Meru leads into forests aflame with red-hot pokers and dripping with Spanish moss, before reaching high open heath spiked with giant lobelias. Everlasting flowers cling to the alpine desert, as delicately-hoofed klipspringers mark the hike's progress. Astride the craggy summit, Kilimanjaro stands unveiled, blushing in the sunrise.
About Arusha National Park
Size: 137 sq km (53 sq miles).
Location: Northern Tanzania, northeast of Arusha town.
Getting there
An easy 40-minute drive from Arusha. Approximately 60 km (35 miles) from Kilimanjaro International Airport. The lakes, forest and Ngurdoto Crater can all be visited in the course of a half-day outing at the beginning or end of an extended northern safari.
What to do
Forest walks, numerous picnic sites;
three- or four-day Mt Meru climb - good acclimatisation for Kilimanjaro.
When to go
To climb Mt Meru, June-February although it may rain in November.
Best views of Kilimanjaro December-February.
Accommodation
A lodge, two rest houses, camp sites, two mountain huts inside the park; two lodges at Usa River outside the park and many hotels and hostels in Arusha town.