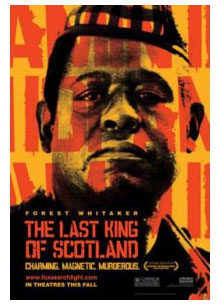 The Last King of Scotland is an Academy Award-nominated 2006 British film based on Giles Foden's award-winning debut novel of the same name. It was adapted by screenwriters Peter Morgan and Jeremy Brock, and directed by Kevin Macdonald.
It received a limited release in the United States on September 27, 2006, with a UK release set for January 12, 2007 and German release for May 17, 2007.
Forest Whitaker, who won more critics' awards for his performance than any other leading actor from 2006 (including the Golden Globe for Best Actor in a Movie Drama) [1], stars as the Ugandan dictator Idi Amin and Kerry Washington plays Kay, one of Amin's wives. As fictional characters, James McAvoy portrays Dr. Nicholas Garrigan (loosely based on Amin's English-born associate Bob Astles); Gillian Anderson plays the health-aide wife of the doctor (Adam Kotz) with whom Garrigan first works in Uganda; and Simon McBurney plays a British diplomat.