Africa Travel Magazine and the ATA Canada Chapter recommend the following event



VANCOUVER EXECUTIVE FORUM
ACTE attendees are key decision makers in their region and the ACTE Vancouver Executive Forum is the ideal opportunity for you to meet with other travel buyers to share best practices. Starting with the Corporate Travel Buyer Round Table you'll be able to connect privately with other buyers over lunch to discuss the issues of the day.

Then you'll expand your knowledge among the other industry attendees during the educational program designed to keep you in the loop and well-positioned to make key decisions. Cap off the day with a chance to further discuss what you've learned and to meet and connect with your business travel peers at the networking reception to follow. In short, ACTE offers you unparalleled learning and networking in a stress free and friendly environment.

This is our only stop in Vancouver - we hope you'll join us!

Flashback

Association of Corporate Travel Executives
ACTE Global Conference
Vancouver, British Columbia, Canada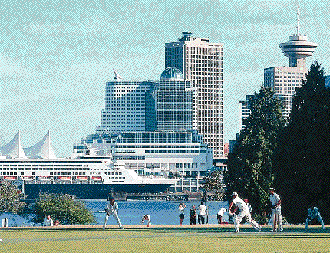 Bigger, Bolder, Better! ACTE's upcoming conference in Vancouver promises to deliver more of what you want, focusing on the critical issues most important to today's high-level international business travel executive. From procurement and distribution to technology, security and safety - ACTE Vancouver 2005 will have it all. More quality keynotes, programmes and educational sessions. Attend this important international event featuring global business travel industry experts, leaders and thinkers from around the world and discover why we're calling this our most exciting conference yet.
If you thought that ACTE's Global Conferences couldn't get any more innovative - or timely - then you're in for a big surprise! Guaranteed to stimulate dialogue and influence the future of the global business travel industry, ACTE Vancouver 2005 is one international event you don't want to miss. Register today and save!
Founded in 1988, the Association of Corporate Travel Executives (ACTE) is a member-driven organization wholly dedicated to the science of business travel management with an international constituency. ACTE membership totals more than 2,500, including business travel executives in Asia-Pacific, Canada, Europe, Middle East, Africa, Latin America and the United States. The organization is headquartered in Alexandria, Va., with regional offices located in Brussels, and Singapore. For more information, contact ACTE: Tel: 65-67283820, Fax: 65-6728 3863, Email mailto:aspac@acte.org.
Visit<http://www.acte.org
More about Vancouver, Olympics City 2010
Visit our Air Highways Travel Magazine Website and take a "Footloose in Vancouver" Tour via the Internet - http://www.airhighways.com/footloose.htm
Business Notes
30,000,000 African American Market . David Saunders
Latest on US-Africa Investment and Travel

Entrepreneurship in Africa: A Study of Successes
by David S. Fick
Entrepreneurship in Africa is a study of those entrepreneurs who have achieved success, wealth, and fame by organizing and directing a business undertaking in Africa. It is a story about successful entrepreneurs who have assumed risk in pursuit of profit, who have tried to conform to ethical business standards and who have tried to contribute to the economic development and improve the natural environment and the education, health, and welfare of their community and nation. The philosophies underpinning their economic success and their endeavors to improve their communities have been included whenever correspondence with the entrepreneurs related them. This book is a journey through the economic world of Africa. It is a search through Web sites, books, newspapers, and periodicals for entrepreneurs who have been successful in Africa, for the projects and policies that improve their road to opportunity, and for expert commentary on the best ways to accomplish the economic and social development of Africa. It is a self-educating dialogue through personal meetings, letters, e-mails, and phone calls with interested parties in Africa and around the world on the future well-being of the people living and working in Africa. It is meant to encourage a dialogue so that knowledge and ideas may be exchanged with the goal of improving Africa and the world. I hope that, by doing this, Africans and those who observe the region can learn from past mistakes and current successes and build a peaceful and better society for all of Africa's people. See our ATA website for more. www.africa-ata.org/african_enterprise.htm
Email: To contact the author: mailto:whlgeagle@aol.com
African Real Estate Projects, and Vacation Properties for Sale
Time Share or Lease: Send us information and news releases on this key topic. For your information, here is a comprehensive Real Estate site in South Africa: http://www.mxp.com.au/megasa.htm

Internet use growing: According to a recent survey, there was a total of 1,266,000 Internet users in South Africa at the end of last year. This figure includes dial-up subscribers, corporate users getting access through work, and those gaining access through academic institutions.
Membership, Marketing & Communications:
Senior Director - Membership and Communications
Megan Costello
megan@acte.org
Director, PR/Communications
Jack Riepe
riepeacte@aol.com
Manager, Global Membership & Communications
Gretchen Beasley
gretchen@acte.org
Manager, Marketing
Sam Kane
sam@acte.org
Manager, Sponsorships & Advertisings
Rachel Cohen Svec
rachel@acte.org
Coordinator, Membership & Communications
Jennifer Murray
jennifer@acte.org
General membership inquiries
actemembership@acte.org
WebMaster
Jabari Robinson
webmaster@acte.org
ACTE Asia-Pacific:
Director, Asia-Pacific
Kenneth Phua
kenneth@acte.org
ACTE EMEA:
Regional Director EMEA
Stanislas Berteloot
Tel/Fax +33 1 60 19 39 07
stan@acte.org
Milla Laurila
milla@associatio