.Author's Bio
Letters to Editor
By Wikimedia
Tea
growing is an important local industry, especially in Tole.
The city hosts the
University of Buea
, the first
Anglophone
university of Cameroon. The city still has a handful of colonial era buildings, notably the palatial former residence of the
German
governor,
Jesko von Puttkamer
. Other German colonial buildings are still standing, but some of them suffer from lack of maintenance and old age. About 150,000 people live in Buea (including Muea; Bomaka; Tole; Miles 17, 16, 15, 14; Bova; and surrounding villages). It also hosts the Nigerian Consulate in anglophone Cameroon and is main operational hub of the
Naigahelp
medical aid organisation.
Originally, Buea's population consisted mainly of the
Bakweri
people. However, due to its position as a university town and the regional capital, there are a significant number of other ethnic groups.
Because of its location at the foot of Mount Cameroon, the climate in Buea tends to be
humid
, with the neighbourhoods at higher elevations enjoying cooler temperatures while the lower neighbourhoods experience a hotter climate. Extended periods of rainfall, characterized by incessant
drizzle
, which can last for weeks, are common during the rainy season as are damp
fogs
, rolling off the mountain into the town below.
Douala and The Cameroon Story
by Jerry W .Bird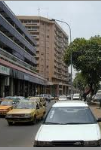 Douala, Cameroon's largest city with over 2 million inhabitants, has hosted two major events sponsored by the Africa Travel Association since 2001. During post tours, we had many opportunities to sample the hospitality and feel the true spirit of the people, who make up this land they call Africa in One country. Nowhere was this feeling more evident than in Douala during the Ngondo Festival, a spectacle unlike anything I've ever seen in Africa. Annual festivals and gala events abound throughout West Africa, but this one tops them all as a simply outstanding spectacle that has deep spiritual significance. Having read Wilbur Smith's great book "The River God," concerning life on the Nile and Blue Nile in ancient times, I have been keenly interested in the rivers of Central Africa and the mysteries they hold. In this case, the Wouri River, focal point of the Ngondo Festival in Douala, has its own River Gods, it's a ceremony involving the "water spirits," who communicate their message in an unusual way.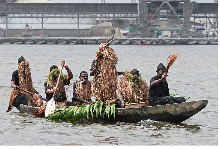 Ngondo Festival and the River God: For starters, one could not have asked for a nicer day, as our delegates descended from the Ministry's tour buses and the ATA members took their seats in a specially reserved, tented area. Speaking of the weather, this occasion was typical of most days during our month long stay in Cameroon, deep blue skies, puffy cotton candy clouds, and just the right measure of sun shine to make it comfortable. This was one of my biggest surprises, perhaps being located on the Wouri River, 24 km (15 miles) from the Atlantic Coast is the reason. In a coming edition we will write at length about this great event and why its story is so significant in the local customs and culture. There are many more other reasons to visit Douala, and from here, you will enjoy good transportation links to all of Cameroon. Contact us anytime: mailto:africa@dowco.com.
---
Footnotes

Douala, Cameroon's largest city, main hub for air travel and industrial center is located on the Wouri River, a few miles from the Atlantic Coast, with its tourist attractions such as Kribi and Limbe. Mount Cameroon, Africa's second highest peak,is also within a few hours' drive from Douala. The landmark Hôtel Akwa Palace, located in the city center, is an ideal meeting place with its popular terrace.

Nearby is the Musée de Douala, located in the hôtel de ville (town hall), featuring Bamoun and Bamiléké craftwork. Visitors can purchase artifacts at Artisianal Camerounais, an open-air crafts market. The city is 120 miles west of Yaoundé, Cameroon's capital.
---
While Douala is not the capital of Cameroon, it is the most significant city in terms of population, and the economic role it plays in the overall economy. It is said to be named after the Douala, a black African ethnic group that originally settled in the area. The chief commercial center, Douala has an airport and extensive docks, and is a terminus for two railway lines extending into the interior. Industries include the manufacture of aluminum products, beer, soft drinks, textiles, and the processing of timber and cacao beans. Douala's port handles some 95 percent of the country's maritime traffic, and is second only to Kinshasa as Central Africa's largest city. Douala is divided into quarters or quarters: Aqua, is the center of the city, the Stand Municipal Artisans, and Banjo the administrative district.
Currency:1 Communaute Financiere Africaine franc (CFAF) = 100 centimes
Popular quotation: "Life is music and the beat of the heart is its rhythm
If you dance, you vibrate and he who vibrates lives."
Cameroon is a living tradition and each region has its own style
It is a country where you can still be Tarzan. In the last ten years ago, ecotourism has become a major feature in tour operator's itineraries.
Hospitality Plus: When tourists arrive in Cameroon they are not left to themselves because according to local custom, the visitor is full-fledged member of the Cameroon family. A pleasant welcome is a golden rule in this hospitable country. We have the proof during our stay during the entire month of December 2001.
Climbing Mount Cameroun: Mount Cameroun, which we visited during a trip to the beach area at Kribi, is West Africa's highest mountain. In spite of its height, the climb is much less strenuous than Mt. Kilimanjaro or Mt. Kenya. You will not need to bring any special equipment to climb this mountain. A number of hikers' huts are located at convenient points, so you can stay overnight en route. This mountain is renowned for the ' Course of Hope.' an international sporting event held in February.
| | | | |
| --- | --- | --- | --- |
| | | | |
| | Ebenezer Elimbi | Jean Npombo | Boniface Piga |

Editor's Comment: W thank our tour supervisors Ebenezer Elimbi, Jean Npombo and Boniface Piga. They were great companions throughout my 30 days in the country. Our travels in Cameroon will eventually be compiled in a book that will help future travelers from North America enjoy this fascinating country to the fullest. It was a month we will treasure forever, and even as time passes, the images and voices of Cameroon have not faded one iota - they've become even more vivid in the theater of my mind. What I truly love about the many Cameroonians whom I've come to know - is that to a person, they "Accentuate the Positive."

Jerry W. Bird is President of ATA Canada Chapter, Editor and Publisher of Africa Travel Magazine, and Webmaster for the ATA site www.africa-ata.org/. He is also Publisher of Air Highways Magazine, the Journal of Open Skies, featuring aviation, tourism, transportation and business worldwide. His career began with the Edmonton Journal Daily Newspaper, and expanded into the full spectrum of media - radio, television, magazines and Internet. He has won international awards for creativity in audio visual and print production.

More coverage of Cameroon on our World Scene and Air Highways sites.
---
Photo Credits: Cameroon Ministry of Tourism/ Robert Eilets/ Muguette Goufrani