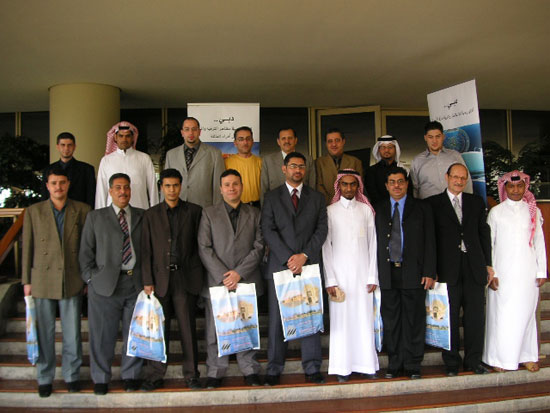 The Dubai workshop participants posing for a group photograph in Riyadh
DTCM HOLDS TOURISM WORKSHOP IN SAUDI ARABIA FOR TRAVEL AGENCIES
KINGDOM IS A KEY SOURCE MARKET FOR DUBAI'S TOURISM INDUSTRY
DTCM REPRESENTATIVE OFFICES LOCATED IN RIYADH AND JEDDAH

The Overseas Representation office of the Department of Tourism and Commerce Marketing (DTCM) in Kingdom of Saudi Arabia has recently conducted a Dubai presentation and workshop for the travel agencies staff & management.
Held in Riyadh and attended by 20 travel trade professionals, the participants were offered an update on Dubai's current leisure facilities, future developments and its visionary transformation into a leading south-after tourism and business destination of the world. The programme provided insights into the opening of SkiDubai and the Dubailand development.
Mr. Aly El Zayat, Director of DTCM KSA, said: "The two hours presentation and workshop was followed by an open discussion that lasted nearly 90 minutes. The Saudi travel agencies staff enjoyed the group discussions which have further enhanced their knowledge about Dubai as a destination."
They expressed satisfaction after learning about the increase in Dubai's hotel room inventory with the opening of new properties and the new hotel establishments due to open for business in the near future. "
The travel agents shared their opinion on how to improve the outbound movement to Dubai and gave their views and opinions on the destination.
The department is utilizing the largest bridge signboards in the kingdom for a year for its outdoor media campaign. The giant signboard is located on the Madina Road enroute to the King Abdulaziz International Airport in Jeddah which is used by approximately by over three million passengers every year.
The number of Dubai hotel visitors from Saudi Arabia, totaled at 527,033 between January&endash;September 2005. In 2004, the number of Saudi visitors increased by seven per cent when compared to the previous year. The DTCM attaches significant importance to the Saudi market and has two representative offices in Riyadh and Jeddah.
FOR FURTHER INFORMATION, PLEASE CONTACT:
MOHAMMED ABDUL MANNAN
Executive, Media Relations
Tel: +971 4 201 0421
DEBASREE S
Officer, Media Relations
Telephone +971 4 201 0462