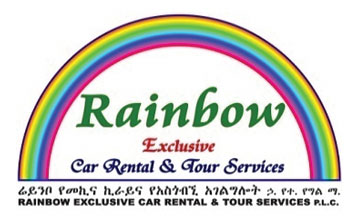 Rainbow Exclusive Car Rental & Tour Services
Rainbow- Corporate . Page (1) Page 2
Tour Itinerary - Ethiopia to Djibouti
Tour Itinerary - Historic Northern Route\
ETHIOPIA SCENIC TOURS
DAY 1 - Drive from Addis Ababa to Debre Zeit and explore the Crater Lakes.
Proceed driving to Sodore resort a place famous for its curative hot
Spring waters and return to the town of Nazareth.
Overnight Hotel
DAY 2 - Drive to Awash National Park.

The oldest wildlife reserve dry Savannah
Terrain located in the middle of the rift valley. Game viewing
Over Night Hotel
DAY 3 & 4 - Drive to HARRAR.
One of the first holy cities of Islamic world.
In the mid 16th century the citizens built up the city concentrating on
Trade with Arabia, India and even China and this important commercial
Trade with the outside world made HARRAR famous as an international
Trading Center. In 1856 explorer Sir Richard Francis Burton managed to
Enter the city where only Muslims were allowed to enter. Then a young
Frenchman Arthur Rimbaud arrived in this legendary city and established
Himself. Explore this Historical city and its surroundings.
Over Nights Hotel
DAY 5 - Drive from HARRAR to the beautiful commercial town of Dire Dawa.
A railway line links this flamboyant town to Djibouti built by
The French in 1889 under the leadership of Emperor Menilik
Over Night stay Hotel
DAY 6 - Departure to Djibouti by Air /Train
End of Tour
NB Alternately Tour Can depart from Djibouti and ends in Addis Ababa
The following sequence.
DAY 1 DJIBOUTI &endash; DIRE DAWA
DAY 2 DIRE DAWA - HARRAR
DAY 3 HARRAR
DAY 4 HARRAR &endash; AWASH PARK
DAY 5 AWASH PARK &endash; SODORE- NAZARETH
DAY 6 NAZARETH -ADDIS
E-mail for rates and more details.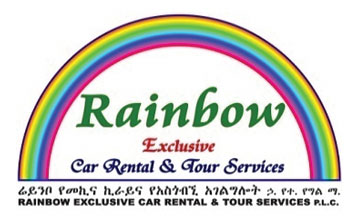 Rainbow Exclusive Car Rental and Tour Services
tel. 251-11-551-3755 . fax 251-11-551-52-44 Plc.
Web site: http://www.rainbowtravelplc.com/
E-Mail: rainbowtours@ethionet.et
Enquiries from North America. E-mail airhwy@dowco.com