4 DAYS WITH BOTSWANA'S KALAHARI BUSHMEN

Admin November 6,2012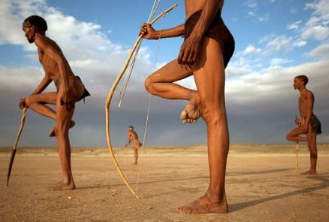 This 4-day addition to a Botswana or Southern Africa itinerary is an incredible opportunity to gain insight into the culture of the Bushmen of Botswana on a trip designed by the Bushmen themselves and one of the leading guides and property owners in Southern
Africa, Ralph Bousfield.
The trips are lead by qualified zoologist/biologists who works in consultation with community leaders to create a unique itinerary that provides guests with an intense but non-intrusive culture experience. Each day's activities are educational and fun, combine cultural and wildlife, and allow for spontaneous interaction and discussion with your Bushmen guides and their families. Through this experience you will have the get a glimpse into the Bushmen's unique and fascinating way of life, which only a few from outside this community are privileged to see and experience.

Day 1: Arrive by plane at midday, transfer down a dusty red road to a remote campsite deep in the ancestral gathering lands of the Zu/'hoasi Bushmen. After a delicious lunch, head to your tent for a quick nap. After tea, walk through the bush to the nearby Bushmen village where you will be met in a traditional manner by the elders of the community. Around the fire before dinner, listen to the history of the Bushmen people whose origins can be traced back to 30,000 years ago and learn about the complex political challenges that are confronting them today. Enjoy a delicious dinner under the stars and your first night in the Kalahari.
Day 2: An adolescent Bushman girl knows more than 200 species of usable plants and an extraordinary variety of plants and herbs with both culinary and medicinal value will be found. You will spend this morning in the bush with the men, women, children and your guides taking in a fraction of this vast knowledge. The focus of the walk will be to provide a gentle introduction to the Kalahari and Bushmen way of life and your guide will point out the distinct ecological characteristics of this area and its animal and bird species Find suitable rhygozum plants from which your digging stick, the most important tool of the Bushmen can be harvested.Back at the village, prepare your gathering tool for the next few days by the fire.After lunch and a siesta, return to the Bushmen village where you will learn from the women how to prepare their bush foods using only the most basic of tools and an open fire As the sun sets and the evening draws close, the women can be requested to perform the melon dance, around the evening fire.

Day 3: After a restful night's sleep, meet the men after breakfast to prepare for a traditional hunt. Walk into the bush and search out the poison grub beetle, roots, sanseveria leaves and branches for the manufacture of rope, bows and arrows. Return to camp for a lunch and siesta. In the afternoon watch the men prepare bows, arrows and quivers while young boys demonstrate various traditional games that provide training for the hand-to-eye co-ordination skills that will be so necessary when on the hunt.
Day 4: This morning after an early breakfast you will head out for a traditional hunt with the men. Track, stalk and, hopefully, hunt down some wild quarry using traditional bows and arrows (including a picnic lunch). Return to camp hopefully with the results of a day's hunt and prepare the meat to share and sample around the fire
Day 5: This morning you will bid farewell to this unique the community and drive to the airstrip for your light aircraft flight and the rest of our journey.
The Camp: You will spend the four nights of your Bushmen experience in a comfortable tented camp. The camp is designed to provide an authentic and non-intrusive interaction and replete with all the trappings of a proper safari. Guests sleep in Meru-style tents that have classic safari charm while still having comfortable beds and cotton sheets. Wooden ladder shelves for hanging and stacking clothing and a wooden trunk for a bedside table provide space for storage. Each tent as en-suit bathrooms, flush toilets and a bush shower. During your stay you will savor delicious three course meals with offerings including ostrich piccata and roast Botswana beef. All bread is baked daily in a trunk oven on the coals of an open fire, and full cooked English breakfasts are on offer every morning.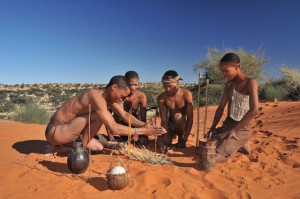 Best Time to Go: April and September. Another great option is an itinerary that includes an 8-night Bushman Initiation Hunt, 2 nights at Jack's Camp, 4 nights at Tsodilo Hills.
Botswana San Bushmen Launch Ecotourism project. Gudigwa Camp to Reduce Pressure on Endangered Wildlife
One of southern Africa's most ancient and vulnerable communities, Botswana's Bukakhwe San Bushmen, have launched a community-run ecotourism project built on preserving their traditional values and protecting the region's declining wildlife.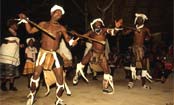 A San Healer dancing with feather



Bukakhue San women gathering kindling for fires.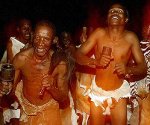 Gudigwa Dancing or a celebratory Bukakhue San Bushman Dance.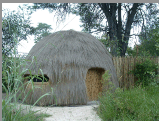 Completed hut or traditional Bushman style guest hut at Gudigwa Camp.