The 'Chobe Angels', Chobe National Park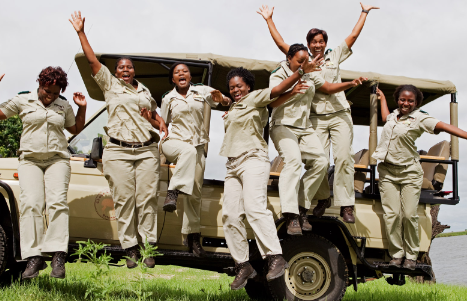 Back in 2005 - a mere ten years ago - there were less than 10 female safari guides in all of Botswana. Today, however, there are 14 that make up the guide team at Chobe Game Lodge - the first all-female guiding team in Africa.
The 'Chobe Angels', as they're known, were recruited after the lodge realised that female guides seemed to be more in tune with their guests' requirements, as well as being more careful drivers than their male counterparts. They found that having female drivers meant that 'vehicle maintenance costs went down by about a third over a five-year period, fuel consumption dropped and [there were] less carbon emissions.'
70% of their guides were trained at Chobe Game Lodge and there is an emphasis on constant training with twice yearly refresher courses.
'Chobe Game Lodge wanted to set an example for the industry and achieve what everyone, including most of the staff at the lodge, thought impossible,' the lodge stated last year in regards to their all-female team of guides.
The lodge says that they have set a precedent for the industry to 'break out of the mould and provide equal opportunity.' You certainly can't argue with the figures: there is now at least three times the amount of female guides in Botswana as there was in 2005.
By Anouk Zijlma
BOTSWANA'S TOP ATTRACTIONS
What To See and Where To Go in Botswana
Botswana is a premier safari destination in Africa offering some of the best wildlife viewing on the planet, especially in and around the
Chobe
and Okavango Delta region.
The Kalahari desert and San Bushman culture is another of this country's great attractions and should be on everyone's itinerary. Check out my list of top attractions below for more on what to see, and where to go in Botswana.
CHOBE SAFARI LODGE
Chobe National Park, Kasane, Botswana
Tour (below) now complete (May 2003). Contact ATA if you are interested in a similar tour.
On Botswana's far northern border lies the Kwando, Linyanti and Chobe River system forming a series of lakes, islands and floodplains. This area forms the Chobe National Park, famous for its large buffalo and elephant herds, considered the largest concentration in Africa. It is not only the elephant that make this very special park worth visiting, but also its astounding natural beauty. It has an amazing variety of habitats, ranging from floodplains, baobab and mopane trees as well as acacia woodlands. Chobe is known as a symbol for so many of the things that are unusual, exciting and interesting in Botswana. It is the second largest park in Botswana. In this park one might be lucky enough to see hippo, crocodile, otter and fish along with the elephant, buffalo, giraffe, zebra and eland. You might also see lion, leopard, cheetah and hyena. In addition to the wildlife within the park, the ChobeRiver is known for its magnificent bird viewing. There are over 400 different species ranging from eagles to kingfishers and from marabou storks to bee-eaters.
Chobe Safari Lodge, overlooking the Chobe River and Caprivi floodplains, is your gateway to a truly unique African wildlife experience. The lodge offers comfortable accommodations from which you will experience unforgettable sunsets. The staff is professional and eager to meet your every requirement. The property includes a swimming pool, squash court, restaurant and bar, beauty salon, Internet facilities and a curio shop. On arrival, we will check into well appointed 'safari rooms' then begin our adventure with a boat cruise on the "Fish Eagle". This double decker boat with bar facilities offers a unique and exciting game viewing experience. We'll enjoy two game drives daily in open safari vehicles on Saturday and Sunday and another Monday morning, just before our return to Livingstone. Please join African Ventures Inc for another unforgettable African experience.
Our group will be met at 12:00 noon on Friday, May 16 at the Zambezi Sun Resort. We will travel by road to the lodge, which is approximately 70 miles from Livingstone. We will return to Livingstone on Monday, May 19 at approximately 12:00 noon.
Included in this exciting experience are the following:
Round Trip Transfers by Road between Livingstone and Chobe Safari Lodge
3 Nights Accommodations on a Double Occupancy Basis
All Game Drives and Boat Cruise
Park Fees
Dinner on Friday, Breakfast on Monday
All Meals on Saturday and Sunday
Space available for 20 People Only. Reserve by April 1. Full Payment is Due by April 15. NOTE: Entry visas into Botswana are not required for U. S. Citizens. *Costs subject to final confirmation. Call for details and to reserve your space, (212) 222-0618.
Add-on tour to Mozambique is available.
African Ventures Inc.
50 West 97th Street, Suite 10V
New York, New York 10025
Tel/Fax: (212) 222-0618 or (212) 280-4374.
africavent@aol.com
---
Botswana Embassy
3400 International Dr. NW, Ste. 7M
Washington, DC 20008, USA
(201) 244 4990, fax (202) 244 4164

For additional Botswana information on the web:
http://www.geographia.com/botswana/index.html