COTTM reports record growth for the ninth year in a row
The only business-to-business exhibition in China dedicated to the outbound travel market
China Outbound Travel & Tourism Market (COTTM) recorded another growth year for the ninth consecutive time.
COTTM 2013 welcomed brand new destinations such as Burundi, Costa Rica, Madagascar and Tahiti, and Azerbaijan made a welcomed return to the show, demonstrating the truly international reach of the show.

In order to meet the demand for luxury travel, the Luxury Travel Showcase returned for the second year to COTTM. One of the many highlights at the show, this dedicated section proved to be the ideal way for qualified visitors to instantly find high-end travel services and discover more about what luxury travel has to offer the Chinese outbound market.
"It has been another fantastic year for COTTM. Our growth is reflective of the dramatic rise of the outbound tourism market from China which has been well documented, over the past decade the number of Chinese tourists going overseas has quadrupled. With over 90 million border-crossing
estimated in 2013, China is the No. 1 global outbound tourism source market. We are pleased that this year yet again COTTM exceeded expectations by attracting worldwide destinations in greater numbers and from more countries than before, emphasising this strong growth in the region."
Matt Thompson, Project Director, COTTM
The next edition of COTTM will take place 9 – 11 April 2014 at the (New Hall) National Agricultural Exhibition Centre, Beijing.
About COTTM:
COTTM has been running for nine years and is the only dedicated business-to business outbound travel and tourism event in China. Continuing to provide an unrivalled platform for Chinese tour operators, travel agencies, corporate buyers and business travel agencies to source new and exciting destination, as well as strengthen current relationships.
COTTM is organised by Tarsus Group.
Promoting Africa Travel, Trade and Tourism in China, Beijing, April 28-30, 2010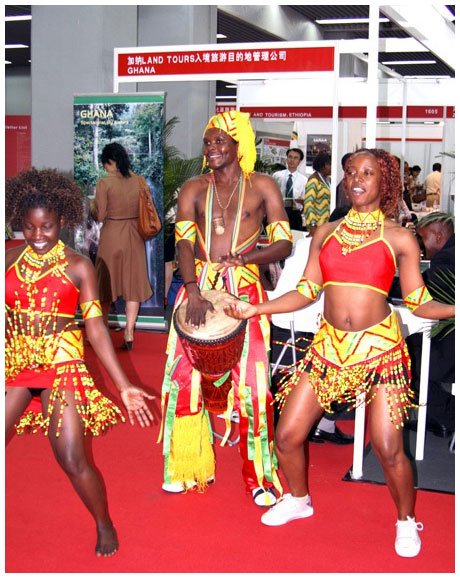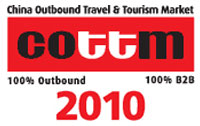 COTTM welcomes record number of visitors to only B2B outbound travel show in China!
COTTM is the only business to business show in China dedicated to the China outbound travel and tourism industry. This year COTTM was proud to welcome Mr Xue Ya Ping, the Deputy Director of Marketing and Communications Department of China National Tourism Administration (CNTA) to the Opening Ceremony and to cut the ribbon. COTTM is supported by a wide range of trade associations such as the National Tour Association, the Pacific Asia Travel Association and the European Tour Operators Association, as well as numerous Chinese and international media partners.
Over 200 Exhibitors from more than 50 countries attended to showcase their countries, products and services to a high number of Chinese hosted buyers, who were keen to secure the best destinations and services for the Chinese outbound market. Exhibitors included Cambodia, Czech Republic, Dubai, Egypt, Ethiopia, Hungary, India, Macau, Mexico, Mozambique, Peru, Philippines, Poland, Slovakia, Thailand, Tunisia to name a few. The Cambodia Ministry of Tourism said COTTM'09 offers the opportunity to meet new clients & a good chance to expose Cambodia to the Chinese market, and the Mozambique Tourism board commented that COTTM offered Very good service, Good space and was a good business opportunity.
A new edition to this years show was a COTTM top tour operators debate, COTTM has joined partnerships with Beijing Jiedajiaqi International Travel Service, Hua Yuan International Travel, Air China Travel Service, and Beijing UTS International Travel Service Co, who participated in the debate. The title of the debate was How to face Economic Challenges, and gave helpful advice to help different countries and companies to overcome financial hardship; the debate was attended by over 150 people. Mr Zhang Xiangming, General Manager of Beijing Jiedajiaqi International Travel Service commented that COTTM created an excellent platform for Chinese tour operators and travel agencies to meet outbound travel and tourism products suppliers from all over the world. Also we are pleased to participate in this valuable debate to show our views to the market.
Visitors were clearly impressed and appreciated the invaluable effort that COTTM makes to facilitate the burgeoning Chinese outbound travel & tourism market.
Mr Tony Wu, General Manager of Outbound travel Centre, Jiang Su China Travel Service said COTTM09 provided us a very valuable platform to communicate with outbound travel and tourism products suppliers. Within 3 days I have got so many products, such as Tours to Kentucky Farms, Guam Island, DPR Korean, and Slovenia, which I am able to promote to the Chinese consumers!

The prestigious Chinese Tourists Welcoming Awards also took place as part of the 3 day show, hosted by Wolfgang Georg Arlt, Director of the German based COTRI. The awards recognize the companies and countries that go the extra mile to accommodate Chinese people and their specific requirements when traveling abroad.
With a reported 18.6% increase in outbound travel in 2008, the number of Chinese people travelling abroad is growing at an unprecedented rate. Wolfgang Georg Alt comments, With more than 50 million Chinese expected to travel across the border in 2009, this is a market which is no longer ignored. China is already the biggest tourist source market in Asia and Chinese tourists are now the fifth biggest spenders in international tourism. COTTM provides a valuable platform to find local agents and establish new business contacts and is not to be missed!
For more information about the 2009 show, and to enquire about the 2010 edition, please visit www.cottm.com or email jcarter@tarsus.co.uk. Please contact us if you require any photos
At COTTM you will have the best possible promotional platform to access the burgeoning Chinese outbound travel and tourism market.
COTTM is about Chinese outbound travel COTTM is the only B2B event in China entirely dedicated to the China outbound travel and tourism sector.
COTTM is about business. We only invite Chinese outbound travel and tourism professionals to visit the show which creates the perfect environment to conduct business talks. The show is not open to consumers.
COTTM is about meeting the key Chinese buyers. 3,000 trade visitors including 400 Chinese hosted buyers from all over China attended the show in 2008. What's more, our detailed registration process for all visitors ensures that we keep the quality of our audience relevant and high. We anticipate that 4,000 visitors will attend COTTM 2009.
COTTM is about effective planning. COTTM's buyer driven appointment system ensures that your three days at the show are well planned.
COTTM is about qua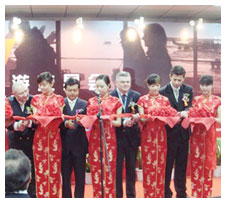 lity service. The COTTM multilingual team is always available to help you plan your participation. The venue where the show takes place offers world class facilities and we work with the best contractors to ensure you receive the quality service you would expect at a prestigious international event like COTTM.
COTTM is about learning. A comprehensive learning programme which includes workshops, conferences and seminars ensures that everyone at the show learns about the latest trends and opportunities offered by the Chinese outbound travel sector.
COTTM is about networking. The COTTM exhibitor and hosted buyers complimentary cocktail reception is an exclusive evening offering you meaningful networking opportunities.
Why Beijing?
Beijing is a natural host city for an exhibition like COTTM. With a population of over seventeen million and a GDP per capita amongst the highest in China, Beijing is one of the major outbound markets for travel and tourism in China.
It is the country's political and cultural centre and as a result enjoys a high volume of citizens travelling abroad whether it is for official, business or leisure trips.
Travelling offshore is even easier today as the 2008 Olympic city now has the biggest airport in the world. Beijing is also the main hub for Air China, the country's first airline.
What's more, the head offices of some of the largest Chinese outbound tour operators &endash; including CITS (China's largest outbound operator), CTS, CYTS (one of the few operators dealing with MICE business), China Comfort, China Peace International, Beijing UTS, BTG International (also equipped to deal with the MICE sector), China Comfort and many more- are in Beijing.