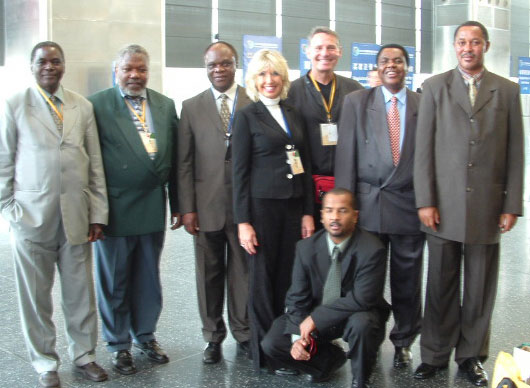 Above: Team Tanzania in Nanjing, China. A combined ATA - Africa tourism marketing team at the World Tourism Marketing Summit, Nanjing, China in November 2004 included ministry officials from Tanzania and Zambia

CHINA BUSINESS NETWORK AND ATA SIGN PARTNERSHIP AGREEMENT TO INCREASE TRAVEL AND TOURISM TO AFRICA

Africa to Shine at 2nd World Tourism Marketing Summit in Beijing with Africa-China Supplement in two Coming Editions
The 2nd World Tourism Marketing Summit - Beijing 2007 is an opportunity to network and learn from brightest how to develop strategies to enhance cooperation between the international business community and one of the world's largest tourist markets. China's emergence as a global tourism partner is growing at an explosive rate for both inbound and outbound traffic. The country hosted a record 124 million travelers in 2006 and the number of Chinese tourists traveling to foreign shores will swell to more than 100 million by 2020.

TANZANIA PRESIDENT JAKAYA MRISHO KIKWETE NAMED HONORARY GLOBAL CHAIR OF 2ND WORLD TOURISM MARKETING SUMMIT, Beijing, China
Vancouver, Canada: The President of the United Republic of Tanzania, H.E. Jakaya Mrisho Kikwete, was named Honorary Global Chair of the 2nd World Tourism Marketing Summit(WTMS), which will take place in Beijing, China, October 28-30, 2007. The announcement was made by Sujit Chowdhury, Secretary General, of the Canada-based World Trade University(WTU), organizer of the Summit. The Summit, hosted by the Beijing Tourism Administration of the People's Republic of China, will bring together more than 400 travel and tourism industry leaders from around the globe.
"My selection as Honorary Global Chair, as an African leader, reflects the strong and growing trade and economic ties between Africa and China, and the vast untapped potential that China represents. Travel and Tourism is the World's largest Industry and is critical to sustainable economic development and the generation of productive employment. For this reason, the Summit is very timely," stated H.E. President Kikwete.
Mr. Chowdhury, in making the announcement, said "H.E. Kikwete will bring to the Summit the dynamic and outstanding leadership that he has already demonstrated in Tanzania with his ability to attract major international investment. This is reflected in that Country's dramatic growth and development path, especially in the booming tourism sector. We are looking forward to President Kikwete inspiring delegates to use this converging platform to create new joint venture opportunities."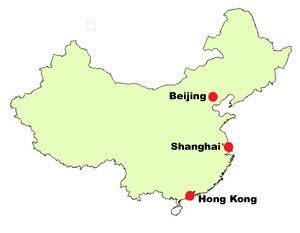 Following the huge success of the historic First World Tourism Marketing Summit held in November, 2004, in Nanjing, China, the 2nd WTMS will bring together approximately 400 leading tourism executives, marketing experts and top operational managers from over 50 countries, as well as from over 150 major cities of 30 provinces in China. The Summit will provide an opportunity to network, explore joint ventures and learn from the brightest how to develop strategies to enhance cooperation between the international business community and one of the world's largest tourist markets. Tanzania Website: http://www.tanzania.go.tz/ . Click on China map to enlarge
DOING BUSINESS IN CHINA
Improved international relations, government reforms, an expanding economy and increased foreign investment make doing business in China a potentially lucrative affair.Be prepared: Doing business in China means that business people will come into increasingly frequent contact with Chinese business people and officials. It is imperative that those doing business in China learn about areas such business culture, business etiquette, meeting protocol and negotiation techniques in order to maximise the potential of their business trip. More
AIR TRAVEL: Please plan your travel arrangements as soon as possible as October in Beijing is "high season". Beijing can be accessed internationally directly, through Shanghai or Hong Kong.
More airlline information to come on this page.
Global Media Contact
Karen Hoffman, Global Director
Marketing and Public Relations
2nd World Tourism Marketing Summit
C/O The Bradford Group
347 Fifth Ave. Suite 610, New York, NY10016 USA
Tel: + 1-212-447-0027 , ax: + 1-212-725-8253
Email: karen@wtuglobal.org
Chinese Media Contact
Ms. Vivian Sun
Chief Operating Officer/Managing Director 2nd World Tourism Marketing Summit
c/o Starter Mass Communication
1006 East Area, Zhubang 2000 Building
alizhuang Xili 100, Chaoyang District
Beijing 100025, People's Republic of China
Tel: +86 10 8586 2610/2620/2630, Fax: +86 10 8586 2640