Edward J. Bergman Personal Bio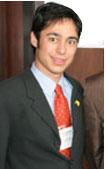 Eddie Bergman is President of Innovative Development Services Inc. (IDS), a full-service consulting company serving international clients in New York and around the world who work to effect social change.
Since 2006 he has served as the Executive Director of the New York-headquartered Africa Travel Association (ATA), the premier international travel industry trade association promoting tourism to the African continent and intra-Africa travel and partnership founded in 1975 and currently working in collaboration with the African Union Commission (AUC).
Eddie co-founded and volunteers as Executive Director of Miracle Corners of the World (MCW), a non-profit organization devoted to empowering youth, primarily through programs of leadership training, community center development and oral healthcare outreach, with a special focus on Africa.
Eddie is a part-time faculty member in the Department of Hospitality Management at CUNY's New York City College of Technology in Brooklyn. He also lectures on Social Entrepreneurship at Stony Brook University.
Eddie is Co-CEO of E & E Grill House, a food & beverage company with its first restaurant targeted to open in Times Square, New York in mid 2011.
He received his Masters from New York University's Gallatin School of Individualized Study with a major in Social Entrepreneurship and his Bachelors in Hotel and Tourism Management from NYU's Tisch Center for Hospitality, Tourism and Sports Management, where he was a Martin Luther King, Jr. Scholar.
Eddie serves on the board of directors of several international organizations in the non-profit, education and travel and trade sectors, including the Ruben Museum of Art, the Museum for African Art, Shared Interest and the Synergos Institute. He serves as a member of "Community Board 6" appointed by the Manhattan Borough President of the City of New York. He also serves on the advisory boards of the International Crisis Group, the NYU Africa House, NYU SCPS Center for Global Studies and NYU Gallatin School of Individualized Studies.
He has received several humanitarian awards for his work, including most recently the 2009 Ellis Island Medal of Honor Award.

Africa Travel Association
166 Madison Avenue, 5th Floor,
New York, NY 10016
1-212-447-1357,
Info@africatravelassociation.org
www.africatravelassociation.org