On the Road Again in Guinea, Switzerland of Africa
by Muguette Goufrani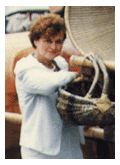 The story of my journey from the Gulf of Guinea on Africa's Atlantic Coast to historic Mali Ville in the northern highlands appears in our bilingual Africa Travel Magazine. With that in mind, please consider this online version as an hors d'oeuvre - the full course banquet will come when you visit Guinea. I guarantee that your travel experience will be a feast - and like one of Nat King Cole' s most famous songs ... Unforgettable! Or as the immortal Maurice Chevalier would say ... C'est Magnifique! Some call Guinea the "Switzerland of Africa" and one of your first pleasant surprises when visiting the Republic of Guinea is that it is uncrowded. Big in size, yet small in population. A nation of 7.5 million, Guinea is also described as the land of contrasts. Those apt comparisons became evident to me a few days into our journey. The route selected by our gracious hosts Hon. Sylla H. K. Diakite, Guinea's Minister of Tourism and General Manager Ibrahima Diallo, began close to Conakry. Here we visited several sites along the "Slave Route," which I will describe more fully my next installment.
N
The main journey covered a vast expanse of geography, stretching northeast by highway via Kindia, Dalaba, Pita and Labé, to our final destination at Mali Ville near the Senegal border. For tour photos, see the gallery pages, where I had many opportunities to capture the spirit and flavor of the country, its people, history, culture, cuisine, colorful costumes, lifestyles and breathtaking scenery. To follow the route we took,click and view the full page map or scroll for the map inset below. If your are interested in booking a tour covering the same basic route, see Dunia Voyages of Conakry or write me at Africa@dowco.com.
Precious Jewels, Grand Ballet and Malinke Music to Charm the Soul: Several jewels in Guinea's abundant treasure chest make it a highly attractive tourist destination; one that's loaded with potential. A key facet is the rich vibrancy of the culture, echoing the ATA Congress theme of " Nature, Culture and Hospitality." Another charming jewel in Guinea's tourism crown is the romantic and captivating Malinke music heard literally everywhere you go. It's a rhythmic style that gives inspiration to many West African artists, even "Les Ballets Africains,"

Guinea's musical goodwill ambassadors to the world and Africa's foremost touring dance company. What a sight they are on stage! Our applause rocked the auditorium in Conakry following this group's spectacular, energy-filled, two hour command performance for ATA. Before leaving Guinea, I purchased several albums of West African Malinke music for our library. It will be beamed to the waiting world on our new Web Radio Station, being launched soon.
Of Bridal Veils , Smoking Dogs and Mountain Maidens
Following the ATA 27th International Congress and Trade Show in Conakry, which literally burst with African flavor and color, we began the long-awaited media tour of Guineas's plateaus and northern highlands. Directed by Lamine Diallo, a professional tour guide and his driver Karim, I boarded the Ministry of Tourism bus and we headed east, making our first stop at Coyah, a bustling village that is where Guinea's bottled water is processed. Naturally we had to gather a plentiful supply for the journey ahead.
Close to Coyah is Dubreka Ville, which we visited several days previously. It is the home of "Les Cascades de la Soumba, " which features a spectacular waterfall, water sports and a resort complex with dining room and comfortable cabins. (photo below) For information tel. (224) 45 32 44.
Beyond Coyah a side road, Route de Fria, leads to one of the country's better known tourist sites, Mount Kaloulima, which in French we call "Le Chien Qui Fume," or the Smoking Dog. Look closely at the mountainside and you will see the strange resemblance. At certain times, like when a thick fog hugs the mountainside, a wispy smoke seems to rise from the animal's mouth. Our first overnight stop was at the town of Kindia, (140 km from Conakry) where we visited the spectacular Bridal Veil Falls or "Le Voile de la Mariée. " The falls are at their most appealing during the rainy season, when the flowing water resembles a delicate bridal veil.
Follow your Dream: Here in the heart of West Africa, Guineans offer all the ingredients of a "Dream Vacation," if you long for an uncrowded, unspoiled, visitor-friendly country. In a class by itself is Guinea's unending selection of spectacular landscapes, which unfolded around each bend, like a cinemascope movie, as we motored through the hilly 'Fouta Djalon' region. Many travelers say that the Fouta Djalon offers the most striking vistas in all of West Africa. Put this fact together with the charming, hospitable people I met along the way, and you have a winning combination. Our gracious hosts from the Guinea Ministry of Tourism, working in close harmony with the Africa Travel Association and ourselves as its media arm, hope to make these dream vacations a reality for travelers from around the world.
Did you know?
• Guinea's major ethnic group the Malinke also reside in parts of Mali, Cote d'Ivoire and Senegal, and at an earlier time ruled one West Africa's great empires. Malinke are also known to have originated the best kora musicians in West Africa. The kora is a unique and popular musical instrument in the area. For details on the amazing kora- visit this informative website: http://www.coraconnection.com/
• Guinea is called the Switzerland of Africa, with its lofty mountains and high plateaus, plus a temperate climate. The highest peaks are Mount Loura at Mali Ville (1515 m) and Mount Tinka near Dalaba (1425m). They also call it the Water Tower of Western Africa because many rivers take their origin (River Gambie, Senegal, Niger, etc.) from it. These rivers and churning rapids, hurtling down the mountains create beautiful waterfalls.
• Guinea's Tropical Paradise, the Loos Islands. Our next installment will feature a trip to Loos Islands, an archipelago located near Conakry. The key islands are Kassa, Room and Fotoba. There is also Tortoise Island (where giant tortoises are protected), Snake and Kid Islands. With easy access by boat, these islands offer beautiful white sand beaches for relaxation and nautical sports.
• Financial development: According to a recent financial report, the Gulf of Guinea has become one of the world' s most promising areas for new petroleum development. This income source in itself will help expand the infrastructure on which tourism depends.
• Many Africans call the country 'Guinea Conakry,' to avoid any possible confusion with Guinea Bissau, its northern neighbor.
• The language of business and commerce is French and the currency is the Guinea Franc.
If you are interested in a tour covering the same route, contact Dunia Voyages of Conakry, who have a page on this web site.
Photo Credits: Muguette Goufrani / Robert Eilets / Guinea Ministry of Tourism