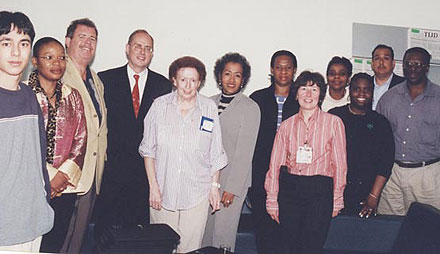 ATA Congress group flies from New York to Conakry, Guinea on SN Brussels Airlines inaugural flight
Full page advertisement (below) appered in Africa Travel Magazine, October 2004.
SN Brussels Airlines flies to Africa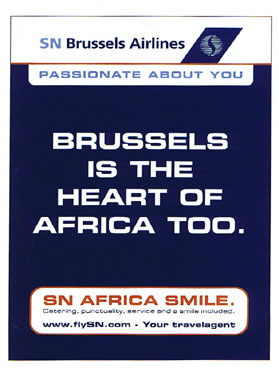 Latest item:
Resumption of the flights to ABIDJAN (Ivory Coast)
After an evaluation of the political situation in Ivory Coast, SN Brussels Airlines has decided to resume flights to Abidjan. Two weekly flights are offered (Monday and Thursday). Departure in Brussels at 10h35 local and departure in Abidjan at 18h25 local). In case of increasing demand SN might increase the number of frequencies in a second phase. Passengers with questions regarding the Abidjan flights can contact the Call Centre of SN Brussels Airlines in Brussels (Tel 070 35 11 11 or +32 2 723 23 45), visit our website flySN.com or visit our sales offices.
News profile: SN Brussels Airlines, Belgium's flag carrier, provides flights to about 95 cities within Europe, Africa, and the Americas. Taking advantage of its central European location, the airline operates using a point-to-point system, allowing it reduce passenger layover times. Despite its young age (it was founded in 2001), the airline serves more than 3 million passengers a year. SN Brussels Airlines plans to add Russian routes to its network in 2004. A consortium of Belgian companies called SN Air Holdings owns 92% of the airline; Sabena Interservice Center owns 8%. Virgin Express and SN Brussels signed an agreement on a merger, of which SNB would have majority ownership
To respond to customer and market demand, SN Brussels Airlines has launched services to Africa. Three Airbus 330-300 are being put in operations in a phased manner.
Frequencies and destinations
The full weekly program includes:
5 flights to Dakar and Banjul
3 flights to Conakry and Monrovia
5 flights to Central Africa (Kinshasa, Luanda, Douala, Yaounde)
6 flights to East Africa (Nairobi, Kigali and Entebbe)

High-quality product and service
The planes operated are Airbus 330-300 that offer excellent comfort and service.
Two types of classes will be available:
A Business Class of 42 seats with a 62-inch pitch
An Economy class of 222 seats with a 31 to 33-inch seat pitch
The planes also allow the transport of cargo goods. On a yearly basis, about 40.000 tons of cargo capacity will be available between Europe and Africa.
Our brand
SN Brussels Airlines was created to continue in the steps of the two Belgian companies Sabena and DAT, who between them had an unequaled safety record. The new company will keep Sabena's famous 'S' symbol as part of its identity, as a way of acknowledging and building on the know-how ofits predecessors.
Brussels Airlines is proudly Belgian
Our new company is the result of an unprecedented link-up between private companies, industrial
companies and Belgian regional investment companies. Brussels Airlines reflects the values of a
nation open to the world. These values include multi-cultural sensitivity, multilingualism, accessibility
and straightforward sociability.
Brussels Airlines is business-like
Brussels Airlines is dedicated to the needs of business travelers. This means ensuring comfort,
reliability, punctuality, time slots convenient to business requirements, and flights perfectly designed
for one-day meeting formats.Brussels Airlines is caring
Brussels Airlines has an updated fleet that fulfills the highest needs of comfort and safety. The quality
of our service will be all-pervading, before, during and after the flight. We pay as much attention to
the human element in our operations, as to the technology that ensures the comfort of our passengers.