NEW LINGO

NAVIGATOR TALKING TRANSLATOR MAKES COMMUNICATING EASIER AND A WHOLE LOT COOLER!
New pocket-sized, iPod-like 12 language Navigator talking translator speaks to travelers of all ages.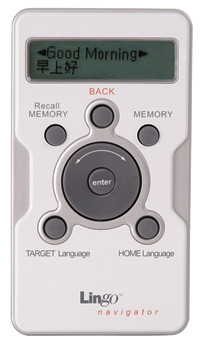 NEW YORK,: For style conscious business and leisure travelers of all ages, LINgo Corporation now offers Navigator &emdash; a breathtakingly beautiful iPod-like 12-language talking translator that's small enough and light enough to slip handily into a shirt pocket!
Available in a striking white and dark gray finish, Navigator offers the style, feel, and value that will forever change the way travelers view electronic translators. Navigator translates and speaks more than 9,000 common phrases in 12 languages and translates over 30,000 words. What's more, all search functions are neatly and easily conducted using the built-in navigator wheel interface.
Navigator does a whole lot more than translate. It features sightseeing information on the 12 countries it translates for and allows users to save their 25 favorite sentences to memory. Navigator also comes with a metric converter, currency converter, games, and a world time clock. Navigator will be delivered to dealers by March 2008 and carry a suggested retail price of $70.00.
Founded in 1990, LINgo Corporation is headquartered in both New York City and Hong Kong. The company manufactures and markets the industry's most complete line of high quality pocket-sized language translators and travel accessories. LINgo is the only manufacturer and marketer of multi-language talking translators. For more information about LINgo products and dealer locations, visit www.lingotravel.com or call 1-800-697-4825. LINgo translators and travel accessories are available nationwide at leading specialty stores and catalogs.
Contact: Bob Griffin, Griffin Public Relations
& Marketing
(212) 481-3456 x16