Cameroon's Leading Hotel 2012
and the winner is:

Le Meridien Douala
The following were nominated for Cameroon's Leading Hotel 2012

HILTON YAOUNDE
HOTEL AKWA PALACE
Yaounde, Cameroon's Visitor- friendly Capital with seven hills
by Jerry W. Bird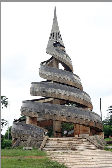 After spending several fun weeks in Yaounde. Cameroon's capital city, the place really started to feel like home. Almost everyone we encountered knew who we were and made us welcome, and the local print and broadcast media were anxious to record and publish our views on the country and its potential for trade and tourism. To say that I am yearning to return at the drop of a hat is truly an understatement - the Yaounde experience stands out as one of the most uforgettable periods of my life. Our book of memories is full to the brim with images of Cameroon and its people, and our magazine's photo library is loaded with great scenes. Having a background in audio visual writing and production, one facet I remember most vividly about Yaounde was the endless number of superb cinemascopic vistas, starting with the view from the Hilton Yaounde's penthouse. Cruising the winding road to the Mount Febé Hotel is awesome, and the impressive route that leads to the modern government complex makes you think you're on the Riviera. After all, like Rome, this emerging Africa capital incorporates seven charming hills, and each offers a different set of perspectives.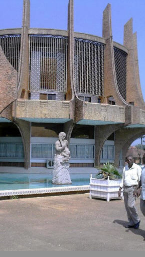 As time marches on, say another decade or so, I can envision the city growing even more attractive, liveable and cosmopolitan. We stayed long enough to pick some favorite places to dine, and one of mine is simply called the "Cafe Yaounde." It's an Italian style restaurant that resembles a Roman villa, perched on a hillside and surrounded by lush gardens - with a live monkey guarding the entrance. As a matter of fact, a garden party was in progress on our second visit. We spent several delightful candlelit evenings there, taking our time learning about Cameroon, gazing out over the city. Of course the food and wines were superb. Before our next edition of Africa Travel Magazine, I will add more impressions of Yaounde and area, but for the moment, here is some information on how we at ATA presented our impressions of Cameroon to the world.
Another highlight was the huge outdoor marketplace we encountered on the way to a baptism ceremony, that included everything from fresh pineapples to a bustling lumber yard, where individuals sell building product direct - one of the best examples of free enterprise I've seen anywhere. Living in an area of Canada that's dependent upon forestry, this was of particular interest. The city offers a wide variety of interesting shops, and we spent several days going back and forth to the tailors having purchased bolts of colorful fabric for custom made African Clothing. It's really a buyers' paradise.
ATA's Cameroon message on BBC
Ever since returning from Cameroon, we've been spreading the word that here's a country that's truly ready to welcome visitors and doing everything to pave the way. That's why we are so pleased with response from other media, such as the prestgious British Broadcasting Corporation (BBC).

The Africa Travel Association was featured on BBC World Service in London. A BBC World Service Radio interview featured the ATA 5th Ecotourism, Commerce & Investment Symposium in Yaounde, Cameroon in December, 2001. Executive Director Mira Berman was interviewed at BBC's New York studios prior to the event. The second part of the program took included a telephone interview with the Secretary General of the Cameroon Ministry of Tourism during the Ecotourism Symposium. Cameroon hosted a highly successful Ecotourism, Commerce and Investment Symposium in 2001, which we enjoyed to the fullest as a learning experience and an example of African hospitality at its best.
On behalf of my ATA colleagues, I encourage you to visit this fascinating country during 2003 - the climate is superb.
Editor's Comment: In addition to the Hon. Minister Hele, we thank our tour supervisors Ebenezer Elimbi, Jean Npombo and Boniface Piga. They were great companions throughout my 30 days in the country. Our travels in Cameroon will eventually be compiled in a book that will help future travelers from North America enjoy this fascinating country to the fullest. It was a month we will treasure forever, and even as time passes, the images and voices of Cameroon have not faded one iota - they've become even more vivid in the theater of my mind. What I truly love about the many Cameroonians whom I've come to know - is that to a person, they "Accentuate the Positive."
About Cameroon
With a population comprising more than two hundred and fifty ethnic groups having traditions dating a thousand years back, a biodiversity characterized by forest, savannah and mountains, the richest and most diversified fauna, Cameroon has an enormous ecotourist potential. There are four sites which are really worth mentioning : the Dja Forest Reserve, the Korup National Park, the Limbe Botanic Garden and Ebodje.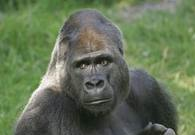 THE DJA RESERVE
Situated in the South Province of Cameroon and declared since 1987 a World Heritage Site by UNESCO, the Dja Forest Reserve covers a surface area of 5,260 km2. More than 1,500 plant species have been identified there. With regard to fauna, there are more than 107 mammals and some 320 bird species found in and around the forest reserve. This fauna comprises notably: Elephants, gorillas and chimpanzees. Cameroon
THE KORUP NATIONAL PARK
As for the Korup National Park, it is situated in the South West Province of Cameroon. It has a surface area of 1 259 km2 and is considered to be one of the oldest and most beautiful tropical rain forests in the world. Its rich flora and fauna result from a unique fact :the site of the Korup Park, in fact survived the ice age!
Today, Korup can be compared to a museum which is more than 60 million years old. Studies carried out there have led to the discovery of more than 400 tree species, many of which are medicinal. The park's present popularity stems from the fact that a creeper has been discovered there. This plant (aucistroclaudus Korupensis) is believed to have constituents useful in the cure of some forms of cancer and HIV, Aids. As for the fauna, there are more than 300 bird species inside the park and 100 others in the neighboring zones, 174 reptiles and amphibians and 140 fish species living in several streams which flow across the park.
A VISIT TO KORUP
The Korup National Park is developed as a natural fauna reserve where one can still find elephants, buffalos, antelopes, leopards, chimpanzees, drills and a variety of other small animals.
Visitors to the park who generally leave Douala arrive Mundemba, the headquarters of the park, by passing through Kumba and Ekondo Titi, through a distance of 250 km of which 115 (Kumba-Mundemba) is untarred one could also get to Korup by boat from Limbe through the Rio del Rey into the Ndian river.
USEFUL INFORMATION: A tourist attraction center known as 'jungle village' has been developed. Tourists are advised to carry equipment, (appropriate clothes and shoes) in order to protect themselves notably from insect bites and ants. Entry fees are paid to the Park Officials who provide tourist guides on hire basis.
Shelter is provided inside the park for tourists who wish to spend the night. Tourists are advised to bring along mosquito tents and insecticides. Mundemba, the headquarters of the Korup project is the departure point for all excursions into the mangrove forest, the park, the river Ndian and neighboring Nigeria. The town has a few lodging facilities.
ADDRESS: The Conservator, Korup National Park
P.O Box 303 Buea, WWF Cameroon
P.O Box 2417 Douala, Tel/Fax : (237) 343 21 71
THE LIMBE BOTANIC GARDEN
Created in 1892 by German horticulturists to acclimatize economic and medicinal plants such as quinine, coffee, rubber, cocoa and banana, the botanic garden in Limbe also served as a training center for Cameroonians in the field of agriculture, horticulture and forestry. Today, it has become the greatest tourist attraction in the South West Province after Mount Cameroon. It is also an international research center in the area of bio-diversity.
A tourist attraction center known as "jungle village" has been developed in the garden. Here, popular cultural activities take place during certain events or simply for the pleasure of tourists. Several routes have been mapped out to enable tourists to visit the garden such as :
- the coastal trail, which enables tourists to have a good view of the western part of the garden ;
- the biodiversity trail, which enables the tourist to get a picture of the biodiversity found in the garden ;
- the Bota adventure trail, where big trees and some wild animals can be seen;
- the riverside trail, where trees and creepers more than 100 years old etc. are found.
ADDRESS: Limbe Botanic Garden
P.O Box 437, Limbe, Cameroon
Tel. (237) 333 26 20
Tel / Fax : (237) 343 18 76/343 18 72
E-mail : mcplbg @iccnet.cm
EBODJE VILLAGE
Ebodje village is found on the banks of the Atlantic Ocean, some 50 km from Kribi, on the road to Campo : This village, whose inhabitants have as their main occupation fishing, has beautiful beaches propitious to walks and swimming.
Excursions by boat on the sea or the river Likodo are also possible. You can also take a walk to the "Rocher du Loup" or go by car and be accompanied by a guide to tell the myth of the village. Ebodje was recently chosen as the site for the protection of sea tortoises by a regional project, Protomac. Tortoises usually come to the beach from November-January to lay eggs.
Tourists visiting Ebodje are advised to take along:
- a pair of additional bed sheets
- a mosquito tent and anti-mosquito products
- bottles of mineral water.
ADDRESS: Campo-Ma'an Project
SNV eco-development section,
BP. 219 Kribi, Tel/Fax : (237) 346 21 37
Cel : (237) 990 90 38, E-mail Campo-maan@ genet.cm
Masks are a key part of the Cameroon Culture
Whether they are of wood, beads or animal skins, masks perpetuate over all the country; shapes and ideas that have come down from the dawn of time. In the area of ecotourism, one may also mention: - the site of the dinosaur in Manangia, North Province (Mayo Rey). This site which dates back to 120 million years was first discovered in 1988. Two hundred and fifty footprints and some fifty tracks of the dinosaur have been fossilized.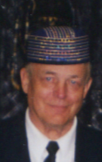 Jerry W. Bird is President of ATA Canada Chapter, Editor and Publisher of Africa Travel Magazine, and Webmaster for the ATA site www.africa-ata.org. He is also Publisher of Air Highways Magazine, the Journal of Open Skies, featuring aviation, tourism, transportation and business worldwide. His career began with the Edmonton Journal Daily Newspaper, and expanded into the full spectrum of media - radio, television, magazines and Internet. He has won international awards for creativity in audio visual and print production.
More coverage of Africa on our World Scene and Air Highways sites.