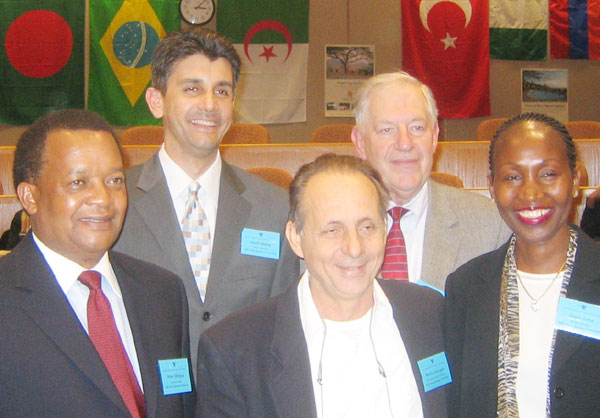 Photo: Left to right - Peter Mbogua, Rumit Mehta, Nicola Colangelo, Iain Christie and Saada Juma.
Reach for the Stars in the Education Market!
The Uganda, Guinea, Zanzibar, Cameroon, Zambia, Ghana, Benin, Ethiopia and Tanzania editions were part of a combination of Africa Travel Magazine editions distributed during our ongoing circulation blitz in the USA. A prime example was an Africa Tourism panel at Harvard University. All of the aforementioned are host countries for events involving the Africa Travel Association, from a total of 24 African countries since 1976. Other important distribution points for the magazine are already scheduled for key venues in the USA, Canada and Africa.
The Africa Travel Association Partners with Harvard for a Second Year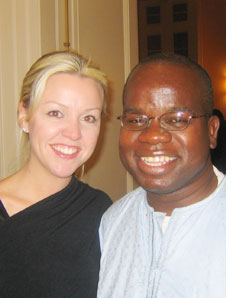 On Saturday, February 12, 2005, the Africa Business Club at Harvard Business School (HBS) hosted its seventh annual Africa Business Conference entitled, "Beyond Natural Resources: Developing Africa's Competitive Advantage." Distinguished keynote speakers included Basil Omiyi, Managing Director of Shell Nigeria, James Harmon, President of Harmon & Co and former Chairman and President of the Export-Import Bank and Bukola Saraki, Executive Governor of Kwara State in Nigeria. The keynote speakers and panelists shared their perspective on Africa's success stories and also defined the potential for Africa in the future.
The Africa Travel Association partnered with the Africa Business Club for a second year to present an informative panel on Successful Players in African Tourism at the conference. The Tourism panelists provided attendees with industry best practices and innovative strategies necessary to build a competitive advantage in the tourism industry on the continent. In addition to Rumit Mehta of Safari Ventures (United States), the panel featured ATA members Nicola Colangelo, Director of Coastal Aviation (Tanzania), Peter Mbogua, Marketing Director of Serena Hotels (Kenya) and Saada Juma, Country Manager for British Airways (Tanzania). Iain Christie, a private sector and tourism development consultant and a former World Bank official for twenty-seven years, moderated the discussion.
The panel was organized by Mark A. Ardayfio, (above on right with Debbie Parker) a 2nd year MBA Student at Harvard Business School, and former panelist, Karen Hoffman, a senior vice president of the Bradford Group and press director of the Africa Travel Association.
About the Africa Business Club (ABC) at the Harvard Business School
The mission of the Harvard Business School (HBS) is to educate leaders who make a difference in the world. The HBS Africa Business Club, founded in November 12, 1997, is dedicated to increasing the awareness of business opportunities on the African continent within the HBS community. Club activities are professional, educational and social in nature, and are open to all members of the Harvard community. www.hbsafricaconference.org
ABC Contact:
Conference Co-Chairs: Stephane Le Bouder (slebouder@mba2005.hbs.edu)
and Titi Odunfa todunfa@mba2005.hbs.edu