---

According to H. E. President Kikwete of Tanzania, "The western media needs to focus more on success stories in Africa. We are doing so many good things out here which do not get enough publicity."
Quick Now! Who is #1 on Google for Marketing Africa to Asia? Africa Travel Magazine is a powerful, positive, influential media voice - in print, online and on air. Supporters of ATA, and PATA, for years. Muguette Goufrani and I were active participants at the PATA Summit in Vancouver,. We're facilitating travel from North America's West Coast gateways of Vancouver, Los Angeles, Seattle and San Francisco via the Pacific to African destinations. Are you are interested? E-mail africa@dowco.com


COTTM (China Outbound Travel & Tourism Market, April 14-16, 2008 in Beijing., China
New venue will be the China World Trade Centre, Beijing. In its third year, COTTM is the only dedicated Outbound Business-to-Business travel event in China. It is a phenomenal platform where global and domestic industry professionals meet, discuss and contract the upcoming seasons. More->
Korea Now a Tourism 'Superpower'
The number of Koreans traveling abroad passed the 10 million mark for the first time in 2005, growing at a rate of 14.2% for the year. The upturn helped drive arrivals figures to new heights in popular Korean destinations such as China (PRC), Japan and the USA. More->

TANZANIA PRESIDENT JAKAYA MRISHO KIKWETE NAMED HONORARY GLOBAL CHAIR OF 2ND WORLD TOURISM MARKETING SUMMIT, Beijing, China,. Vancouver, Canada: The President of the United Republic of Tanzania, H.E. Jakaya Mrisho Kikwete, was named Honorary Global Chair of the 2nd World Tourism Marketing Summit(WTMS), which will take place in Beijing, China, October 28-30, 2007. The announcement was made by Sujit Chowdhury, Secretary General, of the Canada-based World Trade University(WTU), organizer of the Summit. The Summit, hosted by the Beijing Tourism Administration of the People's Republic of China, will bring together more than 400 travel and tourism industry leaders from around the globe. More
Flashback: Africa Travel Association Plays Major Role in China's First World Tourism Marketing Summit
ATA President Hon. Patrick K. Kalifungwa, MP, Minister of Tourism, Environment and Natural Resources, Zambia addressed 500 delegates at First Global Tourism Marketing Summit Nanjing, China. Details .....More China Photos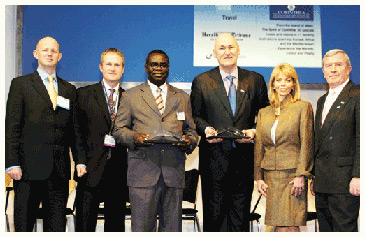 ATA PATA Partnership award at World Travel Market (left

WORLD TOURISM AWARD
Annual Award Presented at World Travel Market in London by American Express Company, Corinthia Hotels International, International Herald Tribune and Reed Travel Exhibitions. The Eighth Annual World Tourism Award, cosponsored by American Express Company (AMEX), Corinthia Hotels International (CHI), International Herald Tribune (IHT) and Reed Travel Exhibitions (RTE), was presented at a special ceremony on Opening Day of World Travel Market. Continued
"Where tourism goes -- trade flows."
by Jerry W. Bird, Editor

Roads to Peace:
While breaking bread and sharing ideas with delegates from 18 Asia Pacific countries, I saw how once sworn enemies are now building bridges, laying tracks and paving the road for a post cold war tourism bonanza. Like Phineas Fogg in "Around the World in 8O Days, " I'm bedazzled by the great Silk Road of Kublai Khan, Atilla the Hun, Alexander, Marco Polo and Chinese Dynasties. This 5,000 mile caravan route wound its way from, along Imperial China's Great Wall, through the desert, steppes, river valleys, lake shores and mountain ranges of Central Asia, to Europe's doorstep. The Silk Road's Northern route extended westward to the Black Sea, while its Central and Southern routes led to Mediterranean Sea, Persian Gulf and Arabian ports.
Sugar and Spice: Here the Silk Road joined up with the Spice Route by sea to Old Cathay. To describe the cities, countries, holocausts and shrines one will encounter along the great Silk Road would fill volumes; so take a shortcut by visiting the web sites (below). I find the maps fascinating, as so many of the national borders have been redrawn since the Han Dynasty, most recently those of various former Soviet republics.
During the cold war decades, any thought of Silk Road travel by U.S. citizens was fraught with risk. However, a fresh breath of freedom has swept the continent, and today's enlightened traveler, with a yen to learn about the peoples, cultures, religions, history, geography and art of Asia, has a wide variety of options.
These range from motor coach and 4wd tours, to mountaineering and trekking expeditions, river rafting, ski safaris, horseback or camel rides and bicycle tours. As in days of ancient caravans, you're sure to find some rare shopping bargains on the way. So get yourself a good map, see your travel agent and bon voyage.
Information: http://www.airhighways.com/silkroad.htm, e-mail: airhwy@dowco.com
Rails to Peace: For many miles, the transcontinental railway lines run parallel to the Great Silk Road, stopping at scores of exotic places with strange sounding names. The China Orient Express offers a 9-day Silk Road Rail Tour from Beijing to Luoyang, Xian, Dunhuang, Turpan and Urumqi. With Hong Kong in the picture, China offers many rail tour options, as does Japan with its famous bullet trains. The Korean Peninsula has been a different story, yet after 50 tense years, the two Koreas are poised to restore a vital railway line that will connect their economies via China and the Trans-Siberian Railway, to Europe and the British Isles. Having marked the centennial of Korea's railway system, it's an opportunity for visitors to see Korea from a new perspective. Such are the dividends of peace through tourism. Information: http://www.airhighways.com/adventure_rails.htm, e-mail: airhwy@dowco.com
Airlift to Peace: Once known as French Indochina, Vietnam, Laos and Cambodia are facing a massive invasion. This time it's a peaceful one, led by an airlift of Asian, European and U.S. entrepreneurs and investors, followed by hordes of tourists toting their Nikons and hi-tech gadgets. As the new millennium dawns, financial and cultural bridges are being rebuilt, making travel to Indochina more accessible and the local populace more tourist savvy. In Vietnam, battlefields have been turned into markets, theme parks and war museums, with Ho Chi Minh's tomb a popular Hanoi tourist stop. Many tours include the entire Indochinese Peninsula, and offer a truly deluxe menu, with hors d'oeuvres and a la carte. One such journey that begins in Bangkok, Thailand takes you to Luang Phrabang, Vang Vieng, Vientiane, Hanoi, Mekong River and Delta, Danang, Hoi An, Hue, Saigon, Phnom Penh and Angkor Wat, cornerstone of Khmer culture. For around $5,500, this 21-day tour features Buddhist culture, archaeology, hiking, river trips, public market tours, tribal dance performances, artistic displays and much more.
To some, this new freedom has awakened the desire for a 'Journey into History, " to relive the French Colonial era, the Phnom Penh Opera, quaint hotels and Parisian style street cafes, with French wines, crusty baguettes and croissants. Despite several topsy-turvy decades of devastation, the French cultural influence, which began in 1889, is still very much alive.
Today's Air Highway to Indochina via Hong Kong, Bangkok, Singapore, Kuala Lumpur, Seoul, Osaka and other gateways, has become one of expanding air bridges and opportunities. As the next chapter unfolds, let's hope that war has finally become unthinkable.
Information: http://www.cambodia-web.net/ http://www.airhighways.com/silkroad.htm
http://www.airhighways.com/apec.htm, e-mail: airhwy@dowco.com