Luxury Hotelier, Alfred Pisani, Founder and Group Chairman,
Corinthia Hotels, Sponsors Just a Drop Clean Water Project in Tanzania
April 2, 2012-Alfred Pisani, Founder and Group Chairman of Corinthia Hotels, and Corporate Patron of Just a Drop, the international water aid charity, has dedicated Corinthia Hotels funds to sponsor a project in Tanzania. The project will create two water boreholes for the Tabata-Bima community in Dar es Salaam, Tanzania with an overall population of around 30,000people, which includes 10,000 students from primary school age to college level who will directly benefit from the clean water availability.
The Tabata-Bima Corinthia Hotels/Just a Drop project started mid March and is expected to be completed at the end of June, 2012.
Mr. Pisani made the announcement of the Tanzania water project on a recent visit to New York where he discussed the project in detail with H.E. Mwanaidi S. Maajar, Tanzania's Ambassador to the US based in Washington, DC; Karen Hoffman, President, The Bradford Group and Tanzania Tourist Board Representative, USA; and Tony Potter, Corinthia Hotels International Board Member.
"Corinthia wanted its first year of commitment to directly support community driven projects in Africa," said Mr. Pisani, "like this one in Tabata-Bima in Dar es Salaam, providing long term sustainable benefit to communities at the grass roots, directly helping to give children the gift of life and good health."
H.E. Mwanaidi S. Maajar in thanking Mr. Pisani, noted "although Tanzania is a country that is experiencing a fast –paced economic growth and booming tourism, without clean water, these communities will not benefit from this growth."
Alfred Pisani, a self-made businessman, started with a post-World War II loan in the newly independent island of Malta, building a restaurant that he grew to a luxury hotel empire. Today, the Corinthia properties are an internationally-acclaimed brand of award-winning luxury hotels, located in some of Europe's finest cities such as London, St. Petersburg, Budapest, Lisbon, Prague as well as Malta. In 2011, Corinthia Hotels, the five-star hotel collection, formally adopted the international water aid charity, Just a Drop, as its official charity.

Just a Drop's Founder & Chairman, Fiona Jeffery, OBE, said, "We are absolutely delighted that Corinthia, led by Alfred Pisani, is closely involved with the urgent work of Just a Drop. He accepted our invitation to become one of its patrons and he is demonstrating his personal commitment to become involved in helping lift youngsters and their families out of terrible poverty, where even clean water to drink, cook and bathe is totally lacking."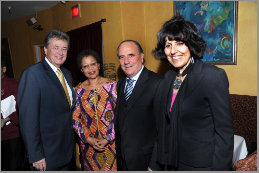 From left: Tony Potter, Corinthia Hotels International Board Member; H.E. Mwanaidi S. Maajar, Tanzania Ambassador to the US in Washington, DC; Alfred Pisani, Founder and Group Chairman, Corinthia Hotels and Just a Drop, Corporate Patron; and Karen Hoffman, President, The Bradford Group and Tanzania Tourist Board Representative, USA.
About Just a Drop
Launched in 1998 at World Travel Market, international water-aid charity Just a Drop is a registered charity (number 1100505) that raises money to build wells, install boreholes and hand pumps, and carry out sanitation and health education programs in some of the poorest parts of the developing world.
Its aim is to reduce child mortality by delivering accessible clean, safe water where it is needed most. It has already helped over 1 million children and their families in 29 countries worldwide, and continues to manage crucial projects all around the world.
CHI HOTELS & RESORTS APPOINTS VICE PRESIDENT FOR AFRICA AND THE MIDDLE EAST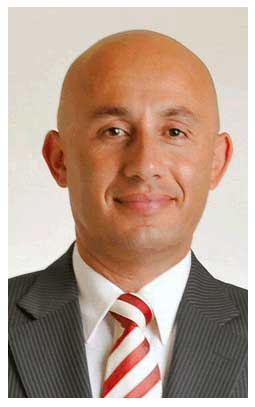 CHI Hotels & Resorts (CHI) announced the appointment of Maltese national Salvinu Farrell as the Regional Vice President for all its operations in Africa and the Middle East, reporting directly to Company CEO and Managing Director Tony Potter.
Salvinu Farrell will be based in Tunisia and will be fully involved in the development function to extend CHI's presence in Africa and the Middle East. He has a strong track record very suited to operate and oversee this important region, having held senior general management positions including those in Libya and the Gambia.
Congratulating Salvinu on his appointment, CEO Tony Potter said "We are particularly pleased that we have been able to make this internal senior appointment, which confirms the strong talent available in CHI Hotels & Resorts and Corinthia Hotels, and which acknowledges the successful work of a long-term Corinthia Executive. This key strategic appointment for Africa and the Middle East, together with the recent appointment of Stefan Buchs as Regional Vice President for Western & Central Europe, completes our senior management restructure, which we have been carefully implementing over the last 12 months. We strongly believe in promoting from within whenever possible, as this ensures that Corinthia's renowned hospitality values and traditions, honed over the last 45 years, remain very much alive and are embraced by all our properties and team members in the various destinations. This is crucial to a company like ours that has huge ambitions and high aspirations of becoming a leading multi- brand hotel operator worldwide".
As well as being a competent operator, Salvinu's early career began on a solid footing in finance and he held numerous senior financial positions with CHI and the Corinthia Group over the last 20 years. These included key roles at the CHI Headquarters in Floriana, Malta, where he was an Operations Analyst and Financial Controller for Corinthia Hotels. He holds a BA (Hons) in Accountancy from the University Of Malta, is a certified public accountant and a member of the Malta Institute of Accountants.
Commenting on his new role Salvinu said "I am extremely honoured to have been chosen as CHI's first Vice President for Africa and the Middle East, as these regions are becoming increasingly important to all hotel groups and in particular to CHI. I have been working in Africa for the past ten years now and this appointment comes at a time when my experience and understanding of local issues will be very helpful to CHI as we seek to face the immediate challenges posed by the current global economic climate. I will also be looking for opportunities to expand CHI Hotels & Resorts' portfolio of hotels in these areas."
CHI's portfolio in Africa and the Middle East includes the five-star Corinthia Bab Africa Hotel in Tripoli, Libya, the Ramada Plaza Tunis in Tunisia and the Atlantic Hotel in The Gambia. Other hotels currently under development include the 820-room, twin property, Corinthia Beach Resort in Sharm El Sheikh, Egypt; the 250-room Ramada Abu Dhabi Mafraq Hotel in Abu Dhabi; the 274-room Corinthia Hotel Algiers in Algeria; the 371 all suite Ramada Hotel Jumeirah Beach in Dubai; the 360-room Corinthia Hotel Benghazi in Libya and the 418-room Wyndham Port Lixus Resort in Morocco.
ABOUT CHI HOTELS & RESORTS
Based in Malta, CHI Hotels & Resorts (CHI) is a leading hands-on hotel management company that provides the full range of technical assistance and management services to hotel owners worldwide. CHI is the exclusive operator and developer for the luxury Corinthia Hotels brand as well as the Wyndham and Ramada Plaza brands in Europe, Africa and The Middle East. The Company draws on a heritage of over 45 years in delivering high quality services to hotel guests and an optimum rate of return to owners and investors in diverse business environments. Our experience across our three brands extends to management of luxury and upscale properties in city and resort locations and products ranging from boutique to conference and Spa hotels. CHI also operates various restaurants under brands such as 'Rickshaw' and has its own Spa division. CHI has won the coveted title of 'Leading Provider of Travel Deals, Europe' at the 'Travelzoo Awards 2008' gala ceremony held recently in Chicago, USA. CHI Hotels & Resorts is a joint venture between International Hotel Investments plc (IHI) &endash; 70% and The Wyndham Hotel Group (WHG) &endash; 30%.
About Corinthia Hotels
Corinthia Hotels is an internationally acclaimed Brand of luxury hotels in the Czech Republic, Hungary, Libya, Malta, Portugal and Russia. Founded by the Pisani family of Malta in the 1960s, the Corinthia brand stands in that proud tradition of Mediterranean hospitality and its signature services communicate the 'Warm smiles, Inspired Flavours and Pleasant Surprises' of its Maltese heritage. All Corinthia hotels feature state-of-the art conference areas, extensive leisure and business traveller facilities, and are each renowned for their uniqueness of character. Corinthia Hotels' portfolio includes two award-winning properties: The Corinthia Grand Hotel Royal In Budapest, Hungary - winner of Europe's 'Best Hotel Architecture Award' and member of 'The Most Famous Hotels in the World' and The Corinthia Hotel Prague in the Czech Republic - the first hotel ever to win Best Gastronomy Concept in the Czech Republic and a recipient of the '5 stars and 6 stripes' designation from renowned US reviewer Seven Stars and Stripes. The Corinthia Hotels portfolio also features the elegant Corinthia Palace Hotel and Spa and the splendid Corinthia Hotel St Georges Bay in Malta, The superior five-star Corinthia Bab Africa Hotel in Tripoli, Libya, the modern Corinthia Hotel Lisbon in Portugal and the renowned Corinthia Nevskij Palace Hotel in St Petersburg, Russia. The Corinthia Hotels brand is associated with the 'Wyndham Grand Collection' tier of upscale hotels worldwide.
CONTACT: MANUEL BRIFFA
Phone: +356 2551 1146
Fax: +356 2123 9732
Mobile:+356 9943 2252
e-mail:mbriffa@corinthia.com
EDITORIAL CONTACT IN US:
Karen Hoffman
The Bradford Group
Tel: (212) 447-0027
Fax: (212) 725 8253
E-mail: bradfordmktg@aol.com