---

Coastal Aviation is a Tanzanian airline operating out of

Julius Nyerere International

Airport in

Dar es Salaam

,

Tanzania

. The carrier developed the "Scheduled Flying Safari" which allows smaller parties or individual travellers to take part in an air safari which would otherwise have prohibitive costs. Coastal Aviation operates domestic and services. By Capa Aviation.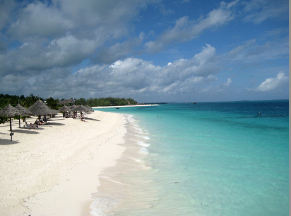 Typical of the beaches on Zanzibar and Tanzania's Coastal Islands
Photo by Jerry W. Bird. Dozens more photos in series

Coastal Aviation have been operating out of Dar es Salaam, Tanzania since 1987, strategically developing a far-reaching and extensive range of Air Charter and Scheduled flying safaris across the country.

From humble beginnings and a single plane flying into Selous Game Reserve, we have grown to become the premier aviation company of Tanzania, pioneering new routes as we open up the country to air travel. As the common denominator between the quality tourism establishments, the resident communities and private sector corporate charter clients of the region, Coastal Aviation play a key role in the development of the country and its economy.

With five offices in the key hubs across our route network, affiliations with partner airlines in neighbouring countries and a dedicated staff of 200, we are a proudly Tanzanian airline with regional outreach across East Africa.

Our business is tourism based, but we do make a large contribution to community travel. In a region where transportation and communications are often difficult, Coastal performs a service of good value.

We hope you will enjoy your stay in Tanzania and above all, we hope to make your flying safari memorable.

The flying safari experience

Coastal Aviation have provided support to the tourism infrastructure of Tanzania for over 20 years, our range growing as our routes reach deeper into the wilderness. The Coastal Flying Safari is a uniquely extensive safari experience, far from the beaten track, venturing deep into the remote corners of the celebrated Tanzanian National Parks.

Through our expanding route network linking the National Parks, visiting several bush strips in the larger parks, we offer the opportunity to the more intrepid visitors to take part in a safari experience that might be otherwise prohibitively expensive.

The flying safari gives a broader, horizon-reaching perspective of the African wildernesses that our clients have come to see, free of traffic, poor roads and the minibus melee. We take you to the more secluded camps and lodges, offering bespoke access to the most game-rich areas for an in-depth, privileged safari experience with the most dedicated hosts, resident and intimately familiar with their surroundings.

Coastal Aviation opens up the world's most celebrated safari destinations to the independent-minded traveller, taking them on their own unique safari experience, at their own pace, on their own terms. From the primate forests of Katavi to the plains of the Serengeti, the slopes of Kilimanjaro to the waterways of Selous, the floodplains of Ruaha to the Indian Ocean archipelagos. The choice is yours.

Coastal Aviation's versatile fleet can access any airstrip in Tanzania in two hours or less from Dar es Salaam, as well as provide a more convenient and direct link to principal regional centres such as Kenya and Northern Mozambique in under 90 minutes, or have wheels down in Rwanda and Uganda in a little over 2 hours.

Further afield, working with our extensive network of aviation partners, we reach out across Africa to a destination of your choice. Linking up prime safari destinations as diverse as Victoria Falls and the Masai Mara, the Quirimbas in Mozambique and the gorilla highlands of Congo and Rwanda, the beaches of Zanzibar and the waterways of the Okavango Delta, Coastal Aviation take you wherever you want to go across Tanzania and Africa, whenever you want to be there, with comfort, speed and safety guaranteed.