Tanzania: Amboni Caves Expedition
By Paul Kisoni
During our New Year's holiday, I took the opportunity of visiting the famous Amboni Caves in the Tanga region of Northern Tanzania. These historic limestone caves were created by movement of the earth's crust, penetrated by rain water containing carbon dioxide. This acidic solution slowly dissolved the limestone to form a network of underground caverns, estimated to extend over a 234 km area.
To make the journey, we hired a bicycle, so that it would be easy to explore the area surrounding Amboni village. The trip to Amboni caves took almost one and a half hours. In Tanga you will find that it's easy to rent a bicycle at a cheap price, since the townspeople use bicycles far more than any other form of
transport. I rode slowly with a friend sharing, at an hourly charge of 200Tsh (1 US$ is 800Tsh).
Tanga town, located on Tanzania's North East coast, is the country's chief northern seaport, and is close to Pemba Island, Mombassa, Pangani and Mkomazi Game Reserve. The Amboni caves are five miles from town center, off the main Tanga/Mombassa road. At the entrance of the Amboni caves, an official guide named Kassim met our group. An experienced, very charming guide, he has shown visitors the Amboni caves for the past ten years. During this particular journey, we encountered 12 other visitors; three Chinese, one Netherlander and the balance were fellow Tanzanians.
---
Accommodation details at Tanga: The hotel Mkonge Hotel offers AC/B.B at the cost of US $ 90.The lowest range of prices is Four Ways Hotel, which offers single room at USD $ 5. There are many hotels witht suitable conditions s from $5 US to $50 US.(List available on request) Security is assured. People are very kind. Temperature: 31C and the highest heat is 32C and the lowest is 23C.
Road Distances to Tanga: From Dar es Salaam (DIA) Km 333;
From Arusha Km 423; From Moshi(KIA) Km 384. All roads are TARMAC.
(Map of the Tanga areato come)

---
Before entering the mouth of the first cave, we were required to write our names in the official record book, which is kept in the tour guide's office. Kassim informed us that its purpose was to record all visitors entering the caves, in the event of any party becoming lost. That information would be vital in the event of a search.
There is total darkness inside the caves, thus the visitors will not be able to see anything after the first 50 yards from the entrance until 15 minutes later when one's sight become adjusted. The Amboni caves are a vast maze of limestone and a wonderland of 'stalactites' and 'stalagmites' with extraordinary, fascinating crystal formations.
One chamber is called 'Mzimuni' or spirits chamber. Here we found many bottles, flags of different colors, coins, charcoal bones and lots of foodstuff placed on one corner of the caves. Kassim, our guide, mentioned that these were 'gifts' that the local villagers offered to the spirits. He claimed that the women who had no babies since being married, conceived shortly after 'praying' and offering gifts at the spirits cave. Even Europeans come here often to pray and claim that their problems are solved. Religious people, individuals and groups, come here from all over East Africa.
We were then escorted into a big chamber, in which some rays of light penetrated through a hole in the cave's ceiling. Kassim told us that if one followed the light thinking that he would arrive at ground level, he would be probably end up getting lost. He said that to know and follow the darker passages was more important. The chambers and passages of the caves ehoc with peculiar, often Dracula -like noises of the bats who make their home their.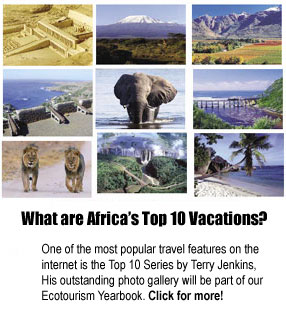 In our expedition, we came to another chamber, which was also formed by physical processes. At one point, winged bats could be seen circling the Madonna-like statue, while the replica of famous New York City statue of Liberty is clearly seen at one point.
Later on we reached another space appropriately named the 'Picnic Chamber. ' Here there's a huge space for folks to play volleyball or some similar pastime. An interesting feature we noticed was a statue shaped like a map of Africa. Since it was lying on the floor, Kassim mentioned that the statue has been dropped from the cave above our heads several years ago. Some passages within the interconnecting caves are very narrow, which meant we had to walk single file. I made sure that I was in the middle of the queue.
On entering another chamber Kassim informed us that it once belonged to two local gangsters called Osale Otango and Paulo Hamis. Both terrorized the citizens of Tanga region, including Europeans colonialists and settlers. Here the peculiar noises could even run a chill down ones spine.
We also visited a certain chamber, which has a stalactite feature believed to be 75,000 years old. It is still growing today at the average of one and a half inches per year (see photo). We visited another passage where rays of a light come from a hole above. Here we saw tree roots of approximately 300m, above which comes from inside the chamber to may be outside through hole above.
We were again shown four passages, which Kassim claimed that if followed they would lead to Nairobi, Mombassa and Kilimanjaro. He said the time to reach these places would also be reduced to half, but for security reasons the authorities have closed the passages. We crawled the passages as if we were climbing Mt. Kilimanjaro, but we reached a certain hole and then had to report back for security reasons.
After an hour and a half in the caves we decided it was time to head for daylight. On our return, we used a different path. It is like an airport's 'loading tunnel' which goes to the airplane-like passage (cave). When I mentioned that the ground was extremely soft, I was told that we were stepping on the dropping of millions of bats. There were great bunches of them hanging upside down in some of the caves.
On completion of of our expedition Kassim gave a brief history of the caves, which included its formation. He said it was believed that the process began 20 million years ago, but the Amboni caves started taking shape 14 million years ago. The Amboni caves can provide an ideal movie location, a natural background for any adventure films. For scientists it is ideal for specialized research. For students, it is a place to witness the great forces of chemistry, sound and biology. The caves are a paradise for adventure tourists .
All together there are six caves. Visitors are taken on only three caves of almost 1 km, since authorities believe that wild animals inhabit the remaining three. The largest of the six caves is called 'Mabavu' Powerful a name given by local people and it is this cave, which is believed to hold witch-granting spirits. Whatever the local stories may be, the Amboni caves are well worth a visit while in Tanzania. After completing the Amboni Cave expedition, we proceeded to Galanos Hot Springs, situated about 3 Km on the Mombassa road, 8 km from Tanga Municipality.
We met by a guide (Rasta) Jumaa who took us to the Amboni village. We rode until we reached the Ziggi river. Here we hired a local youth to look after our bicycles while we crossed the Ziggi river by canoe. Sometimes crocodiles inhabit this river, and we didn't even have a life jacket. However, we made it across safely and proceeded to visit the mineral rich springs. There are blue and yellow deposits in the canal, through which the sulfur water flows. Further studies will show whether they are more ideal for therapeutical or recreational purposes.
After completing our tour we rode back to town. Guess how many hours I spent on hired bicycle? Only six hours at the cost of Tsh. 4800/= or $6 US. Those interested in visiting The Amboni Caves may contact the writer at e-mail: kisonipm@hotmail.com
Or Mr. Kassim or Tegani, Tour Guides Offices,
The Amboni Culture and Guiding Promoters, P.O. Box 1021
Tel: 255 741 211091 or 255 27 2643546
Fax: 255 27 2643546
Majestic Cinema, Mkwakwani Road,
Tanga, Tanzania, East Africa.
Background
The Amboni Caves are the most extensive limestone caves in East Africa. They are located 8 km north of Tanga City in Tanzania off the Tanga-Mombasa road. The caves were formed about 150 million years ago during the Jurassic age. It covers an area of 234 km?. According to researchers the area was under water some 20 million years ago. There are altogether ten caves but only one is used for guided tours.
History: Amboni Limited, a company which was then operating sisal plantations in Tanga Region acquired the area in 1892. The company notified the British colonial government about the caves who in turn declared the caves a conservation area in 1922.
It is not known when the caves were exactly discovered but reports indicate that ethnic groups such as the Segeju, Sambaa, Bondei and Digo who lived near the caves used it for prayers.
The cave attracts tourist as well as students for their geography lessons.
Also read about the Cango Caves in South Africa's Karoo Country