June 2014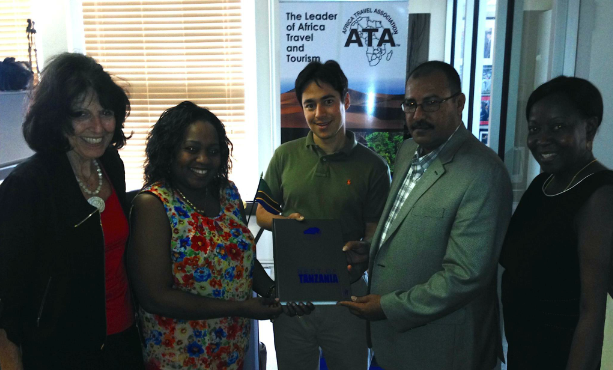 MEMBER NEWS: ATA welcomed the Tanzania Tourist Board (TTB) to the office! The delegation included
(L-R) Ms. Karen Hoffman, President of ATA's International Board of Directors and President of
The Bradford Group
; Ms. Teddy Mapunda, TTB Board Member; Hon. Abdulkarim Shah, Member of Parliament for Mafia and TTB Board Member; and Ms. Devota Mdachi, Marketing Director of TTB.
AMBASSADOR ANDREW YOUNG OPENS FIRST ANNUAL TANZANIA INVESTMENT FORUM FOLLOWING WORLD BANK REPORT NAMING TANZANIA IN TOP 10 OF BUSINESS REFORMERS IN WORLD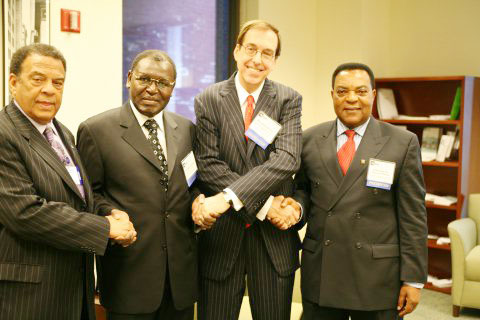 New York, NY, October 4, 2006) Ambassador Andrew Young, former U.S. Ambassador to the United Nations, opened the First Annual Tanzania Investment Forum at the New York Society of Security Analysts (NYSSA) in September as part of a two-week trade and investment forum just concluded in the U.S. Other key speakers were H.E. Dr. Augustine Mahiga, Permanent Representative to the UN from the United Republic of Tanzania; the Honorable Minister Nazir Karamagi, Minister for Industry, Trade and Marketing for the United Republic of Tanzania, and Dodge O. Dorland, President, NYSSA Board of Directors.
The timing of the Forum coincided with two major reports indicating that Tanzania is one of the most "business &endash; friendly" countries in Africa. The first, a report issued by the World Bank on September 5, 2006, noting that Tanzania catapulted into the ranks of the top 10 business reformers in the world. The second, a recent report by the Overseas Private Investment Corporation (OPIC) and the UN Trade agency, UNCTAD, stating that African nations offer the highest return in the world on direct foreign investment,
Mr. Dodge O. Dorland stated "this forum is not about what has already been established. It is about the future. " He added "a common thread connecting Tanzania to NYSSA's membership is an entrepreneurial spirit. This spirit is well reflected within the United Republic of Tanzania." He concluded, "It is important that our membership learn firsthand about a developing nation that will have an increasing presence on Wall Street."
The Hon. Nazir Karamagi offered an overview of the favorable investment opportunities available in Tanzania including the energy, agriculture, chemical, fishery, meat and dairy, leather, mining, tourism and service sectors of this "emerging economy with high growth potential."
The forum was organized by The Bradford Group in association with Azania Holdings International, Inc. as part of a weeklong series of trade and investment meetings taking place during the visit of H.E. Jakaya Mrisho Kikwete, President of the United Republic of Tanzania to the U.N. and the 52-member Tanzania Business Group who accompanied the President. The trade mission, supported by Citibank Tanzania, spent five days in New York before proceeding to Los Angeles, California and Minneapolis, Minnesota.
The Bradford Group, (212) 447-0027 www.bradfordglobalmarketing.com