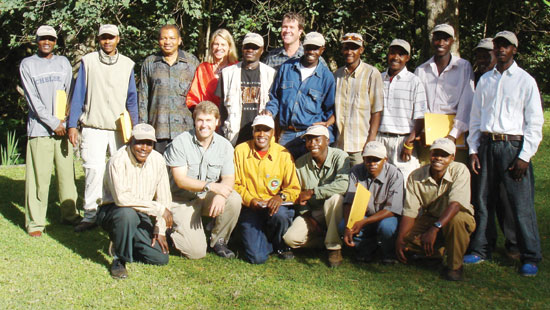 THE EXPLORERS CLUB INAUGURATES TANZANIA CHAPTER FIRST EVER IN AFRICA

Richard C. Wiese, President, The Explorers Club, New York City, announced that the organizations' first ever chapter in Africa was inaugurated January 25, 2006, in Arusha, Tanzania. Peter Mwenguo, Managing Director, Tanzania Tourist Board was present in Arusha for the Ceremony.
Wiese said "We offer our deepest thanks to Dan Bennett MN'02 for his great support in making the Tanzania Chapter, our first on the African continent, a reality." The chairman of the chapter is Jonas Rutta. Currently there are 17 guides are members.
When Wiese was asked why Tanzania for the first chapter, he replied "There are many reasons for Tanzania some personal others more obvious. Obviously Tanzania is important for its vast wildlife reserves and its
commitment to conversation. The cradle of civilization is in Tanzania. Geneticists have proven that we are all Tanzanian in origin.Tanzania is important to me personally because it is really were I got my
start in exploration. In 1971 when I was a young boy my father took me to climb Kilimanjaro. I have climbed the mountain 8 times since and have a profound admiration for the guides who work there on a daily basis. I felt
if the idea of this chapter were to be successful it had to be run by local indigenous persons. I am very lucky to have struck a friendship with one of the local guides Jonas Rutta. He is sincerely dedicated and derives much
satisfaction from showing off what he calls his office."
"We are most honored," said Mwenguo, "that the prestigious Explorers Club has selected Tanzania for its first chapter in Africa. We know that many Explorers Club members have climbed Mt. Kilimanjaro, some like Richard Wiese, more than once. We hope that this will encourage more adventure travelers to come and explore the many World Heritage Site in Tanzania, which in addition to the famous Mt. Kilimanjaro National Park, include the Serengeti, the Ngorongoro Crater and Olduvai Gorge, the Selous Game Reserve, Stone Town (Zanzibar), and the ruins of Kilwa Kisiwani and Songo Mnara."