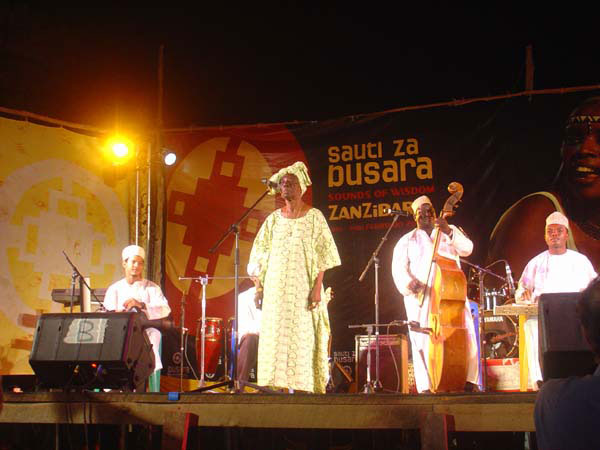 Swahili Musc Festival in Zanzibar. Photo by Busara Promotions


Tanzania is the land of Kilimanjaro and Zanzibar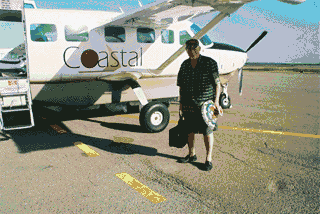 And that's just for starters, there's so much more to see, and some of Africa's most competent tourism professionals, who are ready, willing and able to show you the way. We've visited Tanzania more than any other destination in recent years and never pass up the opportunity for an encore. Africa Travel Magazine offers special thanks to the Tanzania Tourist Board team, which is doing such a standout job in marketing their country to the waiting world. In the photo sequence we travel from Mafia Island on theSwahili Coast to camps at Selous and Ruaha in the vast interior. It was the safari of a lifetime. Read about our Christmas week experience below, and perhaps share the opportunity sometime soon. Editor Visit the official web site first http://www.tanzaniatouristboard.com/
Parks Galore: Tanzania has more land devoted to national parks and game reserves than any other wildlife destination in the world. Everything from pristine coral reefs to the Crater Highlands, remote game reserves and the famous national parks are protected by government law and placed in trust for future generations to marvel at in wonder and awe. In addition to a listing of the main attractions of Tanzania, we have included many parks that are largely neglected in favor of the big names like Serengeti and Ngorongoro. It is our hope that in writing up these lesser-known locations, visitors may be tempted to include them on their itineraries and encourage tourism to other equally beautiful, parts of the country.
Most hunting reserves have been omitted due to restricted access for safari vehicles and wildlife tourists. Tanzania has incredible biodiversity, so wildlife populations and bird species often vary according to the season and region. A visit to one of the smaller game reserves for a short hiking trip or a day excursion is well worth the effort of an extended itinerary. Off the beaten track, the sights and sounds of Africa truly come alive.
Great Flying Safari from Mafia Island to Selous and Ruaha
By Jerry A. Bird
Our Air Safari during the 12 days of Christmas, began with a seafood dinner on the patio at one of my favorite places, "The Slipway" on Dar es Salaam's rapidly changing waterfront. At this unique shopping mall, now in its third or fourth stage of development, we were introduced to the owner Nicola Colangelo, an exceptional person and gracious host. Having just completed two weeks of dawn to dusk sessions at conferences in Zanzibar and at Dar es Salaam's Golden Tulip Hotel, the idea of flying on the Coastal Air Safari circuit had a special appeal. Another good omen that same day was our reunion, after five years, with popular entertainer King Kiki, the Swahili Coast's Louis Armstrong - his musical beat goes on forever. The Slipway is a magnet for creative people of all types, as some of the top local artists create and display their works on the broad square facing the harbor. More->
Habitat's Executive Director Mrs. Anna Tibaijuka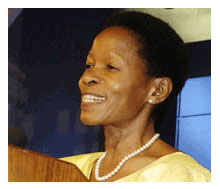 The new Executive Director of the United Nations Centre for Human Settlements (Habitat), Mrs. Anna Kajumulo Tibaijuka, comes to Habitat from the United Nations Conference on Trade and Development (UNCTAD) where she has been the Special Coordinator for Least Developed Countries,
A Tanzanian national, Mrs. Tibaijuka holds a Doctorate of Science in Agricultural Economics from the Swedish University of Agricultural Sciences in Uppsala. From 1993 to 1998, when she joined UNCTAD, Mrs. Tibaijuka was Associate Professor of Economics at the University of Dar-es-Salaam. During this period she was also a member of the Tanzanian Government delegation to several United Nations Summits including the United Nations Conference on Human Settlements (Istanbul, 1996); the World Food Summit (Rome 1996); the Fourth World Conference on Women (Beijing 1995) and the World Summit for Social Development (Copenhagen, 1995). At these conferences, Mrs. Tibaijuka was an active member of the Civil Society and NGO Forums. At the World Food Summit in Rome, she was elected Coordinator for Eastern Africa in the Network for Food Security, Trade and Sustainable Development (COASAD). Mrs. Tibaijuka has also been a Board Member of UNESCO's International Scientific Advisory Board since November 1997. MORE->
Dar es Salaam Wins Heart of North American Author
According to author Henry Pelham Burn, his travel agent was quite concerned that, during a scheduled trip to Tanzania, he would be "stuck" in Dar es Salaam for two whole days. After some deliberation, Burn resigned himself to visiting Dar, a city depicted by some as a place to go through rather than enjoy as a destination in it self. This misconception is prevalent among the uninformed, or those who haven't taken the time to explore this historic capital and seaport city with its ideal climate, classic buildings, modern airport and ferry service to Zanzibar and other exotic islands. Commenting in Africa Travel Magazine, Pelham said, "A couple of days in Dar proved not long enough." Among Mr. Burn's recommended attractions are KARIOKOO MARKET, THE NATIONAL MUSEUM, NYERERE CULTURAL CENTER, MWENGE VILLAGE, VILLAGE MUSEUM, COCO BEACH, KIGAMBONI. A newly minted Dar enthusiast, the American author provides many reasons why the sites mentioned are sure please most visitors to Dar es Salaam. Details: http://www. africa-ata.org/tz_dar_es_salaam.htm

Meet the TTB Award Winners for 200 Photo and listings on our Awards page.

Tanzania Adventure, Tanzania
Zanzibar, Malindi, next to Bandari Lodge,
Tel/Fax: +255-24-2232119
Mobile: (00-255)-748-864626
Arusha, Diplomat House, Mianzini
Tel/Fax: +255-27-2502812
Mobile: (00-255)-748-448813
Email: info@tanzania-adventure.com
Internet: www.tanzania-adventure.com
---
Kilimanjaro Marathon Event More Popular Than Ever
Situated south of the equator in Tanzania at 19 340 feet, Kilimanjaro is Africa's highest mountain and the highest "free standing" mountain in the world. Huge permanent glaciers flow down from the summit, and the sheer presence of this huge mountain dominates the entire area. An icon in Africa, "Kili " as she is affectionately known, is one of the sights every African should see at least once in his or her life. On the above date, a standard 42 km marathon will be run from the town of Moshi, Tanzania. This race has been set up to promote the sport in Tanzania, and has the official backing of the Tanzania Tourist Board, the Tanzania Amateur Athletics Association and therefore the IAAF, and is registered with AIMS. The route starts and ends in Moshi, Tanzania, and runs north towards the mountain, through rural farmland on a tarmac road, before returning on another rural dirt road to end back in Moshi. The total altitude gain is not great, and the whole race is completed between 4000 and 6000 ft above sea level. More->
Olivers Camp Offers New Options In Walking Safaris
Olivers Camp has earned a proud reputation for its intimate knowledge of Tanzania's fascinating and varied wildlife. Now there's a new opportunity for guests &endash; to view Africa's fauna at close range, while walking one's way to peak health and enjoying an unequaled, unforgettable experience. Among the many programs at Olivers Camp, the Walking Safari has become very much in demand. One example is a 3 night fly-in camping expedition in the Tarangire Wilderness, starting in the extreme south of the park and heading due north along the river for 3 days. It covers quite different terrain and passes through southern comiphora stands (gerenuk and vulturine guinea fowl country) to seasonal flood plains to dense riverine and onto the very typical Tarangire sausage tree and acacia stands near Kuro. Walks are led by one of Olivers experienced guides. http://www.oliverscamp.com
Tanzania
Tourism News Briefs: Coastal Airlines flies daily to Mafia, plus launches new service to Rubondo Island National Park, Lake Victoria, Home of Great Game Viewing and World Class Fishing. Coastal Airlines, already providing service to all coastal destinations north of Dar es Salaam and Zanzibar on a daily basis, launched daily service to Mafia Island. Southern Tanzania was originally served by Eagle (Airline), which suspended service recently. This gap in the market prompted Coastal Airlines to organize direct service to Mafia Island, and from there to Kilwa and Songo Songo. Passengers can board an aircraft in Arusha and fly to Mafia without waiting at any transit stations. For details contact Coastal Travels Ltd., Tel. 255 22 2117 959 or 960, Fax 255 22 2118 647, Toll free 255 741 800 285. E-mail: safari@coastal.cc, Web:

Investment Action: The President made it clear during the Investment Forum. "We have a unique tourism product mix. We must keep it unique by sustaining it. A correct balance has to be established ." Read the latest Tanzania Investment Buzz by Karen Hoffmanen exploitation and conservation; and between economic interests and the social, environmental and cultural impact of human activity in tourism. ". The timely news briefs on this page attest to the fact that things are happening on a variety of fronts, from the Bagamoyo World Heritage Site, to Selous, Serengeti, exotic Zanzibar and more places than we can name.

Quick facts about Zanzibar?
• Incorporated as part of Tanzania.
• World's oldest functioning Swahili city is Stone Town, Zanzibar.
• Popularly known as the "spice islands."
• Located about 30 K off the coast of mainland Tanzania in the Indian Ocean.
• An archipelago with the two main Islands of Zanzibar (also known as Unguja, the larger one) and Pemba (the smaller of the two).
• Incorporated into the United Republic of Tanzania in 1964.• Largest number of carved doors in East Africa.
• Stone Town has 50 mosques and four Hindu temples.
• Zanzibar has seen an influx from the British, Dutch, Portuguese, Egyptian, Phoenicians, Assyrians, Indians, Chinese, Persians, Arabs and Sumerians at various times in its history.
• Visitors enjoy a variety of pristine beaches and stunning coral reefs.
• Zanzibar's oldest remaining building is the 11th century mosque at Kizimkazi .

Bagamoyo, Tanzania's Former Slave Route Center Proposed World Heritage Site.
Because of its strategic location as a staging point during the ivory and slave-trading era, Bagamoyo, 45 miles north of Dar es Salaam, has been proposed as a World Heritage site. If approved, Bagamoyo would join six other UNESCO sites in the country. Tanzania Tourism Board Managing Director, Peter Mwenguo said, "Given the growing interest in Cultural Heritage Tourism, especially in the American market, the timing of the focus on the development and preservation of Bagamoyo as a World Heritage Site is excellent." He stated that this would enable Tanzania to develop its African Diaspora Heritage Trail product, a project announced by Bermuda's President Jennifer Smith at the ATA 27th Congress. Few travelers realize that Tanzania was once part of German East Africa, and Bagamoyo was its capital.
Site for Tanzania Business Times Magazine
http://www.coastal.cc