TANZANIA STORY
Photos 1-10
Air Safari - Mafia,
Selous, Ruaha
National Parks
Tanzania at UN
Arusha
Bagamoyo
Caves
Chumbe Island
Dar es Salaam
Eco Action Plan
Explorer's Club
Fashion Shows
Imax Part 1
Imax Part2
Kilimanjaro
Marathon
Moshii
Selous
Stone Town
TTB visits USA
Walking Safaris
Wildlife
Women in Tourism
Travel Services
Emerson & Green
E Unoto Maasai Village
Kilimanjaro Airport
Kilimanjaro Hotel
Tanzania Adventure
Tanzania Tour Operators
Zanzibar Tour Operators
---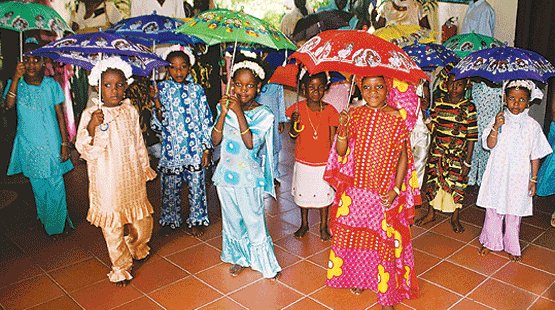 Top - Zanzibari children welcoming ATA delegates.Below left- Dave Gibson, Committee Co Chairman
Zanzibar Action Plan Initiated by ATA's Responsible Tourism Committee
By Jerry W. Bird

What we call "Sustainable," "Responsible", or "Eco-"Tourism, has become a key facet of the world's travel tourism industry. Among the first to recognize its enormous potential was the Africa Travel Association, which launched a series of Ecotourism Symposia, making its debut in Dakar, Senegal (1992). Interest and awareness grew at each succeeding event, until ATA's Responsible Tourism Committee, chaired by David Gibson and Loris Crawford, produced the 10-point Fés Declaration for Responsible Travel. Sherman Perkins was a key member of the Committee.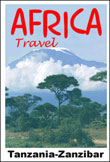 The declaration stated: "Since the pioneering initiatives of the Casablanca Eco-Tourism Manifesto of 1990 and the Responsible Traveler Guidelines (Nairobi, 1995), the African Travel Association has demonstrated a commitment to the global awareness of specific Cultural Heritage and Eco-tourism needs. This declaration guarantees the continuity of that commitment, as a result of the significant discussions conducted during the Sixth Cultural Heritage and Eco-Tourism conference of the African Travel Association, hosted in Fés, Morocco, December 8-13, 2002, the following statements were agreed to by the delegates as recommendations for serious action trajectories to be taken by the broader tourism industry in regard to Cultural Heritage and Eco-tourism directions.".
The Zanzibar Action Plan In Brief
(Implementing the Fés Declaration}
ATA's Seventh Cultural and Ecotourism Symposium in Zanzibar included representation from ten African country governments,four major airlines, and over 100 ATA members from North America and Africa. At the December 2003 event, Mr. Gibson (left) gave a keynote presentation on the "Driving Forces of Responsible Tourism." In his talk, illustrated by an impressive slide show," Gibson addressed the associated benefits, implementing tools, and verification methods for enabling sustainable tourism for both the tourism industry and affected communities.
Awareness via Media: The Zanzibar Action Plan centers on awareness of the ten points contained in the Fés Declaration, anchored by a continuing program to publicize these key planks of the ATA program. This will happen at every opportunity, by members personally and via local, national and international media, with special emphasis on the Internet.
Awareness as to "Certification." ATA's Environment and Natural Resources Group will stimulate awareness regarding certification standards and labels. ATA will accelerate affordable adoption of tourism products to internationally recognized standards and certification processes. Note: Flexible standards - environmentally - socially - financially and culturally responsible.
Access to Information:
The plan will increase member access to key information. Current and newly generated documents will be posted on the ATA website (www.africa-ata.org), with links to hundreds of sites by ATA members, partner associations and others. These pages will be downloadable and printable, so that copies can be produced and distributed quickly, conveniently and in sufficient quantity for any occasion. Major events are on this year's agenda, such as the New York Times Travel Show and Chicago's IATOS Outdoor Adventure Expo in February, Festival de Guinée in April, ATA 29th International Congress and Indaba 2004 in May and SADC Heads of State Summit in August. Many other opportunities throughout the year include World Travel Market, ASTA's World Travel Congress, plus regional seminars, festivals and Africa Nights sponsored and attended by ATA Chapters in Africa, USA and Canada.
Awards / Recognition:
With separate annual awards to (a) African Continent and (b) North America, ATA's Environment and Natural Resources Group will shine the light on various socially and culturally responsible operators. These recipients will include categories from tour guides and small bed and breakfast operations to community run projects, game reserves, camps, hotels and eco lodges.