.
236 Hurumzi Street
"Heaven is a Hotel" Time Magazine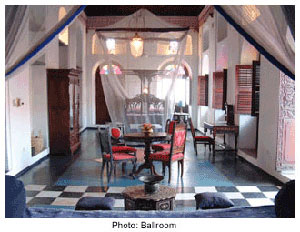 In the heart of Stone Town is a beautifully restored palace, once the home of one of the richest men in the Swahili Empire. Our hotel recreates the wondrous atmosphere and grandeur of the past by providing traditional, elegant accommodation. Spacious airy rooms, original stucco decor, ornately carved doors, antique furnishings, ceiling fans, and unique stone baths are featured throughout the hotel.
Perched high among the minarets, temple towers and church spires is one of the most extraordinary eating venues of the world. Reservations necessary!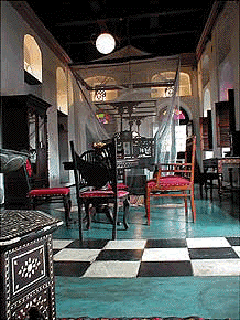 Kidude Cafe
"Possibly the best lunch in Zanzibar" Conde Nast
Enjoy Lunch, Dinner, desserts and drinks in AC comfort on the ground floor.
Guest Rooms
Suite Seyyed: Opulently appointed top floor suite with a westward view of Stone Town. Suite Blue: Cool blue second floor suite with an elegant teakwood screen partition.
Suite Rose: Two well appointed second floor rooms featuring a spectacular antique brass bed.
Keep Suite: Spacious well appointed top floor suite and a private tea house and spectacular views.
Suite Pavilion: Top floor suite with commanding views from a verandah and private observatory.
Suite Tour: Spacious top floor corner suite with panoramic views from a private Tea House.
Ballroom: Grandest hotel room in Zanzibar for those who want to indulge in opulence.
Gallery: Many handpainted windowpanes adorn its spacious bedroom and bathroom.
Lavender: In shades of lavender and blue, this room features an elegant brass bed and stone bath.
North: For a splendid view of Stone Town and the Indian Ocean with an open air bath.
South: A verandah garden separates the airy bedroom from a open air bath under the stars.
East: Facing the rising sun, this spacious room is a favorite for its light breezes and spectacular view.
West: Idyllic for romance with elegant furniture, a magnificent vista, and a large Arabian bath.
Crystal: Elegance and comfort are reflected in the mirrors and chandeliers of this large room with balcony.
Kipembe: This intimate central room creates is surrounded by the unique environs of exotic Zanzibar.
Zenana: Two beautiful rooms with a balcony suitable for a family or for guests seeking ample space.
Below is a description of the new rooms
Suite Blue: In the western Peace of Love wing Suite Blue is situated off the second floor verandah where there is an abundance of potted plants and an antique garden swing framed by a wooden bridge and staircase. The room boasts marble floors and twenty foot ceilings above a strip of original stucco decor. The walls are a cool blue throughout the large room which is divided by a teakwood screen partition of carved Indian filigree. One enters into a comfortable lounge with a writing desk sofa and chairs to relax in pleasant conversation.
Beyond the wooden screen and a delicate voile curtain stands the unique wooden bed, one of the oldest in Zanzibar, with mystic symbols carved in the headboards all under dramatic batik trimmed netting. The bathroom lies just off the bedroom where a stone tub in warm tones of brown and deep blue provide a luxurious bath. Details in painted g;lass and colored glass windows adorn this space. The room is equipped with air conditioning and a ceiling fan above the bed for cool Suite Blue comfort.
Suite Rose : The beautiful carved door of this spacious two room suite lies just beneath a majestic arch off the second floor verandah in the western Peace of Love wing. The master bedroom boasts an elegant lounge area with a crystal chandelier and grandfather clock while the windows offer a western view of our bustling Swahili community of Peace of Love Square. At the far end of the room is a magnificent antique brass bed with detailing in mother of pearl and with dramatic netting trimmed in distinctive batic fabric. A second room lies off to the left of the master bed. A picturesque broad sofa doubles as a second bed beneath its own batik trimmed netting. A writing desk provides a comfortable space to relax to write letters home and to friends. An arched entry leads to the bathroom with a substantial stone tub excellent for relaxing bubble baths. Air conditioning and ceiling fans provide for cool comfort in this lovely rose hued haven from the bustle of Stone Town. The Suite Rose is named in honor of the Rose Revolution of Georgia in 2003, the year of this suite's conception.
Suite Sultan Seyyed: Situated on the top floor of the western Peace of Love wing Suite Sultan Seyyed is accessible either from the picturesque wooden bridge above the second floor verandah or the internal stairs near the Rose Suite under the ample archway. Guests enter a richly appointed sitting room with a magnificent teakwood credenza and Bordeaux red drapes which flow from one end to the other of this large suite lending a feeling of richness, extravagance and power worthy of the Sultan who brought the Bordeaux red colored flag to Zanzibar as it's national flag. Ornately carved wooden windows provide for an intimate retreat from the bustling neighborhood below. Through an ample archway lies the bedroom area with a beautiful brass bed with luxurious batik trimmed netting. The bath is semi open with a large stone bath beyond the bedroom area. This room is large light and airy with rows of windows along the east and west walls. Guests may open the windows for a beautiful sea breeze or take advantage of air conditioning and ceiling fans for cool comfort high above the streets of Zanzibar. Photo: North room.
Keep Suite: This suite at the pinnacle of the western Peace of Love wing commands a spectacular view from it's private " castle keep" retreat. The Keep Suite is actually four distinct sections: the bedroom, the verandah parlor, the verandah garden, and the castle keep itself. Guests first enter the verandah parlor. Rich details encompass this room with it's beautiful city -scape view, a traditional swing, antique writing desk and paintings by one of Zanzibar's most renowned artists. To the left side of the parlor is a stone bath with antique tile inlays and with the facilities neatly tucked behind a decorative hand painted glass screen and batik trimmed curtain. The bedroom features a gigantic bed in a cocoon of netting and original batik trim fabric all with a fan directly above the bed. Carved lattice windows open to a rooftop city view while air conditioning makes for a comfortable cool haven from the Zanzibar heat. From the verandah garden up a teakwood staircase lies the "castle keep" itself, boasting an antique swing seat and a large couch for sunset cocktails or breakfast. The view from the stairs and skywalk leading to the "castle keep" are much like standing on the prow of a proud ocean liner above the city. We must emphasize that while most guests adore this room, if you suffer a fear of heights, this room is NOT for you,
236 Hurumzi Street
P.O. Box 3417
Zanzibar, Tanzania
tel.255-(0)24-2232784
tel.255-(0)77-7423266
fax.255-(0)24-2232327
fax.255-(0)77-7429266
236hurumzibookings@zanlink.com
A member of ZATI
http://www.zati.org
"Heaven is a hotel in Zanzibar."