From exotic Zanzibar to Chumbe Island Marine Park: Hidden jewel of Tanzania's Swahili Coast
Photos and item by Muguette Goufrani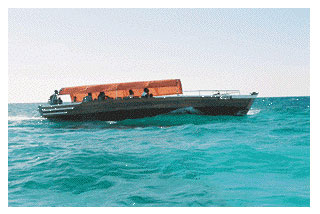 We were so impressed by our trip to Chumbe Island during our symposium in Zanzibar, we swore to tell you all about this hidden jewel of the Indian Ocean a few miles from Tanzania's Swahili Coast. The trip takes a half hour by motor launch from a beach at the Protea Lodge in Zanzibar. While on the island for several hours, we were shown one of the most eco-friendly lodges one could imagine. From the water supply and insect control, to the convenient compost toilets - the designers and builders at Chumbe thought of everything. On the way to the lodge, I must have taken a roll of pictures of the stately lighthouse as it stood like a sentinel, so prominently among the tall, waving palms. And what a beautiful little cove by the boat landing where we took a refreshing dip in the warm tropical waters. For more about this charming retreat, here's a short item and a newsletter that arrived recently. We will have more comments and photos later.

\CHUMBE ISLAND…
Chumbe Island is situated 8 miles off the coast of Zanzibar Island, Tanzania. It is a small uninhabited island dominated by coral rag forest and bordered, on its western shore, by a fringing coral reef of exceptional bio-diversity and beauty. This west coast reef of Chumbe Island was gazetted as a Reef Sanctuary, and the forest on the island was declared a Closed Forest by the Government of Zanzibar in 1994
This park is unique in that it is the only privately managed Marine Protected Area (MPA) in the world. As a privately managed Project, Chumbe receives no financial support for operations from government or donor agencies and relies solely on revenue generated through small-scale eco-tourism to run the project. As a non-profit organisation, all revenue generated is ploughed back into the project to fund the running costs of the MPA, various research projects, conservation and education programmes. The island is managed by rangers who were former fishermen from neighbouring communities. These rangers play a key role in teaching fellow fishermen of the importance of Chumbe as a protected area. With the pristine Chumbe reef based upstream from the major fisheries areas of the West Zanzibar coast, Chumbe is a vital fish nursery that continues to replenish the exploited resources of the fisheries eco-system around Zanzibar. In this way anti-poaching tactics rely on education and awareness rising in the local communities and has proved immensely successful as a unique approach to MPA management in the region.
All employment on the island is targeted at the neighbouring fishing communities, which promotes awareness raising at all levels and empowers the local Zanzibari community to feel committed towards the preservation of their natural heritage.
Eco-tourism, as the revenue generating component of the project, is closely managed, with a maximum of 15 guests allowed on the island at any one time, and accommodation is provided in specialised eco-banda's unrivalled in the world of eco-construction (with solar electricity, rainwater catchment systems, grey-water recycling through filtration irrigation and composting toilets).
This unique project has gained much Regional, National and International attention. Chumbe is on the UN list of Protected Areas; the project was chosen to represent Tanzania at the EXPO2000 Hannover, Germany; Chumbe was the 1999 Global Winner of the British Airways Tourism for Tomorrow Award; In 2000 Chumbe was declared a laureate of the UNEP Global 500 Forum.
Greetings to you all from Chumbe!!!
It has been all change within the Chumbe team, with Eleanor's departure to study in England. There have been more staff changes, lots of activity in the education program, interesting conservation initiatives and Chumbe Island was the star of the African Travel Association Symposium, during which it was praised in no uncertain terms by the President of Zanzibar.
Staff Changes
The all-important team, which makes up the heart and soul of the Chumbe Island experience, has been in flux since Eleanor left:
Omari Mussa, who was Head Ranger, is now training rangers in the north of Zanzibar, with his extensive knowledge he has become a valued asset at Mnarani Beach Cottages, in Nungwi. His replacement, by a quirk of fate, is the original and longest serving ranger, Omari Nyange. He is absolutely delighted to be back and has been spending lots of time guiding guests, visiting and sensitizing fishing villages and is now working closely with Carol Daniels, our new conservation coordinator.
Hija Simai, one of our patrol rangers, has recently retired and is replaced by the skilled boat handler and mechanic Ussi Mchumi. Chumbe's new accountant, Adisai, left us suddenly in September to study an MBA on the Tanzanian mainland, we wish him all success in his studies. He is replaced by Esther, a much traveled and well experienced Tanzanian national, who we hope will stay with us for a long time.
Francesca - you will all be sad to hear ñ has decided to move on to pastures new. Fran has worked with Chumbe since September 1999 and has done a sterling job of instigating guest booking and marketing systems. Her good humor when dealing with guests and agents and attention to detail were a huge asset to the project. She is currently training her Zanzibari replacement Monalisa William.
Fran will leave in February but we all hope that her next career move will be in Tanzania and that she will visit us all at Chumbe frequently.
Education Program
The Island has seen more children in the last year than during the previous two put together. Almost 800 students have been delighted by the treasures hidden below the water of the Chumbe reef. The children have enjoyed, some for the first time, snorkeling and inter-tidal walks. These are joined with practical lessons with Assistant Head Ranger, Khamis Khalfan, who makes marine biology, conservation and environmental protection relevant to the children's lives.
Lisa, our education coordinator, has been busy organizing teacher training workshops, where the teachers are sensitized to field based learning, and linking in the Chumbe education program with the national curriculum. She is also currently developing individual programs for each school year consisting of lesson plans that incorporate all relevant parts of the curriculum to the current education program. As part of the new program there are pre-visit and post-visit questionnaires for the students to complete which are used to help the education team to monitor their progress. Feedback so far indicates that the students have a greater understanding of the importance of protecting coral reefs and schools have responded enthusiastically about the project.
In 2004, we are planning many more visits for students, teachers and trainee teachers. Additional teacher training and evaluation workshops are being organized in close collaboration with the Ministry of Education. Also, we aim to help set up environmental clubs in four of the local coastal schools.
Plans are being made to extend the education program to include more outreach work based in the students villages. We would like to set up and monitor a new program of follow up activities in schools. We are also hoping to research how much knowledge gained by the students is passed on to their families and village peers, and how much of an impact this new understanding has on daily lives and activities.
Conservation and Research Program.
Carol has been extremely busy from the beginning with further training for the rangers; organizing, together with the rangers, international schools visits (Earlham College, International Honors Program and the School for International Training, all from America) and supervising national and international researchers, among many other activities.
Researchersí in the last six months have included surveys of the reef, with some of the key project titles as follows:
Inter linkages of fish communities on adjacent coral reefs and seagrass beds
Factors influencing fish movement between marine reserves and non-protected areas in Tanzania
An investigation of the effectiveness of marine protected areas with respect to fish and coral abundance and diversity, as well as macro-algal cover ñ a case study in Zanzibar, Tanzania
Assessments of abundance and species of sea urchins and migratory birds on Chumbe Island.
The Coconut Crabs on the island have been busy in their burrows over the last few months, and many baby crabs have been seen at dusk actively running around. They are soon to become the stars of the BBC Really Wild Show , UK, who will come and film them in February along with many of the species found on Chumbe's coral reef.
The Aderís duikers have recently been very quiet so we organized trackers from the southeast of Zanzibar Island to make a survey with the assistance of Chumbe staff. After a lot of planning and strategic discussions with the trackers and the Department of Commercial Crops, Fruits and Forestry, the duikers were quietly tracked and counted. The surveys resulted in sightings over a three-day period of three different duikers; two male and one female. There are various suggestions as to whether this is the whole of Chumbe's population but it seems that those observed were of a new generation. This is great news as it indicates that there has been successful breeding on the island. Further surveys and investigations with the help of the infrared and heat-sensitive cameras strategically placed in the heart of the forest will continue.
There will be an international conference hosted by Zanzibar on duiker and dwarf antelopes in Africa. This will be held in February 2004, with a trip by the delegates to Chumbe island to learn about the translocation program and progress of this population.
Events
Eleanor's leaving party was a very grand affair, with the presentation of many farewell gifts and speeches from the Chumbe staff, old and new, and invited guests. Everyone enjoyed a feast of pilau and biryani, and the day ended with Eleanor's last snorkel on Chumbe as manager and lots of traditional dancing.
It was an emotional time as six years of devoting her life to the success of Chumbe came to an end. Eleanor is now studying a Masters in Environment and Development at Darwin College, Cambridge University. I am sure that she will involve Chumbe in the core of her dissertation and promote the cause with all the new people she meets.
Another major event was the involvement of some of the Chumbe Island personnel, invited by the Commission of Tourism, in the organization of the conference of the celebrated African and Tourism Association (ATA) based in the USA.
The seventh Symposium on Cultural and Ecotourism, held on December 2nd-7th, was a major showcase for Zanzibar tourism, under the auspices of the Ministry of Trade, Industry, Marketing and Tourism. On 3rd December HE the President, in his opening speech, said:
"we are very fortunate to possess one of the world's famously recognized tourist attraction of value in eco-tourism. I am of course referring to the Chumbe Island Coral Park which won the Global British Airways Tourism for Tomorrow Award in 1999."
The Symposium was a huge success and we presented a paper on ë The Fes declaration for Responsible Travel in relation to Chumbe Island, Zanzibar, as a case study"
Chumbe also recently received an accolade as one of the Top Eco-Tourism Destinations in the World in the international Harpers and Queen magazine travel supplement. The November edition heralded Chumbe Island as the most romantic eco-lodge in the world.
And on that romantic note I will finish.
Best wishes,
Helen Peeks
Project Manager
Photos on this page by Muguette Goufrani, Africa Travel Magazine
Chumbe Island, Zanzibar
Washington, DC: Chumbe Island, Zanzibar, was selected as a finalist in the 2004 World Legacy Awards, which recognize excellence in environmental, social and cultural travel. Sponsored by Conservation International (CI) and National Geographic Traveler, at a dinner onJune 8 at the National Geographic Society in Washington, D.C.
"Tourism is the largest industry on our planet. It can be both an opportunity or a threat to protecting the Earth's natural heritage and cultural diversity," said Costas Christ, CI's Senior Director for Ecotourism. "With the World Legacy Awards we are pinpointing and highlighting those organizations that are true models of socially and environmentally responsible tourism. That's why we send on-site inspectors to every finalist's location, so visitors are guaranteed that their tourism dollars are truly going toward organizations that are making valuable contributions toward protecting our natural and cultural heritage."
"Great travel experiences depend on keeping destinations distinctive and unspoiled," said Keith Bellows, editor of National Geographic Traveler. "These finalists understand that The people who live in a place must benefit from tourism that takes place there. That way, residents will seek to protect what tourists are coming for. We want today's tourism to leave a proud legacy for future generations: a world full of destinations that are still worth visiting." Chumbe Island Coral Park was a finalist in the Nature Travel Category and recognized for "for positive contributions to the conservation of natural areas and Biodiversity." Helen Peeks represented Chumbe Island at the Award presentations.