THE BEST PLACES FOR THE SPOILT INCENTIVE TRAVELLER IN SOUTH AFRICA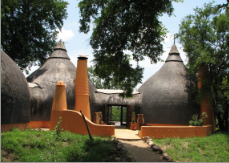 Yolanda Logt
Try something else than the 'common' five star hotel in South Africa. Seek the African spirit and spoil your client. Especially suitable for smaller groups. Here our personal favourites.
Kariega Game Reserve
is family owned situated along the famous Garden Route (Eastern Cape) only 140 km from Port Elizabeth. Two beautiful rivers make this game reserve completely unique. Guests can complement their safari experience with a boat cruise sighting abundant river birdlife or take a kayak onto the river for a quiet paddle. In the evenings, relax and sit back with a sun downer to simply enjoy the tranquil sights and sounds of river life. The reserve has 4 lodges of which one is a private lodge that offers its' guests all the comfort, convenience and luxury of their own home. With a dedicated game ranger and chef, guests have the flexibility to plan their day according to their own specific needs (max 10 persons).
www.kariega.co.za
Lemoenfontein Game Lodge
, a tranquil place for the weary traveller in the heart of South Africa's Great Karoo. Imagine yourself in mid-1800s when staying at this homestead. Enjoy the panoramic view on the veranda where your group also will enjoy their meals or lazy afternoons. Experience the beauty and silence of the Karoo. Have your braai (BBQ) together in the gardens or warm yourself on the cosy fireplace.
www.lemoenfontein.co.za
Grootbos
only a 2 hour drive from Capetown (en route to Hermanus) provides the veritable lap of luxury in harmony with nature, consisting of two luxury 5 star lodges and an exclusive villa. All have breathtaking views over the ocean. You have the opportunity to experience other kind of safari's like shark cage diving and whale watching but even flower safaris. The perfect start for a Garden Route adventure with only one problem… you never want to leave! Tip: don't forget to explore the wine cellar.
www.grootbos.com/en/home
Hoyo Hoyo Tsonga Lodge
in the South of Kruger National Park is perfect for small groups. This secluded private camp exists of six thatched suites build in the traditional Tsonga style like the main area. The staff introduces you to the habits and customs of the Shangaan people that live in this area. In combination of the bush, traditional cuisine, the warmth of the accommodation an ensurement of an unforgettable safari experience. Like the words Hoyo Hoyo already tell you from the start; Welcome! Can you imagine the whole camp exclusively for your group?
hoyohoyo.com
Inyati Private Game Reserve
perfectly located in Sabi Sands against a hill overlooking the riverbed and the grasslands on the other side. Excellent to view wild life while sipping from your wine from the veranda or the poolside. The spacious rooms are all facing the river. Your dinner is either on the main deck or served in the boma* where the staff will surprise you with their local dances and songs around the fire place. Sabi Sands is famous for its big 5 game viewing. If there, ask for George, one of the most talented rangers I ever met. They also provide in a meeting area separate from where the guests stay.
www.inyati.co.za
Nungubane Game Lodge
is only a 3 hour drive from Joburg in Welgevonden Private Game Reserve, at the heart of the spectacular Waterberg and is malaria free. Nungubane welcomes a maximum of ten guests in an atmosphere of intimate luxury. Guests are accommodated in spacious chalets, which command majestic views over the reserve from their individual decks.
www.nungubane.co.za
See also our article about
Garonga Safari Lodge
*boma;
means British Officers Mess Area in former times. Nowadays the area where you sit in a circle around the fire to have your dinner during safaris.
Khayelitsha "Township" hospitality in Cape Town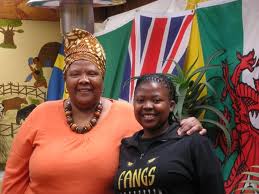 Cape Town Tour Guide and ATA Chapter member Dan Dunn (right) helped make our final week in Cape Town one of the most memorable ever. Dan introduced us to Thope Lekau (far right) and started off a beautiful friendship. We enjoyed an overnight stay at Kopanong, a charming bed and breakfast which has been featured in a number of hospitality trade magazines in South Africa. Now we know the reason why.
Contact Thope at Kopanong B&B,
mailto:kopanong@xsinet.co.za
Contact Dan Dunn at
Daniel Dunn, Chairman/ President
Western Cape Chapter
Africa Travel Associaiton
E-Mail: mailto:dddunn@mweb.co.za
---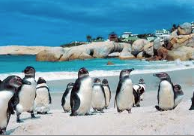 PENGUINS ON PARADE?
Did you know that there were penguins in South Africa? Now you do! Visitors to the area will discover an entire colony of Jackass penguins lounging and fraternizing (with each other, not the tourists) at a local beach community called Boulders, not far from Cape Town. There are dozens of more such attractions to come, on this site. We look forward to filming the little guy on the right and his entire family as they dine on Southern seafood delights. Most images in this section are courtesy of Cape Town Tourism. Above photos by Muguette Goufrani.

Click for larger photo of penguins.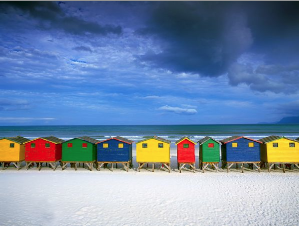 The Cape's Two Oceans offer some great beaches for swimming and places to enjoy your favorite water sport, including sailing, salt water fishing and scuba diving. The photo below courtesy of Cape Tourism shows the colorful 1920s style bath houses at a local beach. More to come.

Cango Caves: Underground Adventures
in South Africa's Karoo Country
In another section, we talk about the Amboni Caves in Northern Tanzania at Tanga near the Coast and Pemba Island. Now we've news about the famous caves of South Africa, including the Cango Caves in the Karoo area. The total length of this underground attraction is 5km. It is said that the word "Kango" is derived from the San or Khoi language (relatives of the Bushmen), and means " Water between the Hills." Karoo is a Hotentot word meaning "extremely dry or bitter." This wonder of the world is located near Oudtshoorn, 400 km east Cape Town. The caves are said to have been inhabited for thousands of years.
Underground Music? Just inside the cave's broad entrance is a huge underground theatre area, where musical concerts can be staged for up to 2,000 visitors, a special attraction during local holidays and festivals. As you might imagine, the acoustics are almost perfect.
A National Treasure. Dedicated as a National Monument in the early part of the last century, the incredible Cango Caves have a variety of unique halls and chambers with limestone formations such as the Pipe Organ, Cleopatra's Needle, Fairy Palace, Throne Room, Bridal Chamber, Roman Candle and Crystal Forest - names that conjure up all sorts of impressions for the imaginative visitor.
Information: http://www.gardenroute.co.za/oudts/cango/
Guided cave tours take up to an hour and a half and cost $8.00 US. Watch for more on this exciting attraction, or if you have enjoyed an experience at Cango Caves, E-Mail the editor: africa@dowco.com, fax (604) 681-6595