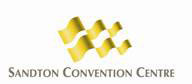 SCC SHINES IN THE AWARDS LIMELIGHT AGAIN
Sandton Convention Centre (SCC) has been the recent recipient of two prestigious awards, which reinforce its standing as one of the continent's leading conference and event centres. It has been nominated as one of South Africa's Top 300 Performing Companies by TopCo Media , and was presented with The Star's "Your Choice 2007 Award" as Best Conference Venue in the 'Best Places and Things' category.
"It is a pleasure and privilege for Sandton Convention Centre and our excellent team of staff to be recognised and rewarded in this way," says Mati Nyazema, Executive Director of SCC. "We are honoured to be listed among the top performing companies in this country. The Star award is also very special to us, in that its readers who visit SCC to attend a wide range of exhibitions, events and conferences, have cast their vote of confidence on our building and our team's capabilities to host memorable functions." Explains Stephen Paxton, Joint Publisher of TopCo Media: "Now in its 10th year, 'South Africa's Top Performing Companies incorporating the Top 300' is an annual event organised by TopCo Media. These nominations recognise companies' performance across various criteria that inspire growth, success and achievement. "Companies are assessed on strict entry criteria based on profit, turnover, quality of operation, triple bottom line performance as well as growth statistics. In-house research is conducted by our team of professional researchers among 3 000 companies across 150 business sectors."

Sandton Convention Centre was identified as a leader and top performer in its sector, due to its record of performance excellence over the past year.
"This is the first time that SCC has been nominated by TopCo Media in its Top Performing Companies awards, and we are thrilled. The professional team at SCC has worked extremely hard over the past year to bring in new business, retain clients and to ensure the success of every event that is staged within the building," says Nyazema. "Receiving these two awards is recognition of that effort and hard work, and motivates all of us to go the extra mile to ensure that our clients who make use of SCC to hose their events, shine on the day."
About the Centre
Sandton Convention Centre is located in the heart of Sandton's hotel, business and entertainment district. The centre offers easy access to more than 5 000 hotel rooms (ranging from economy to deluxe), is adjacent to some of the country's premium shopping and entertainment complexes (Sandton City and Nelson Mandela Square), and provides 10 600 secure parking bays.
Sandton Convention Centre offers unlimited potential with over 22 000m? of state-of-the-art meeting, exhibition and special event space. Purpose-built to international standards, the convention centre is able to host meetings, conferences, exhibitions and special events of virtually any size and nature. It offers some of the most advanced technology available for convention and exhibition centres anywhere in the world. Multiple events can be staged simultaneously on four main levels, and 10 000 visitors can be accommodated at any one time. A team of highly-trained staff is on hand to provide support services.
Its central position in Sandton provides easy access to Johannesburg International Airport, the Sandton CBD, major hotels and shopping centres.
Sandton Convention Centre is managed by Southern Sun Hotel Interests and was developed by Tsogo Sun, a dynamic partnership between Southern Sun, Africa's leading hotel group, and Tsogo Sun Investments, a leading black empowerment group.
Visit www.saconvention.co.za
For further media information, please contact:Janet de Kretser - Baird's Renaissance, on (011) 504-4000 / Cell : 083 973 3531 / e-mail : janet@bairds.co.za
SCC MAKES AN IMPACT ON BUSINESS TOURISM IN THE BIG APPLE, DC
The business tourism industry in the USA is big business, and organisations are keen to bring that business to Africa, and particularly South Africa.
This is the opinion of Mati Nyazema, Executive Director of Sandton Convention Centre (SCC), following her recent successful fact-finding trip to New York and Washington DC. She was accompanied by the convention centre's International Sales Manager, Janine Meyer.
"One of our objectives at Sandton Convention Centre is to increase and grow our international business. This trip to the east coast of the USA was part of an intensive drive to target the US market, and increase awareness of SCC as a world-class convention centre," says Ms Nyazema.
"Currently, there is tremendous interest from the international market in South Africa as a meetings destination. According to the latest figures from SA Tourism, this industry is booming and the burgeoning economy is driving an increased number of business tourists to our shores," says Matifadza.
"With the growth of the business tourism industry, so the opportunity for South Africa to host more international and association conferences, exhibitions and events increases.
"Sandton Convention Centre has hosted numerous high profile events since opening its doors in 2000, including the World Summit on Sustainable Development (WSSD), the World Petroleum Congress, several UN, Pan African and Southern African Development Community (SADC) events and the Global Summit on Women, as well as celebrity concerts and birthday parties for both Nelson Mandela and Archbishop Desmond Tutu,," says Mati.
"During our visit, we attended a number of meetings in both New York and Washington with targeted UN agencies , Non Governmental Organisations (NGOs) and Commercial Business organisations. The hosting of the WSSD in 2002 has helped to put Sandton Convention Centre on the UN radar screen with regards to international venues. During our trip, it was both heartening and encouraging to realise the awareness of our convention centre among senior UN staff. Our meetings assisted in cementing previous relationships and allowed us to build new contacts and make further inroads into the UN as a strategic market for SCC."Sandton Convention Centre's strategic location in Johannesburg, within the heart of Sandton's business district, and offering surrounding facilities such as premier shopping centres and hotels within walking distance, places it in a very strong position to entice more international organisations and associations to bring their business to South Africa.
The business trip culminated in a highly successful cocktail event co-hosted by SCC and SA Tourism's New York office, under the theme: "Bringing New York to South Africa and South Africa to New York". Organised by the Africa Travel Association (ATA) at one of New York's top restaurants, Aquavit, the event showcased South Africa as a business travel destination, with a special focus on SCC's world class facilities.
Comments Mati: "Meeting with such a diverse and high-profile group of people in one room was a highlight of our time in New York. Linking up with the ATA, was most fortuitous and we look forward to a rewarding relationship with the association, going forward.
The event attracted individuals with business and philanthropic interests in Africa, including representatives from organisations such as the SA Permanent Mission to the UN, the SA Consulate in New York, UNICEF, UN-NY Office of Sport for Development and Peace, UNAIDS, UNHCR, the UN Africa Women's Association, the Africa America Institute, the Africa Institute, Family Care International and the SA Chamber of Commerce, amongst others.
"Overall, the trip was a great success &endash; we established good contacts with a number of organisations and associations and have, since our return, received several good leads for future business opportunities that we are currently following up.
"We are on a renewed drive to secure more international business, and are working with SA Tourism on a number of similar initiatives to target select markets in the UK and Europe," concludes Mati.