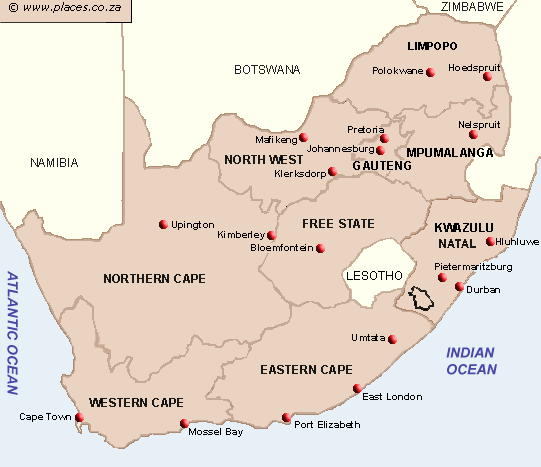 SOUTH AFRICA ACCOMMODATION
We invite you on a journey to explore our wonderful country and it's 9 culture rich provinces.
WESTERN CAPE
Cape Town and the Western Cape's allure undoubtedly lies in its beauty and diversity. This is perfectly illustrated by the province's mix of travel regions. Cape Town, which is rich in culture, heritage and creativity; the Cape Winelands, which is popular for its world class wine and gourmet delights; the Cape Overberg, where the Southernmost tip of Africa can be visited and the world's best land-based whale watching can be enjoyed.
Western Cape Regions: Greater Cape Town |Cape West Coast | Cape Winelands | Cape Overberg | Cape Garden Route & Klein Karoo
EASTERN CAPE
The Eastern Cape is a province of South Africa. Its capital is Bhisho, but its two largest cities are Port Elizabeth and East London. It was formed in 1994 out of the "independent" Xhosa homelands of Transkei and Ciskei, together with the eastern portion of the Cape Province.
Eastern Cape Regions: Langkloof Route |Western Coast | Midlands | Sunshine Coast |Karoo Heartland | Northern Interior | Wild Coast
NORTHERN CAPE
Escape to the vast open naked plains of this beautiful semi desert region, South Africa's largest province, the Northern Cape. Enjoy the tranquil beauty of clear skies, the wide open spaces of the golden deserts by day and the clear black star-studded skies by night with the beautiful Milky Way laid bare in all her awe-inspiring glory.
Northern Cape Regions: Hantam Karoo |Namakwa | Upper Karoo | Green Kalahari |Kalahari | Diamond Fields
FREE STATE
The Free State lies in the heart of South Africa, between two main rivers, the mighty Orange and Vaal rivers. A huge rolling plain stretching for 1500 kilometres, punctuated by flat top-topped hills and a huge mountainous border with Lesotho.
Free State Regions: Transgariep | Goldfields |Eastern Region | Free State Region
KWA-ZULU NATAL
Welcome to the kingdom that is KwaZulu Natalon South Africa's East coast, a place offering a rich diversity of nature, culture and history, set against a colourful backdrop of sun, sea, mountain and sky.
Kwa Zulu Natal Regions: South Coast |Ukhahlamba Drakensberg | ethekwini-Durban| North Coast | Midlands | Zulu Land |Battlefields
NORTH WEST
All jaded city dwellers, looking for a place to plug back into the meaning of it all. Go this way folks. The North West Province, an area of natural beauty and breathtaking scenery on a scale one only seen in Africa's big sky country.
North West Regions: Bophirima | Central Region | Bojanala | Southern Region
GAUTENG
"The Place of Gold" - the economic heart of South Africa - Gauteng, a place of cultural interaction as the third world transcends the first world, where humanity possibly began and where the world still watches perhaps expecting the same magic of new beginnings.
Gauteng Regions: Western Gauteng |Southern Gauteng | Central Gauteng |Northern Gauteng | Eastern Gauteng
MPUMALANGA
Mpumalanga, which means "place where the sun rises", formerly known as the Eastern Transvaal, is today one of South Africa's top tourist destinations. People are drawn by the magnificent - and truly breath-taking scenery, by the fauna and flora, by the saga of the 1870s gold rush era and a wealth of fascinating tribal legends.
Mpumalanga Regions: Grass and Wetlands |Highveld and Cosmos | Lowveld | Escarpment
LIMPOPO
South Africa's northernmost province, lies within the curve of the great Limpopo River from which the province finds its name, theLimpopo Province. Known as the "Great North" for its ancient legends, untamed open sky vastness and unrivalled potential in tourism and the future development of this broader Southern African region.
Limpopo Regions: Waterberg | Sekhukhune |Capricorn | Mopani | Vhembe
QUICK ACCOMMODATION LINKS
Cape Town Accommodation Johannesburg Accommodation Port Elizabeth Accommodation Durban Accommodation Western Cape Accommodation Eastern Cape Accommodation Kwa-Zulu Natal Accommodation Free State Accommodation.