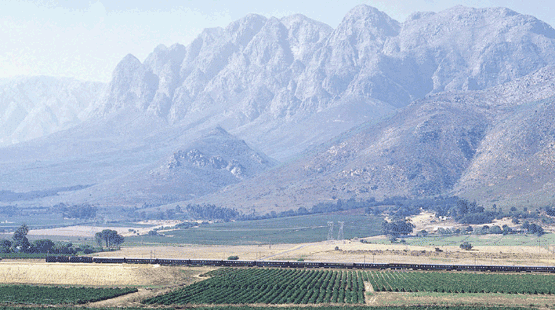 Discovering the diversity of South Africa
By Helen C. Broadus
Discover the immense diversity of South Africa, a land full of rich cultural heritage, friendly people, spectacular wildlife and stunning landscapes. South Africa is truly famous for its mixture of cultures, heritages and traditions that are blended together through its festivals, music and foods. You will also find that there is much more than a traditional safari experience to see the "Big Five" in South Africa. You can also enjoy first-class hotel accommodations, pristine beaches, luxurious train rides, or even a walking safari in South Africa. Coming back to South Africa brings back fond memories and a yearning to see even more of South Africa's tourism treasures! South Africa is a land of breathtaking scenery - from the amazing mixture of bustling cities to the rural village life, to the cascading waterfalls to the colorful fields of wildflowers, to the majestic mountains to the awesome coastline, it is simply awesome. South Africa has perhaps the African continent's most sophisticated tourism infrastructure which, combined with first world technology, creates tremendous comfort and convenience for American tourists. The following is a sample of what you can expect to discover as you attempt to experience the many venues of South Africa:

Culture. South Africa's greatest treasure is the cultural diversity of its people. The contrasting influences of the African, European and Asian heritages create a mosaic of influences throughout the arts, crafts, dance, music, food and sports of South Africa. There are many indigenous people who have lived in South Africa for thousands of years. Three quarters of South Africa's 49 million people are Blacks whose ancestors ñ many of them farmers and herders ñ began arriving from Central Africa some 1,500 years ago.
Most fall into two major ethnic groups: the Nguni, which consist of Zulu, Xhosa, Ndebele and Swazi peoples, and the Sotho, which includes the Northern Sotho, Southern Sotho or Basotho and Venda peoples. Blacks often speak several languages, including that of their own ethnic group and English. Many Blacks reside in cities and townships living a more modern western lifestyle, while rural dwellers often wear unique costumes and maintain their ancestors traditions and customs. In addition ceremonies play a very important part in the lives of Black South Africans.
The European influence of South Africa is primarily rooted in the Afrikaners, who were descendants of Dutch settlers. They developed their own language 'Afrikaans' which is based on Dutch, but also has Malay, French, German and Black influences. About 6 million people, or roughly 15% of South Africa's population are of European descent. The British and Germans also played an important part in the country's development. The Coloureds, a mixed-race people, are descendants of Europeans, Blacks and former slaves from Dutch colonies in Africa and Indonesia. Indians came to South Africa initially as indentured servants and today make up the largest community of Indians outside of India.

South Africa's cuisine influenced by many different cultures, combines tasty African traditions with spices and cooking techniques from around the world. All of South Africa's cuisine is built around the country's abundant supply of fresh seafood, meats, vegetables and fruits. It also harvests its own internationally celebrated wines. Festivals are one of the best ways to experience the local cultures of South Africa. It is at these events where locals are most dazzling, open, artistic and musical. In addition, the tribal art of South Africans displays great fashion objects of beauty made from simple materials using age-old techniques. You can purchase in both the cities and villages a wide variety of colorful beadwork, brightly painted pottery, intricately woven baskets, fashionable jewelry made of metals and beads, striking batik dresses and fabulous carved wooden animals and bowls.
Important Links for Information on Booking Travel to South Africa

South African National Department of Environmental Affairs and Tourism -
www.deat.gov.za

South African Tourism - www.southafrica.net

South African National Parks - www.sanparks.org

International Marketing Council - www.sanparks.org.za

Edwin Sipho Rihlamvu
Tourism International Liaison

DEPARTMENT OF ENVIRONMENTAL AFFAIRS AND TOURISM SOUTH AFRICA

Tel: 27 (12) 310 3940, Fax: 27 (12) 322 5754
Mobile: 073 902 4504

E-mail: erihlamvu@deat.gov.za

Major Cities and Sightseeing Interests.
Johannesburg, located in the Gauteng Province, fondly referred to as Jo'burg or the "City of Gold" from the 19th century gold rush era is South Africa's commercial center. When taking an educational tour of Jo'burg you can see the storied past of a gold rush town at Gold Reef City as well as visit the Johannesburg Art Gallery, Museum of Africa and National Museum of Military History to learn about the history and culture of the people of South Africa. If you are interested in a great shopping excursion don't miss the inexpensive treasures at the flea markets of Bruma Lake and Randburg Waterfront. And most importantly, make a pilgrimage to Soweto (which is short for South Western Township). It is one of the 33 townships originally established as temporary dormitories for workers. Soweto became famous during the Apartheid struggle in South Africa.

Pretoria, also located in the Gauteng Province, is just one hour's drive north of Johannesburg and is the administrative capital of South Africa. It was also the capital of the former Boer Republic and has many monuments in honor of the country's Afrikaner past. In Pretoria you will find the Union Buildings, the country's architectural masterpiece and site of Mandela's inauguration. Also you can visit the Kruger House Museum, which was the 19th century home of former president Paul Kruger. You can also visit Pretoria's Art Museum and see some of South Africa's finest art. Pretoria is a city known for its beautiful gardens and Jacaranda Tree-lined streets. It is also famous for its modern State Theatre complex which offers a host of performing arts to include opera, ballet, drama, choral and symphony performances.

Durban is the colorful capital city of the KwaZula-Natal Province located on the eastern coast of South Africa. Indians, Zulus, British and Afrikaners have all influenced this cosmopolitan port city. Almost one million Indians live in Durban and you can truly experience the thriving culture of India here in South Africa. Following the beach for more than three miles is Durban's "Golden Mile", with shops, restaurants, parks, gardens and other attractions. Another 'must stop' is to the bustling Victoria Street Indian Market for craft curios, saris stalls and fragrant spice counters. Lively shopping arcades line the city's streets and lanes and local flea markets are all over the town. After dark, the city's many restaurants, discos, jazz venues and pubs cater to every known taste.

Sun City Resort, located in the Northwest Province, is known as the glittering 'Las Vegas' of South Africa. In the valley below Sun City is the 'Palace at the Lost City', a man-made fantasy world supposedly based on the myths and legends of South Africa. Sun City has its own 'water world' and 'jungle' theme park experience that can be great family fun. Adults will definitely enjoy the casino and exciting night-life in Sun City. Also, for the avid golfer there is the Lost City Golf Course, designed by Gary Player. Just next door to Sun City is Pilanesburg National Park, South Africa's fifth largest park. It has an extensive wildlife population and more than 300 species of birds.

Cape Town, known as the 'Mother City' of South Africa, is perched on a lush peninsula that juts out into the Atlantic Ocean, which reminds me of the coastline of San Francisco in the United States. It is located in the Western Cape Province and has been rated as "one of the best places to live, and one of the more culturally interesting and dynamic places in the world to visit.". With its dramatic Table Mountain backdrop and inspiring ocean views, Cape Town is unquestionably one of the world's most beautiful cities. It is also South Africa's oldest city. One of the highpoints of a city tour of Cape Town will be a visit to the renovated Victoria & Alfred Waterfront. Packed with pubs, restaurants, crafts markets, theaters, museums and movie houses it is very popular with both the locals and tourists.

The Cape Peninsula is also packed with memorable sites, starting with the spectacular Table Mountain. You can take a cable ride or hike to the top for fantastic views. High on its slopes you can visit the Kirstenbosch National Botanical Gardens, with some 6,000 species of plants. Near Cape Town are excellent vineyards featuring world-class wines. Again, your trip to South Africa would not be complete without a pilgrimage to Robben Island, the prison that housed President Nelson Mandela for 18 years. Interestingly, Robben Island is now a historical museum and was recently named a World Heritage Site by UNESCO. Also, along the southern Cape Coast is the area known as the 'Garden Route', which showcases breathtaking coastline views and lush vegetation.

Adventure and Wildlife. South Africa offers a tremendous variety of recreational activities to please the adventure seeker in each of us! In addition to fantastic safaris, you can enjoy hiking, snorkeling, horseback riding, canoeing, ballooning, bicycling, sailing, wind surfing and so much more. South Africa is a virtual paradise for viewing rare and exotic animals in their natural habitat and is one of the best places in Africa for viewing the "Big Five" ñ elephants, lions, leopards, rhinos and buffaloes. You will also see plenty of cheetahs, zebras, giraffes, hippopotami, wildebeests and antelopes in their natural habitats. South Africa is also one of the best bird-watching destinations in the world. South Africa is a pioneer in wildlife conservation and an innovator in Ecotourism. The mission of South Africa's national parks is to conserve and manage parks for the benefits of the country and its people. Because of South Africa's commitment to protecting its wildlife, endangered species continue to flourish in their natural environment.

Within a few miles of South Africa's major cities are incredible national parks and private reserves. A national park will have a more developed recreational infrastructure while a private reserve is set up to protect and conduct research on specific habitats. Generally, private reserves are more suitable for international tourists because of the dense concentration of wildlife, personalized service and top-notch accommodations.

For many visitors to South Africa, a 'must' see' is Kruger National Park (KNP). It is the crown jewel of South Africa and one of the top ten national parks in the world. Situated in the eastern corner of the country above Johannesburg, it is the oldest national park on the African continent. South Africa has a total of twenty-five national parks and private reserves and its wildlife is amazingly accessible.

You can also enjoy many outdoor recreational activities while hiking and backpacking on more than 300 trails arranging from easy to challenging including nature walks and wilderness mountain camping. Horseback riding and hot air ballooning are adventurous ways to either experience a different type of safari or simply enjoy the scenery. South Africa's beaches offer fantastic surfing and water sport activities including big game fishing. South Africa's many fresh water streams also provide great fly-fishing and leisurely canoeing treks. You can also scuba dive off the coast of South Africa and explore the abundant variety of tropical fish, sea turtles and dolphins. Whale watching is also a very exciting leisure sport and you can even take a shark safari if you are brave enough!

In conclusion, you are invited to join us in South Africa. This will be a great opportunity for you to discover the wonderful diversity of South Africa. To learn more about the upcoming International Tourism Congress in Cape Town, South Africa May 20-25, 2001 contact the Africa Travel Association at (212) 447-1926.

Helen C. Broadus is the President of Venue International Professionals, Inc. which is a full-service international travel and tourism company based in the Washington Metropolitan Area. She has an extensive background built over more than ten years in the international travel and tourism industry, with a special focus on Africa. She is the International Sec retary of the Africa Travel Association and prior to this position was the President of the Mid-Atlantic Chapter of the Africa Travel Association. She has conducted various tours for groups in the African countries of: Kenya, Mali, Senegal, The Gambia, Cote D'Ivoire, South Africa, Egypt, Ghana, Zambia, Namibia, Morocco, Benin, Burkina Faso, Tanzania, Uganda, Ethiopia, Nigeria and Malawi. In 1997, she received the coveted Founder's Award from the Africa Travel Association for her outstanding contributions towards the promotion of travel and tourism opportunities to the Continent of Africa. In 1999, she received the prestigious Intercontinental Hotel Group's Award for significant contributions to the promotion of travel and tourism opportunities to West Africa. She can be contacted toll free at 1-877-TO VENUE or by e-mail: vipinc@erols.com.

ADVERTISING BANNERS ON TOP PAGES ON THIS AND OTHER WORLDSCENE SITES.