The Blue Train launches new safari departures for 2016
By Blue Train 14th Apr 2015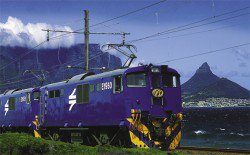 In 2016 The Blue Train will be heading up to "Big 5" country with the launch of its brand new Hoedspruit departures. The Blue Train will make two round trips up to the Limpopo Province, one in July and the other in August, offering guests the choice of four spectacular 19-hour one way journeys. These new departures will enable some fantastic new "rail safari" combination packages with the many wildlife reserves and private safari lodges in the Greater Kruger and Sabi Sands area.
For those wanting to take the Blue Train northbound, the train will travel from Pretoria to Hoedspruit on Friday 8 July and again on Friday 12 August 2016, departing at 15h00 in the afternoon and arriving at 10h00 the next morning.
Those wanting to enjoy the rail journey after their safari can opt to travel southbound from Hoedspruit to Pretoria on either Saturday 9 July or Saturday 13 August 2016. The train departing at 15h00 in the afternoon and arrives at 10h00, allowing plenty of time for those wanting to catch international flights home.
These one way journeys between Pretoria and Hoedspruit in either direction take 19 hours as opposed to the usual 27 hours between Cape Town and Pretoria and cost around £300 less per person – an attractive option for those with this Blue Jewel on their travel bucket list on a tighter budget.
South Africa's leading luxury rail the Blue Train is offering the new values for travel between January 10 – March 31, 2015. For any last minute bookings, travelers have the opportunity to select between two unprecedented offers when they travel on board between Pretoria & Cape Town (or vice versa):
One complimentary night at Camp Jabulani. Nestled within the Big Five Kapama Game Reserve in Hoedspruit, this exceptional experience includes game drives and meals (excluding beverages and elephant back safaris). Camp Jabulani's classic and elegant interiors seamlessly blend with the rugged African bushveld, providing a warmth and comfort that makes guests feel completely at home.
or
Two complimentary nights at one of our strategic hotel partners in Pretoria or Cape Town, an exciting upgrade on our existing offer! Guests receive 2 hotel nights with breakfast included and a one way transfer between the hotel and station. Options include the Sheraton or Castello di Monte in Pretoria or the Westin or Taj in Cape Town (note Westin and Taj not available 08-13 Feb).
Valid on new bookings only.
The Blue Train, www.bluetrain.co.za