More Airways News . Air Highways Website . Air Safaris. We're in Google's Top 3



Flight News from East Africa by Prof. Wolfgang Thome
There is so much happening in East Africa in the last few years, we have given it a separate section on this website.
AIR TANZANIA FLEET NEWS: Tanzania's national airline has now all but confirmed that they will get their first Airbus A320 before the end of the year, at which time their planned fleet renewal will begin in earnest. The first Q300 is also due to join the fleet around the same time, if not before, while delivery of their ordered Q400's is due by end of 2008 and early 2009. It was also learned that the operating losses caused by the previous management of about 1 million US Dollars a month have been very substantially reduced already, which allowed the Tanzania government to phase out the monthly subsidy for ATCL. The airline is understood to be partnering with a major Chinese carrier, which is intent to commence flights to East Africa and use Air Tanzania to feed and defeed traffic into the region and across the continent. It was also learned that a buyer is in the frame to acquire one of the ATCL B737 aircraft with the intent of the operating it in the region, which would be good news for Air Tanzania's cash flow of course. Watch this space for emerging aviation news from the East African region.
KENYA AIRWAYS SUSPENDS KISUMU FLIGHTS, AGAIN: Following major maintenance for their Saab 340 aircraft, KQ has suspended their Kisumu flights once again. The airline has refused to deploy their new Embraer 170 aircraft on the route citing the state of the runway as a major obstacle. An airline official confirmed that small stones and loose gravel found on the runway may be sucked into the engines causing damages to the aircraft and requested the Kenya Airport Authority to carry out more repairs to the runway ahead of the planned major expansion and resurfacing of the single runway the airport has. Kenya Airways has also suspended flights to Bamako in West Africa due to safety concerns over the state of the runway at Senou International Airport. Visit the airline website for updated information on their schedules www.kenya-airways.com
---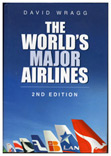 The World's Major Airlines
Review by Jerry W. Bird, Editor. With our biggest aviation edition in ten years well underway, serendipity played its familiar role in my life when I received THE WORLD'S MAJOR AIRLINES by David Wragg. It arrived by mail last week courtesy of the MBI Publishing, St. Paul, MN and was presented by John Wurm, Publicist for Military and Aviation. I plan to write this book review in installments, since my first reading was to get an overall position on how valuable this timely and well researched book will be in my evaluation of Africa's airlines and others serving the continent. Here are some comments from MBI that help set the stage. "Today there are so many airlines operating throughout the world that even the most knowledgeable enthusiast can soon become confused about which airline flies from where to where. This new, fully illustrated edition has been revised and updated to include the major advances in the aviation industry since 1998." More->
---
BRUSSELS AIRLINES NEWS: In time for the forthcoming Christmas high season the airline will add a long awaited 4th weekly flight every Sunday from Brussels to Entebbe, as incidentally already reported in this column several months ago, when the news of the plans could be confirmed from airline sources in Brussels. The acquisition of an additional A330-200 aircraft allows the capacity increase on the route but also across the airline's Africa network, one of the best from any European capital city.

The airline is also establishing a crew base for the Great Lakes region in Uganda, cognizant of the fact that they now serve Kigali, Bujumbura, Entebbe and Nairobi. The crew hotel selected is the Speke Hotel and Conference Centre / Commonwealth Resort in Munyonyo, which will next weekend also host the retreat of the Commonwealth Heads of Government. With all necessary accommodation and recreation facilities in place this choice will allow the crews to enjoy their stay on the shores of Lake Victoria before their deployment on long haul routes back to Europe.

Some of this information was provided by the airline's Senior Vice President Sales &endash; Long Haul and African Projects Mr. Etienne De Nil, who visited Uganda during the week.

News are also awaited on Brussels Airlines' bid for Rwandair, where they are the leading contender in the privatization exercise presently in its final stages. In addition, Brussels Airlines is now also partnering with Congo based Hewa Bora Airlines, the only Congolese carrier licensed by the EU to fly to Europe. They are reportedly also actively seeking similar partnerships in other West African countries. This constellation, if the Rwandair bid is successful, will likely establish a feasible air bridge between West and East Africa under Brussels Airlines auspices and make the crew base in Entebbe even more important in years to come. This in fact may become more significant if plans do materialize to commence flights to Tanzania. The airline is understandably hush hush about their intent but the growing business and tourist traffic to Tanzania can simply no longer be ignored by Brussels Airlines, which already is the leading European airline to the Great Lakes region and would do well to further cement their market share and destination spread across Eastern Africa.

Meridiana Africa Airlines (U) Limited, aka Air Uganda, has now started placing teaser ads in the local media, which by conventional wisdom indicates that they may in fact now start operations after all within the next one or two weeks. It is however understood that they continue to face problems with traffic right issues between Kenya and Uganda. Usually well informed sources were coy over the reasons for this situation and, while not going on record, indicated a lack of understanding by airline management of the complexities of the rights issues.

EVER HEARD OF 'GROUP CELESTAIR': Air Uganda, aka Meridiana Africa Airlines (U) Limited, has apparently now taken to the skies, using first generation DC 9's for their operation. Industry experts have already raised questions on their likely operating cost in view of record fuel prices at the moment, as the aircraft is known to be a fuel guzzler of the highest order, more so as the fares advertised under asterix (see final paragraph) are lower than what has since been charged. If this signals a price war with Kenya Airways remains to be seen but in view of past experiences no airline in the region has yet managed to break KQ's standing in the region through lower fares and aggressive attitudes.

Incidentally, no answers could be received on the actual age of the aircrafts, which were obviously given a new coat of paint before their deployment to Uganda. The aircraft were introduced to the Ugandan public last week, when a series of 'test flights' were conducted, something which could not be ignored by onlookers as the noisy aircraft screamed down the runway and into the sky with exhaust fumes clearly visible as from a different aviation age.

The new Uganda Civil Aviation Air Service Regulations require supervised non-commercial test flights from new operators applying for an AOC under the Uganda regulatory regime to ensure the new airlines actually have minimum levels of competence. As to the obscure 'Group Celestair' painted on the side of the aircraft, readers may wish to seek out the web and try establish what comprises this 'group'.

Meanwhile a clear trend is visible to use organization friendly news media to head bash Kenya Airways over their pricing, occasional operational problems or even highlight KQ's drop of profits over the past year, with the apparent aim to soften up the public and turn their sentiment against East Africa's leading airline. No word of compliment on KQ's use of environmentally much more friendly aircraft though, which is in stark contrast with the fleet employed by the upstart, nor about the contributions the airline made over the past 15 years to help develop traffic into Uganda. It is therefore suggested that what such reporting is really aiming for is to help create traffic share on the Entebbe &endash; Nairobi route for a sister company and this should be openly said.

And all this incidentally on the same day when the European Commission exposed as 'misleading' some 200 airline websites in Europe for not being in compliance with consumer protection guidelines, such as showing taxes and other fees included in the advertised fares and instead referring to unspecified 'terms and conditions apply', well well well …

.FLY 540 PLANS FOR REGIONAL FLIGHTS
Lonrho Africa has confirmed plans for further investments in their aviation offspring Fly540, in which they hold a 49 percent share. They are said to eye in particular the Angolan market for which they appear to have selected a partner already. Information received some months ago already shows that the private Kenyan airline is looking at Juba / Southern Sudan but may also be preparing to spread their wings to Kilimanjaro, Dar es Salaam, Zanzibar and Entebbe. This would give them a full regional network and allow long haul carriers landing in Nairobi use these flights to feed and defeed. More aircraft are on order by Fly 540 and once delivery takes place the airline will offer more choices to travellers.

KENYA AIRWAYS JOINS SKYTEAM

After a period as an applicant Kenya Airways has finally become a member of the Skyteam alliance. They can now offer seamless flights to some 700 destination around the globe in conjunction with their alliance partners. Skyteam in 2006 handled over 380 million passengers which puts them literally at par with global industry leader Star Alliance, while the third global player One World only managed to handle about 290 Million passengers within their network. This development offers yet greater incentives to the clients of Kenya Airways and their frequent fliers, to stick to them and take advantage to their range of rewards, now available across the globe.

BRUSSELS AIRLINES SEEKS TO INCREASE EAST AFRICAN PRESENCE

Information has been received that Brussels Airlines is studying the Tanzanian market with the aim to establish flight links by serving Kilimanjaro and/or Dar es Salaam. Presently they fly from Brussels to Entebbe, Kigali, Bujumbura and Nairobi. They recently took delivery of an additional brand new Airbus A330-200 which has allowed them to add extra flights to their East African destinations. A few months ago they resumed Bujumbura / Burundi flights again and also added another flight to Kigali, where they are a leading contender for the privatization of Rwandair. Success in this venture would then allow them to feed and defeed across the entire region with greater emphasis on their Rwanda flights. From December onwards they will also add a fourth flight to and from Entebbe, adding much needed passenger and cargo capacity.

EMIRATES TO ADD MORE NAIROBI FLIGHTS

As permitted under the present bilateral air services agreement, Emirates has served notice on the Kenyan aviation authorities that it intends to add three more weekly flights to their existing double daily frequencies already operated. The option to route the extra flights via Entebbe or Dar es Salaam have not been ruled out but plans to fly from Dubai to Mombasa have apparently been put on hold for the time being. Should the increase materialise it would make Emirates the biggest foreign carrier in terms of passenger volume to Nairobi. The airline also operates twice a week a dedicated B747 freighter service from Nairobi to Dubai with onward connections to Europe. Kenya Airways operates one daily flight from Nairobi to Dubai. The existing BASA has no limitation on the number of flights operated by the two airlines, which has contributed to the massive rise in traffic between the two cities.

JOMO KENYATTA AIRPORT REHAB DELAYS

Construction work for the ongoing rehabilitation and expansion of Nairobi's international airport has been considerably delayed. Phase one of the project was due to for completion in August. A recent visit to Nairobi however showed that this date has been missed by probably several months, potentially also now impacting on the next phases. Sources preferring anonymity within the Kenya Airports Authority spoke of supply problems with building materials, in particular cement. They also blamed weather conditions, which they said made earth works more difficult and delayed the contractors.

In contrast, works for phase one at Entebbe International airport's renovation and expansion are on course for completion by late October this year in time for the Commonwealth Summit meetings in Kampala in November.

AIR TANZANIA AIMS AT FULL RECOVERY

The new board of directors and management, now in place for a few months, have vigorously embarked on a recovery programme for the Tanzanian national airline. It is understood, that while partnerships are not being ruled out, but at equitable terms unlike the failed alliances in the past, the airline is set to acquire new aircraft and will reclaim its status as 'the' Tanzanian airline. Both domestic as well as regional routes are likely to be restored soon, having left the field for too long to Kenya Airways' Tanzanian partner airline Precision Air. Entebbe is presently being served three times a week from Dar es Salaam via Kilimanjaro / Arusha but plans are afoot to restore daily flights. It was also learned that the planned daily flights on jet aircraft by Precision Air to Entebbe have been shelved for some more time in favour of continued ATR operations, which would avail a prime opportunity to Air Tanzania to re-establish itself as the main carrier between the two countries

SN BRUSSELS TAKE ON BAR CHAIR:
Mr. Pierre Declerck of SN Brussels Airlines has now for the remainder of the term taken over as acting BAR Chairperson, after the substantive office holder Mr. Emmanuel Okware, formerly of Kenya Airways, stepped down following his departure from KQ. Emmanuel, the first ever Ugandan to hold country manager status in Uganda for the airline, found his contract on expiry not being renewed under what is generally speculated over being suspect circumstances. Officials from the airline decline to comment on the matter but details are gradually emerging that such position to be held by Kenyans in the face of public assurances that the airline is a 'true East African carrier'.The Ugandan aviation fraternity and many clients of KQ who highly valued Emmanuel's professional work ethics and performance continue to be incensed over KQ's move.

turboprops.