Morocco is first African tour from SpiceRoads Cycle Tours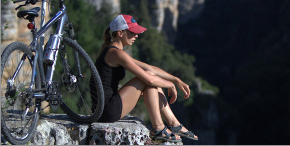 BANGKOK, Thailand - SpiceRoads, one of the world's leading bicycle tour operators, has launched an 8-day adventure Authentic Morocco by Bicycle through the awe-inspiring Atlas Mountains, the bone-dry Jbel Saghro and the lush palm plantations of southern Morocco.

This tour begins in the bustling ancient walled city of Marrakech with a city tour around the Medina and a night in a riad. The next morning the tour transfers to Telouet on the road to the UNESCO World Heritage site of Ait Benhaddou, the historic mud brick city that was featured in the film Gladiator.

The cycling starts here from the crumbling town of Telouet, high up in the mountains which were the stronghold of the feudal warlord, known as the 'Lord of the Atlas', during the French occupation. Down into the Ounila Valley to the stunning Kasbah village of Ait Benhaddou. Then on to the Dades Gorges, a spectacular gorge that lies between the High Atlas and Jbel Saghro Mountains (Jebel Saghro).

The tour continues through one of the most scenic parts of Morocco, the Draa Valley, past lush and seemingly endless date palm groves and a succession of traditional villages lying in green oases. The tour then transfers back to Marrakech via Tizi n'Tichka, a spectacular mountain pass that has been acknowledged as one of the most beautiful in the world.

The final day is bike-free as it's time to relax the muscles, practice bargaining skills at numerous stalls selling everything from leather to ceramics, and enjoy a guided tour around Marrakech. There are also visits to the magnificent Palace of Bahia, the Saadian Tombs, which are exquisitely decorated and the Koutoubia Mosque - the city's most famous and largest mosque.

Other highlights of the tour include sipping refreshing mint tea in Berber villages high in the mountains, indulging in succulent aromatic tagines, enjoying stunning panoramic views from Tizi n'Tzazert Pass and feeling like you have stepped back in time with nights in traditional riads.

This 8-day Authentic Morocco by Bicycle adventure covers 286-km in five cycling days. The daily distances are not too strenuous but the cycling largely takes place on unpaved roads, so it is recommended that riders have a moderate level of fitness. Upcoming departure dates are 15 March, 12 April, 17 May, 13 September and 11 October.
Morocco and Ecotourism
While Morocco's first ATA Ecotourism Symposium , held in Marrakech (1997) was a great success and covered many important points on national, regional and Africawide issues, the agenda is full for this year's 'symposium.' It is the grand finale of 2002, International Year of Ecotourism. We are sure that Morocco's Imperial city of Fez will prove to be a place of opportunity and renewal, as we look ahead. Editor
Environmental Concerns
Current issues include land degradation/desertification (soil erosion resulting from farming of marginal areas, overgrazing, destruction of vegetation); water supplies contaminated by raw sewage; siltation of reservoirs; oil pollution of coastal waters
Environment - international agreements: party to: Biodiversity, Climate Change, Desertification, Endangered Species, Hazardous Wastes, Marine Dumping, Nuclear Test Ban, Ozone Layer Protection, Ship Pollution, Wetlands, Whaling signed, but not ratified: Environmental Modification, Law of the Sea. World Factbook (US source)

---
Photo Credit: Karen Hoffman, ATA New York