Discovering Essaouira
With comments on Mistral Travel
by Jerry W. Bird

Since we spent almost two weeks in the immediate area and met so many interesting people from all walks of life, there is already enough material for a series of travel guides. We met people who are now permanent residents, who came originally from the USA, Germany, France, Spain, Italy, the United Kingdom and beyond, all of whom expressed their love of Morocco in general and Essaouira in particular. Several of these people have riads in the Medina area, and others are located in the surrounding countryside.
As a firm believers in the magic of serendipity, I was pleased to meet a very special person who is now a confirmed "Essaouirian. " One day, we were searching for computer internet services and noticed a sign advertising a local travel agency. Venturing inside, we enjoyed some quality time with the owner, George Cook. The timing was perfect, since Mr. Cook moved his company, fleet of 4-wheel drive vehicles, computers and all, to the heart of Essaouira, where he operates Mistral Travel. This group tour operation, backed by a travel professional with decades of experience and key connections in the British Isles, is a valuable addition to the resort city. Watch for more information on Mistral Travel on this site and in Africa Travel Magazine. Much more to come in this chapter and series.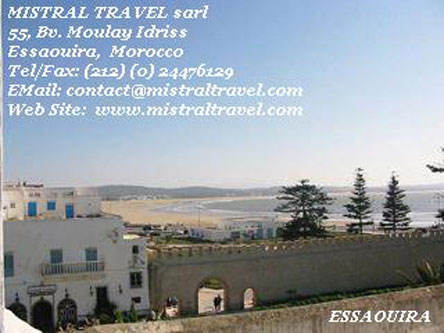 Background on Morocco
The Kingdom of Morocco is located in Northern Africa, bordering the Atlantic Ocean and the Mediterranean Sea. Slightly larger than California, with a similar lengthy coastline (3,500 km) and separated from Europe by the strait of Gibraltar, Morocco is one of Africa's top five travel destinations. The country has a population of over 30,600,000, and while Arabic is the official language, French is often the language of business, government and diplomacy. Morocco received its independence from France in 1956. (see map)
Area: total: 446,550 sq km; land: 446,300 sq km

Climate: Mediterranean, becoming more extreme in the interior
Terrain: northern coast and interior are mountainous with large areas of bordering plateaus, intermontane valleys, and rich coastal plains
Elevation extremes: lowest point: Sebkha Tah -55 m ; highest point: Jbel Toubkal 4,165 m
Natural resources: phosphates, iron ore, manganese, lead, zinc, fish, salt
Land use: arable land: 21% , permanent pastures: 47%
forests and woodland: 20% , Irrigated land: 12,580 sq km (1993 est.)
Environment - current issues: land degradation/desertification (soil erosion resulting from farming of marginal areas, overgrazing, destruction of vegetation); water supplies contaminated by raw sewage; siltation of reservoirs; oil pollution of coastal waters
Environment - international agreements: party to: Biodiversity, Climate Change, Desertification, Endangered Species, Hazardous Wastes, Marine Dumping, Nuclear Test Ban, Ozone Layer Protection, Ship Pollution, Wetlands, Whaling signed, but not ratified: Environmental Modification, Law of the Sea
Ethnic groups: Arab-Berber 99.1%, other 0.7%, Jewish 0.2%
Religions: Muslim 98.7%, Christian 1.1%, Jewish 0.2%
Languages: Arabic (official), Berber dialects, French often the language of business, government, and diplomacy
Government type: constitutional monarchy
Capital: Rabat
Administrative divisions: 37 provinces and 2 wilayas*; Agadir, Al Hoceima, Azilal, Beni Mellal, Ben Slimane, Boulemane, Casablanca*, Chaouen, El Jadida, El Kelaa des Srarhna, Er Rachidia, Essaouira, Fes, Figuig, Guelmim, Ifrane, Kenitra, Khemisset, Khenifra, Khouribga, Laayoune, Larache, Marrakech, Meknes, Nador, Ouarzazate, Oujda, Rabat-Sale*, Safi, Settat, Sidi Kacem, Tanger, Tan-Tan, Taounate, Taroudannt, Tata, Taza, Tetouan, Tiznit . note: three additional provinces of Ad Dakhla (Oued Eddahab), Boujdour, and Es Smara as well as parts of Tan-Tan and Laayoune fall within Moroccan-claimed
Executive branch: chief of state: King MOHAMED VI (since 23 July 1999)
head of government: Prime Minister Abderrahmane YOUSSOUFI (since 14 March 1998)
cabinet: Council of Ministers appointed by the monarch
Diplomatic representation in the US:
chief of mission: Ambassador Abdullah MAAROUFI
chancery: 1601 21st Street NW, Washington, DC 20009
telephone: [1] (202) 462-7979 through 7982
FAX: [1] (202) 265-0161
consulate(s) general: New York
Diplomatic representation from the US:
Chief of mission: Ambassador Ms. Margaret DeB. TUTWILER (since 11 Jul. 2001)
Embassy: 2 Avenue de Mohamed El Fassi, Rabat
Mailing address: PSC 74, Box 3, APO AE 90718
telephone: [212] (37) 76 22 65
FAX: [212] (37) 76 56 61
Consulate(s) general: Casablanca
Flag description: red with a green pentacle (five-pointed, linear star) known as Solomon's seal in the center of the flag; green is the traditional color of Islam
atural hazards: northern mountains geologically unstable and subject to earthquakes; periodic droughts
Western Sahara; decentralization/regionalization law passed by the legislature in March 1997 creating many new provinces/regions; specific details and scope of the reorganization not yet available
Independence: 2 March 1956 (from France)
National holiday: Throne Day (accession of King MOHAMED VI to the throne), 30 July (1999)
Constitution: 10 March 1972, revised 4 September 1992, amended (to create bicameral legislature) September 1996
Legal system: based on Islamic law and French and Spanish civil law system; judicial review of legislative acts in Constitutional Chamber of Supreme Court
Industries: phosphate rock mining and processing, food processing, leather goods, textiles, construction, tourism
Agriculture - products: barley, wheat, citrus, wine, vegetables, olives; livestock
Exports: $7.6 billion (f.o.b., 2000 est.)
Currency: Moroccan dirham (MAD) , Currency code: MAD
Exchange rates: Moroccan dirhams per US dollar - 10.590 (January 2001), 10.626 (2000), 9.804 (1999), 9.604 (1998), 9.527 (1997), 8.716 (1996)

Exports - partners: France 35%, Spain 9%, UK 8%, Germany 7%, US 5% (1999) Imports: $12.2 billion (f.o.b., 1999 est.) commodities: phosphates and fertilizers, food and beverages, minerals
Imports - partners: France 32%, Spain 12%, Italy 7%, Germany 6%, UK 6% (1999) commodities: semiprocessed goods, machinery and equipment, food and beverages, consumer goods, fuel
---
Transportation
Railways: total: 1,907 km. standard gauge: 1,907 km 1.435-m gauge (1,003 km electrified; 540 km double-track) (2001)
Highways: total: 57,847 km
paved: 30,254 km (including 327 km of expressways) , unpaved: 27,593 km (1998)
Ports and harbors: Agadir, El Jadida, Casablanca, El Jorf Lasfar, Kenitra, Mohammedia, Nador, Rabat, Safi, Tangier; also Spanish-controlled Ceuta and Melilla
Airports: 69 (2000 est.)
Airports - with paved runways: total: 26
Heliports: 1 (2000 est.)
---
Radio broadcast stations: AM 27, FM 25, shortwave 6 (1998), Radios: 6.64 million (1997)

Television broadcast stations: 35 (plus 66 repeaters), (1995) Televisions:3.1 million (1997)

Internet country code: .ma

Internet Service Providers (ISPs): 8 (2000)

Internet users: 120,000 (1999)

Above details are from World Factbook (US source)
---
Photo Credit: Sheraton Fes, Morocco