Kenya hosts ATA 30th Jubilee World Congress
May 15-20, InterContinental Hotel, Nairobi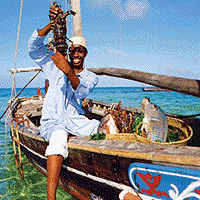 ATA Chapters' Pre-Post Tours May, 2005:
Masai Mara NP, Mt. Kenya
In the words of Karen Blixen, author of "Out of Africa"&emdash; "There's something about safari life that makes you forget all your sorrows and feel as if you had drunk half a bottle of champagne". Not only will this tour intoxicate you with an unforgettable opportunity to experience Kenya's wildlife, it will offer you a unique opportunity to meet some of its people, visit a noted landmark and to marvel at its splendid natural resources.Marlene Melton and AFRICAN VENTURES INC, MAY 20 - 24, 2005, $ 950.00*

Seychelles
Your visit to The Seychelles would not be complete without a visit to Praslin and La Digue. These two spectacular islands can be reached by hydro-ferry or small aircraft and are well worth the trip! On Praslin, you can visit the Vallee de Mai and see spectacular rain forests full of exotic vegetation and birds. On La Digue, you can enjoy the fantastic beaches with unusual rock formations. Overall, The Seychelles is a very safe and politically stable country with a cosmopolitan culture and vibrant atmosphere that VIP assures you will think of as a dream vacation come true! For more information about how you can participate in the FAM Tour to The Seychelles Islands, please contact Venue International Professionals, Inc..
Ethiopia
THE MID-ATLANTIC CHAPTER AFRICA TRAVEL ASSOCIATION PRE-TOUR OF ETHIOPIA, MAY 7-14, 2005, $892. ETHIOPIAN NORTHERN HISTORIC ROUTE - May 8-14, 2005. CITY TOUR OF ADDIS ABABA., BAHAR DAR TO VISIT SEVERAL MYSTERIOUS MONASTERIES AND CHURCHES ALONG THE SHORES OF LAKE TANA AND TIS ESAT FALLS (THE SOURCE OF THE BLUE NILE RIVER)., GONDAR TO SEE SEVERAL MEDIEVAL CASTLE-LIKE PALACES AND THE FAMED DEBRA BERHAN SELLASSIE CHURCH WITH ITS REMARKABLE CEILING DECORATED WITH PAINTINGS OF WINGED ANGEL FACES., LALIBELLA WHICH IS WELL KNOWN FOR ITS ANCIENT ROCK-HEWN MONOLITHIC CHURCHES KNOWN AS ONE OF THE EIGHTH WONDERS OF THE WORLD., AXUM TO VISIT THE SITE OF THE HISTORIC AXUMITE KINGDOM AND THE HOME OF REMARKABLE STONE OBELISKS. ALSO VISIT THE FABLED HOME OF THE QUEEN OF SHEB

SoCal , Kenya, Tanzania
Kenya Coast & Tanzania for Only $950, May 9-14m Lake Victoria's Islands/Western Kenya - $620., May 21-24, Socal Chapter public information website:www.travelinfoafrica.com

Tanzania
Choice of 2 night to 6 night Safaris with Bobby Tours.
Air Package
If anyone is interested in flying on Ethiopian Airlines, I have located a price of $1050 (plus tax) Round trip from Dulles (Washington) to Nairobi, Kenya. Travel dates are flexible and allows a stop over in Addis Ababa, Ethiopia. I have a group staying in Addis for a few days after the conference.. Wendy Johnson, Mid Atlantic Chapter.