The "Big Hole" at Kimberley Mine.
Kimberley's Diamond Legacy: South Africa's History Comes Alive
by Jerry W. B ird

Speaking of journeys into history, our next major stop was at Modder River station, a lonely spot where the Boers and British once clashed in a major battle. Disembarking from the train, we boarded a bus for Kimberley, and received a history lesson, which set the stage for our visit to this provincial capital and luncheon at the exclusive Kimberley Club, once male only and frequented by Cecil Rhodes, De Beers and colleagues. Well-fed and ready for action, we were off to the famous Kimberley diamond mine. A restored village surrounded what they call the "greatest hole in the world, " a huge excavation that was once a gentle hill. Our final lesson included mining practices and replicas of world famous diamonds from South Africa.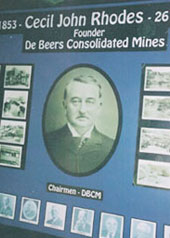 Cecil Rhodes, founder of De Beers Consolidated Mines. Taken at the Kimberly Club during a luncheon arranged for passengers by Mr. Vos of Rovos Rail, South Africa.
Photos by Muguette Goufrani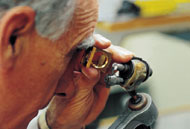 Jewel Africa of Cape Town
Situated at the foot of Lion's Head in the heart of the historic Bo Kaap, Jewel Africa is Africa's largest manufacturing and most impressive jewelry showroom. However, Jewel Africa is not just a jewelry outlet. You can watch the fascinating process of gold chain and jewelry manufacture as well as diamond cutting.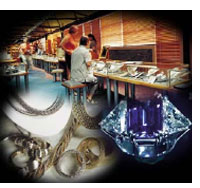 Jewel Africa is associated with Star Diamonds, who are DE BEERS site holders, with offices in Johannesburg, London, Tel Aviv, Antwerp , New York and Bombay.
Member of JASA , the Jewelers Association of South Africa (JASA), an umbrella body incorporating the Diamond Club of South Africa, the Diamond Merchants Association of South Africa, the Master Diamond Cutters Association, De Beers Consolidated Mines and the Chamber of Mines of South Africa.
Fax 27 21 424 5144, Phone 27 21 424 5141
e-mail: info@jewelafrica.co.za
http://www.jewelafrica.com/
By Rail enroute to Kimberley
A pleasant surprise was our brief stop at the historic village of Matjiesfontein, which resembles a romantic movie set, with its street of carefully restored buildings, such as the Victorian Lord Milner Hotel, with lush gardens and a friendly pub nearby. I couldn't help imagining that Miss Kitty of Gunsmoke would come through the red velvet curtains and descend the ornate staircase. Several of us could have spent all day at the nearby museum, checking out relics of pioneer days, before, during and following the Anglo Boer War and the frantic gold and diamond rushes. It was hard to imagine that the rich and famous of the world came here 100 years ago, when it was a thriving health resort. Well, we've been told a renaissance is underway.
Excerpt from our story on a Rovos Rail tour from the Cape to Pretoria. More->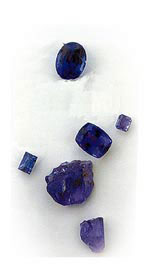 Amazing Tanzanite
Exclusively African
On several trips to Tanzania, our editors have seen some attractive displays of Tanzanite jewelry in local shops. Relatively new on the gemstone market,Tanzanite is blue- violet in color - and has become so popular that several years ago, the American Gem Trade Association (AGTA) announced that Tanzania's own precious gem had joined zircon and turquoise in the traditional list as a December birthstone. More to come regarding Tanzanite on this site and in our Jubilee issues of the printed magazine. More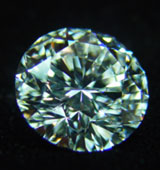 Diamonds of South Africa
courtesy J