---
LUXURY TRAIN TRAVEL DOUBLES UP ON SUMPTUOUSNESS
5 star luxury passenger train, The Blue Train, now offers its guests a complimentary night"s accommodation at either 131 on Herbert Baker in Pretoria or the super luxury Taj Cape Town, a property owned and managed by the world renown Taj Hotels, Resorts and Palaces.

During 2013, travelers on this distinguished 5 star passenger rail carrier are set to experience a double dose of luxury with these two premier luxury hotels when enjoying a complimentary night"s accommodation – pre or post their Blue Train experience.

This luxury rail service, which runs between Pretoria and Cape Town and boasts features such as a private butler service, marble-clad bathrooms and gourmet cuisine, now, offers discerning travelers the option to extend their travel experience, affording them a chance to enjoy the country"s top tourist destinations in high style.

"Cape Town is one of South Africa's most vibrant and beautiful cities, and there's no better vantage point from which to experience all it has to offer than Taj Cape Town," says Willie Williams, Director of Sales and Marketing at Taj Cape Town. "A stone's throw from many of the city's top tourist attractions, the hotel offers guests a chance to experience the Mother City in style, with most of our rooms and suites offering sweeping views of Table Mountain, recently named one of the New 7 Wonders of Nature."
The Blue Train"s 27-hour journey between Pretoria and Cape Town covers 1600 kilometres (994 miles) of diverse and spectacular scenery, showing off the very best of South Africa"s dramatic landscapes. Stopping in historic towns like Kimberley and Maatjiesfontein, the trip offers travelers a breathtaking snapshot of the sub-continent in an opulent setting.
The train, which has become synonymous with elegance and luxury, has carried kings and presidents over the course of its 66 year history, delivering unparalleled levels of quality and service to a discerning clientele. Their chosen hospitality partners reflect this ethos, and have been chosen so as to aid in making the transition from train to terra firma as seamless as possible. "The idea is for guests, who travel in a world of grace, elegance and romance, to extend this journey once on solid ground and prolong the luxury of The Blue Train experience ," explains Williams. "Taj Cape Town offers guests the very finest in South African hospitality, with a wide variety of award-winning restaurants to please all palates, as well as a luxury on-site spa." The newly refurbished Blue Train ensures that even further luxury can be expected when taking up this offer.
The Taj Cape Town is situated in the historic city centre of Cape Town and offers a combination of rich history and elegant contemporary architecture. Originally home to the South African Reserve Bank and Temple Chambers, and later the Board of Executors (BoE), it successfully combines the heritage of the old world with the luxury of the new. Ideally located, just walking distance away from most of the city"s tourist attractions, this five star hotel has the very best of the city at its doorstep, offering guests easy access to fascinating history, exotic culture, soulful art, lively entertainment and delectable cuisine.

Guests looking to learn more about Cape Town"s fascinating history also have access to the hotel"s unique "Footsteps to Freedom" service, which comprises a leisurely and informative walking tour of sites including St George"s Cathedral, the Slave Precinct, the Grand Parade, St George"s Mall, Company Gardens and Parliament.

131 Herbert Baker is an exquisite boutique hotel, conveniently located in Pretoria"s historic Herbert Baker Street. With breathtaking views of South Africa"s capital city, as well as five-star accommodation and eating facilities, this intimate hotel offers guests a perfect spot to unwind pre their journey.
The Blue Train"s new accommodation special applies to all new bookings, subject to availability. Overnight accommodation includes breakfast, as well as transfers from the train station. Passengers can choose to extend their journey in either Pretoria or Cape Town, depending on the nature of their travels.
Blue Train with White Glove Service
by Muguette M. Goufrani

While in Johannesburg this spring, we had the opportunity of visiting the main railway station and Blue Train's impressive head office facilities. During this important meeting, our editors were given a thorough update on the company's newest programs and facilities. I have always considered the Blue Train a lifetime experience . . . land cruising across South Africa. Plans are being made this summer for a special series of rail tours organized by our magazine and participating ATA chapters. Watch for news! For years I had read that South Africa held many pleasures for those of an adventurous spirit or romantic nature. So one summer, taking a month's vacation from my job as a travel agent in Ivory Coast, West Africa, I headed south. Here at last was my chance to spend some leisurely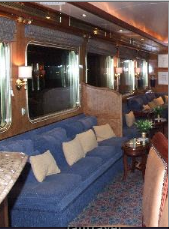 , laid back weeks getting to know that fascinating country surrounding the Cape. While the sights and delights were many and varied, the epitome was my experience aboard the famous Blue Train. It was like the finest luxury cruise, sailing across a sea of ever-changing landscapes . Yet there was time and space to savor every waking moment.(photos to come) I managed to read some pamphlets about the line's history, which spans over 50 years. Back in 1928, it became the first luxury train in South Africa.
The trademark was its attractive bright sapphire-blue fleet of carriages. Originally known as the 'Union Limited' and 'Union Express' , a legend began when folks started calling them 'the Blue Trains'. Prior to this occasions trains on the famous route were involved in the discovery of gold and diamonds, and in the Boer War of the 1890s. Those cold, soot laden coaches were a far cry from the opulent coaches operating today.