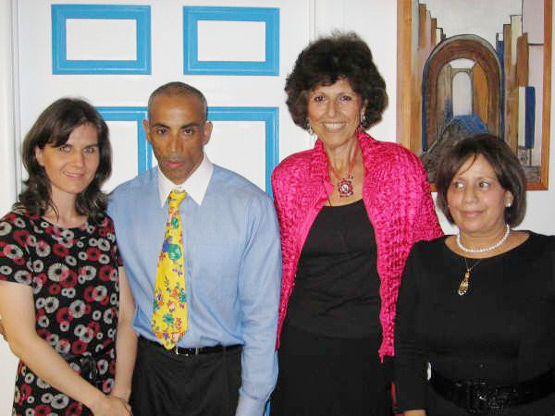 LUXURIOUS CORINTHIA KHAMSA HOTEL JOINS WITH TUNISIAN CULTURAL CENTER IN NEW YORK TO PROMOTE TOURISM TO TUNISIA
Photo: The Five-Star Corinthia Khamsa Hotel in Tunisia presented a complimentary one week stay at a special event hosted by the Tunisian Cultural Center in New York City.
From Left: Jolita Meskauskaite, the winner of the contest and complimentary stay; her husband Kamel; Karen Hoffman, The Bradford Group representing the Corinthia Khamsa Hotel; and Naima Remadi, Director, Tunisian Cultural Center.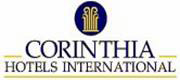 New York, NY) At a recent reception organized by the Tunisian Cultural Center in New York to promote the culture and tourist attractions of this beautiful North African country located on the Mediterranean Sea, a highlight of the evening was the gifting of a complimentary one week stay for two at the luxurious Corinthia Khamsa Hotel.
The presentation was made by Naima Remadi, Director of the Tunisian Cultural Center and Karen Hoffman, the Bradford Group, representing Mr. Mohammad Moncef Guitoni, General Manager of the Corinthia Khamsa Hotel. The lucky winner was a guest who correctly answered the most questions on a cultural quiz about Tunisia, Ms. Jolita Meskauskaite.
Beautifully positioned on an unspoilt sandy beach on the Côte de Carthage, the luxuriously appointed Corinthia Khamsa Hotel is ideal for a quiet relaxing holiday, a more adventurous Tunisian experience, or a superb meeting/conference event. Only 18kms from the capital, Tunis, the hotel is also close to historic Carthage and the charming village of Sidi Bou Said. It is also a gateway to the remarkable landscape that makes Tunisia such a fascinating country.
The Corinthia Khamsa Hotel has 309 rooms and suites with air conditioning, minibars and balconies. There are three restaurants and a bar on site. An outdoor and an indoor pool are available for those who prefer not to linger on the private beach. Many organized water activities await guests, and there are three tennis courts on the premises as well as an 18-hole golf course just a few minutes away.
For business travelers, the Corinthia Khamsa Hotel is one of the best-equipped hotels for meetings and conferences on the Côte de Carthage. Its five-star accommodations and excellent state-of-the-art facilities featuring fully equipped conference rooms that can be easily tailor-made to small groups or larger meetings.
The Corinthia Khamsa is also part of Corinthia Hotels' unique Events@Corinthia Program, which has many special features including hotel staff that are experienced in event planning. Each meeting planner is assigned a dedicated Events@Corinthia assistant who is on call 24/7 to ensure successful and stress-free events.
About Corinthia Hotels International (CHI)
The five-star Corinthia Khamsa Hotel is operated by Corinthia Hotels International.
CHI is a hotel operating company that is a joint venture between Malta based International Hotel Investments plc (IHI) and Wyndham Hotel Group of the US. It undertakes hotel management operations for Corinthia Group and IHI owned or affiliated hotels as also for third party owners. CHI is also the exclusive hotel management company for Wyndham Hotel Group managed hotels in the EMEA region operating under the Corinthia, Ramada Plaza and Wyndham categories. CHI has accumulated over 40 years of experience in delivering a high quality service to hotel guests and an optimum rate of return for owners and investors in diverse business environments. Its expertise extends to management of luxury and upscale properties in city and resort locations, and products ranging from boutique to large conference and meeting hotels. Corinthia this year features among the top 50 hotel groups in Europe, as reviewed by Hotel Management International, an official publication of the European Hotel Managers Association.
For more information on Corinthia Hotels visit: www.corinthiahotels.com
Editorial Contact in US:
Karen Hoffman,
The Bradford Group
Tel: (212) 447-0027
Fax: (212) 725 8253
E-mail: bradfordmktg@aol.com
Corinthia Hotels
Experience the Warmth, Colour, and Vitality