US CRUISELINER ARRIVES IN DUBAI WITH 1,600 PASSENGERS ON BOARD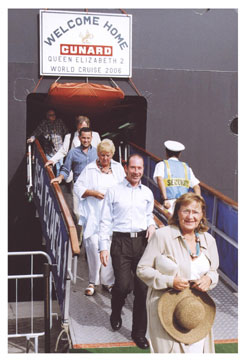 P
PHOTO : Passengers coming out of the Queen Elizabeth 2 at the Dubai Cruise Terminal on April 2, 2006. Below - Welcoming ceremony,
Dubai's buoyant cruise industry continues its momentum with the arrival of American cruise liner, Queen Elizabeth II, at the state-of-the-art Dubai Cruise Terminal today (April 2). The ship arrived from the Indian port city of Mumbai with 1,600 passengers on board and 1,000 crew members. The total number of passengers who disembarked was 520 while another 620 passengers disembarked.
The Director General of Dubai Department of Tourism and Commerce Marketing (DTCM), Mr. Khalid A bin Sulayem, Dubai Cruise Terminal Acting Manager, Mr. Awadh Seghayer Al Ketbi, DTCM Manager Human Resources, Mr. Ibrahim Yaqoot, and DTCM Manager Media Relations, Mr. Eyad Ali Abdul Rahman, were present at the ceremony to mark the arrival of the cruise liner.
The passengers were mostly of UK and US nationalities. The agents were Barwil Dubai and tour operators were Orient Tours. Mr. Al Ketbi said: "Cruise tourism plays a crucial role in the overall growth and development of the tourism industry in Dubai. There has been an impressive growth in cruise tourist arrivals. We will continue to devote our efforts to further promote this economically-crucial sector of the tourism industry."
A welcome ceremony was arranged for the passengers. Schoolchildren showered flowers and men dressed in traditional Arab costume welcomed the guests. Arabic coffee was served to the passengers and the Aiyala band performed while the Dubai police band stood in attendance. The US cruise liner will continue on its f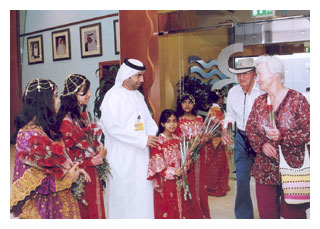 orward journey to Salalah, Oman, on April 3.
Real Estate in Dubai - The Smartest Investment
Business in Dubai / UAE - The Intelligent Move


For further information, please contact:
*Mohammed Abdul Mannan, Executive, Media Relations
Email: mmannan@dubaitourism.ae
*Shilpi Pillai, Officer, Media Relations
Email: spillai@dubaitourism.ae
Dubai Department of Tourism and Commerce Marketing
P.O. Box 594, Dubai - United Arab Emirates
Tel: +9714 2230000 Fax: +9714 2230022
Web sites
http://www.dubaitourism.ae
http://www.uae-pages.com/tourism/entering-dubai.html