Abuja Carnival
By Jerry W. Bird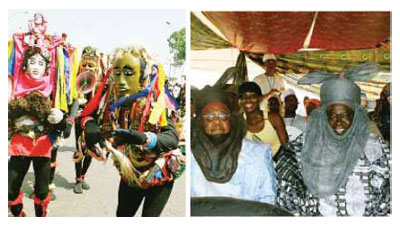 I am Abuja, capital of Nigeria, Africa's most populous country. I am confident about my future as a world center and as a magnet for cultural, adventure, educational and leisure tourism in all of Nigeria. My broad, well maintained paved streets, attractively landscaped boulevards and modern overpasses keep the traffic flowing smoothly, morning, noon and night With my wide, cinemascopic vistas in every direction, you won't feel hemmed in by gridlock. Being in Nigeria's heartland, I am adjacent to Kogi, Niger, Kaduna and Nassarawa states. Carnival week in late November showcases the culture of all 36 states, with rhythmic, pulsating music, exotic tribal dances, durbars on horseback and camels from the far Sahara. It's an unending kaleidoscope of colorful regalia, fun activities, parade floats, tribal masks and costumes unique to various states. Born in 1976, I am considered a model city for all of Africa, and one of the world's handful of totally planned cities.
I am proud of my position as a magnet for world class meetings and events. For example I just finished receiving visitors from over 60 countries, including heads of state, at the Africa- Latin America Summit. Visitors CommentsHere are some current comments about my lifestyle and attractions from a variety of U.S. visitors and residents from other countries:
"Originally from France, I have lived and taught school in Abuja for five years, and appreciate the easy going lifestyle and friendliness of the people. Here, we enjoy a comfortable year round climate and really appreciate the absence of mosquitoes and similar insect pests. It's good to know that this city is virtually malaria free."
" I was very impressed by the recent renovations that were being made at Nnamdi Azikwe International Airport and was pleased to learn that the Nigerian government was really serious about improving the infrastructure of its airports for incoming tourists and business people."
" Your exciting Abuja Carnival rivals those in Rio de Janeiro, Brazil and Mardis Gras in New Orleans.". Many say, Latin America's carnivals and music originated here in Nigeria."
"My impression of Abuja was that it is truly a 'City of the Future' set in a scenic environment." " Located approximately one hour by air from Lagos, Abuja has excellent conference and accommodation facilities."
"Throughout Abuja there is much construction going on and the people truly exhibit an excitement about living in what is perhaps the most modern city in Africa." "We were quite surprised at the relative ease in our processing through immigration and customs. Much to our pleasure, we were told that both the Ministry of Aviation and the Ministry of Tourism have done an excellent job in alleviating the extreme bottlenecks that travelers were accustomed to experience upon arriving in Nigeria."
Excerpts from The Guardian (Nigeria) by Andrew Iro Okungbowa and Stella Agbala "Here in this country where we have well over 350 ethnic and linguistic groups, diversity of culture, diversity of language, diversity of foods, and unity in diversity. We owe it a duty to ourselves, the rest of Africans and to African in Diaspora to showcase what is authentically Africa and what is authentically ours."
Former President Obasanjo said, "In the next four days, you will see the different forms of art, dances, different aspects of our way of life, boat regatta, masquerades, that would be breathtaking in one spot."
Referring to the unique nature of the carnival, he added, "We have come together, all as Nigerians, in one spot; we have brought together what will take anybody who has to go over Nigeria days and even months in a space of few days.''
Dream Becomes RealityThe Carnival debuted in 2005 as part of the Government's dream to promote Nigeria as a tourist destination and to expose Abuja, the Federal Capital Territory (FCT) to the world as a promoter of tourism as well as showcase to the world the cultural beauty and business opportunities that abound in the country. Last year's celebration was almost marred by outcries and criticisms by some Nigerians, especially religious organizations, which saw the event as fetish and profane. But the President addressed these charges when he informed the nation that among others, it was meant to promote Nigeria and her people to the global community. With nothing short of joy and excitement, the President said the carnival is to be entrenched as a yearly celebration that would give people room to explore Nigeria. Visit www.africa-ata.org/nigeria.htm