T
Three cheers for the Governors" - photo by Muguette Goufrani

Kenya Grand Tour: Part One
by Jerry W. Bird

As editors and publishers of Africa Travel Magazine, our recent 40-day stay in Magical Kenya was the grand finale of a two-year effort that will result in 3 new issues designed to shatter the media myths and set the record straight on Kenya's return to world prominence as a tourism superstar. Our photographic profiles of people, places and events are linked from the selections on the navigation bar at the top of each page. Like National Geographic, Africa Travel Magazine issues are "keepers, still in demand up to five years after publication date. This demand has been proven at our series of travel expos in the USA and Canada, some attracting up to 22,000 enthusiastic visitors. Africa Travel Magazine's exhibits anchor the Africa Section at shows across the USA and Canada starting the first week of January every year. Features from our new Showtime Edition, the Africa Yearbook, Air Highways to Africa, and Sports Tourism Edition are previewed on the ATA web site and following publication, complete issues will be available in downloadable pdf files. The opening capsules on this and succeeding pages are from visits to Kenya in May and June 2004 and 2005, the most recent of which included the ATA 30th World Congress..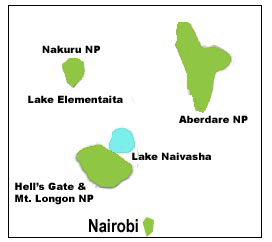 Lake Naivasha, Hell's Gate and the Great Rift Valley
Quick Now! What location in Kenya is a favorite weekend escape and holiday retreat for families and their guests from Nairobi? The nearby parks and lakes such as Naivasha are a natural, and facilities are quickly being upgraded. We considered ourselves fortunate to have enjoyed the attractions of Lake Naivasha and the Great Rift Valley Lodge on two separate occasions - our first visit was with the ATA Congress media group, and the encore was at the invitation of Phyllis and Dave Mwangi of Speedbird Travel, who own several residences facing the 18-hole golf course. They are introducing some exciting golf and tour packages this season. It is a pleasant one hour trip on excellent roads, via Nairobi's upscale residential areas, then stopping at a marvelous viewpoint on higher elevation before descending into the lush farmland of the Rift Valley, where we noticed a pleasant rise in temperature. Photo right: Attractive and spacious lobby at the Great Rift Valley Lodge. More photos of Lake Naivasha area and spectacular Hell's Gate.
Several things I loved best about the lodge is the panoramic view from the dining room, most especially the broad patio that overlooks the golf course, with Lake Naivasha on the horizon. From here we enjoyed several day trips. One was a cruise along the shores of Lake Naivasha, where we encountered hippos and a variety of waterfowl. We stayed at the Great Rift Valley Lodge, followed by two additional nights at one of the private golf course residences owned by the Mwangis. It was an unforgettable experience, and there's much more to come on this topic. Speedbird Travel and Safaris is in Nairobi's Westlands area. E-mail speedbird safaris
Kenya Wildlife Service On Guard.
One of the important visits we made while in Kenya was to the Kenya Wildlife Services headquarters in Nairobi.Here our editors learned first hand of the many great works this worthy organization is doing. They left the offices with a wealth of material for Africa Travel Magazine library and photo archives. We take pleasure in publishing the latest KTS news releases which cover a variety of topics related to conservation and so many areas that impact on Ecotourism, one of our magazine's main topics. Currently there is a story on reforestation with a photo of Hon. Morris Dzoro, Minister of Tourism and Wildlife watering a newly planted tree. See KWS page.
"This congress has achieved its main objective, which is to enhance cooperation in the promotion and marketing of our African destinations in the United States of America. I believe it would be a great idea to have an umbrella tourism organization such as the Africa Travel Association that can supplement our promotion and marketing efforts in other tourist-generating markets such as Europe and Asia." Hon. Morris Dzoro, MP, Minister of Tourism and Wildlife, Kenya /
Stop and smell the roses.
Talk about Aromatherapy! During our first tour, the scent of roses filled the vehicle and gave our spirits an added lift. Should you ever pass this way, be sure to breath deeply - it's one of the most delightful natural perfumes one could imagine. And here at the Central Kenya greenhouses, the scent is free. Thanks to a recent marketing effort, we are proud to report that Kenya is a major exporter of fresh, cut roses for the markets of Western Europe. It's a promising sign of the times for this agriculturally based country. On our second visit to Kenya we visited several of the large greenhouse complexes designed for the care and feeding of beautiful, sweet-scented African roses.
Lake Nakuru - Birds and Buffalo:
Approaching Lake Nakuru from the National Park gates, I had little idea of the unforgettable sight awaiting us. Some call it the "World's Greatest Bird Spectacle," and I can agree, having never experienced such a large concentration of pink flamingos on one body of water. Since the Lake Nakuru Lodge, our destination for the day, was on the opposite shore, we circled the lake and our driver soon discovered a relatively dry area where we could motor along the shore. We were soon positioned in the midst of a sizable flock -- an ideal photo op. Like a typical beachcomber, I spotted a sun-bleached buffalo skull lying in the sand, and by the time our photo session began, one very large buffalo presented himself directly in front of the camera lens. In the background, like a chorus line from the Follies, dozens of white pelicans took center stage and began their parade for the camera's waiting eye. We discovered that the reason flamingos are pink because their consumption of the blue-green algae in the lakes. Lake Nakuru Park is home to over 400 species of birds, from the more numerous flamingos and pelican, to herons, egrets, fish eagles, grebes and more. (see Birds of Kenya)

Ark of the Aberdares
We arrived at the Ark Game Lodge before dinner after a pleasant afternoon at the Aberdare Country Club, a 45-minute drive away. Aptly named, with reference to Noah, the Ark is located in Aberdares National Park, and seems to operate around the clock, as it overlooks a floodlit water hole. Being a salt lick , the area attracts a passing parade of wildlife, which seem to come in bunches, as if each group was allotted its own time on stage. For example, a horde of frisky baboons might be followed by a family of elephants, a herd of bushbuck, or a combination of characters. The management kept us informed by an en-suite buzzer system if anything unusual was happening at the water hole. Guests can watch the action from one of three observation decks. A bunker at ground level, offers the photographers among us an unobstructed view. The lodge, with its cabin style rooms, reminds me of some of my favorite hideaways in Northern Canada, and we felt at home immediately. As expected, the food in the dining room was outstanding, and I later assumed a position by the large stone fireplace. What a life!
Amboseli National Park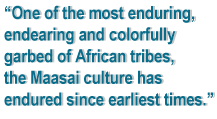 Minutes after our Kenya Airways jet touched down at Nairobi International Airport, following a cross-continent flight from Cameroon - - we were Amboseli bound. Spectacular sights on the route south included a panoramic 'passing parade,' with a backdrop of grassy fields and rolling hills covered with a blanket of lily white blossoms as far as the eye could see. In the foreground, every few miles stood Maasai herdsmen, alone or in pairs. From nine year olds to great grandfathers, they were guarding their mixed herds of cattle, sheep and goats. Clusters of wildlife mingled with the herd as we drew nearer to the park gates. One of the most enduring, endearing and colorfully garbed of African tribes, the Maasai culture has flourished since earliest times. Directly south of Nairobi in the shadow of the legendary, snowcapped Mount Kilimanjaro, Amboseli National Park was first on our list of Kenya's must-see attractions. The most compelling reason is its large concentrations and wide variety of wildlife. Little time was wasted in getting us out 'on Safari, " as no sooner than we checked in at the Amboseli Serena Safari Lodge, like Dr. Doolittle, we were off to see the animals.
The first Safari stop was at a nearby Maasai village, where we met and mingled with the chief and villagers; visiting their lodges, watching a fire-making demonstration, capturing some unique photos and bargaining for a seemingly endless selection of craft items. We ventured inside one of the dwellings, made entirely of indigenous materials, including dried elephant dung. This mixture keeps the homes cool in summer and protected from rain and biting winds in winter, as it has for generations. (see blowup map)
At one point during our evening game drive from Serena's Amboseli Lodge, I was struck by the fact that you could look in every direction - 360 degrees -- and see some form of wildlife. A family of elephants on the horizon at 12 o'clock -- several frisky giraffes to the right - a herd of buffalo grazing on our left - and other grassland creatures bringing up the rear. George, our driver stopped for fifteen minutes as we watched two large Crested Cranes in attack mode. One was hopping about, spreading his wings and hunching his back defiantly as he approached a cobra, which lay by the side of the road totally unperturbed by all the cavorting and saber rattling.
On the Road Again:
Early in life, being a Boy Scout brought about my proudest moments, and each proficiency badge I earned was cherished like a purple heart. So heading north that afternoon from Nairobi, as we passed Nyeri, we learned that this beautiful agricultural area was the final resting place of Lord Baden-Powell, who founded the Scout movement . Knowing this fact brought a flood of gratitude for the great man and his legacy. We need heroes and he is one of mine. Our next trip's agenda will include a visit Baden-Powell's grave site, gardens and Paxtu cottage, which now houses a museum in his honor.
East African Wild Life Society
During our editorial team's recent 40 day visit to Kenya, we were fortunate to arrange a meetingwith the East African Wild Life Society, one of the pillars of conservation and ecotourism throughout a vast and highly important sector of Africa. We consider this one of the most important interview sessions in our fact finding mission. Here in brief capsule for is a profile of this worthy organization, which invites you to get involved. The East African Wild Life Society, EAWLS, was formed in 1961. The Kenya and Tanzania Wildlife Societies, both started in 1956, joined together with wildlife enthusiasts from Uganda, and thus EAWLS was born. EAWLS was established as a membership organization, as reflected in its constitution, and is registered as a Non-Governmental Organization, NGO, under the NGO Act of 1990. For over forty years now, EAWLS has been at the forefront of efforts protecting endangered and threatened species and habitats in East Africa. More details on this site., E-mail: info@eawildlife.org . Web ite: www.eawildlife.org-
Amboseli lies immediately North West of Mt. Kilimanjaro, on the border with Tanzania. Amboseli was established as a reserve in 1968 and gazetted as a National Park in 1974. The Park covers 392 km2, and forms part of the much larger 3,000 Km2 Amboseli ecosystem. Large concentrations of wildlife occur here in the dry season, making Amboseli a popular tourist destination. It is surrounded by 6 communally owned group ranches. The National Park embodies 5 main wildlife habitats (open plains, acacia woodland, rocky thorn bush country, swamps and marshland) and covers part of a Pleistocene lake basin, now dry. Within this basin is a temporary lake, Lake Amboseli, that floods during years of heavy rainfall. Amboseli is famous
The Lodge: In harmony with nature, the Amboseli Serena Safari Lodge, being located in the center of Maasai territory, reflect the tribe's colorful culture in its architecture and interior design. (more to come)
The Crested Crane of Africa resembles a peacock and flies in wedge shaped formation during migration. Its animated courtship dance involves bowing and hopping about noisily while circling its partner. The cranes we saw at Amboseli performed a similar version to scare off, or at least impress the cobra.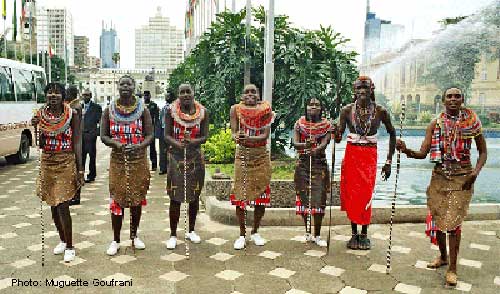 Maasai cultural event in Nairobi, Kenya
Kenya Grand Tour- Part Two
by Jerry W. Bird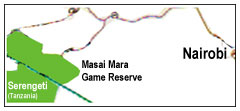 No Hollywood movie could ever match the real thing. In the theater of my mind, the most vivid image I have of the legendary Masai Mara, was standing like a sentinel, gazing out over the endless grasslands, while our 4wd ambled slowly along the trail. Spotting many varieties of wildlife and birds was quite a challenge. One could easily notice the larger and taller creatures milling about - giraffes, buffalo and elephants. But from our vantage point to the far horizon, I could just imagine how many thousand other creatures were hidden from human view. These denizens of the Masai Mara could leap and bound out of the tall grass at any moment -- wild boars, hyenas, graceful gazelles, a flock of guinea hens - you name it. Lions and cheetahs are prevalent, plus zebra, wildebeest, water-bucks, eland and topi. Above photo: View of Masai Mara from pool side at the Mara Serena Lodge.
In our two recent trips to Kenya, 12 months apart, we had the opportunity to enjoy the hospitality of the Mara Serena Lodge (top of page) on two separate occasions, and the second time we were pleased to meet Marlene Melton, an ATA tour operator form New York whose 19 guests were enjoying themselves to the limit. We also stayed at the Mara Sarova and Governor's Camp. Each location presented a different perspective on the Masai Mar as a perfect location of a safari. Being elusive, the wildlife might appear in greater numbers at one spot the first week, and move on to another grazing area the next. So when you go on a game driver, that's the chance you take.
In the Swahili language, an African Safari means a "journey," and this can involve each and every possible means of conveyance. Since launching Africa Travel Magazine a decade ago, Editor Jerry Bird and I have enjoyed a variety of safaris. For example, there was the highly popular "balloon safari," where our craft lifted off in the dusk at 5 am, skimming silently above the migrating herds, We then capped off the morning with a champagne brunch on the grassy plains. On several recent occasions, while touring East Africa, we joined an 'air safari," allowing us access to several distant locations in a few days. From balmy island beach resorts on the Indian Ocean islands, to different tented camps in the vast interior highlands, travel time was compressed into a few hours.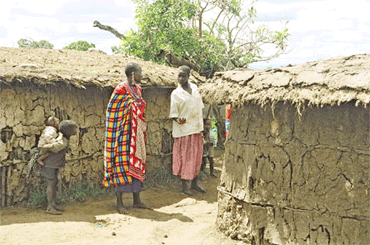 Masai Mara and Great Rift Valley
Kenya is often described as a cultural and geographical microcosm and the cradle of mankind, particularly where historians and geographers talk about the Rift Valley, one of the world's greatest wonders. That's why Kenya is such a popular movie site and the subject of so many classic and romantic novels. It's terrain stretches from the snowcapped peaks of Mount Kenya to the Indian Ocean islands, with their azure waters, coral reefs, teeming marine life and landscapes painted in a thousand shades of blue and green. Kenya's 50 or more ethnic groups add spice and another dimension to this diversity. Kenyans' renowned hospitality has been bringing visitors back for an encore since the 1800s. The Masai Mara, with its huge dramatic skies and panoramic views, is #1 of Kenya's game parks. Geographically, it extends from the Serengeti plains on the Tanzanian. In summer, migrating wildebeest, zebra and their entourage of followers, pour over the Tanzanian border, to create another magical sight one might call, " The greatest wildlife spectacle on earth." On the Mara River, one can take a waterborne safari to observe and photograph hippos, crocodiles, birds galore and wildlife of every description.
Life among the Maasai
We visited several authentic Maasai villages and marketplaces while in Kenya, and the hardest task was to resist spending a small fortune on the colorful arts and crafts in such abundant array. The Maasai are a major ethnic tribe of Kenya, whose members cherish and maintain their unique, nomadic culture and traditions, living in a natural environment, with mud thatched huts built from mud mixed with elephant or cow dung. A typical family dwelling can consist of an elder, with many wives and children, living together harmoniously. North Americans can learn much from these proud people, whose ancestors are said to have originated in North Africa. For more information on Kenya and the Maasai culture, be sure to order ATA's 30th Jubilee Yearbook, or visit www.africa-ata.org Read our final comments on the following page.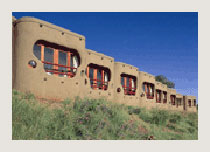 Annual Migration
It's hard to imagine how vast the annual migration is in peak season - usually summer our time. We spent two nights on the Masai Mara, the first stop was at the charming and hospitable Mara Sarova Tented Lodge, and our final overnight lodging was at the Mara Serena Lodge, perched on a forested hill overlooking the rolling, golden plains of the Masai Mara National Reserve. The day was spent on game drives through this natural Eden, tracking the lions and elephants and other denizens of the plains. By night, we experienced a sun downers evening, with campfires, Maasai dancing and bush dinners. Next morning we were awakened by a strange hissing sound, which caused some momentary concern. Looking out the window in the semidarkness, I discovered that it was the 'firing up' of a hot air balloon, that was about the load its guests for a predawn Safari.
Where Roses Bloom.
Our entire excursion, in and around Kenya, including the exciting safaris on the Amboseli and Masai Mara, was an experience that will last a lifetime. Even such seemingly small things as the scent of roses we encountered en route made an impact. As we passed Nyeri, we also learned that this beautiful agricultural and horticultural area was the final resting place of Lord Baden-Powell, who founded the Scout movement, which has helped millions of boys and girls get a good start in their teenage years, one of life's most challenging periods. Knowing this fact brought a flood of gratitude for the great man and his legacy. Our next trip's agenda will include a visit Baden-Powell's grave site, gardens and Paxtu cottage, which now houses a museum in his honor.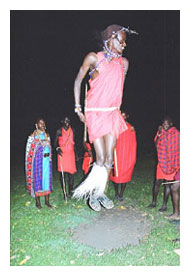 More about the Maasai
Here's what some current Kenya Tourist Board literature has to say about the Maasai culture: Linguistically, they are closest to the Bari of Sudan, with whom they share many customs, such as the shaving of women's heads. The Mara are divided into 12 separate geographical sections. Each section has its own territory. The Mara region is shared by three of these clans - the Siria, the Purko and the Loita - each having their own territory, dialect and customs. The Maasai are guided by a strong belief that they are the sole custodians of all the cattle on earth. This bond has led them into a largely nomadic way of life. All of the Maasais's needs are met by their cattle. Maasai cultural photos
As a warrior, boys learn all the cultural practices, customary laws and responsibilities that they will require as elders. girls is very much of the hands of their parents who will choose a warrior from a respectable family outside their clan.
Despite their strong cultural beliefs and deep-rooted customs, the influence of other cultures and modern education have invariably let to a gradual erosion so some aspects of Maasai life. No one can completely escape the march of modern civilization. Many Maasai have moved away from the nomadic life to responsible positions in commerce and government (a Maasai heads the Kenyan Air Force, another manages a hotel) -- and despite the sophisticated lifestyle they may lead, many will happily head homewards dressed in designer clothes, only to emerge wearing shuka(a colorful piece of cloth), cow hide sandals and carrying a wooden club (orinka) - at ease with themselves and the world. The Kenya's Maasai are probably the most self-sufficient of all Kenyans. Today the Narok Maasai are custodians and managers of Africa's finest game reserve - the Masai Mara. They attract criticism - but only in Maasai land that we found wildlife in abundance and diversity of species. We should thank them for that.

Kenya Stars Shine in our next 4 issues!
Read about Kenya's famous Olympic Athletes of the Century from our meeting with Dr. Kipchoge Keino, head of the National Olympic Committee of Kenya. Other interviews included Tourism Ministry and KTB officials, of Kenya Airways CEO , African Airlines Assn, Kenya Chamber of Commerce, Kenya Tour Operators Assn, Utalii College, East Africa Wildlife Society, Kenya Travel Agents Assn, Great East Africa Auto Rally, Mombasa and Coast Tourist Asson, plus many hoteliers, travel agents, embassies and tour operators. Details